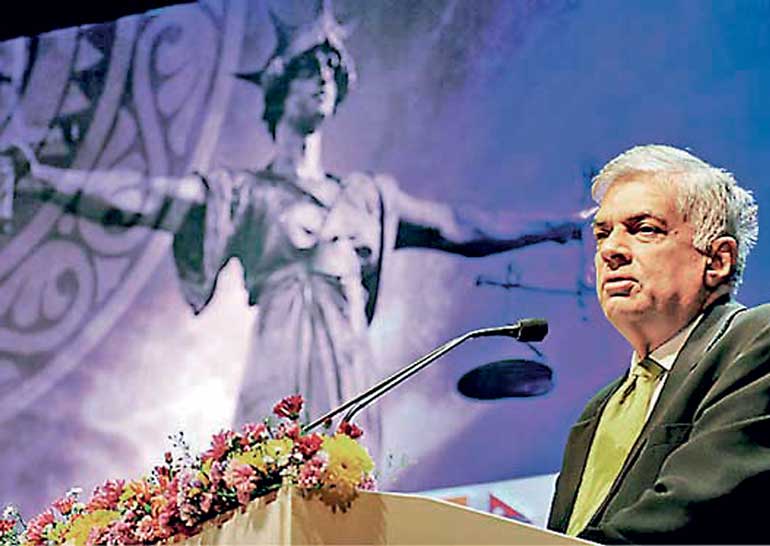 Prime Minister Ranil Wickremesinghe
Some very old nursery rhymes have survived because they relate in a very simple form a message that was relevant then and is still relevant now. A few months ago, I wrote a piece narrating how the political scenario at the time was captured in the Humpty Dumpty nursery rhyme:

Humpty Dumpty sat on a wall

Humpty Dumpty had a great fall



Six score men and many more

Could not make Humpty Dumpty what he was before

The acolytes of MR did rush hither and thither trying to make him the boss-man again. But, they failed. They could not make MR what he was before. It all happened just like in the nursery rhyme
What's in store for the future?

Whilst pondering on this (like the rest of the country) my mind drifted to another nursery rhyme:

Twinkle, twinkle new star

How I wonder what you are

Up above the world so high

Like a diamond in the sky

The new twinkling star now shining like a diamond in the sky is of course Ranil Wickremesinghe. Having won two contests in a row to sweep the Rajapaksas away, the new Prime Minister is now the clear playmaker.

As our future depends so much on his leadership, it is good to reflect on his character that is germane to the requirements of leadership and to look at his economic options for creating inclusive growth.

How I wonder what you are

I think there will be a lot of "I wonder what you are" about the Prime Minister.

What sort of a person is he?

What sort of a leader is he?

What are his economic strategies for sustainable growth?

What will he do about all forms of corruption?

Ranil Wickremesinghe and the UNP have not been in power for a very long time. It will be difficult for even the UNP members to have clear answers to these questions. For the same reason the SLFP rump with the Government will not be able to answer these questions

The general public too will be on the same waveband of "I wonder what you are".


The person

We love to gossip about the habits, traits, and behaviour of people we know and of people we do not know, so there will be great curiosity about him. But in the context of leading the country, does it really matter what sort of a man he is? Maybe he can sing like a canary, be unfailingly polite and never breaks wind in public, or maybe he snores and picks his nose. It is all irrelevant!

Some will say, but we do know that he is not a particularly warm and friendly person. Well, Churchill was not warm and friendly and nor was our JRJ. So that does not matter as well.


The leader

We have no historical evidence to give us a picture of him as a political leader in power. All leaders will have their objectives and plans. That is common ground. What is more important is the style of leadership.

In the business world, the widely-accepted view is that successful leaders do not endeavour to do everything, and they delegate and inspire their troops to do all that is necessary. Can he do that?

Good leaders also ensure that there is good succession. In the corporate world this is perceived as a key requirement. I think it is equally essential in the political world. Not much evidence of a commitment to this concept.


Corruption

We are a country full of rumours but there has never been even a hint that RW was corrupt. In the election campaigns he has been very strong against corruption, nepotism, etc. But a question will remain until he takes strong action against any one from his party (or anyone he appoints to a high position) who flouts the values he has espoused with vigour in his successful efforts to dethrone MR.

There will be tinge of concern about whether he has a common gene with his cousin, the late JRJ, who did not take action but collected the information about the misdeeds of his politicians and then kept this in a file!


Man does not live on bread alone

We must believe at this juncture that the Prime Minister will create a society free of the evils they ranted about during the campaigns. But then what? It is true that man does not live on bread alone and that the values in society are important and two elections victories prove this. It is equally true that man also needs bread.

If one poses the question of what do you want, is it: A society free of all forms of corruption but with inflation, poor growth, and growing unemployment? Or a society where the top leadership makes a stack of money, and salts it away abroad, but there is good growth, low inflation, and steadily reducing unemployment?

My guess is that the latter proposition will win.


Economic strategies

Whether the Prime Minister shines like a diamond in the sky or becomes a fading star will depend primarily on the economic strategies he pursues and the results they deliver. During the journey to create a prosperous Sri Lanka, the path followed is as important as the results. Great pain now for great gain some time in the distant future will make him a falling star.

What approach will he pursue? Will he follow the dictates of the theoretical economic pundits or use a more pragmatic approach? It is useful to recall what Prof. Pigou said a long time ago. He said economics is common-sense, theoretical economics is common-sense made difficult. The theoretical economists who like to make common-sense difficult will in a cloud of jargon argue that the first priority is to establish good macroeconomic fundamentals.

So, reduce the budget defcit. This means cutting back on welfare measures and investment to reduce expenditure. Improve the balance of trade by curbing imports by raising tariffs. Cutting back on welfare will reduce disposable income and this will also reduce imports. Improve the debt to GDP ratios, so cut back on infrastructure expenditure. Make a tactical devaluation of the currency to help exports and reduce imports (and ignore the increase in the cost of living), etc.

This type of approach will be commended by the IMF. Some Western governments may also say nice things about the economy being well managed. But all this good fundamentals strategy will not provide good inclusive growth.


The common-sense approach

We must fundamentally develop what we have. We cannot neglect this and hope that having good macroeconomic fundamentals will result in massive inflows of FDI which will transform the economy.

Good macroeconomic fundamentals is undoubtedly a good thing (like motherhood and breast milk)! Whilst the latter will always be good and we must not interfere, we must be prepared to bend macroeconomic fundamentals to pursue more sensible pragmatic objectives.


The heart of our economy

The heart of our economy is the rural sector. Around 75% of the population is in rural areas. Agriculture is a core part of the rural sector. Another key part of our economy is the SME sector which has close links to the rural sector. According to a recent ADB report a third of our GDP is from the SME sector. It employed 35 % of the labour force and provides 20% of exports. What we need is a rural cum SME centric economic strategy.

All parts of the economic activity in the rural sector must be developed. The complementary SME sector should be supported.

Free trade is another sacred cow with economists. Free trade agreements unless very cleverly structured can destroy our agriculture, industry and the SME sector.


Tourism

Tourism fits well into a rural SME centric strategy. Tourism can be our oil well. We have a tiny share of the global market. We get around 1.5 million tourists .Thailand and Malaysia get around 25 million. It is a global industry with perfect competition and no oligopolies with monopolistic control, so there are no barriers to growth.

Big business is private sector. It has complete freedom to grow and develop. The Government should facilitate with a supportive tax structure. It should remove the plethora of approvals that are required as it severely hampers new activity.

Pursuing a rural/ SME sector centric strategy does not in any way hamper the growth of the big business sector or inflows of FDI.


The shining diamond in the sky or a fading, falling star?

The most important thing that will determine the answer will be the economic performance of those sectors of the economy that affects the greater majority of our people.