"Arumugam Thondaman objected to the former President offering me a ministerial portfolio. Now that we are in power, I will not allow him becoming a cabinet minister in our Government," declared Minister of Upcountry New Housing Infrastructure and Community Development Palani Digambaran.

"I will never get together with Thondaman. He is a threat to my life. If he gets power he will take revenge from us. That is not a secret. However, I don't want to work with lunatics," the Minister said, in an interview with the Daily FT.

Diganbaran is the leader of the National Union of Workers (NUW) and also a member of the Tamil Progressive Alliance.

Following are excerpts: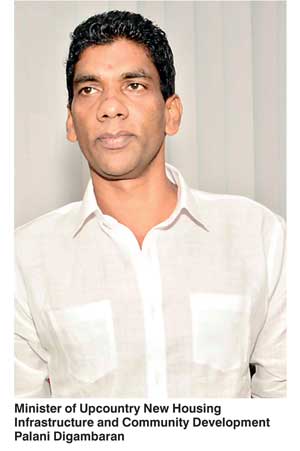 Q: Why did you threaten to leave the Government if Arumugam Thondaman is offered a ministerial portfolio?

A: I feel this incident was blown out of proportion by the media. I never threatened to leave the Government. The media has misinterpreted what I meant. Let me explain what actually happened. The media wanted my comments on the rumour Ceylon Workers Congress (CWC) is to join the Government and that Arumugam Thondaman will get a ministerial post. I answered them saying 'if Thondaman joins Government, I will leave'. But all I wanted to say was if Thondaman is offered a ministerial portfolio we will object that move. Now everyone is under the impression I am leaving the Government. However, I don't think we should discuss this matter any further because Thondaman will not join the Government.


Q: Why do you say that? Were you given any assurance by the Government?

A: I was not given any assurance by anybody. The truth is Thondaman will not be joining the Government. He will not be offered a ministerial portfolio. This was only speculation. The Government has no intention of taking CWC or Thondaman. It was only a false rumour given unnecessary publicity by the media.


Q: The media reported that along with you six more will leave the Government. Can you name them?

A: I just told you that Arumugam Thondaman will not join this Government. Therefore I will not leave. So there is no point naming those people.



Q: Are you worried that if Thondaman joins the Government, people will support him and you will lose popularity?

A: People chose me and elected me with higher votes when Thondaman was in power. Do you think people are stupid to support a politically bankrupt person like him?


Q: Who is more popular among the estate workers, you or Arumugam Thondaman?

A: Who says he is popular? I am the one who secured over 100,000 votes during the last election. He got only 60,000 votes. So who is more popular? Why would people like Thondaman? What has he done for the upcountry? What has he done for estate workers? If he was popular, why did people sent him home? Why did people elect Diganbaran, Radhakrishnan and Mano Ganesan with massive votes?

For the first time people decided not to elect Thondaman. Now isn't that an achievement? Estate workers are no fools. They have realised Thondaman will never do anything for their wellbeing. People have faith in us because in just less than one year we have done a lot that Thondaman failed to do over the last so many years. There is no question about popularity.


Q: You have worked with Thondaman during the Mahinda Rajapaksa administration. Why is this sudden displeasure?

A: During the Mahinda Rajapaksa regime, I was promised a ministerial portfolio. But Arumugam Thondaman objected to that. He didn't allow Mahinda Rajapaksa to offer me a ministry. However, in the latter stages Rajapaksa gave ministerial posts to me and Radhakrishnan. But Thondaman continued to protest; he was unhappy about our appointments.

Now this is our Government, why should we offer him a ministerial post? If he objected to our appointments when he was in power, we should not give him a ministerial post in our cabinet. We should not forget the fact that he was rejected by the people. What would people think? They will lose the trust they have in us if we allow such things. People wanted to teach him a lesson. They gave us an opportunity to be in power and raise a voice for them. We should not break that trust people have in us.


Q: Why did Thondaman object to Mahinda Rajapaksa offering you a ministerial portfolio? What was the reason?

A: During that time Thondaman had power. He had three or four Parliamentarians on his side and we had only two; it was just me and Radhakrishnan. But today we have more power. We have six with us whereas Thondaman has only two. He doesn't have much to say at the moment. I honestly don't see any sensible reason for the Government to offer him a ministerial portfolio.


Q: You have been in power for nearly one year. What have you done to uplift the lives of upcountry Tamils?

A: We have identified three areas that need to be looked into in order uplift the lives of estate workers. The three areas are education, housing and more job opportunities. We will give estate workers seven perches to build a house and the Government will build the houses too. Now imagine getting land and a house to call their own; for the last 200 years these people have lived in line rooms. What we are trying to do will be a remarkable milestone. Apart from this, during the next four years we have planned to build 50,000 housing units. Prime Minister Ranil Wickremesinghe has assured his fullest support in this regard. It is still at the discussion level, but we will commence this project very soon.

If we take education, Minister Radhakrishnan has taken initiatives to build a school in Hatton with all the facilities. It is called Royal College. We believe this will be a good opportunity for students. This school will have all the facilities a so-called leading school in Colombo has. Meanwhile, we are carrying out some important projects to develop Hatton town. There are some interesting projects that we are discussing at the moment. When all of these put into place I think we are doing a lot to keep the estate workers happy.

After many, many years the plantation workers' salary issue finally reached a solution with Prime Minister Wickremesinghe taking personal responsibility to increase their allowance. Nobody can point a finger at us and say we haven't done anything. Minister Radhakrishnan, Minister Mano Ganesan and I will make sure these projects are implemented fully. We will not let down the people in the upcountry.


Q: Don't you feel you can achieve more for the upcountry by working together with Ceylon Workers Congress?

A: I have told this to media many times. I will never get together with Thondaman. He is a threat to my life. If he gets power, he will take revenge from us. That is not a secret. However, I don't want to work with lunatics. I can't work with such insane people.


Q: What are the remarks of upcountry Tamils about the present Government?

A: When you cultivate, it takes some time to harvest. This is a simple theory. What can this Government do in just 12 months? It needs time. Mahinda Rajapaksa and his henchmen stole billions and billions of people's money. As a result the country is suffering today. The country is debt ridden. We have explained this to the people. The Prime Minister is taking all possible measures to overcome this unfortunate situation and put the country back on track politically and economically. We can't expect miracles from this Government. People should give them more time. I personally feel if we allow Prime Minister Wickremesinghe to carry out his proposals, the country's economy will soon recover.