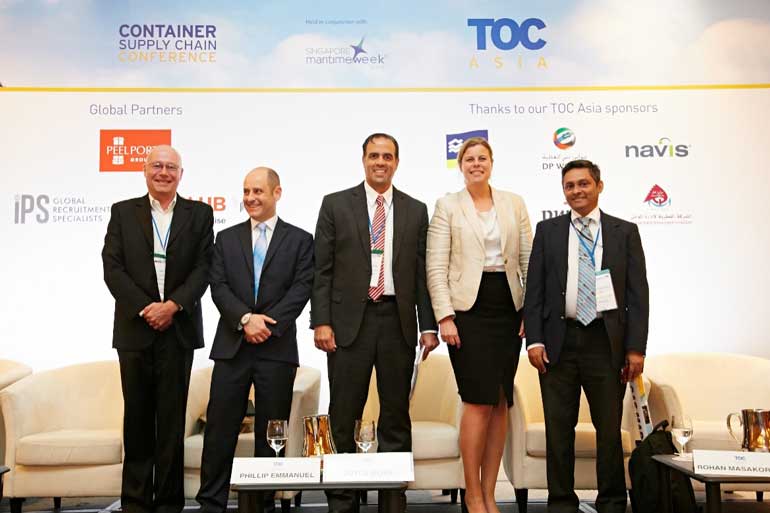 Session speakers on maritime issues at TOC 2015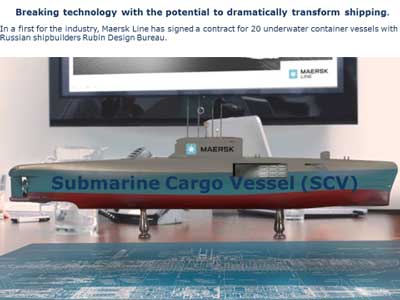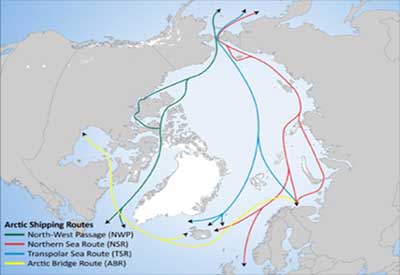 At the recently concluded Singapore Maritime Week, professionals once again shared and discussed terminal productivity, port equipment, ship size, congestion and green energy among many other topics.

While the challenges facing terminal operators and 24,000 TEU mega ships were being discussed, I was able to highlight a new development when I presented a recent article which suggests action which will dramatically alter the shipping industry. It deals with competiveness, innovation and imagination. In the interest of the readers I have reproduced the shipping article on underwater container vessels below.



"In a first for the industry, Maersk Line has signed a contract for 20 underwater container vessels with Russian shipbuilders Rubin Design Bureau. The announcement was focused on short-sea and feeder services in the Arctic. This order aims to provide an alternative to the traditional long-haul trades.

Speculation has been widespread in recent years that receding polar ice will open up the North-East Passage for widespread cargo shipping. The potential is obvious; for instance, the distance from Shanghai to Rotterdam would be just 8,046 nautical miles, compared to 10,557 via the Suez Canal.

"Even so, the route remains highly seasonal and unpredictable, and thus unsuitable for container shipping, which requires stable, just-in-time operations to be worthwhile. Underwater shipping changes that equation, however, since staying below ice and weather gives the needed stability. Additionally, it allows for a further shortcut of 7-800 nautical miles, employing the Transpolar Sea Route, directly under the North Pole.

"The shorter distance allows for extreme slow steaming, outweighing the added cost of a more complex vessel while retaining competitive transit times.

"'The good thing is, that by staying underwater we can still have shipping in the Arctic, even if we should eventually succeed in reversing global warming,' says a spokesperson from Maersk Line Sustainability.

Typhoon class submarine design

"Located in Saint Petersburg, Rubin Design Bureau has a long history of submarine design and production. Based on a Typhoon-class submarine, the Submarine Cargo Vessel (SCV) is a further development of never-built designs from the 1990s.

"Maersk Line's first batch of SCVs will have a capacity of 2,800 twenty-foot equivalent units (TEU), loaded through a series of hatches. Some changes will need to be made at the terminals to cater for the new type of vessels. The first vessel is expected to be delivered four years from now, on 1 April 2019.

"The design project, previously codenamed 'Blue October', has not been without its challenges. Key among those has been to ensure that dry cargo remains, in fact, dry. There have also been questions about crewing conditions and emissions, but all of these have effectively been solved.

"Says one member of the project team, 'When I was asked to join a subcommittee, at first I expected something really boring. But this has been by far my most interesting project so far, and I am sure the vessels will take Maersk Line to new depths of competitiveness.'"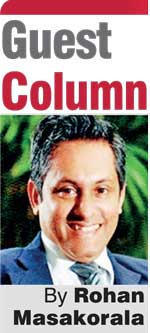 Lessons for Sri Lanka

I can remember in the good old days how experts in Sri Lanka would talk about the Trincomalee Port and its importance to naval fleets from around the world due to geopolitical reasons. However, with the expansion of technology and the presence of large aircraft carriers, today the US and other top navies from around the world do not depend on ports for their activities anymore.

Hence we must ask ourselves, what does this 21st Century technology transformation mean to shipping, ports and infrastructure? The answer is ahead of us but as an emerging maritime nation Sri Lanka has been focusing on its strategic location. The question is whether this is going to be the only competing tool for the future.

As a country we are yet to announce our national maritime plans, policies and a roadmap for servicing the global shipping industry in a competitive manner. It may be a matter of time before new technology trumps the advantage of location. As a country we are still not prominent on the global stage.

While many stakeholders may give views on how the country should move forward, in the short and medium term, in my view, the terminal operators of the Port of Colombo, who have invested large sums, are the best advisors for the Government.

Their performance is key to attracting more main lines to the Colombo and Hambantota ports and in general bringing in more businesses to Sri Lanka. In the long run the solution will be beyond the port operators but with our national polices laid down clearly on how we are going to compete globally.

Innovation, speed and focus on market demands are the ways forward for the Sri Lankan maritime industry.

(The writer is the CEO of the Shippers' Academy Colombo, an economics graduate from Connecticut State University USA, senior consultant at Ports and Aviation- SEMA, the past chairman of the Sri Lanka Shippers' Council, the former director of SLPA & the immediate past secretary general of the Asian Shippers' Council)