"This could be our last chance in bringing Mahinda Rajapaksa into the party," stresses Sri Lanka Freedom Party bigwig John Seneviratne.

"There are certain avenues that have been suggested by President Sirisena. Now we need to know whether Mahinda Rajapaksa will agree to avail himself of those opportunities or whether he expects anything more than that," said the former Minister.

Seneviratne, who is heading the six-member SLFP committee appointed to create mutual understanding between President Maithripala Sirisena and former President Mahinda Rajapaksa, is hopeful the rifts in the party will end soon and the SLFP will be united in order to face the upcoming election.

Following are excerpts:
---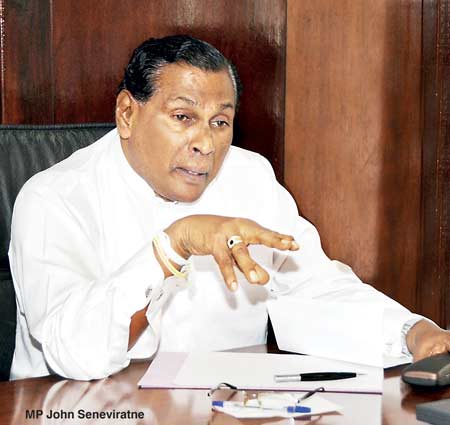 Q: What happened at the discussion between the President and the six-member committee of the SLFP?

A: We met the President and had a very cordial discussion. We suggested that Mahinda Rajapaksa should be brought into the party so he agreed. Other related questions were also discussed.


Q: What are the 'other related questions' that you discussed?

A: Unfortunately I am unable to share that information with you until I discuss it with the former President. We will be meeting the former President perhaps on Thursday. Our main purpose is to see that the party is not divided. We will not let the party be weakened by divisions.


Q: Are you satisfied with the outcome of the discussion?

A: Yes, it was positive. From the start itself we felt that way, because earlier it was a case of blank note.



Q: Did you also discuss Dr. Rajitha Senaratne's statement? Was there any protest?

A: He (Dr. Senaratne) has been extremely irresponsible. He is the Cabinet Spokesman. When he talks, he must talk with a sense of responsibility. He should talk the truth and nothing else. May be he doesn't like the view that is expounded by us, so he interpolated it with his own views and thinking. At the time he made this statement we had not met the President, but he said that we met the President and the President downright dismissed our demands. That was not correct. That was absolutely a lie. I hope he will not repeat that type of thing in future.


Q: Did President Sirisena agree for Mahinda Rajapaksa to contest?

A: I am sorry I am unable to answer your question until we talk to the former President and inform him of what President Sirisena said. This is a subject we are very cautiously handling because this could be our last chance.


Q: What will be Mahinda Rajapaksa's role in the party?

A: That depends. There are certain avenues that have been suggested by President Sirisena. Now we need to know whether Mahinda Rajapaksa will agree to avail himself of those opportunities or whether he expects anything more than that. We feel there will be another two to three rounds of talks.


Q: The former President openly admitted that he failed to take action against wrongdoing and misconduct that took place under his administration. Why do you want to bring a failed leader back into the party?

A: By that alone you can't judge a person. We judge him by the services rendered to the country. I don't see him as the only person who should be brought in or him as the only person who should hold this position. What I see is that he is a person who commands the respect of the people or the confidence of the people. We can't decry that. We know these types of issues are resolved by the opinions of the people. A large majority of the country expect him to be in the ruling sector again. It is true that he democratically lost the election, but what we feel is that his service should be obtained in whatever capacity because the people still want him.


Q: Why do you say people still want him?

A: I represent a Ratnapura electorate. I go there very often. I meet people. I take part in discussions. The main demand is that Mahinda Rajapaksa should be brought in. This is why we say people still want him.


Q: Do you feel Mahinda Rajapaksa is more popular than President Sirisena?

A: I don't have a yardstick for that. I don't want to commit myself either. All I want to tell you is that the present President and Mahinda Rajapaksa are both in the same party. That is why the issue has come up. If he was from another political party, this would not have come up like this. President Sirisena is the incumbent Leader of the SLFP. Therefore, people are demanding of him that Mahinda Rajapaksa should also be brought in.

If President Sirisena can contest from another coalition of parties and become the president of the country and also become the leader of the party because it was handed over to him, people must be thinking 'why can't Mahinda Rajapaksa also come back?'

Our intention is to let both these leaders hold hands and form a joint leadership and lead the party. The party is in a weaker position if they are not together. We cannot wait and watch the party go from the present weaker position to worse; that is why we are demanding action.


Q: The SLFP is blamed for delaying the election. Your views?

A: The present Government has failed miserably. Everybody is blaming them; people who voted for them and people who didn't vote for them. This Government was shouting about the 100 day program. The 100 program was implemented from the day that they came into power. Our support also depended on the 100 day program. Although they say the 100 day program is over and their period is over, there are certain important matters which they have failed to implement, like the change of electoral system. Now they are trying to fulfil that too.

The President especially wants to fulfil that because he the one who made that promise to the country. Now he is holding on in order to do that. That is their decision. It is not our decision at all. If they want to dissolve Parliament, we are prepared to face an election. It is for that purpose that we want to unite the party.


Q: Why do you insist the President should set up an SLFP government before going for an election? Is it because you cannot face the election without State resources?

A: Yes, it is true that we requested the President to do that. This is to implement democracy in the country. Democratically this Government can't be in power because they don't have a majority. They have admitted this. Prime Minister Ranil Wickremesinghe has said they don't have a majority in Parliament and therefore dissolve it. Wickremesinghe can't decide that. It is the President who can decide whether he wants to dissolve Parliament or not.