It is not necessary to be agitated the moment you see the heading, perhaps with the nation's future only directed to be with men of science. We live in a world where issues are kept alive so as to give purpose to some people to live or make a living!

There is no gender discrepancy here as the English word 'man' comes from 'manusya,' a Sanskrit term and it simply relates to a human being! Thus this is not a title with a gender bias. I think we have apologised far too many times over the use of the word man and when gender interpretation should have been the furthest from any mind. Unfortunately these have become real red herrings of the present society, where we spend quite a lot of time trying to solve unnecessary issues we ourselves have created.

However, this is not a column about gender, man or woman, but about science and national development. If at all a subject that is missing in real discussion in our country is how science can be used and how it should be central to deliver real growth to our economy. When we keep hearing how wonderful the service sector is going to be, I feel we are still missing the 'real transport option for the nation' – i.e. the bus, in a big way.

Cuba

The title to today's column comes from a comment made by a Cuban leader – Dr. Fidel Castro Ruz in 1961 while in a meeting with scientists. His comment was: "The future of our nation will necessary be a future of men of science, a future of men of thoughts…" This comment came during the end of the literacy campaign that led to the declaration of Cuba as the first Latin-American country free from illiteracy.

Historical data reveals that around that time 20% of Cubans were illiterate. The research sector had consisted of only four experimental stations employing around 100 people, where definitely the whole number could not be research scientists. Then the Cuban population of six million has had access to three universities.

Determination to change

However, there was the determination to change. The desire had been to have an indigenous S&T approach for domestic needs and Cuba moved on with developing a significant R&D infrastructure along with human resources. Within a short time span Cuba reinvented itself in science and technology. It's been a tremendous feat in developing biotechnology – where Cuban biotechnology is considered world class.

Consider the current indicators; 1.15 researchers and engineers per 1,000 workers, 400 scientific researchers per million people, 943 million PhDs per million people, 16,500 R&D personnel per million total employed, 232 R&D institutions, which propels Cuba to be among the best among developing countries.

There are all the chances of the USA learning something new from Cuban medicine and biotechnology as a cruise ship docks into the Cuban harbour today amidst the recent blossoming of relationship. Cuba had to develop under strong constraints and only today one sees the barricades being removed.

However, the Cuba today is not the Cuba of 1961. The purpose and passion had changed the nation and there would be the common agreement on how science supported development. Men of thoughts combined with the men of science have enabled Cuba to give rather than request. There is no question that there are bound to be some equally telling stories in that journey. What lessons are on offer and first of all, are we interested in learning? Sri Lanka today is also not the Sri Lanka of 1961 but think about the Cuba and Sri Lanka in 1961.

National aspiration and science

The most important perhaps is the tying up of the national aspiration with science as the means. Thereafter the strategic investments and for Cuba it could not have been easy with the US embargo. Not distributing limited resources across many, they strategically invested in a few key areas and biotechnology and healthcare became a national priority.

It is stated that in today's Cuba every new Cuban biotechnology product is accessible to every Cuban who needs it completely for free and this indeed is remarkable. Scientists outside the biotechnology stream have also excelled even though funds have been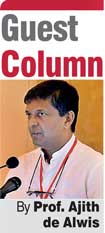 scarce. It has been reported that experimental physicist Ernesto Altshuler used things like ants and tea leaves to model different physical phenomena, including spending under $100 to create granular material studies on par with multi-million dollar research institutions (ref: Smythsonian).

Thus passion had played a role too. We many a time hear too many complaints. Our reason for poor performance is simply because we do not have the state-of-the-art facilities, thus how can we shine? Then we migrate to dabbling eternally on policy and fill up racks with different versions of our internal aspirations clothed as policy statements with no results in sight. Ernesto may not have articulated his work from a Blue Economy perspective as proposed by Gunter Pauli, but what he did matches the concept. Therein lies another lesson to us. At some point it is not what you have but what you do with what you have that really matters.

Networking

Cuba also has a science technology and innovation system today where all the social and economic actors too who have some relationship to science and technology production and utilisation are connected. Networking is promoted for synergy. This is particularly a poor area in our country.

The numbers that we are demonstrating today under the earlier headings are not impressive at all and one should seriously question how we have consistently managed to walk backwards. To connect across ministries the enormous amount of paperwork and approvals necessary are a real challenge.

We thrive in 'fileware,' an organisational aspect of ours that is quite cancerous. Though we may have computing machines, they are hardly switched on as the bulk of the activities are still based on comments, counter comments, signatures and more signatures on paper. The mass of human activities carried over a trivial issue is really quite bewildering and how someone expects this state of affairs to take us into the knowledge society with an upper middle income level defies rational thinking.

From a decent standing in the late forties and early fifties, though perhaps an analysis may reveal that actually we did not really do what we should have done, we have seen countries that we were ignoring or remembered only for disparaging remarks have surpassed us, Korea being a classic example. Korea is having the last laugh today though I doubt very much whether they spare time to look at us and do that as they are busy-bees. It is time even at this late hour to take stock of the situation and engage in some self-surgery.

Reluctance to change and failure to think

Quite simply, the issue with us has been the reluctance to change and the failure to think! All organisations can be described by 6M (men, materials, machines, methods, markets and money). How one creatively manages these attributes will lead to the subsequent differentiations among peers. As changes lead to growth, an organisation has the potential to be world class and the presence of such organisations shapes the national economy.

As an example BASF transformed itself and transformed Germany in the process too. There is the need to understand the value of being disruptors with a positive mindset within organisations. We believe in too many circulars in the public sector and too many standard operating procedures in the private sector. As we write, some more countries must be passing us and that is not a sobering thought.

We have heard similar to what Dr. Ruz stated from India, Singapore, Malaysia, etc. Needless to mention any country of G7 here, as they knew the way forward as well as where to place money and resources from the very beginning. In Sri Lanka we still await at least one man of thoughts to articulate the need for men of science when talking fervently about the future of our nation.
[The writer is Professor of Chemical and Process Engineering at the University of Moratuwa, Sri Lanka. He can be reached via email on ajith@cheng.mrt.ac.lk.]