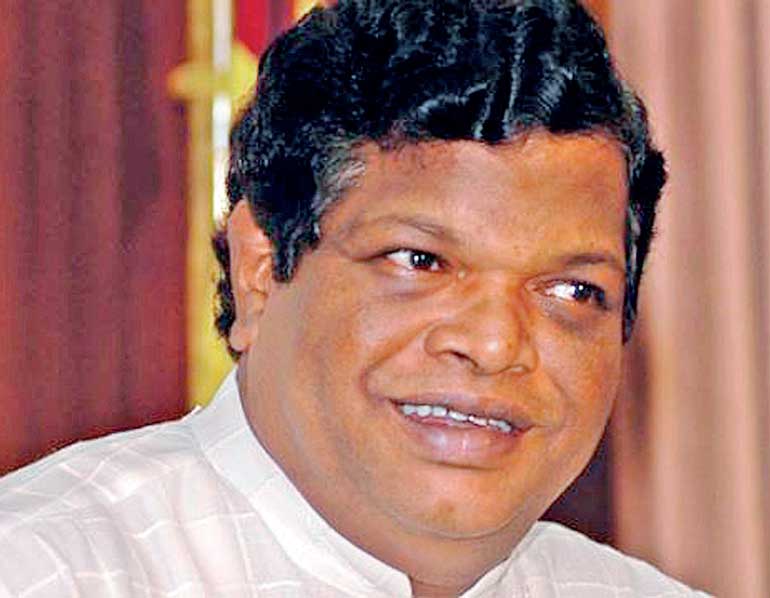 The country's economy will collapse soon due to the immature policies of the United National Party, warns former Education Minister Bandula Gunawardena, in an interview with the Daily FT.

Charging that the Government had failed to revive the economy despite improved conditions in the world economy, he said: "World crude oil prices came down to $ 40 per barrel. Due to this the Government has saved almost $ 830 million. What did they do to that money?"

The former Minister who is once again in political limelight after misquoting Ravi Karunanayake's name in Parliament last week says he is the latest victim of this Government. "I apologised for my mistake, but it doesn't matter to them. They can't take me to the FCID, they can't call me a thief, so they are using this to dishearten and insult me. "

Following are excerpts of the interview:
---
Q: By misquoting Minister Ravi Karunanayake's name last week in Parliament, were you actually trying to rouse racism?



A: Believe me I would never utter a word if it leads to any racial issues. The UNP is trying its best to point a finger at me and say I mispronounced Ravi Karunanayake's name deliberately to rouse racism in Parliament. That is not true. We don't support this Government and we refused to be a part of it. We openly criticise them. As a result we are labelled as the 'anti-Government group'. They try to find fault from our past so they could take us to the FCID. If not, they try to find some mistake to insult us. Every word we say is used against us and I am the latest victim.

I have been a Parliamentarian since 1989. I have never said or done anything deliberately to insult any individual or a community. There were worse times especially during the Premadasa era I have been vocal about many issues and criticised the Government and rulers, but I never used sensitive subjects or insulted anybody.

Sometimes we use little techniques during our speeches to attract the audience. I remember Prime Minister Ranil Wickremesinghe in most of his speeches refer to the former president as "Percy Mahinda Rajapaksa'. I too was trying to use Ravi Karunanayake's full name. In the Sinhala Hansard report both Karunanayake's and Mano Ganeshan's names were printed as one name. But later when I checked the English Hansard it was clearly printed as two different names. I apologised for my mistake. But it doesn't matter to them. They can't take me to the FCID, they can't call me a thief, so they are using this to dishearten and insult me.


Q: But do you agree that you have been making irresponsible and controversial statements in the recent past?

A: This is why I said some of us are victimised by this Government. We have been in politics for decades. I haven't stolen a rupee from this country. In fact we have done so much for Sri Lanka and its people, but nobody remembers what we have done.

There is controversy over my statement against the JVP. It is not a secret that the JVP killed hundreds of people and ruined our country's economy. When I was a minister I filed a case in the Gampaha Courts against a JVP politician. In order to take revenge they are saying I have played out money from the 'Mahindodaya' schools project. They have no proof to even build up a case. I have taken all the measures to prove those are baseless accusations.

When I was a minister I never took my salary. I remitted my salary to the 'Api Wenuwen Api' fund. I never used an official residence. I didn't take any money from the Government as house rent. When I return after a foreign trip, I always return the balance money to the last cent. My children or my wife never accompanied me when I go on official trips. I never used State vehicles for my personal use.

Now no one remembers the good we did for this country. The media too seems to have forgotten us. When people accuse us of baseless charges, no media contacts us to get our point of view. This is the standard of politics in Sri Lanka. Genuine people like us cannot survive in the political world. The only option is to team up with them and play out the money, but I would rather face the mudslinging.



Q: Do you agree that politicians like you and Vasudeva Nanayakkara, once considered as political ideals, no longer have the respect and affection of people?

A: In recent history the only politician and leader to have such respect and affection was Mahinda Rajapaksa. After Anagarika Dharmapala, the next national hero was Mahinda Rajapaksa. He had a massive image. Not only in Sri Lanka, Rajapaksa was respected by people and leaders around the world. Unfortunately some were threatened by his fame. As a result he was under attack by both local and international communities. This is why Channel 4 did films like 'Killing Fields'. This is why Western countries accused Sri Lankans as thieves and criminals. That is exactly what the UNP is doing to some of us right now. Just because they are threatened by us, they accuse us of being criminals and rogues.

Sirimavo Bandaranaike was the first woman prime minister in the world. What did the UNP do to her? They had a special commission appointed and a mechanism was introduced to take away her civic rights claiming she stole money and ruined the country's economy. Neighbouring country India intervened and Indira Gandhi urged Sri Lankan rulers that by doing so we would bring a bad name to the whole of Asia. But the UNP went ahead with that. Anagarika Dharmapala and S.W.R.D. Bandaranaike were also victims of the UNP. Even UNP Leaders like R. Premadasa had a similar fate mainly due to the class and background he represented. He was character assassinated by his own party. That is why he once cried and urged not to damage his image, saying if he had done anything wrong he was ready to face the consequences.

This is the type of political culture we have in our country. We have to look at these matters in a very mature way. I don't think Minister Vasudeva Nanayakkara or I have made any statements that will tarnish our reputation, but certain media and the UNP are trying their level best to do that.


Q: What are you doing at present?

A: I am engaged in two areas of research. The University for International Foreign Studies in Beijing China offered two scholarships to Sri Lanka. I got one opportunity. I have been doing this since 2013 but was unable to complete some of the work. I am also working on a book which says Anagarika Dharmapala was the father of education in Sri Lanka. Currently I spend most of my time gathering information for these two projects and I enjoy doing that.


Q: Any special plans to face the upcoming local government election?

A: People at the grass-root level tell us they don't want a UNP government because they do not accept the policies and principles of that party. They tell us in future elections we should contest as the UPFA. They have clearly told us that if we contest as the SLFP they will not vote for us.

Recently at a function held in Polgasowita, some supporters openly told me that if I contest from the SLFP, they will not vote for me. In Colombo there are number of small and new political parties which are anti-UNP. People request us get together with those parties under the UPFA and contest the future election.

I too believe that if we contest as the SLFP we will not be able to win any election. That is a fact. I sincerely hope President Maithripala Sirisena will realise this truth. I honestly don't know whether this grass-roots level and village thinking actually goes to the President. The Central Committee comprises members who were rejected by the people at the election. I don't know whether those people convey the ground reality to the President. These people have to go to villages and talk to the people. They have to attend a funeral or a function and listen to what people have to say. Without doing that, how will they know how the people actually feel? In that case, how will the President know what the actual situation is?


Q: Any remarks about the Government and the work it is carrying out?

A: The United National Party is finding it difficult to continue this Government. That is the truth. The UNP has a significant advantage that was not enjoyed by any other government in this country. When Mahinda Rajapaksa came to power, he had to tackle a number of critical issues locally and internationally. When he became the President, the country was still recovering from the 2004 tsunami devastation, world oil prices had increased drastically, after 30 years the entire world was facing a food crisis and the world economy had collapsed. On top of all that the LTTE started launching air strikes in Colombo. Mahinda Rajapaksa and his Government had to fight these five main battles.

When the UNP came to power, it had no such worries. There were no battles to fight. They had the biggest advantage when world crude oil prices came down to $40 per barrel. Due to this reason this Government was able to save a large amount of money. The economists have worked out nearly $ 2.5 billion could be saved at the end of this year. In 2014 from January to April the total amount spent on crude oil was $ 1,761.7 million. In 2015 from January to April the total amount spent on crude oil was $ 921.7 million. This Government has saved $ 830 million.

The Opposition is preparing a document which will be handed over to the President within the next couple of weeks suggesting that this money be utilised to revive tea, rubber and coconut exports. This is a fair request. When crude oil prices were high, we used the money we earned from tea, rubber and coconut exports to buy oil. Therefore it is not a crime to use the money we saved on crude oil to revive the now ailing exports.

However, what I don't understand is why the dollar keeps fluctuating when the Government has saved such an amount of money. Today we pay Rs. 143 for a dollar that was Rs. 131 before. We had $ 8.2 billion as foreign reserves. Unfortunately today it has come down to $ 6.2 billion. Of that $ 1.5 billion given by Indian on temporary basis.


Q: Are you saying country's economy is in a crisis due to UNP policies?

A: It is believed that the UNP has always had better and sound economic policies compared to other political parties in the country. I have never experienced the UNP messing up the economy like this before. Take the vehicle leasing issue as an example. Initially the Finance Minister said only 70% would be allowed when leasing a vehicle, but the reality is that even rich people go for a full lease to avoid tax issues. On the other hand there were people who voted for this Government hoping to buy a vehicle. All those people protested against the Government's decision to stop full leasing of vehicles. Then the Finance Minister said it has been amended to 90% leasing, but to date the Governor has not accepted Finance Minister's statement.

There is another belief that the dollar will rise to Rs. 150 after the Budget. So as we speak dollar is sold at Rs. 150 in the black market. Foreign investors are withdrawing money. Locally we can deceive people and say the economy is doing very well, but internationally it is a known fact that the Sri Lankan economy is at a critical juncture. They know the majority of foreign reserves are artificial.

There is a clause in the Fiscal Responsibility Bill that following a Parliamentary election when a new Parliament is in power; within two weeks an in depth analysis about the financial situation of the country should be presented to Parliament. This needs to be given to the people too. Last week when I raised this matter in Parliament, they say it has been already submitted. Whom are they trying to fool? This is exactly why we are targeted. We always question and criticise the Government. The UNP is using the English media to prove the economy is doing perfectly well, but that is not the truth.


Q: If you are offered a ministerial post, will you accept it?

A: When we were approached by the Government, we clearly told them we are against a national government. We asked for a mandate from the people to form a government where Maithripala Sirisena would be president and Mahinda Rajapaksa would be prime minister. If the people have rejected that, it is our duty to remain in the Opposition. That was my stance from the beginning and that has not changed.