Once I was talking with a CEO of a leading apparel company in Sri Lanka. He was probably into his third glass of wine. I was explaining him about how we are working with big companies to shift from CSR to Corporate Sustainability. He looked at me annoyed and said, "What are you talking, CSR is about social and sustainability is about the environment."

I tried to explain him the world has moved beyond that narrow viewpoint. He was visibly annoyed and dismissed me saying, "Look, I've studied about sustainability in my MBA so don't tell me what it is." That was the end of the conversation. I have been in some awkward meetings where corporate leaders say ridiculous things about sustainability. Here are the top five.


1. We plant hundreds of trees
He's not alone. Most of the corporate community from top to bottom think that sustainability is about doing something good for the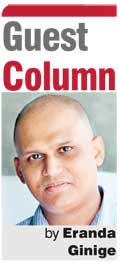 environment. Many of them think planting trees is sustainability.

They spend more money on organising and advertising tree planting ceremonies than the actual cost of planting them. Each special guest travels in their own SUV to the ceremony, emitting more CO2 in the process than what those plants will absorb in a year (If they survive). Planting trees is good, but planting some hundred trees a year is not going to assure sustainability of your company.

Corporate sustainability is about your company's "ability" to "sustain" in the long run. The question that every CEO should be asking from themselves is "how can my company survive in the next one hundred years?" The moment you start asking that question, the rules of the game change. It's not easy to think like that when you have been conditioned to plan for the next two quarters or at the longest two years. But that's just called "business-as-usual".


2. We do a lot of CSR
While the original concept of CSR is in fact similar to corporate sustainability, how we now practice CSR is far from it. Cleaning a beach once year, donating computers, building a water tank are all good and worthy projects, but that's not going to help you become sustainable.

The problem with CSR is that companies always see it as "giving back". They are "feel-good" projects often used as marketing tactics (which really don't give you much of a ROI anyway). Don't get me wrong, CSR projects are all good work and you must do more of them. But they hardly help you to become sustainable.

Sustainability is not spending a small portion of your annual budget to do some charitable work. Sustainability is about understanding the current and future social-environmental-economic challenges and making radical changes in your own business model, products and services, processes and supply chains in order to "sustain" your business in the long term.


3. We are carbon neutral
To think that you alone can be sustainable by being carbon neutral is naive. In a world where we have already passed the 2 degrees, the point-of-no-return; and in a country where the forest cover continue to fall while the CO2 emissions continue to rise, and without any major renewable energy plans, you alone surviving the catastrophes of climate change is a fantasy. And you are just kidding yourself by buying carbon credits. If only that money was actually spent on at least protecting the trees that could've absorbed your annual emissions, or building large scale renewable energy plants in the country.

Yes, the certificates look good on your annual reports, website and product labels. But your business will not be spared by the rising sea-level and extreme weather. If you are really serious about cutting down your emissions, then start radically re-inventing your business model, the machinery, the raw materials, human resources and the product itself.


4. We have a sustainability manager
In most companies sustainability comes under the CSR manager who usually has one or two staff members and a small budget. I've even seen sustainability pushed under the marketing manager's job description which makes no sense at all.

Corporate sustainability is not another programme you run in your company by one or two people. In fact, sustainability must be the top priority deliverable in every CEO's job description. You can't delegate the responsibility of making sure that your company will survive in the next 100 years. You can't delegate the responsibility of making your company's products and services be relevant in the next 100 years. You can't transfer the accountability of assuring job security of your current and future employees.

This is probably why Sri Lanka is lacking visionary CEOs who are willing to take major risks to radically redesign their business models and products today to meet the future demands. Ask yourself, aren't most CEOs simply doing the same job as their CFO or COO?


5. Sustainability is about win-win
At least not always. You'll need to lose today to win tomorrow, you'll have to stop some of your product lines, you'll have to buy expensive but sustainable raw material, you'll have to take a hit on your profits. You'll need to invest a lot of your financial and other resources today to re-design your business, research and develop new products, train and develop your people, and assess supply chains to be able to survive in the next several decades.

Another big challenge is that you can't do it alone. I've met CEOs who tell me that they want to change their products to be more sustainable but they are afraid they'll lose short-term profits to their competitors. And that's why corporate sustainability is not easy. It requires tremendous courage as business leaders to make short-term sacrifices for long term success. So much long that it's even beyond your lifetime.

We urgently need a group of pioneering corporate leaders in Sri Lanka who understands the current and future social-environmental-economic chaos; a brave set of individuals who are willing to make breakthrough changes in their own business models, lead the way to restructure their industries to be viable in the next century, and inspire the next generation of business leaders to follow in their footsteps. That's the need of the hour. Who will step up?


(The author is the former Head of Partnerships and Innovation at the British Council in Sri Lanka and the Founder of Social Enterprise Lanka. He can be reached via email at eranda.ginige@gmail.com)