Overview

Traditionally the finance and accounting or the FAO industry has been a back office services function provides cost savings, control and governance and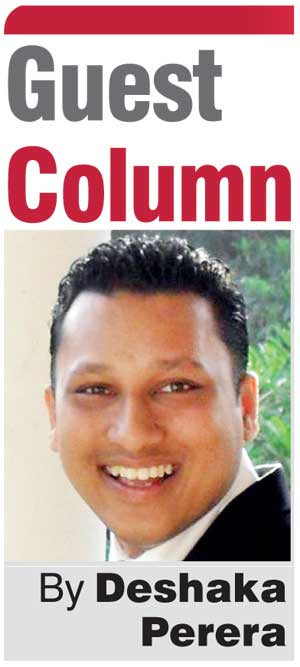 regulatory reporting. We see a quick shift of gears in the expectation of the finance and accounting industry. We are moving towards a fast paced connected world with constant disruption and to an era of technology development.

The Chief Financial Officer's role is becoming increasingly important with the business requiring 'future-proof' leaders who can disrupt the organisation, they are expected to play a more strategic role in the business and at the same time that technology and globalisation are adding layers of complexity. This envisage the CFO to be the Chief Future Officer to make insightful decisions and develop strategy to help steer their company to a strong future.

The purpose of this report is to identify the role of technology in the future of the FAO industry and provide insights to the current trends and potential opportunities to Sri Lankan FAO industry by leading the change and innovation.

The report has been segmented in to the following key discussion points to enable readers to understand the importance of this change.

nKey changes in the technological front

nRobotic process automation

nPotential opportunities for Sri Lanka to lead the change
What are the key changes in the technological front?

Evolution in the technology has significantly impacted the Finance and accounting industry like so many other industries. Even though we are still using a significant amount of manual paper work we know that the tangible workloads will be soon gone. All financial records are fast becoming digitised and integrated into online networks to be accessed from anywhere in the world. The ability to leverage the latest in cloud-based technology through various platforms has completely transformed the industry. Clients are looking for state of art solutions to be coupled with their in-house systems.

As the FAO market matures, many buyers are looking to technology as a source for added value and cost savings as per Everest Group a leading research company. "One example is robotic process automation, which can yield a cost reduction ranging from 15% to as much as 60% (see figure 1.1). We also see other contractual trends in a maturing market, such as increased emphasis on analytics, expansion of process and geographic scope, and more advanced pricing models."

Figure 1.1 illustrates the six ways FAO industry changing value proposition impacting contracting structure, out of which technology stand as the top tier.
Robotic process automation is the future

Twenty-five years ago internet was considered as trendy and innovative and now a days we cannot think about a day without internet. And 10 years ago social media revolutionised the social networking, today almost all of us are part of at least some social media network. And the next phase of technology innovation is Robotic Process Automation (RPA).

Robotic process automation is a software that operates as a virtual workforce replicates the actions of a human being interacting with the user interface of a computer system. The software robot operates on the user interface in the same way that a human would do. It captures and interprets existing applications, manipulates data, triggers responses and communicates with other systems, it can be applied to existing applications (without changing the current IT landscape).

RPA is quickly evolving to a new hot topic in the in the world. Most industries are evaluating its options while the FAO industry has seen significant potential to be a differentiator. And most of large organisations in the US and Europe are assessing possibilities to benefit from RPA.

RPA provides a competitive advantage by helping to meet the key challenges in the FAO industry.
It improves cost efficiency and makes shared services a possibility
It enables the accountants to focus on core decision making activities
Save time by speeding up finance processes and minimise handling defects and errors.
Refer figure 1.2 to identify core benefits that are forecasted through RPA. This can yield cost reduction anywhere from ~15% for offshore operations to as much as ~60% for onshore delivery.

RPA is considered as a quick win and could drive immediate benefits to the key finance and accounting processes such as accounts payable and receivables, general ledger accounting, planning/budgeting/forecasting, reconciliations and treasury.
Potential opportunities for Sri Lanka to lead the change

Sri Lanka is fast emerging as a centre of excellence for FAO industry boasting a large amount of qualified accountants. In the meantime the IT industry in Sri Lanka consistently ranked as top global destination for unique expertise around building intellectual property and software engineering.

Both these industries together can make wonders. It means that Sri Lanka needs to put a framework together to build industry centres of excellence to convince global clients to send work to the country. It is important that the IT and FAO BPM industries segmented and create and eco system of talent and create opportunities. These centres can brand Sri Lanka as a global innovation hub in the fields of RPA and finance and accounting outsourcing. It is critical that the Government and the industry come forward to encourage startups and enable new products and tools.

This can help Sri Lanka to reach the $5 billion revenue target by 2022 and 1,000 new startups. Currently the IT-BPM industry generates a little over 800 million with 300+ companies employing 60,000+ professionals annually generating – an average revenue growth of 23% each year.
(Deshaka Perera is a Senior Manager at WNS Sri Lanka and counts over 10 years of FAO industry experience. He has a wealth of expertise and knowledge in process transitions, SSC in insurance vertical, systems thinking/ RPA solutions, operational delivery and setting up of centre of excellence in finance and accounting functions in Colombo.)

​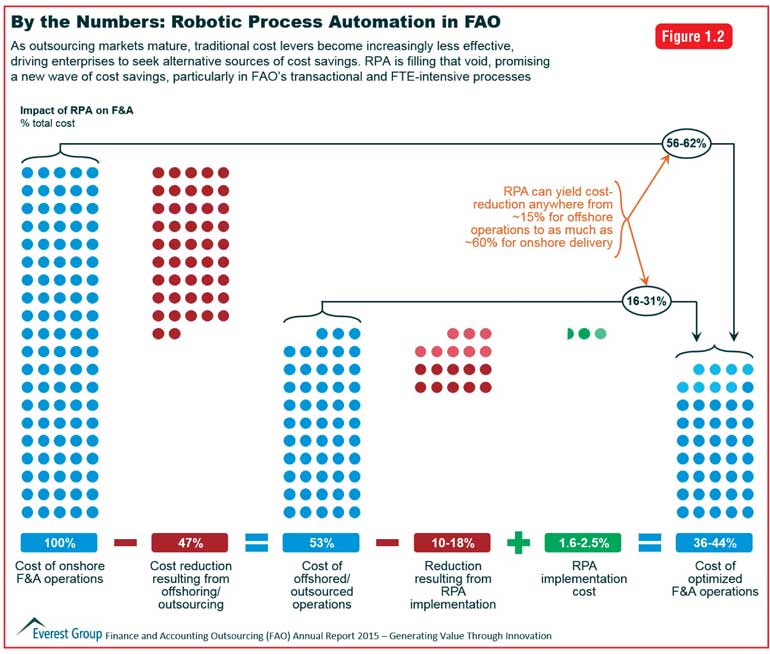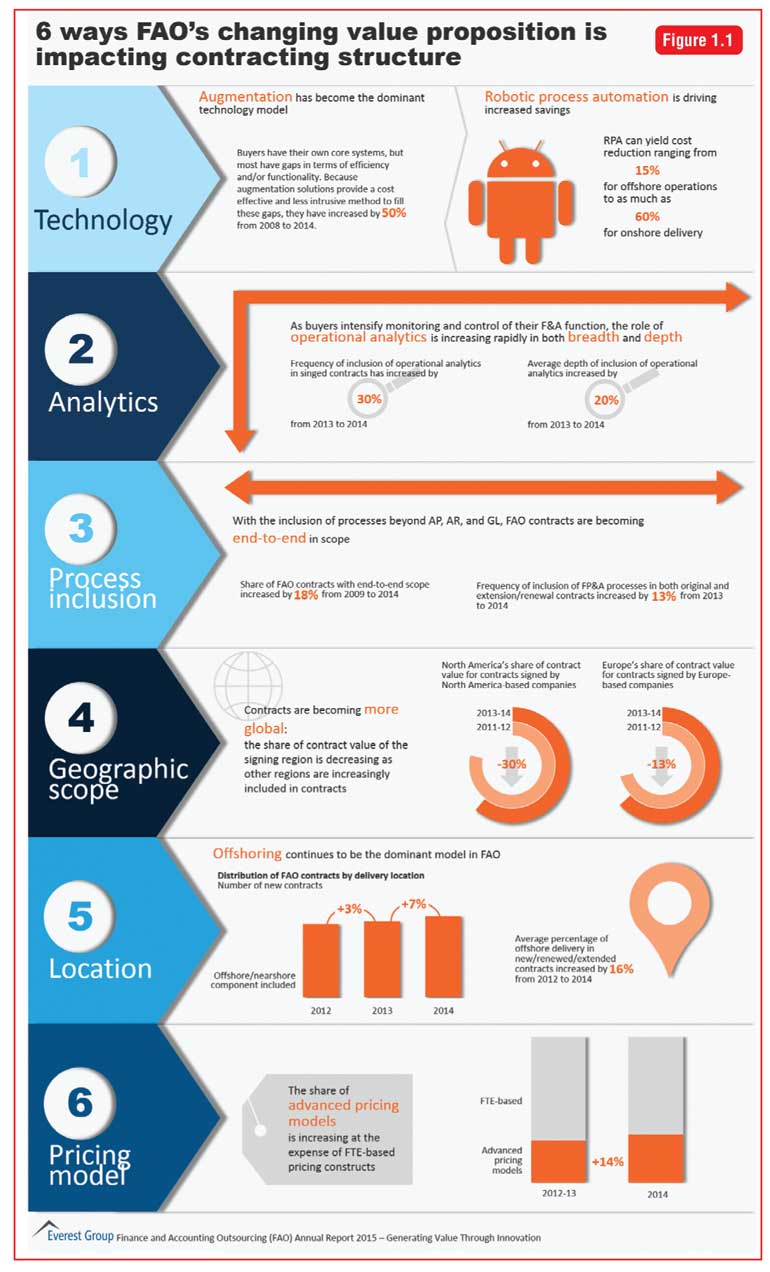 In conclusion, Sri Lanka needs to have a clear strategy in order to capitalise on the opportunities by segmenting the IT and the FAO BPM industry. As described in the article Sri Lanka has a niche given growth of both IT and BPM industries if the potentials unlocked. This can create the same revolution that the apparel industry created in the late 90s.

In my view, the question is how soon Sri Lanka could unleash the potential in RPA and FAO-BPM industry?
Other key findings
nRobotics process automation is transforming aspects of outsourcing, enhancing efficiency and cutting labour costs while freeing people from boring and repetitive task.

nInsurance vertical has seen the maximum level of automation, in the insurance sector 85% of work is automated and it is forecasted that the automation going to Put an end to the underwriting profession.

nOrganisations best at using RPA will not see it as a process independent of human intervention, but now with many opportunities for humans to work alongside robots. The term "cobotics" has been used a lot in recent times.

nRPA extends the functionality of the existing legacy systems. It mitigates drawbacks related to inefficient, manual intensive interfaces of those systems.

nService providers are increasingly investing in technology solutions and process expertise in order to meet the evolved expectations of buyers

nOver the years, technology has taken away certain jobs and created new ones. Deloitte released a study in 2015 in which they say technology has helped increase the spending power of consumers, thus creating demand for new goods and services and new jobs. They concluded that rather than destroying jobs, technology has been a "great job creating machine".

nA leading insurer in the UK has asked employees whether their jobs could be done better by robots – with those answer "yes" being retained for another role at the firm.

nA study by Transparency Market Research indicates that global RPA industry would grow at a CAGR of 60.5% and reach a market potential of over $5B by 2020.

nFAO value proposition based on new value levers are increasingly centred around technology, RPA, process transformation and analytics and ability to address the pain points in the CFO's office.


[WNS (Holdings) Ltd. (NYSE: WNS) is a global Business Process Management (BPM) leader. We offer business value to 200+ clients around the world by combining operational excellence with deep domain expertise in key industry verticals, including banking and financial services, healthcare, insurance, manufacturing, media and entertainment, consulting and professional services, retail and consumer packaged goods, telecom, shipping and logistics, travel and leisure, and utilities. WNS delivers an entire spectrum of BPM services in customer interaction services, finance and accounting, human resource, research and analytics, technology solutions and industry-specific processes. More than 35,000 employees serve across 42 delivery centres located in China, Costa Rica, India, the Philippines, Poland, Romania, South Africa, Sri Lanka, UK and US.]