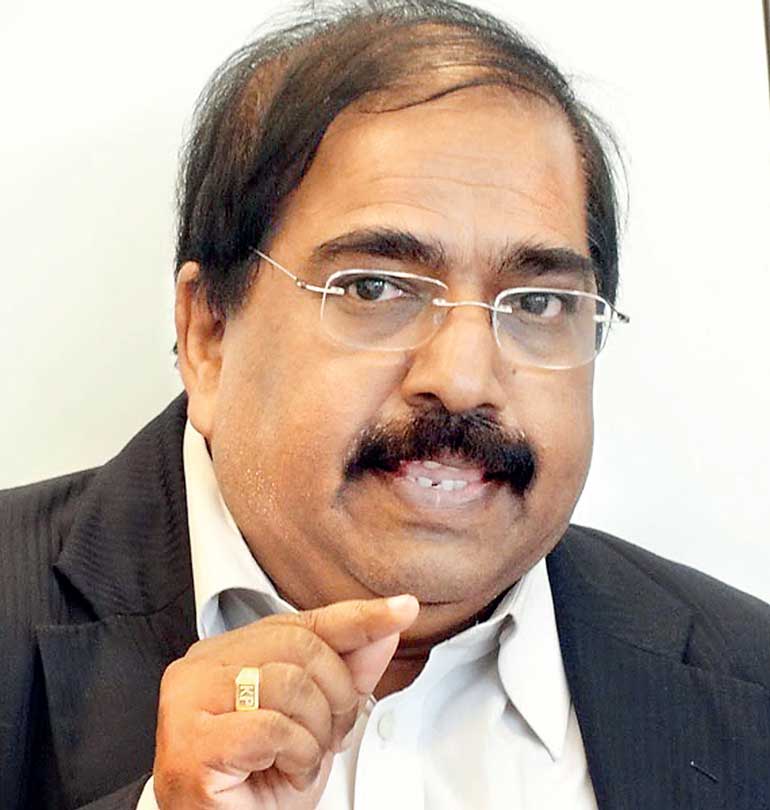 EPRLF Leader and TNA member Suresh Premechandran

Q: What is the latest with regard to the Jaffna University clash?

A: I do not know why this much of exposure is given to this drama. Earlier there were three incidents in the Eastern University. There was some

misunderstanding and as a result a brawl took place between Tamil and Sinhalese students; they were both assaulted and Tamil students were hospitalised. These things have happened earlier. This is not the first time. The Education Minister or the Higher Education Minister didn't take much notice. But when it comes to Jaffna University, the matter was blown out of proportion.

The Sinhalese students were assaulted, one child was hospitalised and he was later discharged. The Northern Governor went and met these students. The Education Minister went to the hospital. On Tuesday three Ministers came to Jaffna. Today (Friday) the seven members of the University Grant Commission are coming here. The Jaffna University appointed a three-member committee to investigate this matter.

I don't understand why they are giving this much of prominence to this incident. But I can tell you one thing, definitely such disturbances are backed by some unknown and powerful group in Jaffna. Not only here even in the east there is an unknown group behind similar incidents. Because of the heavy militarisation and military intelligence having dealings with the students, they are trying to create uncertainty in these areas. This may be to create problems against the Government. These officials may be supporters of former President Mahinda Rajapaksa. I think these are the people who are behind most of these unfortunate incidents. They are pushing some of the Sinhalese students to create this sort of adverse situation.

There is no point punishing the Sinhalese students or the Tamil students. What they need to do is to investigate the reasons behind these incidents and find out who is behind them. These people have to be identified and dealt with. The authorities must punish those people, not the students.

About a week back, in Sampalthivu, Trincomalee, a Buddhist temple was put up. Sampalthivu is a 100% Tamil village. There was a Ganesha statue in the corner of a place. Suddenly this statue was demolished and a Buddha statue was put up in that place. I asked Sampanthan who is doing these things. He says some people who are against the Government are doing it because they want to create problems against the Government. If that is the case, Government must take immediate action to stop that.

In Mullaitivu District, some people are building a Buddhist temple, but there was a stay order given by the Mullaitivu Judge against the construction, because it is taking place on a private land, a disputed land. The Judge has given an order to stop the construction till the case is over, but the Buddhist monks are going ahead with the construction. They are not concerned about the stay order. The Government has not taken any action so far.

These are some of the matters taking place in the northern area. The Government is also simply watching all this and not taking any action. Anything can happen in this part of the country.

Q: Are you saying Mahinda Rajapaksa loyalists are behind the Jaffna University matter and other similar incidents that are taking place in the north?

A: There is a possibility of that. But the thing is, the Government never investigates these matters and never arrests anybody. The Government is allowing these things to take place. Various incidents are taking place right now in Trincomalee, Jaffna and Mullaitivu that disturb ethnic harmony. Moves are afoot to put up a 67-foot Buddha statue in Nagadeepa. I don't understand why they want to do this. Before you resolve the existing problems, why are they trying to create more trouble?

You know very well that there are victory monuments in Kilinochchi, Mullaitivu and Elephant Pass. What sort of message are you going to give to the Tamil people? Why is the Government allowing all these things? Why are Army officials involved in all these things? Just because they are military, can they act in such an illogical way? Why doesn't the Government take measures to stop these sorts of unwanted matters? These are some of the questions we have.

Q: Why do you feel it's wrong to build a Buddhist temple in the north?

A: If there are Sinhalese people and if they want to have a Buddhist temple, I don't see any wrong in building one in any part of the country. One classic example is Sampalthivu in Trincomalee. There isn't a single Sinhalese person living in this area.

Why do you need a Buddhist statue there? Even in Kokkulai, it is a private land belonging to a Tamil man that was forcefully taken over by the forces. Why do they want to put up a Buddhist temple there? There is another Buddhist temple to be built at Iranamadu, Kilinochchi. Why are they trying to create unnecessary problems? We are not against Buddhism. They can build any number of temples is areas where Buddhists are living. But what are they trying to gain by putting up temples in Tamil areas? There is nobody

in these areas to visit these temples or worship.

Q: How can you campaign for reconciliation having this kind of mindset?

A: Where is reconciliation? What reconciliation are you talking about? Of course the Government talks a lot about reconciliation. But let me tell you the current situation is not healthy for both Sinhalese and Tamil people. If they want reconciliation they should stop these unwanted problems, at least temporarily.

Unlike the previous regime the present Government makes an attempt to accommodate opinions of the Tamils. I have to admit they have a friendly approach towards the Tamils. They are trying to sort out the problems. Definitely there must be a clear resolution. According to the Constitution and law and order they can do it. We are not going to be against it.

Unfortunately some people are trying to sabotage this. They may be the people who are against reconciliation. They may be the supporters of the past regime. I do not know who they are. But definitely they are harassing the Tamil people. They want to create unwanted situations over here and put the blame on the Tamils.

These people are trying to make the entire Northern Province a Sinhala Buddhist area. They know very well that this is a Tamil majority area. They are only trying to provoke the Tamils. Then they can say Tamils are creating problems.

We are not against Buddhism. We are not against any sort of religion. Why at this moment, before resolving all the problems, do they want to put up Buddhist statues? There are many things that needs to be done in these areas before building Buddhist temples. People in these areas lived with a 30-year-long war. The Government should give them a better life, better living standards. Before any of that is done, when they see these types of unwanted incidents taking place, they will have doubts about the on Government.

Q: What are your remarks about the Jaffna University clash?

A: There are 17 universities in Sri Lanka. The University Grants Commission must have the same yardstick for each and every university. They cannot have different yardsticks for Jaffna and Batticaloa universities. Both these universities are in Tamil areas and most of the activities in these two universities take place based on Tamil tradition. If we take University of Ruhuna, Kelaniya, Colombo or Wayamba, most activities take place according to the Sinhala Buddhist tradition and nobody will question these things. University of Jaffna must be a national university but definitely it is in a Tamil area. All these years, all functions took place in line with Tamil tradition. This time too they wanted to follow the same. That's it.

Q: Nisha Biswal during her visit commended post-war reconciliation efforts by the present Government. Your comments?

A: This Government earlier cheated the Tamil people. There were several agreements. All were cleared away. This time the Government cheated the United Nations Human Rights Commission and the international community. There is a resolution passed at the United Nations Human Rights Commission. That was sponsored by Sri Lanka. Each and every word were approved and accepted by Sri Lanka.

Sri Lanka accepted a domestic mechanism under prosecutors and lawyers. They said they will accommodate Commonwealth and international judges. Now the President, Prime Minister and Foreign Minister are saying they will not do it. They are saying they will not invite foreign judges. The affected people will not have any say in the Sri Lankan Judiciary. The Sri Lankan Judiciary will not give them proper judgments. They strongly feel there must be international judges. That is the only way these affected people can get some remedy.

Unfortunately the same Government which promised to support this is now totally against it. I don't know whether there will be an investigation commission. Even the Foreign Minister says it is only if there are any war crimes that they have to appoint an investigation body. They are saying if there are no war crimes, there is no need for an investigation commission. How are they going to decide whether there were war crimes or not?

The United Nations appointed a three-member committee head by Darusman. They have submitted a report saying there is enough evidence there were war crimes against humanity. That is why the United Nations Human Rights Commission passed a resolution calling for a mechanism to investigate these matters. Now the Sri Lankan Government does not want to do it. In that situation I don't think that will be acceptable to the Tamil people and diaspora and there is no other alternative except for us to take it up again with the international community.

Q: Is this the stand of the TNA or is just the view of the EPRLF?

A: The EPRLF is a part of the TNA. We are of the view that we cannot accept a domestic mechanism without international judges. I think most of the constituent parties within the TNA are of the same view.

Q: What is the actual situation in the north at present?

A: The Army is still controlling a large amount of private land. In the north and east only some 3,000 acres were released. This year 118 plots of land have been identified by the Army for its own purposes. Some have two acres, some have 20 to 30 acres. The Army has said it needs these plots of land; some areas they say are for cultivation purposes. The Army at present has the same agenda it had during the Rajapaksa regime. It has not changed.

Although the Government has changed, the administration and policy as far as the Tamils are concerned have not changed. In that situation people cannot be resettled fully. They are still in camps. There are Buddhist temples coming up unnecessarily. People in the north are not happy at all. We expected this Government to try and resolve some of these things much earlier. President Sirisena said within six months he would resettle all these people, but he has failed to do it. This is the sad situation in Jaffna.

Q: What are your thoughts on the new Constitution? Do you have any proposals?

A: Already the Northern Provincial Council and the Tamil People's Council have given two reports for constitutional changes. I think that there are comprehensive reports. If these reports are considered carefully, there can be a proper constitution for Sri Lanka in its entirety. I do not know how far they will discuss these matters at the steering committee. We have to wait and see how far they will accommodate our proposals.

Q: We see Northern Provincial Council Chief Minister Wigneswaran taking extreme views most the time. Do you agree?

A: The Northern Provincial Council is a Tamil provincial council. The Tamil people fought for a separate state. A provincial council in such an area must use limited powers they have to fight for their people. This is why we want much more power. Nobody can deny that.

Even Sampanthan in the election manifesto said to the Tamil people that if he was elected he would fight for the merger of the north and east and fight for the Tamil people and sovereignty of the Tamil people. Under this we will have a federal autonomous state in the north east. This is the promise given by Sampanthan to the Tamil people. It is for this reason that the people voted. That is the mandate given to Sampanthan. Now is that an extreme view? This is the same view followed by Chief Minister Wigneswaran.

The TNA manifesto was drafted by Sampanthan and other party members. Then they too have to be blamed for having extreme views. Chief Minister Wigneswaran is only trying to implement what is in the manifesto. All of us are trying to achieve all of this within a united Sri Lanka. Everyone must understand that.

Q: What is the clash with TNA Leader Sampanthan?

A: There are contradictions. We are a four-party alliance. Sampanthan is having his way. Maybe the rest of the members wants to implement their thinking. There are disputes. If the ITAK headed by Sampanthan cannot come to an understanding with the rest of the parties in the TNA, anything can happen in the future.