A few days ago, I got into the 154 Kiribathgoda-Mt.Lavinia private bus from Borella with the intention of going to Dehiwala to meet a friend. Sitting in the seat immediately in front of the backseat, I could clearly hear the conversation going on between a group of young people seated behind me. Judging by the nature and interest in their voices I came to the conclusion that these three young men and two young women between the ages of 18-25 were engaged in higher studies.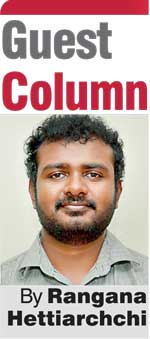 Appointment of the Opposition Leader

The subject of the conversation was the appointment of the Opposition Leader for the new Parliament following the results of the Parliamentary elections which concluded on 17 August. One guy was of the opinion that since the United National Front had won the majority and would be establishing a National Government with the United People's Freedom Alliance led by the Sri Lanka Freedom Party, the Opposition Leader should not be drawn from either of these parties. Whilst the majority of the group agreed with this view, a debate about which party should be allowed to nominate the Opposition Leader ensued.

One young woman stated that the most suitable person for the post was Anura Kumara Dissanayake, the Leader of the Janatha Vimukthi Peramuna (JVP). Another person opposed this, stating that JVP had only won six seats whereas the Tamil National Alliance (TNA) which had won a greater number of seats should be asked to appoint the Opposition Leader.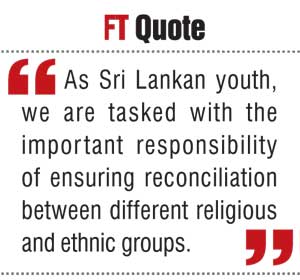 Two people in the group were vehemently opposed to this idea. One was of the opinion that the post of the Opposition Leader should not be conferred on a Tamil person or someone from a minority group, and that if this happened, it would be a great dishonour to the majority Sinhala community. The other was opposed to it on the basis that it would not be a very favourablemove for the United National Front. The debate went on intensely till it was time for me to get off the bus. The words 'racist', 'pro-Sinhala', 'minorities', 'majority community', 'reconciliation', 'war' and 'murderers' were repeatedly used throughout the conversation.

The conversation kept ringing in my ears and although I know it may not be fair to generalise that this is the view of the youth in Sri Lanka, it was still worrying. No matter what is accepted constitutionally or within the Parliamentary tradition, there are people who still consider the ethnic origin of a person as a factor in determining the selection of the Opposition Leader. It seemed tragic to me how racist and opportunistic politics seemed again and again to supersede the concept of being Sri Lankan. After going through nearly 30 years of a violent and bloody war, do we still need to confine ourselves to the concept of 'race'?


Peace and reconciliation

We all agree that establishing peace and reconciliation should be a priority for the Sri Lankan population. Peace and reconciliation among different religious and ethnic groups is extremely important to achieve economic, social and environmental development of a nation. It has been proved world over that in order to build stability within a country, racist and religious divisions between communities must be kept to a minimum.The contribution of youth in undertaking such an important national activity is crucial. Reconciliation can be fostered by undertaking innovative and dynamic activities that can catalyse a youth movement that can bring the north and south together.

Results of a national youth survey undertaken in 2013 to contribute to the 2014 Human Development Report published by the United Nations Development Programme, it was revealed that 54.1% of Sri Lankan youth do not have a close friend that belong to a different religious or ethnic group. Among the Tamil population this figure is 34.5%, and among the Muslim youth it is 40.8%. This is an indication of the level of loyalty, relationship and brotherhood one group has within his/her own race. So much so that there seems to be no need to form friendships 'outside' their own circle.

As Sri Lankan youth, we are tasked with the important responsibility of ensuring reconciliation between different religious and ethnic communities. It is therefore important to establish a platform, sponsored by the Government and overseen by relevant officials, where youth belonging to the Sinhala, Tamil,Muslim and Burgher communities can unite to exchange ideas. We know that Sri Lanka is longing for a time where an inclusive multi-ethnic, multi-religious youth culture is fostered and as youth, it is our responsibility to make this dream a reality.

Language is a key barrier to reconciliation. Being trilingual i.e. fluent in Sinhalese, Tamil and English is a major factor that facilitates relationships between youth of different ethnic and religious groups. Therefore it is important that the education system in the country places an equal emphasis on all three languages and encourages students to learn these at an early age.


Revising existing national policies

Whilst peace and reconciliation are important, it is equally important that Government officials work together to revise existing national policies related to education, administration, health and employment. This is an avenue through which the adult population of this country could set a good example to the next generation.

It is also important to a country such as Sri Lanka to identify other creative avenues such as sports, literature, music and arts, where differences among religious and ethnic groups are superseded by a joint sense of participation and enjoyment. Youth are responsible for the future well-being of the nation. Therefore initiatives taken by national and international agencies to develop a well-rounded youth population that can fulfil this responsibility, must be commended.

The National Youth Survey of 2013 further reveals that only 11.2% of youth in the country engage in volunteerism. I believe, creating youth movements and active youth societies will ensure an increase in the number of youth participating in voluntary activities. Through this, young people are more encouraged to be part of projects and programmes that foster peace and reconciliation and contribute to the prosperity of Sri Lanka.

Empowering youth to work towards peace and reconciliation to achieve Sustainable Development Goals will be a positive step towards ensuring the future prosperity of our nation. Therefore we need to work as one to eliminate our racist and separatist tendencies and commit to work as Sri Lankans to ensure the development of our country.


(This is a translated version of the original post written in Sinhala. The post in Sinhala is available online at www.lk.undp.org. UNLOCKED is a space for Sri Lankan youth to express their views and opinions on development with the aim of creating positive change in the world. The views expressed in the blogs are solely those of the authors. UNDP Sri Lanka and Daily FT does not represent or endorse the views expressed in these blogs. Read more about the UNLOCKED initiative www.lk.undp.org.)