Is it time to stop thinking north and south? For too long now we have been working this equation; either to create problems or work out solutions. In a natural phenomenon (scientifically speaking) north and south attract but when we look at our Sri Lankan social intercourse, the north and south have always repelled.

For a long time now we have been trying to force an attraction; we have been asking ourselves – why can't northerners and southerners see eye to eye? In fact those who look at us from the outside would not spot a difference in colour or appearance but the Jaffna man and the Hambantota man stand out as two very different persons. Is that something we can change? I doubt it is possible.


From the point of view of the country's progress, this difference cannot be allowed to get in the way of our economic growth. So what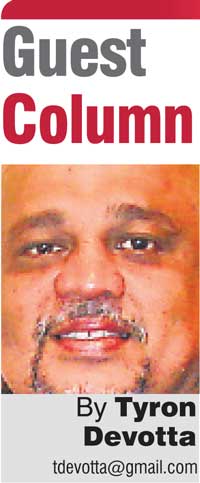 then is the solution to this problem?


A different perspective

Let's look at it from a completely different perspective i.e. brand north and brand south. The two are diametrically opposed to each other, culturally ethnically and politically. Trying to create any synergies between these two opposing brands has hitherto failed. If that is the case, why would we continue to slam our heads against this brick wall?

It is important to note that this discussion is not about the Sinhalese and Tamils; they live in harmony with each other in this country. The discussion here is about the north and south brand personality clash and how we could and should look at this problem differently.


If two opposing personalities are forced together for whatever reason, divisions are inevitable. Therefore why not bring in a completely new element, an east-west perspective. Brand east versus brand west would be more of an economic divide, and from that point of view there would be no political, ethnic or cultural polarisation.

It is a given that the west of the island is more prosperous than the east. But instead of taking it as a negative one needs to look at the difference in terms of potential for growth in two different spheres.

The hub of the west is Colombo, which is also the country's financial capital. We need to grow this potential and create a vision, especially taking into account our geographic positioning and also the support we have from countries like China who are investing a great deal in the country.


On the other hand, we need to have another strategy for the eastern side of the island, which is highly under developed. We need to see how we can develop the vast parcels of unutilised land and the obvious would be to develop industry – not just small but large-scale industry.

Trincomalee would be the obvious capital of the east and its natural harbour would be the starting point of the development process. There are vast stretches of land especially in the Sampur and Muthur areas, which are underdeveloped and a project is being spearheaded by Gateway Industries Ltd. to develop a heavy industry zone. The zone would encourage a number of industries in the area including power generation, steel plants, LNG, oil and petroleum refineries, automobile manufacturing/assembly plants, a sugar refinery, and other mega enterprises.

On the western side there's the port city, which could be geared for development as a financial centre. A whole new model emulating the best features of similar projects around the world is being planned for the city. Ultramodern buildings, which can house workplaces for businesses, and other auxiliary facilities from housing, recreation to healthcare, for a high end clientele would be within its ambit.


The development of heavy industries and expatriates coming to manage the zone, would mean large scale expansion for the east in many aspects including downstream development such as the establishment of international schools, hospitals and other services.

There would of course be the necessity to manage sensitivities of post war marginalised communities who are still in a very vulnerable position. They need to be properly settled, considering it is as much a human rights issue as it is a political one. However, this east-west equation cannot be developed in isolation, all stakeholders must have a say in it i.e. the business and public sectors, politicians as well as ordinary citizens and they must see value in changing the formula.

This change in thinking of demarcating the country in a different way will also bring into the mainstream the somewhat sidelined Muslim community and also previously ignored smaller communities like the Malays, Bharathars, Burgers, Boras, Memons, Colombo Chetties, etc.


Work out an inclusive formula

Sri Lankan history has divided this country into the north and the south for too long now – not just as a result of the 30-year-old war but from long before then. From the time of our ancient kings Elara and Dutugemunu this contentious situation has been handed down from generation to generation to become our current legacy!

Therefore, whatever differences the northern and southern people may have, they will not go away overnight and the efforts for reconciliation has to continue. But we cannot put the economic progress of the country on hold until north-south issues are sorted.

The development of this equation is not in any way to take away from the cultural and ethnic identity of the people of Sri Lanka but to work out an inclusive formula for the economic progress of our country.


(The writer was a former mainstream journalist in print and electronic media who currently heads a public affairs company. He can be contacted at [email protected])