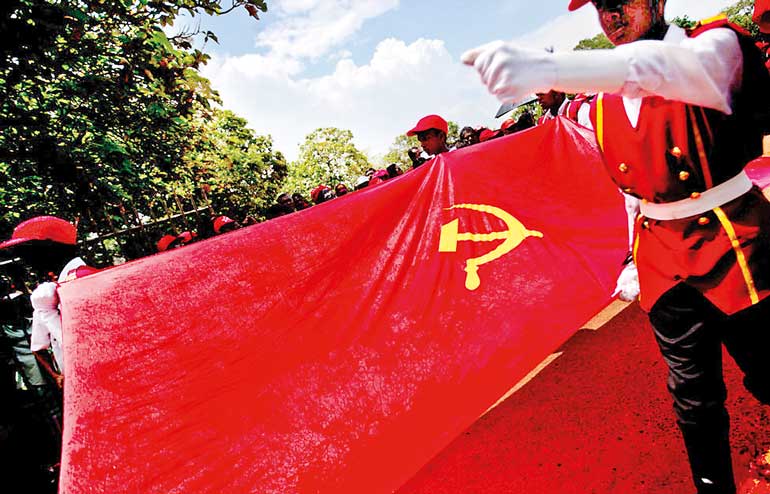 Since the famous Haymarket riots in Chicago in 1884 that led to international recognition for a day dedicated to rights of workers, May Day has become an officially sanctioned day for protests
The 1 May celebration in Sri Lanka is perhaps unique in the world as an event where the major political parties in power (or in Opposition) take to the streets crowding out unions or other groups. These political parades get bigger each year.

Earlier there was some effort to have participants march as workers representing different sectors, but now all pretences to a Labour Day parade are gone. The parades are now organised according to 160 or so electoral organising units with each unit distinguished by hats or t-shirts with the local politico's name, or even the face occasionally.

Why would anybody walk in the hot sun with somebody's name or face on a t-shirt when that somebody is not Che, Bob Marley or other folk hero? I am guessing that these participants are political serfs who have not done an honest day of work, but hang around politicians. According to the latest labour force survey of 2015, the 8.5 million strong labour force in country consisted private sector employee (40%), Self-employed (32%), Public sector employees (14%), Contributing family workers (9%) and employers (3%).

Of these categories, it is not too hard to guess that the kind of worker who would participate in these political parades would be somebody who secured a government job thanks to the person whose face or name they are displaying, or somebody aspiring for a government job through the same route. We should do more than guessing and do some analysis of these participants. For the moment, my object is to draw attention to the issue.

Politicians will take any opportunity to advance their political agenda, but shame on the media who report these parades in excruciating detail without exposing the farce.

May days across the world

Since the famous Haymarket riots in Chicago in 1884 that led to international recognition for a day dedicated to rights of workers, May Day has become an officially sanctioned day for protests. It has become a time for those don't get representation in Parliament or exposure in media to get into limelight. In 2015, the Guardian of UK captured some of those moments from across the world as follows:

"Batam, Indonesia: Workers demand an increase in welfare, health and employment contracts ; Dhaka, Bangladesh: Garment workers and other labour organisations shout slogans ; Kuala Lumpur, Malaysia, People march towards the Petronas Towers during a May Day protest against a tax on goods and services ; Manila, Philippines: Demonstrators demand better labour programs and higher salaries for low-income workers; Phnom Penh, Cambodia: Cambodian Labour Confederation workers outside the National Assembly calling for the government to renegotiate the $177 monthly minimum wage ; Rangoon, Burma: Workers gather with banners for a rally to protest against wages they claim are as low as $5 a day."

Some of the other events reported were not labour rallies but anti-establishment protests or attempts at such. For example in Istanbul, Turkey, all roads to Taksim Square were blocked in an attempt to prevent protests; in Paris, France, Topless Femen activists performed the Nazi salute near flags reading "Heil Le Pen" as they demonstrate on a balcony against France's far-right Front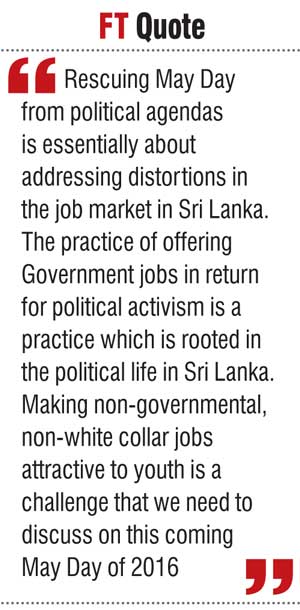 National (FN) political party during an FN rally in honour Joan of Arc; in Taipei, Taiwan, Demonstrators threw smoke grenades during a protest outside the presidential office and in Tokyo, Japan, Anti-nuclear protesters wore protective suits during a Labour Day rally.

Interesting departure was reported from Moscow Russia where a picture showed people walking with flags and artificial flowers in Red Square during a rally. In Russia, celebrations of 1 May had lost their political meaning after 1991. Some political parties and labour unions may have demonstrations on this day, but most Russians use Labour Day as their Spring Day devoted to gardening or spending time with their families.

Different types of rallies, but all rallies are by and for those don't get the limelight on other days.

Media and the May Day in Sri Lanka

In Sri Lanka, it is the reigning political parties that take to the streets to blow their horns. Lazy journalists find it convenient to report verbatim what they say. This is after giving these same parties and leaders pages and pages of coverage on other 364 days of the year. The media is happy to oblige on May Day too, going into gossipy details.

For example, one news report last year said "The United People's Freedom Alliance (UPFA) for the first time, since its formation 11 years ago, is to hold two different May Day rallies after last minute appeals to hold a united rally failed. UPFA General Secretary Susil Premajayantha said yesterday that former President Mahinda Rajapaksa, a patron of the party had been invited for the rally on 1 May, but he had not responded."

Another made a nominal protest that in Sri Lanka "May Day rallies have shifted from the arena of workers' rights to an opportunity for the political parties to promote their political messages", but went on with the usual job of reporting who was attending and who was not.

A responsible media would point out the ridiculousness of this hijacking of May Day and give only marginal coverage to these political extravaganzas and give prominence to rallies that address labour issues. The media too should use the day to discuss emerging labour issues.

21st century labour issues

The basic aspirations of workers have not changed over time. ILO has given the name 'Decent Work' to capture these aspirations. The Department of Labour in USA has summarised these aspirations succinctly as work that gives you (1) economic stability (2) work and family balance and (3) work places that are safe and fair. What differentiates 21st century labour force from those before is the impact of technology and globalisation on their work, requiring workers to be adaptable and flexible in regard to skills they offer and the working conditions they experience, resulting in more uncertainties and higher level precariousness in their work.



Informal work

As reported by ILO in their Employment Trends report in 2010, work in most developing countries has always been precarious to the extent that it was always closely associated with the informal economy. In the informal economy workers are less likely to have formal arrangements in regard to salaries and working hours, access to benefits or social protection programs and are more "at risk" to economic cycles.

Workers in the informal economy are mostly self-employed or unpaid family workers, but employees or even employers in small and micro enterprises may fall into this category. Even in regions like East Asia where wage and salaried employment has increased rapidly in recent years, the share of workers in the informal economy remains at 53.5%.

Informal work may be welcomed by educated segments of the workforce, the ICT professional, in particular. For those who are in elementary occupations that require no specific skills, or agricultural, forestry and fishery occupations or Craft and related trades requiring low levels of skills, informality makes their occupations highly vulnerable. Since 60% of Sri Lanka's labour force in 2015 was estimated to be in informal occupations, the vulnerability of the working population in Sri Lanka is high.

Preference for white collar jobs

An important attribute that may override formal-informal distinction is the white collar-brown collar distinction. In South Korea, strong demand for higher education among the young severely limits the pool of available workers for the mainly blue-collar work available in the small and medium sized manufacturing and construction enterprises. In Malaysia too local workers are reluctant to accept the mainly blue-collar jobs available in the plantation agriculture or manufacturing and construction sectors at the going wages and migrant workers take up the slack.

Status conscious youth in Sri Lanka too are foregoing brown-collar jobs and marking time for white-collar jobs. According to an official of the National Apprenticeship and Industrial Training Agency (NAITA), established companies in construction, for example, are offering apprentice training at 25,000 per trainee, but there aren't many takers. Parents are often the ones who dissuade the children from such opportunities and opt for a lowly peon job in an office, with a government posting being coveted most.

Government jobs v. Other

In Sri Lanka, the job market is further distorted by the preference of our youth seems to be for white-collar jobs in government. Some join government for labour jobs, but somehow convert them to white-collar jobs though practices such as wearing fancy clothes for work or not showing up at all.

Rescuing May Day

Rescuing May Day from political agendas is essentially about addressing distortions in the job market in Sri Lanka. The practice of offering Government jobs in return for political activism is a practice which is rooted in the political life in Sri Lanka. Making non-governmental, non-white collar jobs attractive to youth is a challenge that we need to discuss on this coming May Day of 2016.