Radical Buddhist monks threatening demolition of majority Muslim suburbs of Colombo and employing violent, racist and threatening rhetoric against public officials continue to enjoy impunity under the Sirisena-Wickremesinghe Government, which was swept into office on a wave of minority angst and frustration about the meteoric rise of hardline Sinhalese groups under the Rajapaksa administration. As religious tensions mount, remarks by the Minister of Justice have drawn sharp criticism from Muslim political leaders and civil society groups, and also sparked fears of continued Government patronage for ideologies of hate and fear propagated by hardline groups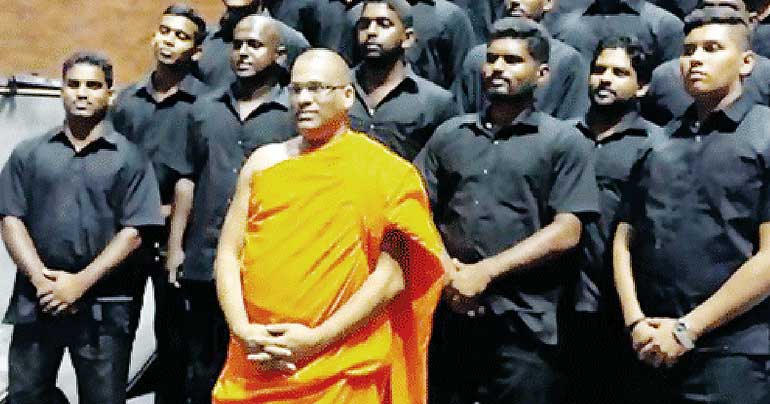 BBS General Secretary Galagoda aththe Gnansara at the Sugathadasa Stadium during a rally to welcome Myanmar's hardline 969 monk Ashin Wirathu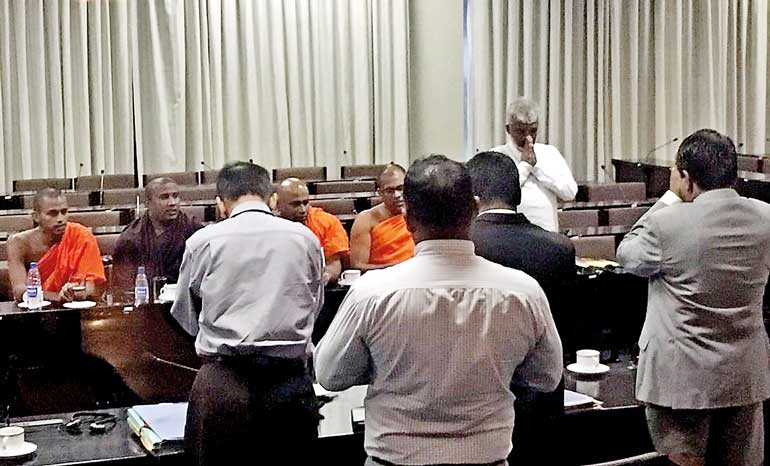 Even as calls mount for the arrest of Gnanasara Thero over his remarks about Razik's arrest and threats to annihilate Maligawatte, the monk breezed into Parliament on Tuesday (22) for an audience with Minister for Buddha Sasana and Justice Wijeyadasa Rajapakshe
Last Tuesday (15), Maligawatte Police arrested Sri Lanka Thawheed Jamath General Secretary Abdul Razik on charges of "insulting a religion and angering a religious devotee" over his remarks at a protest recently denouncing proposed reform to the Muslim Marriage and Divorce Act (MMDA). In a bizarre coincidence, Razik's arrest came hours after controversial Bodu Bala Sena (BBS) Chief Galagoda Aththe Gnanasara threatened to "destroy" the majority Muslim suburb of Maligawatte unless Razik was arrested within 24 hours. The radical monk was speaking at a pocket meeting where he was strongly opposing the arrest of Dan Priyashad, a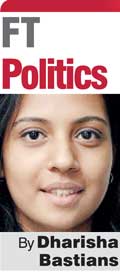 man who led the saviours of the Sinhalese protest at the Fort Railway Station a few weeks ago inciting Sinhalese youth to rise up against the Muslims and threatening to bomb minority communities.

Now Razik is a problematic character. He has defended provisions of the MMDA that effectively legitimises child marriage by stipulating that girls as young as 12 may be married "by consent" of parents and Qazi, or Islamic judge. His remarks drew wide criticism from activists strongly pushing for reform of the Muslim marriage laws and ordinary people who found his defence of the archaic and discriminating laws repugnant. During a protest in Maligawatte two weeks ago, Razik made disparaging remarks about groups like the BBS and its Chief Gnanasara, who he claimed were behind the clamour for these legal reforms. Still, nothing Razik said during the protest came close to vile threats and the declaration of war against Maligawatte by the Bodu Bala Sena monk.

Last Saturday (19), Gnanasara Thero led a march of monks and laymen through the streets of Kandy culminating in an "adishtana pooja" at the Dalada Maligawa against the "injustices" happening to Sinhalese Buddhists and the silence of the rulers in the face of this discrimination. Footage of the rally shows Police officials standing meekly beside the Bodu Bala Sena General Secretary, and advising the monk about how his supporters should conduct themselves inside the temple.

At one point, at the entrance to the sacred temple, Gnanasara Thero tells his supporters: "Leave the banners outside. There is no one inside to see banners except Dalada Hamuduruwo. Very soon we will have to tie 'molgas' (pestles) to our banners and come, but for the moment leave them behind." Marchers at the BBS-led rally also carried distorted versions of the national flag, without the orange and green stripes that recognise ethno-religious minority communities living in the island.

Batticaloa incident

In Batticaloa the previous week, the Chief Incumbent of the Mangalaaramaya temple, Ampitiye Sumanaratne Thero lashed out against a grama sevaka using racially-charged language and profanity, when the official sought to act against land encroachment, allegedly by Sinhalese residents. The monk has been the protector of these Sinhalese families and instrumental in spearheading the gradual encroachment. According to reports from the area, Sumanaratne Thero has also been preventing the Police from evicting the encroachers.

When officials of the divisional secretariat of the area – many of them from the Tamil community – visited the site to resolve the issue, they faced the monk's wrath. The priest's verbal abuse against the official was captured on video and shared widely on social media. The threatening outburst occurred in the presence of a senior Police official, who did not intervene at any point, except to wait patiently until the Buddhist monk had spewed the last of his anger and hatred and quietly lead him from the scene.

The episode was a replay of countless attacks on minority communities by Buddhist clergy, who consistently receive special treatment under the law – and by all indications irrespective of which Government is in power. Across the Batticaloa district, divisional secretariat officials and grama sevakas conducted token strikes and wore black armbands to protest against the monk's assault following the widely-publicised incident.

Saffron immunity

While the Government has paid lip service to "equality before the law" principles, in reality, saffron robes continue to guarantee immunity to marauders intent on breaching the peace. According to a senior Government official who requested confidentiality to speak openly, there was near unanimous consensus within the Government that the conduct of the monks and the insecurity they were creating for minority communities should not be tolerated. But the official admitted that the Government was deeply fearful of a serious backlash by Sinhala nationalist forces if moves were made to arrest the Batticaloa monk or the Bodu Bala Sena General Secretary. As a result, the Police would pursue a more conservative route to take action against the monks, the senior official explained, by taking the issue before the courts as a first step.

In a somewhat hopeful sign, the Kokkadaicholai Police filed a report in court earlier this week against Ampitiye Sumanaratne Thero. Law enforcement in the area will now await the instructions of a magistrate to take action against the priest.

Muslim civil society leaders claim that the Government has been put on notice about the resurgent anti-Muslim campaign led by BBS and its ilk. Muslim Ministers Rauff Hakeem and Rishad Bathiudeen whose parties are members of the ruling coalition had been briefed extensively to take the issue up at the Cabinet meeting on Tuesday.

But even as calls mount for the arrest of Gnanasara Thero over his remarks about Razik's arrest and threats to annihilate Maligawatte, the monk breezed into Parliament on Tuesday (22) for an audience with Minister for Buddha Sasana and Justice Wijeyadasa Rajapakshe. Muslim civil society leaders were also due to meet with the Justice Minister yesterday for talks about the issue.

Wijeyadasa's remarks

Uncannily, it was Minister Rajapaksa who made remarks in Parliament late last week, claiming that 32 Sri Lankan Muslims had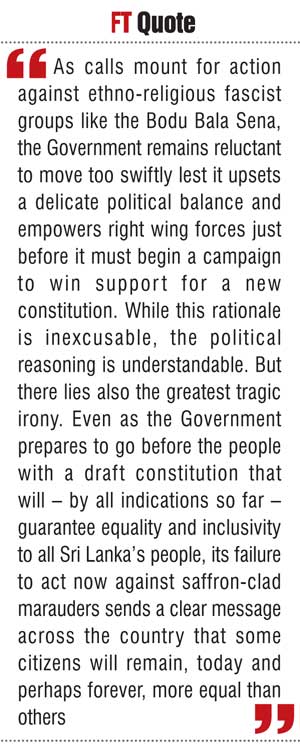 joined ISIS and also alleged that extremist Islamic scholars were being invited to Muslim international schools to indoctrinate students. The Justice Minister claimed that the Government would not permit the rise of extremism and vowed to use provisions of the Prevention of Terrorism Act to curb this activity. In his speech the Minister also criticised the conduct of extremist Buddhist monks, who he claimed had been given a free rein to lay siege upon Government offices and create anarchy when the Rajapaksa Government was in power.

The remarks were ill-timed however given the rise of hate speech and threats to minority communities over the past two weeks, and were perceived as being too soft on the BBS and other hardliners. The Minister's speech drew a sharp response from Muslim Ministers and Muslim civil society, who charged that the Minister's claim about 32 Sri Lankan Muslims joining ISIS were based on media reports released last year and not on new evidence. In a statement, the Muslim Council of Sri Lanka (MCSL) said Muslim cleric organisations and civil society groups had cooperated with the Government and intelligence agencies in their investigations after a Sri Lankan combatant died while fighting with ISIS.

"Wijeyadasa Rajapakshe's statement comes at a very opportune time to certain extremist elements bent on tarnishing the image of the Muslim community for reasons best known to them. Certain parts of his statement are verbatim of the hate speech spewed by the extremist priest Ven. Galagoda Aththe Gnanasara Thero," the Muslim Council charged in a strongly-worded statement. The MCSL added that it was "seriously alarmed" by the re-emergence of the racist campaign against the Muslim community being carried out by extremist Buddhist monks.

Audience with the Minister

It was in this backdrop that the BBS delegation suddenly descended on Parliament on Tuesday for a meeting with the Minister. Even though it marched last weekend through the city of Kandy to conduct an adishtana pooja to remove the Government from office, something about the Justice Minister's speech last Friday helped the BBS to single him out as a kindred spirit within what the group otherwise perceives as a hostile Government.

When former President Mahinda Rajapaksa flew to Negombo to visit the house of SLFP Provincial Councillor Nimal Lansa hours after STF raided his home in an alleged search for narcotics, the political move completely undermined a Police investigation. Similarly, Minister Rajapakshe's outreach to the BBS may have been well-intentioned, but there is no denying that his decision to give the controversial monk and his delegation audience sends a very specific message to law enforcement about the status Gnanasara Thero continues to enjoy.

At the end of the meeting, a seemingly-chastened Gnansara Thero said his 'delegation' had agreed with the Minister that there was no room for extremism in the country and that issues should be solved through discussion and negotiation. "They call us extremists. We call them extremists. You can't resolve problems this way," the controversial BBS monk said, in a shocking about-face.

While the path of negotiation is infinitely preferable to violence and intimidation, it remains unclear what issues specifically the BBS seeks to negotiate about. Muslim civil society opposed Razik's speech and have not protested his arrest by the Police – presumably the main sticking point in the BBS' current set of grievances.

There is widespread acceptance even within progressive sections of the Muslim community that Muslim marriage laws and fundamentalist ideologies taking root, especially in the Eastern Province, must be countered effectively by moderates and reformed where possible. This self-reflection has been most apparent recently in the work of Muslim scholars, researchers and civil society activists who are leading the charge for reform to the MMDA. The problem arises when ethno-religious fascist groups like the Bodu Bala Sena and their fellow travellers become the principal agitators for this change, not from a desire to achieve peaceful coexistence and equality for all citizens, but with the motive of suppressing minority ethnic and religious identities.

Manufactured crisis

Since it burst into the political mainstream in 2013, the Bodu Bala Sena has routinely manufactured controversies and issues. The Halal 'controversy,' the boycott calls and false claims about thriving Muslim-owned clothing stores, and the battle over the Sufi shrine in Kuragala were all pseudo conspiracies, manufactured, nurtured and subsequently avenged by the BBS.

In Goebbelsian fashion, these extremist groups repeat ludicrous claims and conspiracy theories about minority communities, mixed with a healthy dose of hate and fear, until the lies become truth to their followers. Parochial fears within the Sinhala community and failures by some sections of the Muslim community to integrate sufficiently with other communities conflagrate bogus claims made by the BBS and like-minded groups. Once the idea takes hold any call to arms is answered swiftly, allowing BBS-led mobs to storm beef distribution centres, Muslim-owned shops and businesses and even ministerial offices.

So as Minister Rajapakshe proposes to lead "negotiations" between the Bodu Bala Sena – a Sinhala supremacist organisation accused of having provoked the worst communal riots in the country since 1983 in Aluthgama only two years ago – and members of the Muslim community, questions must be raised about the specific issues that will be on the table in these discussions.

The "negotiation" narrative is all too familiar, and smacks of a return to the policy of appeasement of Sinhalese hardline movements by the Rajapaksa administration. When the BBS went on a rampage over Halal certification in 2013, their grievances were taken up for "mediation" by the most powerful official in the Rajapaksa regime – Gotabaya Rajapaksa. With the man accused of affording patronage to these hardline movements directing the talks between the BBS and All Ceylon Jamaithul Ullama – which certified food products as meeting Islamic standards – there was no question as to who would emerge clear winners in that "negotiation".

It will be recalled that the chief BBS grouse over the Halal certification was that Sinhalese and other communities were being forced to consume food that had been "offered in pooja" to the Islamic God. The extremist group manufactured a crisis, campaigned violently to elevate the absurd conspiracy to national levels, achieved high-level Government intervention and finally, after a series of "discussions" on the subject, declared victory. The ACJU still issues Halal certification, but food and hygiene brands no longer use the Arabic script on products that indicates it has been certified.

Negotiation or appeasement?

Is Minister Rajapakse attempting to do now, what Gotabhaya Rajapaksa did then? Will he, presumably with sanction from his Government, help to elevate preposterous BBS grievances again and seat members of the Muslim community across the table from an organization of fascists that threatens their community with physical harm and promises to wipe out their cultural identity, to "negotiate"? If successive Governments legitimize absurd claims and conspiracies propagated by extremist groups, give these groups audience simply because they are led by monks even after they have given rise to one communal riot and threatened an entire community living in the capital with annihilation, what incentive does that provide Gnanasara Thero and his fellows to cease their campaign of hate and terror against minority communities?

Active patronage to groups like the BBS in the last two years of his presidency proved costly for former President Mahinda Rajapaksa when he tried to win re-election in 2015. He declared presidential elections only five months after the Aluthgama riots had killed three people – all of them Muslims – injured many more and left a village in smouldering ruin. By November 2014, the Muslim constituency, reeling from unchecked attacks, harassment and hate speech by extremist Sinhalese groups, had switched allegiances en masse to the opposition. Muslim politicians had no choice but to break ranks with the Rajapaksa Government ahead of elections to secure their vote base. Once the Muslim parties had crossed over to the common opposition, Mahinda Rajapaksa's re-election prospects were mathematically doomed.

Even if it feels no compulsion to uphold the rule of law and guarantees afforded to all citizens in the constitution, the Government that won elections in January 2015 at least has a greater obligation to its constituency to keep these extremist elements relegated to the fringes of political discourse. To pander to these groups and afford them political status, Mahinda Rajapaksa learnt to his peril, was to play with fire. If it continues to facilitate the brutal conduct of these hardline monks and afford them immunity from the law, Tamil and Muslim minorities that supported the new administration unconditionally will have no choice but to deem this Government faithless too, and seek other avenues of political redress.

More equal than others

As tribalism and right wing politics triumph across the globe, there is little doubt that Sri Lanka's own counter-revolution will be led by reactionary forces using ethnic mobilisation to reverse democratic gains made over the past two years. To give these forces space to mobilise and monger fear and hate will seal the fate of a Government that is already perceived by Sinhalese nationalist constituencies as working against its interests and aspirations. As calls mount for action against ethno-religious fascist groups like the Bodu Bala Sena, the Government remains reluctant to move too swiftly lest it upsets a delicate political balance and empowers right wing forces just before it must begin a campaign to win support for a new constitution.

While this rationale is inexcusable, the political reasoning is understandable. But there lies also the greatest tragic irony. Even as the Government prepares to go before the people with a draft constitution that will – by all indications so far – guarantee equality and inclusivity to all Sri Lanka's people, its failure to act now against saffron-clad marauders sends a clear message across the country that some citizens will remain, today and perhaps forever, more equal than others.