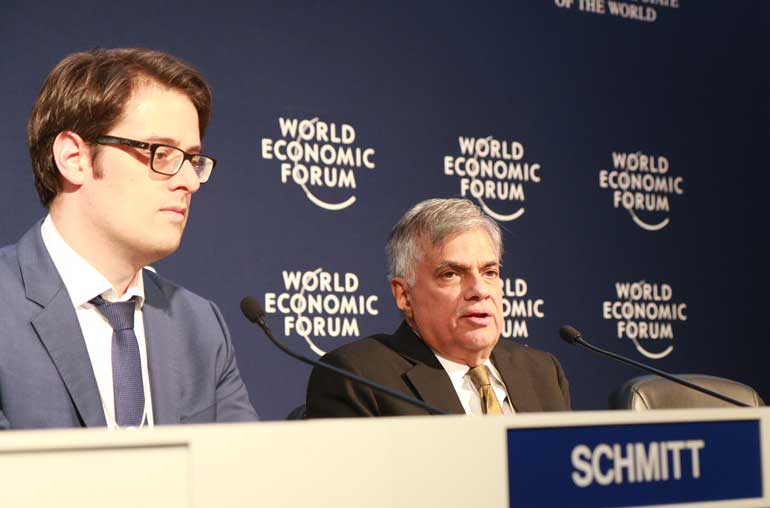 With hands-on experience of the challenge 'selling the Sri Lanka story' to a global audience, the challenge of leading the Sri Lanka delegation to the Davos World Economic Forum would sure have been a tough job, given the entrenched rivalry for investor dollars and the overall downturn of the global economy fuelled by China taking centre stage.

Sri Lanka at one time was up against strong developing economies like South Korea, then we had to move to Vietnam, then Cambodia, and now I guess it's Myanmar, fighting for the similar investment portfolio that Sri Lanka is after.

Whilst back home, fiscal issue and the coalition Government at play, sure adds to the challenges in driving brand Sri Lanka globally. In my view, the efforts of the Prime Minister in Davos must be commended and supported by the private sector in the backdrop of the Harvard Development Centre supporting the economic development agenda of Sri Lanka.



Many challenges internally

The spiralling cost of living index on the essential items announced in the Budget, the consistency of policy issue, the fiscal challenge given that Sri Lanka has a spiralling debt bill payments touching $ 4.5 billion in 2016 whilst balancing the coalition Government, are daunting tasks that are humanly tough for one man to shoulder. I guess it's time for the private sector to take a pragmatic view and support the leadership, given that Sri Lanka has not seen such high level connectivity with the world for the last ten years.

Meet the Prime Minister of Sri Lanka

The third day's agenda at Davos, 'Working Breakfast – Meet the Prime Minister of Sri Lanka', is reported to have attracted the crème de la crème of the global political and financial power bases like Scheider-Ammann, the President of the Swiss Confederation, David Bonderman, Co-Founder and Managing Partner of TPG – the leading global private investment firm that's managing an investment portfolio of $ 70.2 Billion that includes Sir Richard Branson, CEO of Virgin Group – and with Jean Oelwang the CEO of Virgin United, which was a good start after a ten-year break for Sri Lanka at a World Economic Forum. It sure would have boosted brand Sri Lanka that is at $ 68 as per the latest nation brand building rating of Simon Anholt.

Fourth industrial revolution

Whilst having a positive disposition, it must be highlighted that unless some radical policy changes are made internally, the concept of the 'Fourth Industrial Revolution' that was launched in Davos will never be a reality in Sri Lanka. If Sri Lanka makes some hard decisions on reforms together with the IMF stipulations when the facility is extended to Sri Lanka, it can sure be the turning point to branding Sri Lanka globally. Let's accept it; Sri Lanka has what it takes to be a powerful, reputed brand wrapped around with a positive image if only we live the talk.

Making Sri Lanka relevant

It is been proven that countries with powerful reputations and positive images can export more products, more culture, more people, more services and attract more tourists, more investors, more immigrants and the attention and respect of other governments. Countries with weak or damaged images find it much harder and more expensive to achieve all of these goals. In other words, the need of the hour is driving substance on brand Sri Lanka rather than promises. Share real life stories rather than marketing magic. As Simon Anholt, the expert on nation brand building, says: "A reputation cannot be constructed; it can only be earned."

The question should never be "what can we say to make Sri Lanka famous?" but "what can we do to make Sri Lanka relevant?" Relevance is the only issue that matters. A structure developed to systematically develop reputations on this ethos can be the nation brand hexagon. This consists of tourism, people, exports, culture, governance and investment.

The Croatian case in point

In almost 20 years of amassing evidence on the rights and wrongs of the Balkan Wars, the UN tribunal in The Hague, delivered a verdict on Croatia. The military offensive in August 1995 that ended four years of war with the Serbs and gave Croatia victory and independence – had been termed a war crime. The foundation myth of Croatian statehood was sullied by this decision.

The guilty verdict incriminated the entire 1990s regime of President Franjo Tudjman and destroyed Croatia's founding myth: the liberation war. The key players – Tudjman, his Defence Minister, Gojko Susak, and the Army Chief, Janko Bobetko – had died in the meantime and could not face justice.

The Gotovina case became a proxy trial of the Tudjman regime. The guilty verdict found that the same regime deliberately plotted a systematic campaign of terror and violence aimed at ridding Croatia of its large Serbian minority, triggering the flight from Croatia of around 150,000 Serbs.

How the private sector supported Croatia

Croatia's brand was hurt by the above issue and the unwillingness of post-war governments (just like in Sri Lanka in the previous regime) refused to cooperate in the prosecution of war crimes suspects, further dented the brand image of the country. However, just like the initiative taken by Sri Lanka with the Harvard Development Centre affiliation and the Davos thrust, Croatia did a similar intervention and today the country has an image as one of the most successful incoming destinations in the Mediterranean, ranked ninth in terms of the rate of growth. The country brand as per Brand Finance was termed the only two European countries to make the "most improved" list. Maybe it's a lesson for Sri Lanka to emulate.

Let me take the key initiatives of Croatia and some pick-ups for Sri Lanka.

1) Exports:

The Croatian Chamber of Economy supported the leaders' agenda and started the project to visually mark Croatian products with Croatian quality and Croatian creation labels. The Croatian quality label is given to 110 Croatian products whose properties meet high world standards. With full membership of this European integration, there was a strong marketing push on this front that increased exports to almost $ 25 billion.

2) Governance

Even though Croatia's brand equity was hurt by the associations of the country with the brutal Yugoslav Wars in the 1990s, and the unwillingness of post-war governments to cooperate in the prosecution of war crimes suspects, the country has worked hard in building its brand image. Croatia is an active member of the UN, EU, NATO and WTO and has set up 52 foreign embassies and 69 consulates across the world with all having career diplomats manning the stations. I guess Sri Lanka needs to take this lesson seriously at least now from this experience.

3) Culture

Croatia, which has a unique culture focussed on this soft side, has blended four different cultural spheres to the world in its destination marketing program. As of 2009, Croatia had built 23 professional theatres, 14 professional children's theatres and 27 amateur theatres visited by more than two million viewers per year. The professional theatres employed 1,100 artists. There are 24 professional orchestras, ensembles and choirs in the country, attracting an annual attendance of 323,000. There are 117 cinemas with attendance exceeding 3.5 million. Croatia has 175 museums, visited by nearly 2.2 million people in 2009. Furthermore, there are 1,685 libraries in the country. It shows the people's positive attitude towards aesthetics and culture which are the key components in driving Croatian culture to the world.

4) People

Croatia established a high level of human development and literacy with a rank of 98.1%. A worldwide study about the quality of living in different countries ranked the Croatian education system at 22nd globally. In fact, Croatia has produced two Nobel Prize winners, which indicates the power of innovation in the economy and the talent the leadership unearthed.

5) Tourism

Since the conclusion of the Croatian War of Independence, the tourist industry launched an aggressive global marketing push with the positioning "Oasis of the Mediterranean" supported by a focussed digital marketing campaign that led to a fourfold rise in tourist numbers. Today, the numbers touch 10 million tourists each year and it's the service sector accounting for 20% of Croatian GDP. Annual tourist industry income is estimated at € 6.61 billion which is once again a strong pick up to Sri Lanka.

Way forward in Sri Lanka

1. We must make a final decision on the Budget 2016 and henceforth not make any changes. Let's keep the policy consistent.

2. Let's allocate a strong marketing and supply chain thrust on the export agenda linked to Nano technology and investment into technology development just like what Ricardo Hausmann said happened in Thailand in 1961 and the pillars of the fourth industrial revolution launched at Devos last week.

3. It's time Sri Lanka listen to the cry of the private sector in the tourism industry and invest on strategic development rather than just ad hoc marketing activity. The best benchmark for Sri Lanka is Seychelles. Let's at least listen to the wisdom of George Soros, where he referred to tourism as a hotspot of Sri Lanka.

4. All key stakeholders must understand the importance and take ownership to Sri Lanka becoming a strong brand globally with a reputation 'earned'. Which means actions must talk louder than press conferences. We must manage the FCID/presidential commission work and keep the work away from the media.

5. There must be a quarterly monitoring system in the global marketplace, so that corrective action can be taken. A case in point is the positive that will be unleashed due to the commencement of the Port City project and Krrish. The evaluation process must be driven by the PM's office so that it gives teeth to the new direction.

(Dr. Athukorala has the unique twenty year experience of working in the private, public sectors and the UN. The ideas expressed are strictly his own views and writing is just a hobby he pursues.)