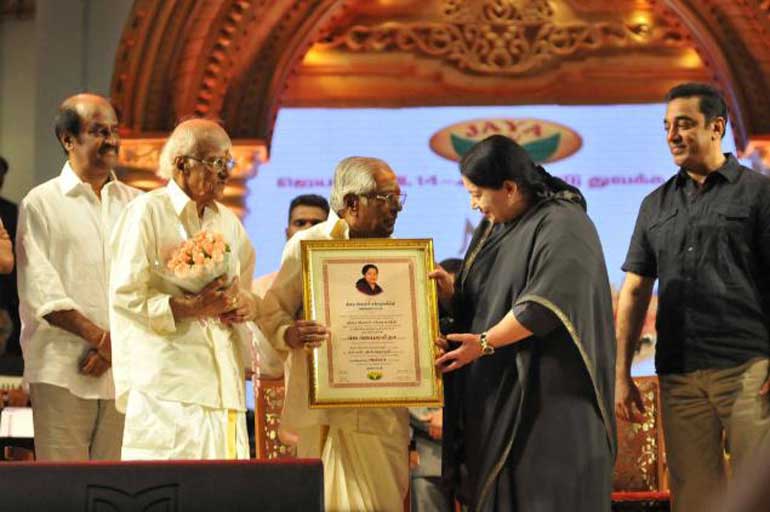 The Chief Minster greets the recipients of the award MSV and TKR as Rajnikanth and Kamal Haasan look on

Watching Tamil movies on screen and listening to Tamil film songs over radio was an integral part of life for me as a child growing up in Colombo. The Tamil 'Varthaga Oliparappu' or Commercial service of 'Radio Ceylon' was a treasure trove of film songs.

Apart from broadcasting the latest Tamil film songs even before the films concerned were screened in India, the commercial service also aired specific programs about films being currently shown in theatres in the island. Popular radio announcer Mailvaganam conducted these programs where film songs were featured regularly. Thus one was able to keep abreast of contemporary Tamil film music courtesy 'Radio Ceylon' in those wonderful days of yore.

My sister and I would also sing along with some songs being played out on radio. We were greatly aided in this by what was known as 'Cinema Paatu Puthagam' or cinema songbook. These were actually tiny booklets printed on cheap paper with the words of songs in a particular Tamil film. The average Tamil film in those days had about six to nine songs.

Two publishers in Colombo M.K. Ponniahpillai and M.S. Lingam (M. Sockalingam) printed these songbooks. They were priced from 10 to 25 cents then. I also memorised many film songs from those books – something which stands me in good stead even nowadays while taking a shower at leisure.

All these happy memories of listening to Tamil film songs were kindled in me again as news about the death of a legendary composer of Tamil film music reached me. Music maestro M.S. Viswanathan known widely as "MSV" had passed away at a Chennai hospital in the early hours of the morning on 14 July. He was 87.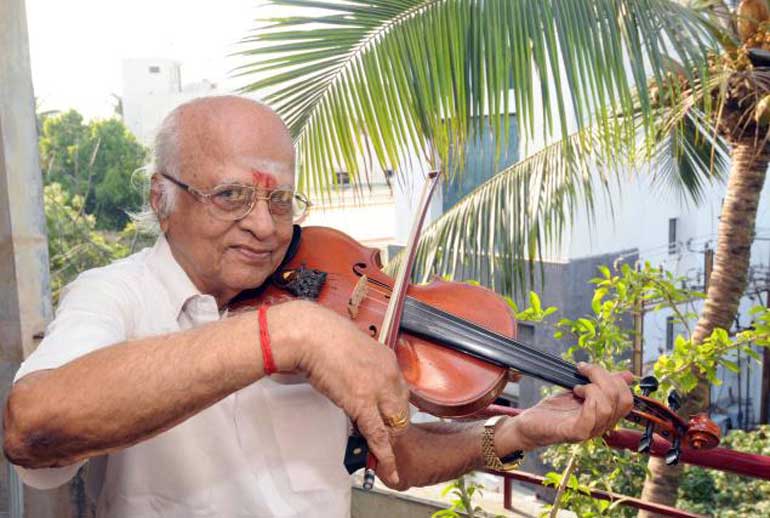 T.K. Ramamurthy
Viswanathan-Ramamurthy duo

MSV has scored music for over 600 films in Tamil. Eighty-six of these film scores were composed jointly with his erstwhile partner T.K. Ramamurthy (TKR). The rest were all solo feats by MSV. Whenever I think of Viswanathan, I am reminded of Ramamurthy. The Viswanathan-Ramamurthy duo contributed greatly to the Tamil film music by composing popular melodies described as 'Mellisai' or light music. Many of their evergreen songs linger in memory still.

A few years back in 2012, Tamil Nadu Chief Minister Jayalalithaa Jayaram presided at a ceremony where she conferred the title 'Thirai Isai Chakkaravarthy' (Emperor of Screen Music) upon Viswanathan and Ramamurthy. Jayalalithaa was a popular screen heroine in Tamil films before entering politics. Born in 1948 she was part of a generation that grew up with the music of MSV and TKR.

She recalled at the event about how she was influenced by the music of the two. "I grew up listening to the music of these veterans. Their music has become part of my very existence," the Chief Minister said. Jayalalithaa's words about the MSV-TKR duo struck a responsive chord in me. As stated earlier relishing Tamil film songs was part of growing up for me and news of MSV's death does cause a nostalgic void. TKR passed away in 2013.

Manayangath Subramanian Viswanathan (MSV) and Tiruchirappalli Krishnaswamypillai Ramamurthy (TKR) blazed a musical trail in Tamil films for a period of 13 years. The Viswanathan-Ramamurthy duo was the Tamil film equivalent to Hindi cinema's Shankar-Jaikishan. In fact the Shankar-Jaikishan duo was the model which motivated Viswanathan to forge a musical partnership with Ramamurthy.

The Viswanathan-Ramamurthy duo came into being in the year 1952. The first film for which the duo composed music was 'Panam,' in which noted actors Sivaji Ganesan and Padmini acted together for the first time as hero and heroine. The MSV-TKR duo made musical waves in Tamil cinema until 1965. Their final film together was 'Aayirathil Oruvan,' in which M.G. Ramachandran and Jayalalithaa played the lead roles for the first time. Thirty years after the break up, MSV and TKR collaborated again for the film 'Engirundho Vanthaan' starring Sathyaraj. MSV and TKR have together composed music for 87 films over a period of 13 years.


Birth of MSV-TKR duo

Ramamurthy, born in 1922, was the elder of the two. Viswanathan, born in 1928, was six years younger. The two of them became friends while working together in the musical troupe of composer C.R. Subburaman. When Subburaman met with unexpected death at the age of 28 in 1952, Viswanathan and Ramamurthy had to complete their guru's unfinished work. Viswanathan and Ramamurthy collaborated in composing tunes for a few songs in the films 'Devadas,' 'Kaadhal,' 'Sorga Vaasal' and 'Chandi Rani'. They did good.

One night while returning after seeing a film at what was then the Midland theatre, Viswanathan suggested that they compose music for films together as equal partners. Ramamurthy demurred saying he was happy to remain a musician. Viswanathan however persuaded Ramamurthy to accept the proposal.

This idea of venturing out as a duo was welcomed by veteran comedian N.S. Krishnan. He hired both as the composers for a film he was producing named 'Panam'. Viswanathan wanted the partnership to be called the Ramamurthy-Viswanathan duo as TKR was senior in years. N.S. Krishnan however insisted that they should call themselves Viswanathan-Ramamurthy, giving precedence to the younger MSV. Ramamurthy had no objections. Both Viswanathan and Ramamurthy took a vow at the Maariyamman temple in Coimbatore that they would never separate. The MSV-TKR duo was born!


Tremendous contribution to Tamil cinema

The Viswanathan-Ramamurthy duo made a tremendous contribution to Tamil cinema by popularising film songs. The duo played a significant role in developing and propagating a novel genre of music in films known as 'Mellisai' or 'light music'. This was a refreshing departure from the traditional Carnatic and/or Hindustani classical music forms which hitherto influenced Tamil films.

Music composers began dispensing with some of the orthodox rigidities of classical music in order to increase the appeal of film songs to the average film fan. Such musical compositions were described as 'light classical music'. Among those who pioneered this type of light classical music in Tamil films were C.R. Subburaman, S.V. Venkatraman, G. Ramanathan, R. Sudharsanam and S.M. Subbiah Naidu. Viswanathan and Ramamurthy proceeded this light classical music path but added their own particular imprint by emphasising the lighter melodic and rhythmic aspects of music as opposed to the staid classical. Their approach was more flexible being adoptive and adoptive. Even when a classical raga formed the song's base, the duo modified it on a lighter scale. They introduced other forms of music and wove them seamlessly into the songs. The songs were very often lively melodies with a harmonious blend.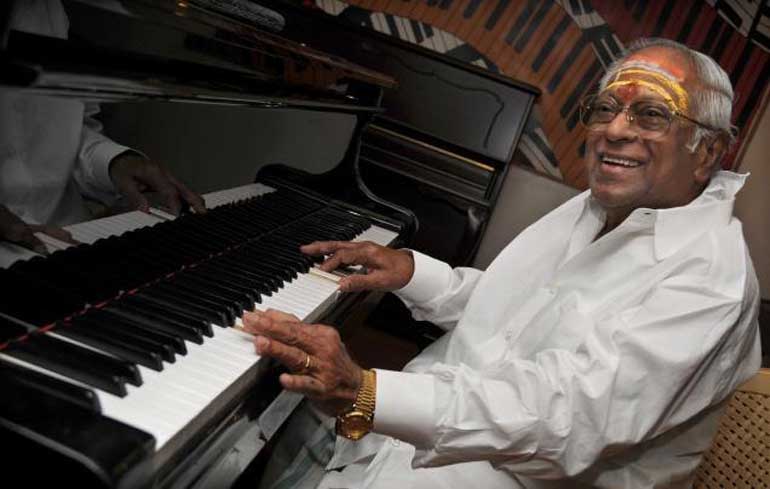 M.S. Viswanathan
'International' pursuits

The great Tamil poet Subramania Bharati in one of his verses wished that people would go in all eight directions and fetch the artistic wealth of other countries here (Sendriduveer Ettuthikkum Piranaatuk Kalaichelvangal Konarnthingu Saerppeer).

Bharati was not advocating the plunder of artistic treasures of other countries but merely calling for a transnational artistic exchange. This was exactly what the MSV-TKR duo accomplished. They sought out music forms in all parts of the world and introduced them to Tamil film music.

Viswanathan more than Ramamurthy excelled in such 'international' pursuits. It must be noted however that the composer who first introduced non-Indian music into Tamil films was the famous Veena exponent S. Balachandar who scored music for some Tamil films. C.R. Subburaman also followed suit. Viswanathan and Ramamurthy initially emulated Subburaman but soon evolved their own distinctive approach.

The duo went in for a broad range of sounds and styles drawing inspiration from a wide array of musical forms, including dance music. Western classical music, Western country music, gospel songs, ballads, blues, folk music soul music, jazz, rock and roll, rumba, flamenco, changui, mambo, danzon, guaracha, cha cha cha, lambada, etc. were all utilised. Modifications of Afro-American, Afro-Cuban, Cuban, Latin-American and European musical forms were relied upon greatly for musical inspiration by the duo.

At the same time the Viswanathan-Ramamurthy duo was firmly rooted to the Tamil musical tradition too. Apart from using modified Carnatic and Hindustani ragas, they also used Tamil rural music. 'Kummi' folk beats, 'Kaavadichchinthu' ditties, 'Kilikkanni' type village songs, 'Thukkadaa' classical bits, etc. were also incorporated into their music wherever and whenever appropriate. Eastern and Western music forms were harmoniously blended.


Pioneering fusion music in Tamil cinema

In a sense the Viswanathan-Ramamurthy duo pioneered fusion music in Tamil cinema. A case in point is the humorous song sequence in the film 'Pathibakthi'. The song is a combination of rock and roll and Carnatic music. Comedian J.T. Chandrababu sings in his own voice the rock 'n' roll opening and related verses. Interspersed are two Carnatic verses in praise of Lord Shiva and Vishnu respectively. The Carnatic component is sung by V.N. Sundaram who voices for T.S. Balaiah in the scene.

In addition to the eclectic taste displayed in seeking inspiration for musical compositions, the Viswanathan-Ramamurthy duo also began using a wide array of musical instruments in their work. Apart from the regular instruments like harmonium, violin, flute, drum, tabla, piano, veena, etc., the duo also went in for other instruments like the clarinet, cello, oboe, saxophone, trumpet guitar, ukulele mandolin, banjo, piano accordion and bongo drums making much use of them in their scores.

Other composers too have used such instruments in films but the Viswanathan-Ramamurthy duo utilised them grandly in a manner never done before. Variety in percussion was a particular hallmark of Viswanathan. The tabla and bongos were his favourites. Apart from African, Latin American and European music, the Viswanathan-Ramamurthy duo also made use of Arabic, Persian and Afghan music forms. The duo also used North Indian folk music forms. Punjabi Bhangra music and Quawwali Devotional Sufi music were also adapted at times. The duo also used North Indian instruments like the shenoy, sitar, sarangi and sarode for some of their compositions. The shenoy in particular was used to express pathos in a poignant manner. The song 'Ullathil Nalla Ullam' sung by Seergali Govindarajan for the film 'Karnan' was composed in the Raga Chakravaham (Ahir Bhairav in Hindustani) by the MSV-TKR duo. The shenoy played by Bismilla Khan is used liberally by the duo to invoke feelings of sympathetic compassion for the tragic Mahabharatha figure Karnan in the death scene.

The same instrument is used by the MSV-TKR duo in the song 'Aalayamaniyin Osaiyai Naan Kaettaen' sung by P. Susheela in the film 'Paalum Palamum'. In this sequence the sounds of the shenoy serve well to bring out the serene mood of a glorious morning as actress Saroja Devi sings on screen.

Ramamurthy was a reputed violinist. Viswanathan played the 'petti' as the harmonium was called. Later he mastered piano and keyboard. They would work on a particular tune by playing different versions on their instruments. Ramamurthy would then write up the notations. They would then sing or play the melodies to their musicians and playback singers. Viswanathan had a flair for composing ear-catching, toe-tapping melodies. Ramamurthy was more of a music arranger working out which instruments were to be used and how. They complemented each other.



The Viswanathan-Ramamurthy combine used diverse musical instruments in their film compositions. The usage was determined by the nature of the song and sequence. For instance the song 'Oadam Nathiyiniley' sung by Seergali Govindarajan in the film 'Kaathiruntha Kangal' has only a tabla and two flutes. Another song, 'Thaalaiyaam Poomudichu' sung by P. Leela and T.M. Soundararajan in the film 'Bhagapirivinai,' also relied on three instruments only.

The same duo however used an orchestra of 300 for the song 'Engay Nimmathi' sung by T.M. Soundararajan in 'Pudhiya Paravai'. Over 100 instruments were used for the Bharatidasan song 'Sangay Mulangu' sung by Seergali Govindarajan and P. Susheela in 'Kalangarai Vilakkam'. Ramamurthy conducted the orchestra on most occasions.


Qualitative change in film songs

These musical excursions by the Viswanathan-Ramamurthy duo into what was unchartered territory for Tamil film music at that time brought about a qualitative change in film songs. The melodies though soulful and enchanting yet possessed a captivating common touch. The film songs too in those days were an integral part of the film and often used by directors to narrate the story effectively. Unlike the present, songs were picturised fully in the films then. The song sequences were part and parcel of the film. In many instances the songs contributed greatly to the commercial success of a film.

The making of a film song was a team effort. The director, lyricist and music composer would discuss among themselves about the film sequence for which a song was required. Except for rare instances, the songs were recorded before the scenes on which they are picturised were shot.

Discussions would determine whether the words were to be written first and tunes composed next or the tunes were to be composed first and words written thereafter. Viswanathan would refer to this process in lighter vein as "matter for metre or metre for matter".

The MSV-TKR duo succeeded to a great extent in making film songs acceptable and endearing to ordinary filmgoers who began singing those numbers themselves and applying them in their lives. These songs became a part of everyday life itself.

There were songs to denote all aspects or phases of life like birth, death, romance, marriage, heartbreak, separation, reunion, friendship, sorrow, joy celebration, sibling affection, brother-sister bonds, motherly love, husband-wife relationship; there was a Tamil film song for every occasion and every mood in life. In an era where electronics had not invaded every facet of life, there were singsongs galore in many gatherings and Tamil film songs ruled the roost on such occasions.

Even the musical preludes and interludes in a MS-TKR song were impressive and had an identity of their own. One could recognise a song composed by Viswanathan and Ramamurthy the moment you heard a few lines or musical notes. The 1960 to '66 period could very well be described as the golden age of Tamil film songs.


Monarchs of Light Music

The Viswanathan-Ramamurthy combination along with K.V. Mahadevan dominated the film music scene. Viswanathan and Ramamurthy reigned supreme. Their refreshing brand of light music or mellisai truly lightened the lives of many.

The popularity of this light music was acknowledged formally on 16 June 1963 at a special event held at the Cultural Academy in Triplicane. The title of 'Mellisai Mannar' (Monarch of Light Music) was conferred on both M.S. Viswanathan and T.K. Ramamurthy by the doyen of actors, Sivaji Ganesan. A distinguished gathering of film personalities applauded with delight as the two music composers were crowned as monarchs of light music. Alas! Within two years the relationship fractured. M.S. Viswanathan and T.K. Ramamurthy dissolved their musical partnership in July 1965 after the release of the film 'Aayirathil Oruvan'. Many theories were floated as causes for the break-up. Apparently a clique of film directors, lyricists, playback singers and actors had driven a wedge between both when a clash of egos occurred. Both Viswanathan and Ramamurthy maintained a dignified silence on the matter. There is no doubt however that the split was a great loss to the Tamil film industry. I can recall the immense sadness I felt at the time of the MSV-TKR split.


Post-split film careers

Both MSV and TKR continued separately on their respective musical journeys. Though both continued to entertain film fans with their light music, their fortunes differed. Ramamurthy found his film career waning after the break up. He began getting fewer and fewer opportunities to score music. TKR did compose music excellently but unfortunately most of the films concerned turned out to be commercial failures. Thus the solo film career of TKR virtually ended within some years. He composed music for only 16 Tamil films after parting ways with MSV. In 1995 the MSV-TKR duo combined again for the film 'Engiruntho Vanthaan'. The music was disappointing. The old magic was gone. Contrary to the fate of Ramamurthy, the film career of Viswanathan waxed after he went solo. MSV got a lot of opportunities to score music for films after the split. Possessing remarkable interpersonal skills, Viswanathan was able to procure film assignments easily.

M.S. Viswanathan dominated the Tamil film music scene from 1965 to 1975. He composed music for about 20 films each year during that decade. After the advent of Illayarajah via 'Annakkili' in 1976, Viswanathan's virtual monopoly was challenged. Still Viswanathan held his own against the Illayarajah onslaught until 1985 composing music for at least 10 films each year. After 1985 the number of films for Viswanathan began to dwindle. It became a trickle after A.R. Rahman also entered the scene in 1992 through 'Rojah'. The last film for which M.S. Viswanathan composed music was 'Vaaliban Suttrum Ulagam' in 2012. In his boyhood Viswanathan had wanted to be a singer. In his teens he aspired to be an actor. Both dreams did not materialise and Viswanathan became a reputed music composer. Fate however decreed that MSV become a singer and actor in later life.

Viswanathan started singing a few songs in some of his own films first. Later other music composers also began using him. His deep resonating voice was deemed appropriate for philosophical and devotional songs. He has sung over 100 songs in films. Viswanathan has also acted in a few films and teledramas. His film debut was in 'Kaadhalaa Kaadhalaa,' starring Kamal Haasan and Prabhu Deva. M.S. Viswanathan's death, to use a cliché, marks the end of an era. Though he was inactive as a music composer for nearly two decades, the man's music and songs continued to be in the public domain thanks to audio and video cassettes and YouTube. The monarchs of light music M.S. Viswanathan and T.K. Ramamurthy brought much pleasure to me and millions of others during their golden days. May their music and memory remain forever!
(D.B.S. Jeyaraj can be reached at [email protected].)