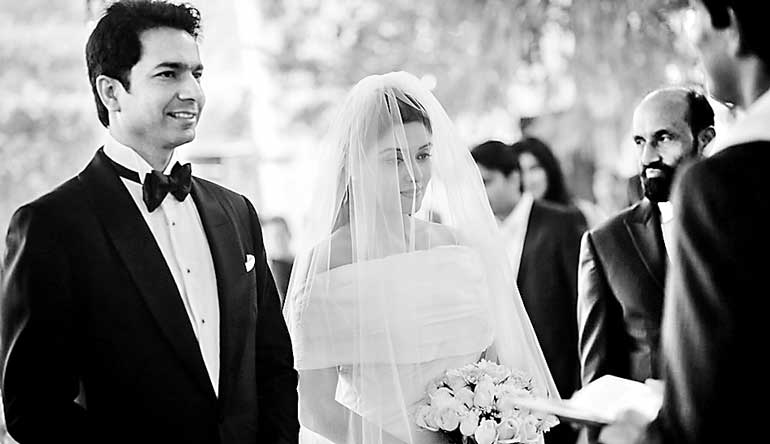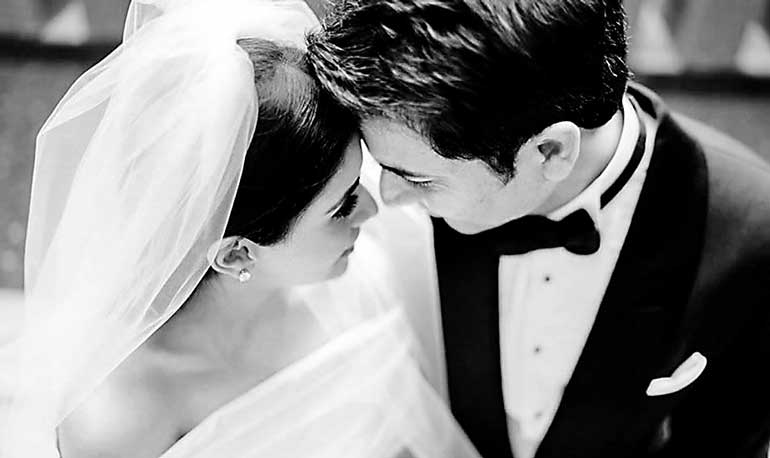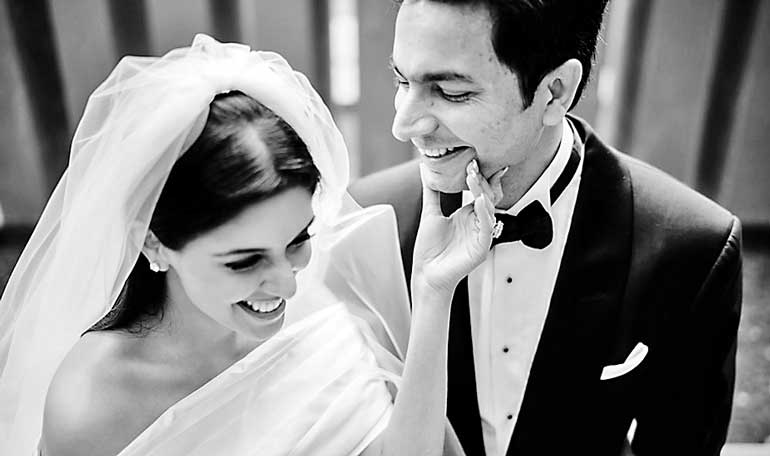 An adorable actress with lovely looks being swept off her feet by an efficacious entrepreneur with dashing features into a grand wedding is the romantic stuff modern fairy tales are made of. No wonder then that Indian newspapers were full of news stories last week about the wedding between the Punjabi Hindu Rahul Sharma and Malayalee Catholic Asin Thotumkal. Groom Rahul is co-founder of the successful enterprise Micromax while bride Asin is an actress who has starred in several Indian languages like Malayalam, Tamil, Telugu and Hindi.

It was popular Hindi film hero Akshay Kumar who played cupid in the Rahul-Asin romance. Akshay had co-starred in a few films with Asin Thotumkal on the one hand while being closely associated with Rahul Sharma as a friend on the other. Akshay had introduced Asin to Rahul initially. He had also helped promote the alliance in its early stage. After ardently wooing and courting the alluring Asin, the debonair Rahul proposed in Western fashion last year by going down on his knees. She said "yes" and he then slipped on her finger, a 20 carat diamond ring costing 60 million Indian rupees. The diamond solitaire was imported from Belgium. The letters "A" for Asin and "R" for Rahul had been engraved on the gold band under the solitaire. Asin has been flashing that sparkling solitaire for quite a while after the engagement.

Akshay Kumar wearing a black tuxedo was the best man at the marriage held in New Delhi on 23 January. He was honoured with a personalised invitation card. The classy invitation card had the letters "A" and "R" elaborately embossed upon each other in gold. The wedding itself consisted of two ceremonies conducted at Delhi's Dusit Devarana luxury resort. Only relatives and close friends were invited for the events. Strict vigilance was maintained by hotel staff to prevent uninvited outsiders or media from infiltrating.

A chapel was erected within the hotel premises for a Christian marriage in the morning. The Delhi-based music group Elohim Worship performed at the wedding in which three hymns were played. Asin wore an elegant Western white gown designed by New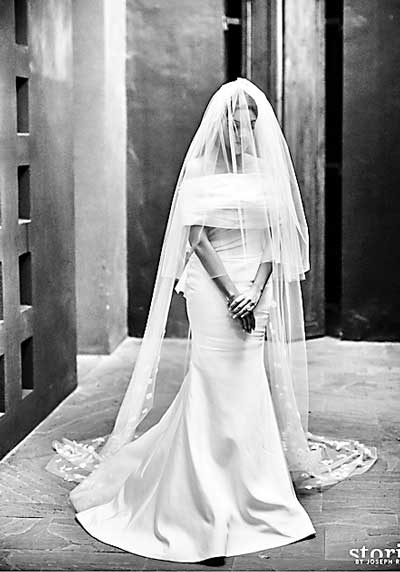 York City fashion designer Vera Wang. The Christian wedding was followed by a Chinese style luncheon for 100 guests at the resort.

The wedding was re-enacted in the evening according to Hindu rituals. It was an outdoor event held in a pavilion constructed upon a body of water. Asin wore Indian lehenga wedding attire custom designed by noted Indian dress designer Sabyassachi Mukherjee. Observing the traditional Hindu marriage ritual 'Pheras' or 'Saptapadi,' the couple went around the blazing fire seven times and took their seven marriage vows. Thereafter the 200 guests present were treated to a lavish vegetarian Indian cuisine dinner.

Even as her numerous fans wish Asin and her beau a very happy married life, they would also want the actress to keep acting in films even after marriage. It is not clear as to whether Asin would continue her cinematic career in acting after her marriage or not. When she was posed the question about working in films by the 'Times of India,' Asin had this to say: "I have been working from the age of 14 and as of now, I am not taking up anything and will definitely take a break from films… Right now, I am looking forward to experiencing this phase in life of marriage."

Asin's entry into acting

Asin is a "Mallu" or Malayalee actress hailing from a Syro- Malabar Catholic Nasrani family in Kerala. She was born in Kochi on October 26th 1985. Her father Joseph Thotumkal is a businessman and mother Seline Thotumkal a medical doctor. Though she was to be named Mary after her paternal grandmother at first, her father later coined the name Asin for her. The name Asin means without sin. The "A" is from Sanskrit denoting "without" and the "Sin" is from English. Asin says poetically that her name means "pure without blemish". Asin Thotumkal graduated from St. Teresa's College in Kochi (Cochin) with a BA degree in English literature.

Asin has acted in Malayalam, Telugu, Tamil and Hindi films. The first movie she acted in Tamil was 'Ullam Kaetkuthe,' but the first to be released was 'M. Kumaran Son of Mahalakshmi'. She has acted in many successful Tamil films like 'Sivakasi,' 'Poakkiri,' 'Varalaru,' 'Vel,' 'Maja,' 'Aalvar,' 'Ghajini' and 'Dhasavatharam'. Within a few years Asin established herself as the uncrowned queen of Tamil cinema starring opposite big names in Tamil cinema like Kamal Hassan, Vikram, Vijay, Ajithkumar, Surya and "Jeyam" Ravi.

Asin captivated the hearts of many through her role in 'Ghajini,' directed by ace filmmaker A.R. Murugadoss where she played Kalpana, a vivacious and impulsive girl with a heart of gold. The film was re-made in Hindi by Murugadoss with Aamir Khan playing the male lead and Asin enacting the same role as in Tamil. This movie was Asin's entry into Hindi films. It was a smashing success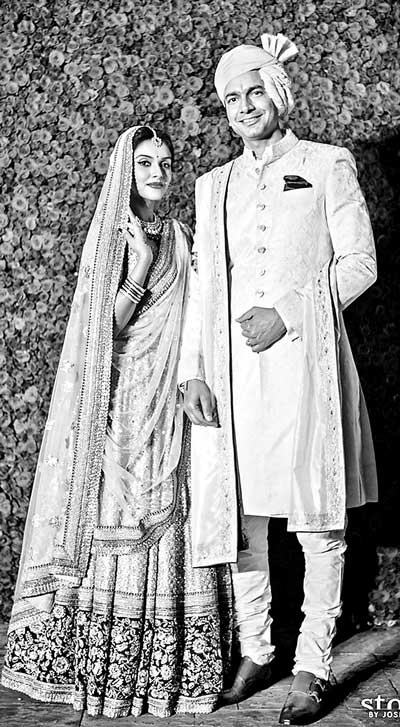 with Asin receiving rave reviews and awards. According to Asin, her real life romance with Rahul Sharma bears an eerie resemblance to her on screen romance in 'Ghajini'.

Her second film was opposite Salman Khan. 'London Dreams' was a flop but Asin had earned a place in Hindi cinema. Thereafter Asin paired with Salman Khan in 'Ready,' a greater part of which was filmed on location in Sri Lanka. She has also acted in Hindi films like 'Housefull 2,' 'Bol Bachchan' and 'Khiladi 786'. Her last Hindi film completed months before her marriage was 'All is Well'. Asin has played the leading lady to Hindi stars like Salman Khan, Amir Khan, Akshay Kumar, Ajay Devgn and Abhishekh Bachchan. Five of her Hindi films were huge box office successes, grossing over a billion Indian rupees each.

Asin has also modelled for and endorsed several products and businesses. At one point of time she was the most featured model from Tamil cinema appearing in 26 different advertisements for products. When she broke into Hindi films successfully, Asin stopped acting in Tamil films for a while and relocated to Mumbai from Chennai. Tamil film fans were deeply distressed. After a few years she decided to make a comeback and signed opposite Vijay for the Tamil film 'Kaavalan'. The film was a smashing success and revived the career of Vijay whose movies had earlier crashed at the box office.

Vicious attack due to Lankan links

With 'Kaavalan' making a mark, it appeared that Asin was set for a second successful innings in Tamil cinema. Fate however decreed otherwise. A vicious attack was launched against Asin by some Tamil cinema and political personalities. She was unofficially "blacklisted" from South Indian films. The Tamil film industry was forced to refrain from casting her in films despite her popularity with Tamil masses. An unfazed Asin returned to Mumbai and continued her acting career in Hindi cinema until her marriage.

What led to the hostile campaign in the Tamil film world against Asin? Hard as it may be to believe, it was due to her friendliness towards Sri Lanka in general and the kindness displayed by her towards the suffering Tamil people of the north in particular! Asin was pilloried savagely and crudely in the Tamil media for allegedly associating with the ruling Rajapaksa family during her visits to Sri Lanka. The immense humanitarian work she undertook along with actor Salman Khan to help afflicted people in the north was cruelly criticised. What happened to Asin then was this.

It all began with a man called Sebastian Seeman. This man is a film director and actor in Tamil Nadu. He is an ardent supporter of the Liberation Tigers of Tamil Eelam (LTTE) and a rabid follower of Velupillai Prabhakaran. He is one of those still propagating the myth that Prabhakaran is alive and that Tamil Eezham is around the corner.

Seeman has formed a political organisation called "Naam Thamizhar Katchi" or "We Tamil Party".Seeman has a pathological hatred of the Sinhala people in Sri Lanka .The harsh reality in Tamil Nadu is that Seeman's stock has been rising among supporters of the LTTE in the state. He has actually overtaken politicians like Nedumaran and Vaiko in becoming the accredited pro-Tiger leader in Tamil Nadu.

The primary cause for Seeman's ascendancy among pro-LTTE sections in Tamil Nadu is due to his chauvinist outpourings and irresponsible pronouncements. He makes a tremendous impression on emotionally vulnerable youths. In addition Seeman also has a cinematic charisma being a director and actor. Seeman has been in the forefront of powerful moves to politicise the Tamil film industry over the Sri Lankan Tamil issue.

Seeman and supporters were presented with a golden opportunity to work against Sri Lanka when the India International Film Awards (IIFA) festival was scheduled to be held in Colombo in June 2010. The IIFA ceremony has been criticised by the Indian non-Hindi film industry for virtually ignoring non-Hindi films. But it was not on this count that Seeman spearheaded a campaign against it. Seeman was opposed to the IIFA being held in Sri Lanka. He and his supporters alleged that genocide was on against Tamils in Sri Lanka and that as a mark of solidarity with Tamil Nadu the Hindi film industry should boycott the festival in Sri Lanka.

Those who wanted to attend were warned that their films won't get screened in Tamil Nadu and that they won't be allowed to work in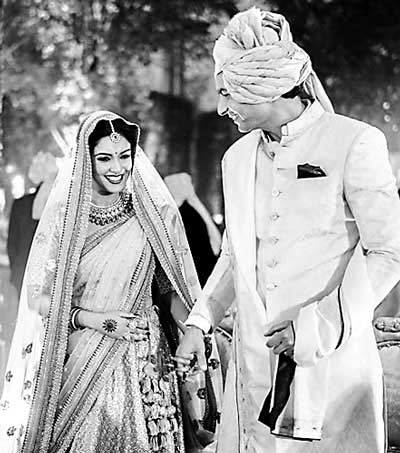 Tamil Nadu. Protest demonstrations were launched and when they escalated several Hindi filmwallas began capitulating. Both Amitabh Bachchan and Shah Rukh Khan retreated and said they would not be able to make it to Colombo.

There were however many Hindi film stars who defied the diktat and proceeded to Colombo. Salman Khan, Hrithik Roshan, Bipasha Basu, Kareena Kapoor, Diya Mirza, Suniel Shetty and Vivek Oberoi were among those who boldly defied the objectors and attended the IIFA. Salman stepped in as brand ambassador and took Amitabh to task for bowing out at the last minute. The festival took place as scheduled though with a few mishaps. It had however lost its lustre as a result of the boycott. Lanka's Jacqueline Fernandez made the nation proud by getting the award for best debut performance in 'Aladdin'.

In Tamil Nadu the film industry bigwigs began cracking down on those who had attended the IIFA. Two actors however were unfazed by this high-handed action. They were Salman Khan and Vivek Oberoi. Both had been romantically entangled with the gorgeous Aishwarya Rai. In fact they had clashed openly over her. But now both had lost out to Abhishekh who had made Aishwarya the Bachchan "bahu". The jilted two stood by Sri Lanka despite the pressure. Apart from participating at the IIF both actors extended their stay in Sri Lanka.

Salman Khan also promised aid to the affected Tamils in the north. He promised to construct 125 housing units. Salman however was bowled over by the scenic beauty of Sri Lanka and the friendly hospitability of her people. He stated that he would shoot his next movie 'Ready' in Lanka. The film was already slated to be shot in Mauritius, but Salman got the location shifted to Sri Lanka. Soon his co-star Asin arrived in Colombo. The defiance of Salman Khan had irritated the hardliners in Tamil Nadu filmdom. The involvement of Asin angered them further.

Unrelenting and unrepentant

The sight of Asin visiting Sri Lanka along with Salman Khan and the announcement that she was acting in a movie being filmed in the island infuriated the anti-Lanka lobby in Tamil film industry. Asin was warned to drop out of the film or face consequences in Tamil Nadu. She was informed that she would not be allowed to act in Tamil unless she recanted and withdrew from "Ready".

But the attractive actress was made of sterner stuff. Instead of succumbing to the intimidation, Asin made a spirited defence explaining her position. When she signed up for the film it was to be shot in Mauritius, but it was now changed to Sri Lanka. As an actress she had no say in the matter. In terms of her contract she had to act wherever the location was. It was unfair therefore to penalise her for this.

Asin also had the temerity to challenge the chauvinist hawks in Tamil tinsel world. "Why are actors being forbidden to go to Lanka?" she queried. The cricketers were going there and no one was objecting, businessmen were going and no one was protesting, tourists were going and no one was criticising but only actors were being threatened with penalties for going to Sri Lanka. "Five planes with full load of passengers are going to Colombo daily," Asin argued.

Despite these reasonable arguments the Seeman brigade kept howling for Asin's blood expecting perhaps that she would grovel at their feet. It was announced that Asin would not be allowed to act in Tamil films or in Tamil Nadu. But an unrelenting and unrepentant Asin embarked on an unexpected humanitarian mission to Sri Lanka.

Asin established a Trust and organised two humanitarian projects aimed at helping the affected Tamil people in the north. One was to conduct special eye clinics and the other was for adopting or sponsoring orphaned children

A total of 150 children ranging from ages one to 16 were sponsored or adopted by Asin's trust in the 'Siriliya Sevana' home at Vavuniya. A three-day eye clinic was conducted in Jaffna and Vavuniya hospitals. Five medical doctors were brought down from India at Asin's expense. Over 300 surgeries were performed in Jaffna and around 100 in Vavuniya. Spectacles costing 5,000 rupees each were provided by Asin.

Visiting Sri Lanka

Instead of being intimidated by the Tamil extremists in Kodambakkam (the Hollywood of Tamil Nadu), Asin boldly travelled to Sri Lanka again. She accompanied first Lady Shiranthi Rajapaksa and Gampaha District MP Dr. Sudarshini Fernandopulle to the north. By this act, Asin became the first Tamil film actress to visit Jaffna in three decades.

When she was in Jaffna people began flocking to the Teaching Hospital to get a glimpse of her. Those who were let in amidst the tight security were thrilled to interact with the alluring actress. Asin posed for photographs and talked with the people. She also visited the eye clinic patients and received their gratitude and blessings.

In Vavuniya too Asin visited the hospital and spoke with patients. She spent many hours with the orphaned children and distributed many presents along with Shiranthi Rajapaksa. The children warmed to Asin and began chatting eagerly. They called her "Akka". Many started crying when she was leaving and implored her to stay longer. A visibly-moved Asin promised to return and left.

The extremists in the Tamil Nadu film world were stunned. They now attacked her viciously for accompanying Shiranthi Rajapaksa to the north. Unable to stomach the fact that this actress had single-handedly accomplished a great deal more for the northern people than themselves, the pro-LTTE Diaspora media accused her of being an Indian agent.

An unperturbed Asin, fortified by her first-hand experience, went on the offensive. She began giving interviews to Tamil Nadu media organs. She told them of the children, the people with eye ailments and above all the abject plight of the Tamil people. Asin related her experience with the people and said how happy the people were that a Tamil film star had come to see them. She said that the Tamil people were feeling isolated and abandoned and yearned for more and more visits from their kinsfolk in Tamil Nadu. "Instead of boycotting Sri Lanka, more people from Tamil Nadu film industry should visit Sri Lanka and express solidarity with the people," she said.

The talented actress described as "Goddess Asin" by some of her fans related anecdotes of how the Tamil people had requested her to bring actors like Surya, Vijay and Ajith with her on her next visit. She pointed out that instead of punishing actors for going to Sri Lanka, more people from the Tamil film industry should be encouraged to visit Lanka. "Film stars and cine artistes should build bridges between people and not get embroiled in politics. Please do not mix politics with cinema and art," she appealed fervently.

Asin's stance and appeal resonated with lots of people. She struck a responsive chord in the minds of many who recognised the futility of "sanctions against Sri Lanka" by the Tamil film world. But the hearts of some hardliners did not melt. The courageous stand adopted by Asin was not permitted to receive broad approval openly in Tamil Nadu. Asin had certainly demonstrated her mettle by confronting and combating the extremist elements in the Tamil film industry. Her principled stand over the Sri Lankan issue endeared her to all right-thinking people. The humanitarian projects she had financed brought greater benefits to a section of the Tamil people in northern Sri Lanka than all the rants and raves of Seeman and his rabid followers.

Asin however was compelled to quit Tamil cinema and return to Hindi cinema because of her commendable humanitarian role in Sri Lanka. The loss was not hers but to Tamil cinema. Now Asin is on the threshold of a bright married life. All those afflicted people in Sri Lanka who benefited from her kindness and compassion would wish her well in her new avatar as wife!


(D.B.S. Jeyaraj can be reached at [email protected].)