Lack of economic policy alternatives: Concern for shipping

As reported in 'The Economist', if policymakers appear defenceless in the face of a fresh threat to the world economy, it is in part because they have so little to show for their past efforts. The balance sheets of the rich world's main central banks have been pumped up to between 20% and 25% of GDP by the successive bouts of QE with which they have injected money into their economies. The Bank of Japan's assets are a whopping 77% of GDP. Yet inflation has been persistently below the 2% goal that central banks aim for.

In America, Britain and Japan, unemployment has fallen close to pre-crisis levels. But the productivity of those in work has grown at a dismal rate, meaning overall GDP growth has been sluggish. That limits the scope for increases in real wages and in the tax receipts needed to service government debt. It is tempting to put this disappointing return down to the untested policy instruments wielded by central banks which played so prominent a role in the response to the previous recession.

But this prominence, as Mohamed El-Erian, an Economist, argues in his new book, 'The Only Game in Town', was forced upon them by inaction elsewhere. 'This was not a power grab'. El-Erian writes; central banks had to buy time until the political system got its act together – which by and large it didn't. Far too little effort went into economic policies to work with the grain of monetary easing and thus to amplify its effects. Such policies would require governments to make decisions that they would rather duck, either with an eye to reforming the structure of the economy and thus removing some entrenched privileges or to increasing deficit spending.

If that remains the case, central bankers will have to reach yet further up their sleeves for radical new alternatives with which to respond to the recession to come. For an industry like Shipping and Ports dependent on global trade the present background is of concern.

Asia-Europe freight rates near all-time low

The relentless decline of ocean freight spot market rates on the major east-west trades since the start of the year continues, with prices per TEU from China to northern Europe falling by a further 22.6% to just $ 257 on the Shanghai Containerised Freight Index (SCFI), their lowest level since October and just $ 52 shy of the all-time of $ 205 per TEU recorded last May. China-Mediterranean spot rates fell a similar 22.7% last week to $ 266 per TEU, helping drive the overall SCFI Index, covering a weighted average of spot rates on 15 major trades out of the base port of Shanghai, down to its lowest ever level of 467.54 points.

The only bright spark came from the Asia-South America east coast trade, where carriers managed to push through an unprecedented sevenfold increase in rates from $ 99 to $ 817 per TEU.

Price-fixing probe into container lines

Peru's anti-trust regulator has reportedly become the latest competition authority to investigate possible anti-competitive behaviour among global container lines. The country's competition regulatory Indecopi said it had started a sanctions procedure against 17 shipping companies it suspects of having colluded to fix prices for several years on goods moved between the country's Callao port and Asia, according to news service Reuters.

It said evidence from inspections, such as business e-mails and minutes form meetings, point to a cartel that aimed to inflate freight rates between 2009 and 2013 and perhaps longer. Shipping companies named as suspects include units belonging to A.P. Moller-Maersk, Hapag-Lloyd and APL. Indecopi said each firm had 30 days to submit a defence and that the investigation could take up to a year and a half to conclude. The inquiry follows competition probes involving groups of shipping lines in the EU and China.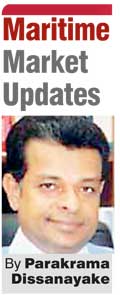 As reported extensively in Lloyd's Loading List, 15 leading container lineshave agreed to abandon general rate increases (GRIs) in favour of a new pricing announcement mechanism following a two year inquiry by the European Commission into possible competition infringements alleged 'price signalling' by lines. The Commission launched its investigation in 2013 in response to concerns that container liner shipping companies' practice of publishing their future price increase intentions may harm competition and customers by raising prices for their services to and from Europe, in breach of EU anti-trust rules.

The carriers concerned are: China Shipping, CMA CGM, COSCO, Evergreen Hamburg Sud, Hanjin, Hapag-Lloyd, HMM, Maersk, MOL, MSC, NYK, OOCL, UASC and ZIM. Lines have insisted that the EU Commission's two year investigation into container line rate announcement practices found no evidence of anti-trust infringements and that their offer to change their pricing practices was not an admission of past anti-competitive behaviour. Nevertheless, their offer to change their pricing practices is contingent on the European Commission abandoning its investigation.

Major logistics acquisitions

Deutsche Post DHL (DPDHL) may have unequivocally dismissed recent reports that the group is exploring the possible sale of its underperforming forwarding and freight operation, DHL Global Forwarding, Freight, but rumours continue to circulate about impending merger and acquisition activity in the highly fragmented global forwarding and logistics industry. Some attention has now turned to whether there is any substance to unconfirmed speculation in a media report that another potential mega deal – Kuehne + Nagel (K + N) acquiring all or part of CEVA Logistics is in the offing.

Owned by private equity firm Apollo since 2006, analysts say CEVA has not yielded the kind of returns that investment managers have come to expect. This has fuelled rumours that Apollo is planning an imminent exit route to cut its losses. CEVA Logistics told Lloyd's Loading List there was no substance to the report in The Loadstar that its owner, Apollo, was in talks with K+N over a possible sale of the logistics group, while for its part, K+N said: "As a matter of principal, we do not comment on rumours."

In an interview with Lloyd's Loading List to discuss consolidation and merger and acquisition (M&A) activity in the sector, Rob Riddleston, who heads Barclays Corporate Banking's Transport and Logistics team, said "CEVA is a very good business, but of course it has been saddled with huge amounts of debt. Apollo has been looking for a way out (of CEVA) for the past five or six years. "K+N" have no real debt at all if you look at their accounts. They have the financial firepower for a major acquisition." But Riddleston explained that the Swiss forwarding and logistics giant had been relatively conservative in the past with regard to M&A activity, although he noted that a potential deal could be interesting.

New mega alliance

Leading container lines CMA CGM and COSCO are said to be in talks with Evergreen and OOCL on creating a new mega-alliance to rival the 2M vessel sharing partnership between the world's two biggest lines, Maersk and MSC, according to a report by liner shipping analyst Alphaliner. The move would lead to a restructuring of the four major alliances currently operating on the main east-west trades, although those alliances are set for a shake-up next year in any case upon the completion of the acquisition of APL parent group NOL by CMA CGM and the merger of the Chinese lines COSCO and China Shipping container line.

APL is expected to exit the G6 alliance next year once the CMA CGM deal is completed, while COSCO has not revealed its alliance plans yet, Alphaliner said.

Asia-Europe sailings cancelled

Members of the G6 Alliance announced additional void sailings within their Asia-Europe product in response to changes in market demand, suspending the alliance's Loop 6 service for 11 weeks. As the G6 Alliance continues to review its product profile, the Loop 6 service will void sailings starting from week 8 for a period of 11 weeks. It said: "In order to provide continuous coverage and service, the following ports will be covered on Loop 4 and Loop 5: Shekou, Hong Kong, Colombo, Antwerp, Jebel Ali. The Loop 6 service will resume in week 19."

The G6 Alliance stressed that it would continue to offer a variety of services between Asia and Europe covering all of the major port pairs with weekly sailings and to make further service adjustments where necessary. The G6 Alliance members are APL, Hapag-Lloyd, Hyundai Merchant Marine, Mitsui O.S.K. Lines, Nippon Yusen Kaisha and Orient Overseas Container Line.

(The writer a Maritime Economist is a Chartered Fellow (Logistics Transport), Chartered Shipbroker (UK), Chartered Marketer (UK) and a University of Oxford Business Alumni. He is also a Fellow of NORAD/JICA and Harvard Business

School (EEP).)