It is the reality that retirement of a sportsman from professional sport becomes absolutely obligatory at the appropriate time due to various reasons. Even if there is no age limit or time limit for retirement in sports, poor performance, ageing and clandestine schemes may cause to decide on retirement.

What makes most significant is the expression of sentimental feelings by the public on the announcement of retirement of a sportsman high in profile. The recent retirement of the world renowned Indian Sport Star Sachin Tendulkar from cricket is a case in point. The entire sports world felt deeply sorry to hear the announcement and no dry eye was seen in any of the Indian households as this world's great cricketer was recognised a divine gift to the nation.

Sachin became India's first active sportsperson to be sworn in as a Member of Parliament in recognition of his vast contribution to the Indian nation. Sachin was honoured because he took the Indian flag to the zenith of its glory with his humble decency of a sportsman to his fingertips.

Last month it was the most popular talk in the town about a great cricketer star batsman Kumar Sangakkara in the Royal Box at the men's singles third round match between Australia's Samuel Groth and Switzerland's Roger Federer at the Wimbledon Championships held at The All England Tennis Club in Wimbledon, Southwest London, joined by legendary sportsmen like Jeffery Boycott, Jimmy Anderson, Stuart Lancaster, Boris Becker, Martina Navratilova et al.

The invitation to Sanga to the Royal Box itself was a tribute paid in recognition of his stellar performance in the game and highly valued qualities of a gentleman who adorned Sri Lanka cricket.

In view of the above facts, a responsible duty casts upon me as a Sri Lankan cricket fan to pen a complimentary appreciation on the achievement of this world recognised cricketer Kumar Sangakkara, one of the finest batsmen Sri Lanka has ever produced, at the announcement of his retirement from International cricket effective after the second match of India Sri Lanka Test series concluded on 24 August.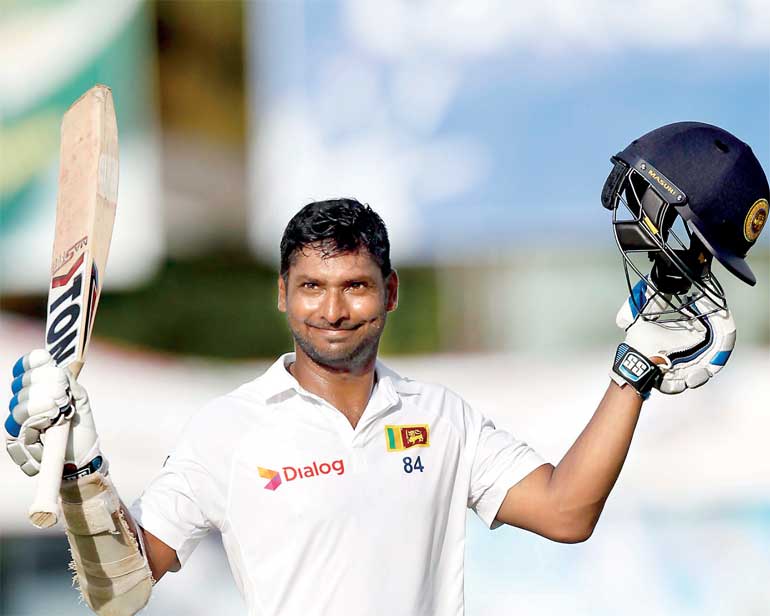 A rare gift of the nation

Kumar Sangakkara who dedicated an invaluable contribution as a resplendent sportsman is a rare gift of the nation. He is a professional Sri Lankan national cricketer who is wildly regarded as one of the greatest batsmen of all time and a legendary star in the history of the game. He is also a record-breaking wicket-keeper.

Views expressed by Peter Roebuke the former Captain of Somerset County Club in his article 'The all-round of Sangakkara' that Sanga is one of the "most polished and prudent batsmen" in cricket is an indication. He further commends that Sangakkara is a superb batsman because he scores more and more runs at the time of need. He has proved that he is a legendary jewel of his profession with indomitable popularity not only in Sri Lanka but also in the entire global community who loves sports.

Kumar Chokshanada Sangakkara, fondly known to one and all as Sanga, was born on 27 October 1977 in Matale to a family engaged in legal profession. He was a Trinitian who began to explore his talents in cricket in all age groups, badminton, tennis and swimming during his salad days. This future super star was fated to sharpen his skills in school cricket winning the most prestigious Trinity Lion Award and RYDE award in 1996 at the age of 19.

Sanga was selected to the Sri Lanka squad in 'A' team to tour South Africa in 1998 and 1999. He hammered an outstanding 156 runs as an amateur against Zimbabwe A team in 2000 on their visit to Sri Lanka. This gallant century was a brilliant display of his batting competence that made him selected to the national team.

Sanga played his debut for the Sri Lanka National Test Team in 2000 against South Africa and in the same year played in the limited over matches against Pakistan. In 2006 he displayed his finest talented skills in his first T20 matches against England. During the last 15 years Sanga has experienced a highly remarkable contribution of his expertise in cricket with team spirit as the captain, wicket-keeper and stylish batsman of the National Team. His attempt to bring Sri Lanka cricket to the world of sports has commendably come to reality.
Outstanding records in International

Mother Sri Lanka prides herself on Sanga's outstanding records in International Cricket. He is the only cricketer to have reached the milestone to score 8,000, 9,000, 11,000 and 12,000 runs in Test Cricket, the fastest in history.

In 2006 Sanga and Mahela Jayawardena created history of a 624 run partnership against South Africa, an unbroken world record of highest partnership for any wicket in test matches breaking the previous partnership of 576 runs made by Sanath Jayasuriya and Marvan Atapattu in 1997.

He is only Sri Lankan cricketer who scored over 12,000 runs in test cricket. He scored 52 half centuries in addition to 38 centuries and disported a superb wicket keeping with 202 dismissals. He was honoured with Sri Lankan captaincy from 2009 to 2011 in 15 Test matches with five victories to Sri Lanka.

Sanga scored 11 double centuries to his credit, second only to Don Bradman who scored 12 double centuries in his career. It would have been a historical record if Sanga was blessed with another century at the Sri Lanka-India Test match ended last 24 August. But his attempt is much appreciated.

In limited over matches Sanga has played 404 ODIs with a total score of 14,234 runs winning the second place next to Sachin Tendulkar who leads with 18,426 runs in 463 matches. Sanga has become the best wicket keeper with the world record of 506 dismissals together with 99 stumps. He captained 45 ODIs from 2009 to 2011 with 27 victories. Sanga has displayed his skills in 56 T20 matches with 1382 runs and captained from 2009 to 2010 with 13 victories.

Sanga played in Sri Lanka Team for the World Cup in 2007 and 2011 to capture runner-up place and also ICC T20 world cup in 2012 and 2014. At the last ICC T20 World Cup, he was adjudged the Man of the Match. In fact, he has been holding Man of the Match title for several years and many other reputable awards.

Sanga was able to always maintain top in the ICC world ranking. He was in sixth place in batsman rank at his retirement.

In recognition of his magnificent scoring of runs in the event of necessity and his world class keeping behind the stumps, the counties and cricket clubs like Warwickshire, Surrey, Kings XI Punjab, Deccan Chargers, Sunrise Hyderabad, and Durham offered contracts to Sanga to share his professional competence in cricket.

Flying the Lankan flag high

Sanga has strikingly raised the Sri Lankan Flag high across the world by winning a number of awards of recognition in International Cricket. He was named Wisden Leading Cricketer in 2011 and 2015. Sanga and Virender Sehwag of India were the only two cricketers who won this prestige award twice.

In 2012 he was honoured with ICC Award OID Player of the Year followed by three awards – Cricketer of the Year, Test Player of the Year and People's Choice Cricketer in 2011 and 2013 for his masterly performance of the game. It was again a special honour to him being selected by ICC for World IX team continuously.

Sanga also won the Cricketer of the Year award of CEAT International Cricket awards – India for 2014. The national award system introduced to recognise Sri Lankan cricketers originated with CEAT Cricket Awards Ceremony in 2009 and later it was transformed into Dialog Cricket awards since 2013. Sanga was adjudged winner of most of the awards since 2009 for Leadership to World Cup in 2009 , Player and the Best Batsman of the Year in 2010, Most Popular Player and Best Batsman in 2011, Most Popular, Best Batsman and Cricketer of the Year in 2012, Most Popular Player in 2013 and Most Popular Player and Best Batsman 2014. Sanga was honoured as Sri Lankan of the Year for 2011 by LMD Magazine.
MCC Spirit of Cricket Cowdrey Lecture

In 2001 the famous MCC Spirit of Cricket Cowdrey Lecture was inaugurated in memory of the late Lord Cowdrey of Tonbridge. In honour of Sanga's distinguished career world over, it was a tribute paid to him in 2011 by inviting to deliver a speech on MCC Spirit of Cricket at Lords, London. A prestigious invitation to deliver this speech of high reputation is a very rare occasion offered by MCC.

During the last 14 years Richie Benaud (2001), Barry Richard (2002), Sunil Gavaskar (2003), Clive Lloyd (2004), Geoffrey Boycott (2005), Martin Crowe (2006), Christopher Martin-Jenkins (2007), The Most Rev. Dr. Desmond Tutu (2008), Adam Gilchrist (2009), Imran Khan (2010), Kumar Sangakkara (2011), Tony Gray (2012), Simon Taufel (2013) and Sir Ian Botham (2014) were the Legendary Greats who were honoured with this highly reputable podium to address the audience. Sanga takes the pride to be the youngest cricketer and the only player not retired from sports to have enjoyed this prestige.

Sanga's lecture covering a complete history of Sri Lanka cricket that lasted for one hour was widely applauded by the cricket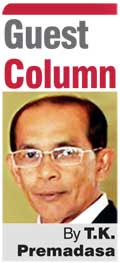 community as deeply poignant and impressive. He emphasised the urgent need of remedial measures taken to address issues and shortcomings experienced in the past in an attempt to improve the sport in the interest of national image.

The overwhelming popularity of Sanga silenced the aversion of certain political elements against his speech. It was an acute display of his professional approach which has been described as "the most important speech in cricket history", to build up the performing talents of cricket devoid of corruption as appreciated by the entire sports world. According to sources, this lecture has been added to the English Literature 2015 O/L syllabus as one of its lessons.

Dr. Sulakshi Thelikorala in her article Spirit of the Game – An Outlook on Sri Lanka Cricket indicates that the game of cricket is a portrayal of integrity, glory and patriotism. It is a sacrifice of skills with first priority to the game before personal agenda. His name is immortal as a disciplined player responsibly dedicated his life for the spirit of the game. His name will glow writ large in letters of gold in the history of Sri Lanka cricket.

Sanga rose to the highest destiny of his ambition in the coolest manner of humbleness. The heart-breaking outcome was the sentimental feelings expressed by the people at the announcement of retirement by superstar Sanga who admirably influenced the hearts of young and old in the sports world. Popularity is the opinion of the public but character is what he really is. Sanga as he is fondly known by his fans is an exceptional gentleman par excellence shining at the apex of his glory. He is an epitome of humble personality whose contribution to cricket has helped build a highly reputable image of Sri Lanka world over.

Sanga is accredited with lasting memories of all Sri Lankans and the cricket world through his entire experience in this favourite game. A huge responsibility casts upon him to firmly secure the abundance of affection and reputation acclaimed from the people through his career. The indelible image of Kumar Sangakkara, built up by his dedicated hard work, is in high demand in the market as a branded product. His far-sighted decision not to get involved in politics is wisdom of thought as commended by the whole country.

Sanga's contribution to the country at the difficult time like the tsunami and role played as an ambassador for national social needs won the influence of young and old from all around the globe. The entire nation hopes that he will certainly extend his cooperation to develop Sri Lanka Cricket. May he be blessed with strength and courage to guide Sri Lanka Cricket with all his expertise together with young blood of innate talents so that the Sri Lanka Flag will fly high in memory of this most favourite game of cricket.
(The writer is the retired former Head of Corporate Affairs and Communications – Sri Lanka Export Development Board and Ex-Director of Sri Lanka Trade Centre in the Maldives. He can be reached at [email protected])