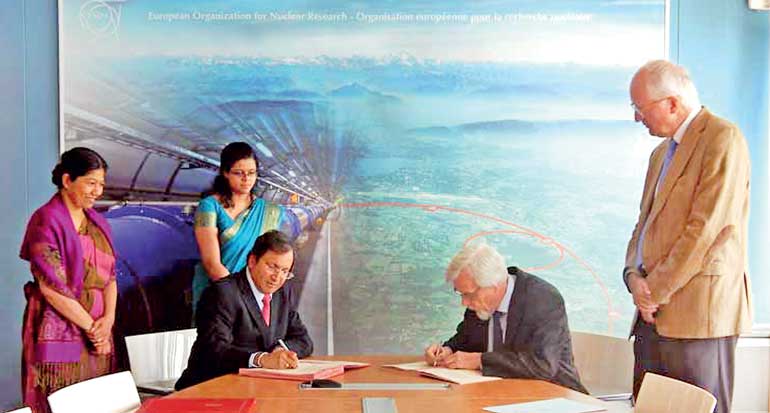 Sri Lanka's Permanent Representative to the UN in Geneva Ambassador Ravinatha Aryasinha and the CERN Director General Rolf-Dieter Heurer sign an Expression of Interest Agreement to begin cooperation between CERN and the scientific community in Sri Lanka, on Thursday, 25 June 2015, at the CERN Headquarters in Geneva. CERN International Relations Head Dr. Rüdiger Voss, Sri Lanka Permanent Mission Deputy Permanent Representative Samantha Jayasuriya and Sri Lanka Permanent Mission Second Secretary Dilini Gunasekera were associated with the ceremony – File photo
The practice and the pursuit of science has witnessed many an attempt in pursuing grails of various kinds, with some holier than others. However, there has been one hunt which has been termed as the greatest hunt in science – the search for the Higgs boson!

This piece of writing in addition relates to Sri Lanka's late entry to the wonderful world of particle physics as physics may be taking a whole new turn since Higgs particle had been uncovered and Nobel's awarded. Who says there is ever a dull moment in science?

Interestingly the pursuit for the particle – one among many but considered the most elusive of all – takes place below around the border between Switzerland and France. The Swiss-French landscape may not really reveal much on the surface other than its natural beauty Alps in the distance, etc., as they say the money coming from 20+ countries is spent underground and not for surface decor! The area houses the most sophisticated machines mankind has ever built. It is cooperation in science at its very best and in the not-too-distant future Sri Lanka too has hopes of playing a role of sort.


The purpose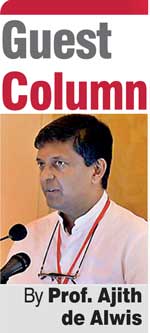 The underground home of the Large Hadron Collider (LHC) has been a multibillion dollar enterprise for smashing atoms – One may ask, for what purpose? What has been the ROI? How have these collisions in vacuum helped society? It is always possible to ask questions in jest but if you pursue you may be surprised over the outcomes so far – World Wide Web, touch screens, advanced cancer treatment, etc., CERN is quick to say that the 25% of global GDP is based on quantum mechanics and that is what they are in the forefront of!

The office of CERN – the European nuclear research organisation – closer to Geneva was established with more than 20 countries pooling resources and it took more than a decade to construct. CERN' s track conveys trillions of protons around an underground 27 km ring in opposite directions over 11,000 times a second, travelling at 99.9999991% of the speed of light and then bang! To smash atoms and search for elusive particles you really should have the attitude plus fortitude. At present CERN has more than 10,000 scientists in its network – this is more than double what we have as scientists of all types in Sri Lanka.

The effort is in identifying and understanding the origin of mass at the very moment of the origin of universe. Recreating the primary moments of the Big Bang and gain an insight into the ensuing events form the bedrock of CERN's efforts. How many mysteries – both known and unknown – may be unravelled, time certainly will tell.

One mystery that people are trying to unravel appears to be confusing when you first hear it – finding why weight exists. A loaf of bread we expect to be around 450g. If it weighs less, it is an offence to sell. Yet though we prepare them, sell them and eat, apparently scientists cannot exactly explain why the loaf or for that matter any stuff weighs as they do. Of course they look into the loaf to see the fundamental building blocks whatever they are in answering the question after first forming the original question. It certainly is no easy journey and not for the fainthearted.

While the questions were always there within probing minds, it was Peter Higgs who with great mental calisthenics that is essentially required in physics hypothesised that blocks of matter did flip from weightlessness to have weight, with the aid of an invisible field that came into existence after the Big Bang. The search for Higgs boson was then on following the original concept written down in a notebook at his Edinburgh office. The search had been not without scientific rivalries too.


Higgs boson discovery

Wednesday 4 July 2012 was the day CERN announced to the world about the discovery of Higgs boson and the run up to that event had been interesting too indicating the steps and missteps that one needs to be aware of today.

As related by Ian Sample in his award-winning book 'Massive,' the discovery of Higgs boson at CERN, the organisation that invented the web and also introduced it without any costs to the people, had leaked its biggest story in history by screwing up its web security. However as Ian indicates, the two presentations by the scientists Joe Incandela and Fabiola Gianotti in the morning on that day in the presence of so many who were involved in the search, including Higgs himself at 83, eclipsed all that had leaked prior.

It is not the usual to see particle physics making headlines in media but for few days after a particle that had its history 13.7 billion years ago and a group of men and women who dared to probe the mystery against many an odd did achieve that distinction in style. The event was a testimony to one man's hypothesis and many nations' commitment and a science story quite unparalleled.

It is recorded – you can learn how to do science diligently and methodically by reading the CERN story as announcement of this sort had be right and there really is no going back nor any other admission subsequently. The meticulous ways how teams have worked together are learning to many and those who plan team projects can really learn a lot.

Experiments leading to a final set of results happened just before a scheduled closure which would have taken more than a year. The passion within teams appears to have been infectious with the scientists having made a final push for a positive result in the final months. The shutdown was to enable the LHC to fire up at its full design energy.

Calculated risks in handling energising and unbundling data which originate at million gigabytes per second all had involved sturdy mindsets accompanied by innovative steps all the way. As the minds were ready, the boson presented itself and with the data accuracy determined – physicists do not settle for less than 5 standard deviations – the Head of CERN Rolf-Dieter Heuer did announce the discovery on this day! Finally after13.7 billion years later and 48 years since the hypothesis Higgs boson has arrived.

As Ian has reiterated, at first an obscure note in a journal, the theory acquired an importance that justified a decade-long research, with multimillion-dollar machines that became careers, dreams, and lives of thousands of scientists and engineers. In 2013 both Dr. Higgs and Dr. Englert of Belgium received the Nobel Prize in Physics for their contributions to this area of study. It is this excitement perhaps that today we Sri Lankans are trying to catch too.


CERN and Sri Lanka

The interaction with CERN in Sri Lanka started in 2014 when the Senior Minister for Science and Technology invited the International Affairs Director of CERN to Sri Lanka. An EOI between Sri Lanka and CERN was facilitated by the Sri Lanka Geneva mission in June 2015. CERN again participated in the 2016 Science and Technology for Society Forum held in Colombo. Thereafter the EOI was elevated to an International Cooperation Agreement (ICA) with the current Minister of Science Technology and Research signing the agreement on behalf of Sri Lanka.

Sri Lanka became the 47th country to sign an ICA with CERN. This Agreement will create a framework for the participation by Sri Lankan scientists, engineers and technicians in research projects of the CERN and increase opportunities for Sri Lankan undergraduates and physics teachers to participate in CERN's training programs. In 2016, two students participated and 2017 will see four students selected by CERN to attend the summer camp. CERN is supporting 50% of these visits via full scholarships and CERN selects exclusively from a global application list. COSTI is quite pleased to have coordinated the whole interaction from the very first visit.

These opportunities are quite enriching as student experiences so far have revealed. Sri Lankan students here in Sri Lanka have never been able to participate in these events before. It is hoped that teacher participation too will happen. Sri Lanka does not have a significant scientific presence in theoretical physics as many a physicist produced by the universities has been lost to outside world. It is the backwardness of the society that prevents gainful employment and not the mismatch of the curricula with the job market that is at fault here.

Instead of arguments, it is hoped that this period of renaissance in relationship with CERN may herald an era of practical interest in sciences and especially in physics and that the country will exploit these to the maximum.