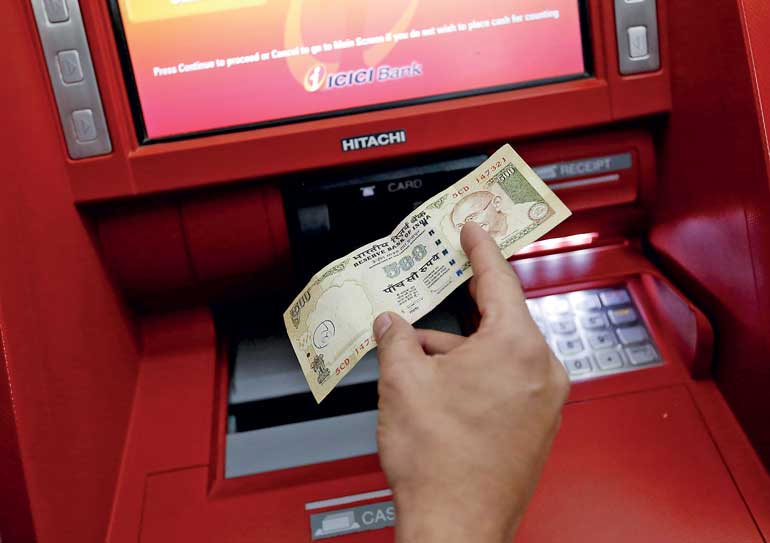 A customer deposits 500 Indian rupee banknote in a cash deposit machine in Mumbai, November 8, 2016 - REUTERS
On 8November, the Government of India announced the cancellation of Rs. 1,000 and Rs. 500 currency notes with immediate effect. The day after the announcement all banks and Government Treasuries remained closed for business and they will open again from 10November.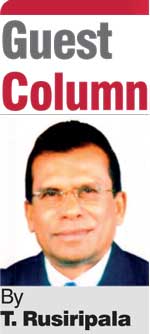 The operations regarding the cancellation of the currency notes will be restricted as follows:

Old Rs. 1,000and Rs. 500currency notes will be shut out of circulation so that they cannot be used for any payment or shopping.

All commercial banks and the Currency Issue Departments of the Reserve Bank will accept as deposits into their bank accounts amounts with no upper limit from 10November to 30December.

Exchanging of the cancelled notes to other denominations or new notes would be subject to a maximum limit of Rs. 4,000when submitted with a declaration as provided by the Reserve Bank and with proper identity. This limit of Rs. 4,000for exchange of currencies will be reviewed by the Reserve Bank after 15 days.

From 31Decemberonwards till 31March2017 old notes will be accepted for deposit only at the Reserve Bank or specified units of the Reserve Bank of India.

From 10November, 2016 ATM withdrawals will be limited to Rs. 2,000per transaction and a maximum of Rs. 4,000per day until 18November.

Cash withdrawals from a bank account over the counter will be limited to Rs. 10,000with a maximum of Rs. 20,000per week till 24November.

A 72-hour moratorium period is allowed to avoid any inconvenience to specially identified categories such as the payments at hospitals and travel, etc.

According to the Government, the decision to cancel the high value currency notes has been taken to curb several unauthorised acts such as use of funds for subversive activities, smuggling of arms, drugs and other contrabands. There has been a high volume of fake notes also in circulation in these denominations and they have been used for various anti national and illegal activities.

India is a highly cash-based economy and such a menace of increasing circulation of fake currency has gone beyond the level of a menace, causing serious issues.

Hoarding of black money and the use of faked currencies for corrupt political activities was also on the increase. High denomination currencies facilitate rampant black money operations.

The Government of India has taken this step in consideration of all these matters and according to the announcement no new currency note of Rs. 1,000denomination will be issued.New notes will be Rs. 2,000and Rs. 500denominations.

The Reserve Bank of India has taken certain novel steps arising out of the need to curb black money operations, utilising new technology.All new Rs. 2,000currency notes will have a nano GPS chip embedded in the note as a special security feature.

The unique nature of this phenomenon is that it works without any power source to reflect a signal to trace the exact location of the note.It is informed that this NGC embedded currency can be traded and located even at a buried depth of 120 meters below the ground. A satellite determination could identify the exact amount of currency located in any unusual or suspicious place thus providing information to tax and anti-corruption authorities.

Sri Lanka too went through a demonetisation exercise with the cancellation of Rs. 100and Rs. 50currency notes in 1970 but the exercise was designed for a different purpose.

It would be a good idea to consider the introduction of nano chip embedded currencies for higher denominations in our country too.It might help to uncover unscrupulous corrupt operations involving currency exchanges.

The resulting scenario in the immediate aftermath appears to be chaotic.But the majority are not frustrated by the drastic change to bring sanity to the economy and free it from money mongers.

Critics say this is not a sudden step as it has been carefully planned and implemented in stages complimentary to the grand finale on 8Novemberthroughout the period over the last two years.

First all citizens were encouraged to open bank accounts. They were linked to the National ID System.The information of the bank account and passport number,etc. was an integral part of the tax return.This was followed by an income disclosure scheme.Then suddenly on 8Novemberat 8p.m. the announcement came when all the jewellery shops were closed and with least impact on the share market operations.

It also affected the gamblers, currently betting on US elections running into thousands of cores and with the rendering of the currency notes worthless after 12 midnight all their activities came to an unexpected halt in a complete surprise!

It is claimed to be a maestro operation carefully masterminded to combat black money and corruption.

Whatever the views expressed, the step will have serious consequences and impacts only to be seen later. With a very large population and an overseas working population not second to any other country in the world, the magnitude of the effects to India from this exercise would be extremely large.