As of May 2016, the Government has increased the tax that will be paid by a user of local mobile voice, SMS and value-added services by 80% from 27.55% to almost 50%. That means that for every Rs. 100 we spend on these services, we will have to pay the Government Rs. 50, compared to the Rs. 27.50 we used to pay.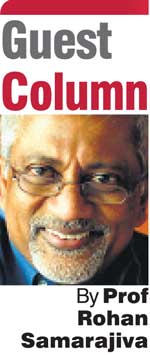 This is because the Government did not remove the industry-specific levies amounting to 27.55% when decreeing that these services should be subject to VAT and NBT.

I wish to make clear that there is nothing wrong with subjecting telecom services to normal taxation such as VAT and NBT. Many years ago, that was the case. But over time various additional levies were layered on top, taking the overall tax burden to around 32%.

Around 2009, the previous Government rationalised the mess, exempting telecom services from general taxation while imposing a single telecom levy. It started at 20%, but slowly crept up to 27.55%, higher than the VAT rate. The current Government has ignored this history and is bringing back VAT and NBT without rescinding the levies that were imposed instead of general taxes.

The previous Government understood there was something wrong with Sri Lanka's Internet use. It was lower than one would expect for a country with the income and literacy levels that Sri Lanka has. In response, they reduced the levy on data services. At 12.24%, it was less than half what was levied on voice, SMS and VAS services until last month. The current Government, correctly imposed VAT and NBT without too many exceptions. But because the alternative levies were not removed, the result was a 160% increase in the tax burden for data, from 12.24% to 31.77%.

From seeking to encourage data use through fiscal means, Sri Lanka now appears to want to discourage Internet use by treating these services the same way demerit goods such as tobacco are treated. That does seem contradictory to the following promises in the Common Candidate's Manifesto:

…the country will be oriented toward a knowledge and innovation economy. High level technology as well as green technology suitable for small and medium scale industries will be effectively popularised in the country.

…I will act to design a system with minimum transport requirements in town and country planning. For that purpose habitats will be concentrated and necessary infra-structure facilities, schools, government services, health services, employment opportunities, small industries, markets etc. will be provided to them. A foundation will be laid to utilise information and communication technology facilities to minimise transport.

I then examined the UNP's manifesto placed before the people in August 2015, looking for more detail. To my great surprise, it contained no references to knowledge, information, telecommunications, or ICTs. Even the word "technology" is missing from that document. So it is possible that the Prime Minister and the Minister of Finance are not committed to the knowledge and innovation economy, or at least are of the view that electronic connectivity is a bad thing, a demerit good that should be discouraged.

In this light, I propose some additional cost-saving measures. No country should have an agency devoted to the promotion of a demerit good. Now that voice and data services are being treated as demerit goods akin to tobacco and alcohol, it does not make sense to continue the ICT Agency that was established under a previous UNP Government. We could begin by shutting it down. All that noise about public Wi-Fi and internet from the sky must have been just for the election.

There is no reason to shut down the Telecom Regulatory Commission, though there may be merit in considering its merger with the Department of Excise, since its primary function is that of raising revenue for the government by strictly regulating providers of undesirable services.