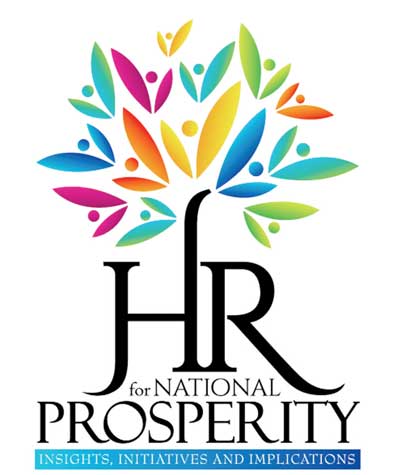 We started a discussion on the National HR Conference (NHRC) 2015 last week. The countdown has begun. It is just seven days until the biggest HR event in South Asia. I am delighted to lead a dedicated team to make it even bigger, better and brighter. Today's column is the second part of a three-part series on this exciting event.


Overview

As we saw last week, national prosperity encompasses a variety of aspects including economic development, social wellbeing, environmental protection and peaceful coexistence. As we saw last week, NHRC 2015 begins with a service provider exhibition.

Now the 'Great HR Debate' is really heating up with the semifinal rounds being planned. There was increased awareness this time around with regard to participation. The two finalists will battle for the crown on 16 June afternoon.


Technical sessions

As we discussed last week, the second day is all about insights, initiatives and implications with regard to HR for national prosperity. The 'opening batsman' will be Prof. Srinivasan Raghavan from the Indian Institute of Management, Bangalore (IIMB). He will speak on why HR is needed for national prosperity in offering a global perspective.

The second technical session will be conducted by Dr. Chandra Embuldeniya. He is a thought leader and an international consultant for entrepreneurial higher education and skills development. He is also the first private sector executive to have had the honour of being invited by the Sri Lankan Government to become a Vice Chancellor.

Moving on from where we stopped last week, the second segment of the technical sessions will be an interactive panel discussion. It will be held under the theme 'HR for National Prosperity - Best Practices for Institutional Strengthening'.

Janaka Kumarasinghe, an HR Strategist and the Director of HR Services at Kent Ridge Ltd., will be the moderator of this session.

"An organisation consists of several resources such as men, money, machinery, methods, time, etc. The only animate resource, which can activate all the other inanimate resources, is people. Hence unleashing the true potential of people is vital for the strengthening of the institution, which is correlated with national prosperity," he said while elaborating on the essence of the session.

"A diverse panel will discuss how institutional strengthening is integrated with people, productivity improvement, education and human resource development, management of finances and usage of IT and technology. However, with state intervention coming into play, how public policy matters impact governance is another perspective which will be deliberated upon by the expert panellists. The discussion will be flavoured by the sharing of best practices from local and multinational organisations and international perspectives injected by panellists from India and Bangladesh - representing a region which has a plethora of opportunities due to its large base of human capital," he added.

A clear accumulation of expertise can be seen when you look at the panellists involved. Rajeeve Goonetileke, Supply Chain Director – GlaxoSmithKline, Madu Ratnayake, Senior Vice President and Head of Digital – Virtusa, Md. Musharrof Hossain, President - Asia Pacific Federation of Human Resource Management (APFHRM), Somesh Dasgupta, President - National Institute of Personnel Management (NIPM), India, Sarath Kumara, Executive Director - HR and Administration,Safety, Health and Environment, Central Human Resources Division, Loadstar Ltd., Ravi Edirisinghe, Vice President - Freight Links International Ltd. and Dr. Lloyd Fernando, Program Director - Public Policy, Postgraduate Institute of Management.

They in fact represent both the private and public sectors and are in a commanding position to discuss public-private partnerships, where the value addition from the function of HR becomes vital.


Post-lunch energising session on mind



'Engaging the Fickle Mind' is the topic on which Ranjan de Silva, a Consulting Partner at Sensei International, will take the participants through using an interactive experience after the lunch break.

"The young mind is fickle now due to its engagement in Facebook, Candy Crush Saga, Farmville, Instagram, snap chat and various other interests," he states. The mind keeps wandering around and attention spans are reducing drastically. As a result, focus and attention on work reduces as the constant movement of mind from work to other aspects of interest affects the quality of work.

It is a big challenge for managers to keep them focused on achieving strategic business results. In today's competitive business environment, it is important that team members are fully focused on their work as quality outcomes can be created only through focused work.

To engage a fickle mind you need an engaging corporate culture. Creating an engaging corporate culture requires building the right attitudes and behaviours for all team members and such attitudes and behaviours are built only when leaders walk the talk, dance the dialogue and practice what they preach.

Leaders require certain methods to make work interesting so that they engage the fickle mind and get it directed towards work, at least during work hours.

De Silva, with his experience of helping CEOs and senior leaders from multinational and local companies in over 22 countries, will create an engaging learning experience to help the delegates learn how to engage the fickle minds of their own team members.


Reward dimension of HR

C. Hewapaththini, a senior HR specialist from the Saudi Investment Bank, will speak on 'The Changing Face of Reward – a Global Perspective'.

"The 21st Century is witnessing the emergence of a parallel phenomenon to Globalisation 1.0; Globalisation 2.0 (Friedman calls it Globalisation 3.0).The East is no longer merely the sweatshop of the West. The digitalisation of our lifestyles is becoming the norm. With the proliferation of mobile devices and the popularity of social networking, the traditional boundaries between our personal, private and professional lives are fast eroding," he revealed. "For the over 40s in the workplace, the tech savvy Millennials, better known as Generation Y, are a different breed altogether. The latter may seem at odds with traditional corporate culture based on hierarchies, loyalty, long-term employment, etc," he added.

On the other hand, regulators are increasingly demanding greater transparency and accountability on executive pay. The manner in which companies assess and respond to the risks and rewards embedded in compensation plans and other policies is inherently material to investors. How should we respond to these challenges? Hewapaththini will share insights, initiatives and implications on all of these areas.

During his previous roles as the head of HR at HSBC Sri Lanka and Nations Trust Bank he helped bring both organisations many accolades for the innovative HR practices that he introduced. He has also held senior HR positions at Unilever Sri Lanka and Nestle Lanka.


Emerging trends in HR for national prosperity

Chartered Institute of Personnel and Development (CIPD), UK, International Director Alan Ovens will be the cynosure of the grand

finale. He will speak on why governments and organisations increasingly see HR as key to creating better businesses, societies and economies.

"Importantly, HR is a global discipline and whether we work for a domestic business, a multinational or government organisation, global trends will impact the way we do business. The world is changing. Globalisation, economic, social, technological and demographic change impact the way we work and, importantly, the way we will need to work in the future. This provides both challenges and opportunities for HR. We are at an inflection point and HR needs to become more strategic in order to optimise the performance of people, organisations and nations," he observes.

"HR needs to provide insights into the changing context of work, the workforce and the workplace and be mindful of and anticipate changes in the external environment. HR must understand and better articulate the value it brings and present this in the language of the business.

"It is essential to utilise analytics and data better to produce meaningful insights. It is also necessary to embrace technology and have a much stronger perspective on the science, as well as the art of human and organisational behaviour. HR must be less process and more value-centric," he says.

"We share a common goal: to raise the standards of HR and people management. We must develop HR as a profession internationally, with professional standards and qualifications."

HR is at an inflection point. Find out why professionalisation is so important for the future of HR by joining Ovens in a discussion which explores key trends and the opportunities that these create for the profession.

It was interesting to see Ovens' profile. As a Chartered Fellow of the CIPD with significant international experience in HR, OD, Consulting and Business Development, Ovens has a strong track-record of building high-performing teams, developing business by engaging people as well as working on a number of Key Employee Engagement initiatives.

In addition to providing external consultancy to a number of prestigious blue chip organisations, Ovens' Key Employee Engagement Initiatives have been recognised for their impact on organisational performance through various positions at Bupa, KPMG, American Express and Thomas Cook.
Way forward

There is plenty more to talk about concerning NHRC 2015. The next column (final part) will elaborate further on the same topic. My invitation as the Chairman of the NHRC 2015 is simple and humble. Be there on 16 and 17 June to witness South Asia's largest HR event becoming bigger, better and brighter.
(Dr. Ajantha Dharmasiri is the Chairman and Director of the Board of Management of the Postgraduate Institute of Management (PIM). He also serves as an Adjunct Professor in the Division of Management and Entrepreneurship, Price College of Business, University of Oklahoma, USA)