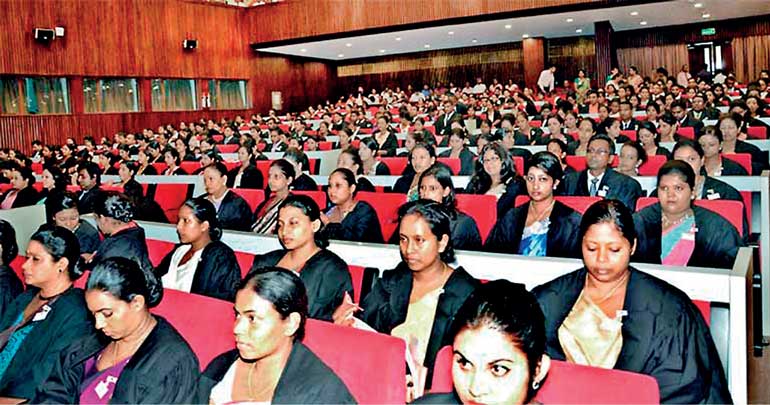 If the Government does the needed regulation, private investments in higher education can be directed towards the pubic objective of enriching human capital stock in a country. In Sri Lanka, Government is inactive, opponents are out to discredit, and general population seem to eye private initiatives with suspicion.

Interestingly, Sri Lanka is not the only country where private-for-profit higher education is viewed with suspicion. We are in good company. In USA, UK, Canada, Australia, and in many countries in Europe, most higher education institutions are public or private-not-for-profits. In Japan or South Korea, 80% or so of the institutions are private, but almost all of those are not-for-profit entities. In general, for profit higher education institutions are few and far between in developed economies, and by all indications, for-profit institutions are watched warily by authorities and civil society in these countries too.



The situation in USA is quite interesting. After nearly four centuries of continuous progress in public or private-non-profit options in higher education, private-for-profit options begun to emerge only in the last few decades. With increasing technological advances in distance education, perhaps, many private initiatives emerged, but after receiving increasing scrutiny for abusing Federal government grants for student loans, they seem to be on the decline.

According to a news report from March 2015, the enrolment at Phoenix University, America's largest for-profit university, was about 460,000 students five years ago. Now it's 213,000. The University of Phoenix's parent company, Apollo Education Group (APOL), has had to undergo a major restructuring to save itself.

The situation developing economies appears to be different. Trends in higher education in emerging economies in South Asia and South East Asia show that in our part of the world we don't have the luxury of scoffing at private initiatives. Our strategy should be to nurture all types of organisations, focusing on accountability, not ownership.

If USA could not, can lesser countries keep tabs on its for-profit institutions? Initiatives in in Malaysia shows that we indeed can manage for-profit institutions successfully in more authoritarian countries, and experience in Bangladesh in South Asia suggests that private sector has to play a larger in self-regulation in more chaotic democracies.


Malaysia

Malaysia is a good example of how a government may make the most of private initiatives to meet public objectives. Recently, Studymalaysia.com reported that Malaysia has 20 public universities, 53 private universities and six foreign university branch campuses; 403 active private colleges, 30 polytechnics and 73 public community colleges. Of the private universities, 30 participated in, SEATARA-2011, the most recent Rating System for the Malaysian Higher Education Institutions (SEATARA in Bhasa Malaysia), and received ratings from Excellent to Very Good.

SEATARA 2011 was the third rating exercise undertaken at the institutional level for universities and university colleges in Malaysia by the Malaysian Qualifications Authority. The resulting rating system uses a six-tier categorisation with Tier 6 identified as "Outstanding" and Tier 1 as "Weak." No university, public or private, achieved the highest rank of 6 or the lower ranks of 1 and 2.

Fifty universities achieved Excellent (Tier 5) or Good (tier 4) ranking. Of those, 67% were private institutions. Interestingly, in the research performance ranking survey, only 30% of the ranked universities were private.

SETARA measures quality of teaching and learning at six levels according to three generic domains of input, process and output to assess the quality of teaching and learning. The input domain focuses on talent, resources and governance. The process domain focuses on curriculum matters and the output domain is on the quality of graduates and graduate satisfaction. SETARA involves students in the evaluation by using appraisals by students who will audit lecturers on punctuality of the teacher, satisfaction on the delivery of subjects and other attributes.

SETARA-2013 evaluated 53 higher learning institutions in Malaysia. In contrast to SEATARA-2011, it evaluated one discipline at a time for a selected set of disciplines. As we shall later, a discipline by discipline approach may be the better option for Sri Lanka.


Three private universities from Malaysia

Three institutions Berjaya College, HELP University and University Technologi Petronas exemplify different types of private universities in Malaysia.

Berjaya College, a private university, was founded in 2009 by an international entrepreneur named Tan Sri Dato' Vincent Tan, and it is part of the Berjaya Corporation Berhad group of companies. The college has not come forward yet for evaluation by MQA.

The Vice Chancellor and President of HELP University is also Co-Founder of HELP International Corporation, which is listed in the Malaysian Stock Exchange. HELP' is largely in the business of education. HELP University was awarded a 4-star rating by MQA for its teaching and learning.

The Universiti Teknologi PETRONAS (UTP) is a Malaysian private university established in 1997. The campus is built on 400 hectares (990 acres) at Seri Iskandar, Perak, Malaysia. The university is a wholly owned subsidiary of PETRONAS, the national oil company of Malaysia. Seemingly well-endowed, UTP was awarded a 5-star rating by MQA for its teaching and learning and another five star for its research.


Bangladesh

Developments in Bangladesh and India, countries closer to home are perhaps more relevant to Sri Lanka. Bangladesh for example, has been able to pass the laws for regulation, but actual regulation is stalled due to low capacity and other issues.

The Government of Bangladesh enacted a private higher education bill as early as 1992. Currently, there are 60 private universities, 34 public universities and three international universities in Bangladesh. Although the increased number of universities has provided opportunities, a debate has emerged over the quality of education at these institutions due to the significant difference among these institutions. These inconsistencies in quality may be due to the lack of regulatory oversight and inefficiencies of the regulatory agencies of the government.

As a vice chancellor at a private university noted in 2015, the government entrusted the University Grants Commission (UGC) to supervise all universities in Bangladesh. It has tried to follow certain conditions laid down in the amended Private Universities Act of 2010. The most stringent condition has been not to grant permission for any new program of study in a private institution unless they move to their permanent campus on one acre of land within Dhaka city area and two acres outside Dhaka city. For the last three years excepting six or seven private universities who moved to their own campuses, the rest could not expand their programs to meet rising demand for enrolment in existing rented premises. There was an attempt to establish an "Accreditation Council" as per the Act of 2010, but the progress has been slow due to a lack assessors and other.


Lessons for Sri Lanka

Initiatives in regulation are non-existent in Sri Lanka. We are even far behind Bangladesh. It is a shame that our Ministry of Higher Education is seemingly inactive and UGC says it has no authority. In an interview published in Ravaya newspaper of 13 June, the Chairman of UGC called for a central qualification authority and other policy measures. He should use his office to push these ideas further.

In the meantime, the chambers, a national newspaper, a civil society organisations should take the lead in ranking higher education, starting with a few small steps.


Discipline by discipline assessment

An approach that is worth considering is discipline by discipline assessments. The Malaysian Qualifications Agency released the results of its latest Discipline-based Rating System or D-SETARA in 2013. It assesses the quality of teaching and learning in four clusters of disciplines: Engineering; Medicine, Dentistry and Pharmacy; Health Sciences; and Hospitality and Tourism. Participation in D-SETARA is voluntary; invitations were made to all HEIs offering undergraduate programs and have had the first batch of graduates in 2011.

In 2013, LIRNEasia developed and tested a methodology for assessing ICT programs. LIRNEasia is a think tank, not an implementing organisation. Our research or development reports are available in the public domain for others to use.
(Sujata Gamage can be reached at gamage@gmail.com. She writes a weekly column in Dinamina and posts her research on

http://lirneasia.net/projects/hcr/.)