There are burning issues in higher education in Sri Lanka, but the notion that "state universities are good - others are bad" has been allowed to dominate the discourse in the mainstream without adequate counter arguments. The result is an obliteration all other issues, except for perhaps the problem of ragging in universities. If the country is to go forward, some clarity in definitions is badly needed to resolve the public v. private or state v. non-state debate.

At a recent symposium on higher education which LIRNEasia co-organised with the University of Sri Jayewardenepura, the Prime Minister made an appearance, and he indeed gave a very practical definition. He defined public universities as all Higher Education Institutions (HEIs) that are not-for-profit in their mode of operation, and by implication private institutions as those that are for-profit. This is a useful distinction which breaks the current self-serving arguments by the state sector for a continuation of their monopoly, thwarting competition from other entities be they public or private.

In countries in the Western world where universities came to be nearly millennium ago, almost all universities are public institutions. They can be owned by either the state or a non-state entity, with varying levels of fees charged to students to cover some or most of costs. The practice of calling prominent non-state universities such as Harvard, Princeton, etc. and the smaller liberal arts colleges as private universities is established in the US, but this categorisation is proving to be problematic as private for-profit universities started emerging in earnest in the last few decades all across the world, with Asia and Latin America taking the lead. At times, the term 'private non-profit' is used to distinguish these traditional private universities from the emerging 'private for-profit' institutions, but the terminology can be long and clumsy.

Therefore, breaking form the US tradition and taking a leaf for our PM, I propose we should talk about only two kinds of universities, public and private. These public institutions can be state owned or owned by other non-state entity such as a religious establishment or a foundation. They offer higher education at varying level of student contributions, but strictly on a non-profit basis. Private institutions are non-state entities which are for-profit.

The PM rightfully avoided the issue of 'private' or 'for-profit' universities in his vision. He envisions a public university system where state-owned universities take more responsibility for their performance and behave more like public institutions in developed countries. They can charge fees, but they would give merit based or need-based scholarships. Government would provide loans on easy terms to all qualifying students. Other non-state owned institutions could exist, though he did not elaborate. This is true free education he said, though not in those exact words.



As I elaborate later in the article, for-profit institutions could be an essential component in the tertiary education landscape in developing countries, as they struggle to meet the demand for higher education of adequate quality. The co-presence of public and private entities may provide the environment for innovations by private institution, which in turn would force public institutions to innovate also. In fact, countries in Asia are allowing the emergence of different models. Sri Lanka is perhaps is the exception where vociferous elements in state institutions thwart competition. It is a politically astute decision by the government not to openly promote or deny right to private higher education, but it is a sad one.

However, as policy analysts we have the freedom to explore. What is the best way to balance public-private investments in higher education in Sri Lanka and the developing world? In this column I present an initial exploration carried out at LIRNEasia.


Evolution of the public universities in the West and elsewhere

Western universities evolved from a religious base to the present day modern universities gradually over a millennium or so from the 11th century. The ancient Nalanda University of India, a seat of higher learning in the 11th century, was burned to the ground by an invading army just as the university system in Europe was emerging through the self-organisation of youth seeking knowledge from established Masters. University of Bologna, formalised in the eleventh is the first of its kind. Oxford in UK followed in the twelfth century. American colonies followed suit with the Harvard University established in the seventeenth century.

Asian universities did not really establish themselves until after the World War II, although the oldest university in Japan was established in 1858 by an alumnius of an American university. Japan, Malaysia and Sri Lanka are three countries that represent the three regions –East Asia, South East Asia and South Asia- respectively; These three countries also represent High income, Upper middle income and Lower middle income categories of the World Bank, in that order. I use those countries as examples in this column, to contrast and compare universities in the West and the East.

1088 University of Bologna, Italy

1167 Oxford University, UK

1636 Harvard University, USA

1858 Keio University, Japan

1942 University of Ceylon, Sri Lanka

1949 University of Malaysia

As we can see from the above list, while the universities in Europe and North America have had 400-1,000 years to mature, Asian universities have had only a little over half a century of evolution. Yet both groups had to face the phenomenon of massification, or rapidly increasing demand for higher education in recent times, irrespective of their level of maturation.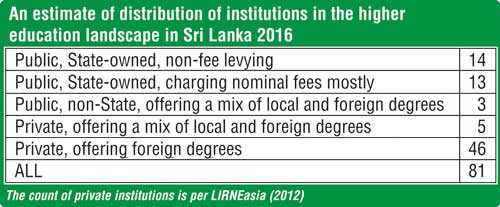 Massification of higher education

Prior to World War II, only a small minority of the US population—most of whom were male and white—continued their education after high school. The initial expansion of American higher education came immediately following World War II, and again after the Korean War, when returning soldiers were offered financial assistance from the federal government under the GI Bill of Rights (Lucas, 1994). Increased government funding for universities during 1950s and60s and a well-established foundation of scholarship enabled the US system to survive the pressures of this massification of higher education (Geiger, 2015).

Publicly funding for universities was formalised long before in the USA, starting with the University of North Carolina (1789-todate) and later through the Land-Grant Act of 1862 which spread public universities across the country with at least one per each state. Community colleges offering two-year associate degrees followed. In UK in 1992, polytechnics were converted to 'Red-bricks,' a reference to more egalitarian universities established in UK in the late nineteenth century and later.

All in all, university systems in the West have managed to remain public with private for-profits appearing only in the last few decades. Even today, fully private for-profit institutions like the University of Phoenix in the US are few and far between.


Differences in developed Asia and developing Asia

The evolution of universities in Asia is markedly different. The massification in East Asia followed a non-state but non-profit route, but in developing Asia has taken on a different pattern because increasing enrolments could not be matched with increasing resources from government or philanthropists. Non-state entities have absorbed the additional demand, the percent of for-profits from among them varying widely between countries.


Japan, East Asia

The first universities in Japan, though founded in 1858, did not fully develop until after the Second World War. In East Asia, the response of government to increased demand has been to allow the flourishing of non-state universities. Today 77% of universities in Japan, for example, are public universities which are non-state as in the other developed countries, because sufficient philanthropic resources would have existed. Of the nearly 700 non-state universities in Japan so far we have been able to identify only three institutions which are for-profit.


Malaysia, South East Asia

Studymalaysia.com reports that Malaysia has 20 public universities, 53 private universities and six foreign university branch campuses; 403 active private colleges, 30 polytechnics and 73 public community colleges. These HEIs offer a wide range of tertiary qualifications at affordable prices. It is not clear how many of 28 private universities are for-profit. A quick search suggests that most are owned wholly or partially by private companies. For example, Berjaya College, a private university, was founded in 2009 by an international entrepreneur named Tan Sri Dato' Vincent Tan, and it is part of the Berjaya Corporation Berhad group of companies.


Sri Lanka

In the early 1960s, Sri Lanka responded to the demand for increased enrolment by a rapid expansion of the University of Ceylon in Peradeniya with a faculty of Arts in Colombo. Initially the classes were conducted in the old racecourse, hence the nickname Ashva Vidyalaya given to the new campus those days. During the last two decades non-state alternatives too have emerged with private institutions playing a significant role.

For Sri Lanka we have more local knowledge hence we are better able to identify truly private institutions. In Sri Lanka we have two types of companies – private limited and private limited by guarantee; the former being for-profit and latter being not-for-profit. Using the results of a survey conducted by LIRNEasia in 2012 and the list of degrees recognised by the University Grants commission we can compile a rough guide as shown here checking for the 'limited' or 'limited by guarantee' distinction of each company. The result is as follows:

Public institutions which are state-owned and do not levy fees include the 14 state universities and affiliated institutions. Public institutions which are state-owned, but levy fees, charge only nominal fees, with the exception of Kotelawala Defence University. These other institutions include Open University, Ocean University, UNIVOTEC and the National Institute of Education.

Although public but non-state universities are prescribed as viable alternatives for Sri Lanka, two such existing institutions – SLIIT and NSBM – both were initiated with state funding and established on state land. Aquinas, the third institution, is set up with the assistance of the Catholic Church.

Private for-profit institutions with the authority to offer a select number of local degrees as listed on the UGC website are the Institute of Technological Studies (ITS), KAATSU Highly Advanced Medical Technology Training Centre, CINEC, Horizon Campus and the South Asian Institute of Technology and Medicine (SAITM). Of these organisations, SAITM receives an undue share of press.

SAITM is not allowed to use teaching hospitals for practice and yet the institution is criticised for not giving students sufficient clinical exposure. Meanwhile, their entry qualification of 2Bs and a pass, for example, at GCE (A/L) examination is deemed insufficient, but state medical colleges accept student with similar scores who may improve to 3As over four to five years through three attempts at the GCE (A/L).

The large number private institutions offering only foreign degrees largely go unnoticed. In our survey of 2012 we found 46 of those with 27 already having awarded degrees.


For-profits can play a role in absorbing demand and catalysing innovations

The argument that private ownership with private investments is not acceptable for Sri Lanka misses the basic points that we live in a supposedly free country. In addition, trends in higher education in countries such as Malaysia suggest that for-profit institutions should be an essential part of the portfolio of higher education options leveraged to absorb the unmet demand in higher education in Sri Lanka. Innovations by such institutions to stay afloat may force public institutions too to innovate and adapt.