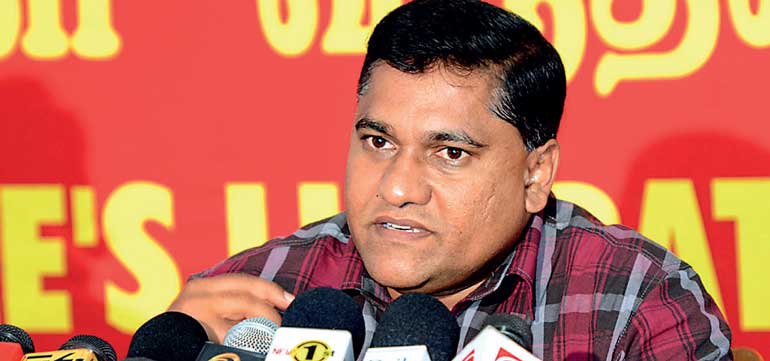 "I was not drunk; I don't consume alcohol," stressed Janatha Vimukthi Peramuna Propaganda Secretary Vijitha Herath, in an interview with the Daily FT.Herath, who pleaded guilty to two traffic offence charges, added: "What happened was wrong. But I did not use my political power to escape the law."

Herath added that he was the latest victim of Rajapaksa supporters who were trying hard to return to power through political mudslinging and character assassination.Following are excerpts of the interview:

Q: Can you tell us what actually happened on Monday night?

A:I left our party office in Pelawattearound 12:30 a.m. I was going home. Suddenly somewhere in Rajagiriya, a pedestrian crossed the road.I was compelled to turn the vehicle to the other side to save that person's life. Unfortunately my vehicle crashed into a telephone pole. I didn't suffer any injuries. The left side of my vehicle was damaged and the telephone pole was broken too.

Later, I went to the WelikadaPolice Station and informed them about the accident. A Judicial Medical Officer examined me to see whether I was under the influence of liquor. But the JMO report clearly says I was not drunk driving. But the JMO has marked he 'smelled liquor'. This is why everyone is claiming I was drunk driving.This is not true.

The Police lodged three charges against me. Damaging State property, reckless driving and driving under the influence of alcohol. I pleaded guilty for the first two charges. Although the report said there was the smell of alcohol, since it could not be substantiated, I was released from the third charge.

It's sad to see our opponents using this incident to tarnish my image as a politician. Motor accidents of this nature can happen and I didn't try to use political powers to escape the law. When I went to the Police station,I acted as an ordinary motorist. I didn't try to use my privileges as a Parliamentarian. In fact I admitted that I was guilty of two charges.


Q: Were you under influence of liquorat the time of the accident?

A:No, I was not under the influence of alcohol. The JMO report says that. A certain group has politicised this incident simply to bring a bad name to me and our party.


Q: Do you consume alcohol?

A:No. I don't. I don't consume liquor. When my vehicle crashed into the telephone pole, people came running towards the vehicle. When they recognised me they offered to help me. There were two drunken men who continuously hugged me saying 'apeymanthrithuma, apeymanthrithuma'. They kept on hugging me and I feel I may have smelled of liquor due to this.


Q: Who else was with you in the vehicle at the time of the accident?

A:I was alone. I was planning to go to Mannar the following morning. I asked my driver to stay at the party office and rest since he had to drive the next morning. So I drove home from the party office.



Q: People say you are no better than Minister Patali Champika Ranawaka who used his ministerial powers to escape charges from a recent motor accident that critically injured an individual. Your stance?

A:Let me reiterate something. I never tried to escape. I went to the Police station and supported them in every possible way to carry out their investigations. I didn't use political powers to escape. I faced the law as an ordinary civilian, not as a Parliamentarian.These allegations are baseless. Minister Champika Ranawaka acted in a totally different manner when his vehicle hit a person and injured him seriously. No one can compare that incident with my accident.

I saw on social media they are trying to bring these two incidents together to defame the Government. But it is not ethical to bring these two incidents together because Minister Champika acted in a different way.I have to tell you that this was the first time I have been in a motor accident. This was my first incident.


Q: The accident attracted a lot of negative publicity. What is the stand of the JVP regarding the incident?

A:From the very beginning, I acted based on the party's instructions. I have done something wrong, but these kinds of incidents do happen. Most importantly, I have adhered tothe law. No one can point a finger at me and say I tried to escape the Police. Unfortunately our rivals have politicised the entire incident. Their attempt is to character assassinate. But I guess when you are in politics you have to face such situations.


Q: Not so long ago JVP politicians were respected by all, irrespective of party loyalties, for their discipline, for being free of corruption, and for their policies. But today we don't see much of a difference between the JVPersand other politicians.Why is that?

A:I think your accusation is baseless. JVP politicians are still very much above the rest of the politicians in the country. We are more disciplined.We believe in certain ethics and we maintain that.Mahinda Rajapaksa and his supporters use social media in a negative way to sling mud at other politicians to gain political mileage. They target the JVP all the time.

What they need to understand is that people decided to end their rule for engaging in misconduct and all kinds of unacceptable wrongdoings. It has been over a year and they still cannot accept this defeat. All they want is to get back into power. Once again they are trying all kinds of wrong means to get into power. If they think they can come into power via character assassinations and political mudslinging, they will never realise their wishes.No one can stop the JVP. We have overcome much worse times. We will stop only when we get where we want to be; until then no one can stop us.


Q: The JVP has been very critical of the recent vehicle price hike. But you have forgotten that prices of a considerable number of vehicles have been reduced.Your views?

A:True, prices of some vehicles were reduced. But theincrease in the taxesis unbearable and unacceptable. How can you agree to a nearly one million increase in taxes? That is not correct. Increase in three-wheeler prices is strongly felt by the poor man in this country. The Government should be ashamed of the idiotic excusesit is giving to justify these taxes.

They cannot say the prices were increased to prevent a large number of three-wheelers from getting on the roads. In villages people use it for their personal use – a three-wheeler is the only vehicle some people can afford. The truth is that this Government does not have money. They are in a serious financial crisis. They increased VAT and imposed additional taxes to collect money.


Q: TheGovernment blames the previous regime for putting the country in this critical situation.What is your view on this?

A:This is a joke. How long can they go on giving these lame excuses?When in the Opposition they saw how the Rajapaksa clanran this economy. They knew about all the foreign loans obtained by the Government. They saw how the economy suffered due to the mismanagement of the Rajapaksas.

This regime came into power promising they would revive the economy. They pledged they would put the country back on the right track. How can the Government now claim they are unable to do anything because of the mess created by the previous regime?Rajapaksa's Government ruined the country and blamed the LTTE. Now this Government is not doing any work and blames the previous Government.


Q: The JVP is partly responsible for bringing this Government to power. How can you just wash your hands and put the blame on others?

A:We never supported this Government to get into power. We wanted Rajapaksa and his administration defeated. But that doesn't mean we supported this Government. We didn't play any role in promoting Maithripala Sirisena as the presidential candidate. During the election we competed as a separate party, so no one can say we should be held responsible for this situation in the country. This is a UNP-SLFP Government. The JVP has not directly or indirectly supported this regime


Q: A couple of weeks ago we witnessed the JVP coming out stronglyagainst anewspaper article. If there was no truth in that report, why did you get so agitated?

A:We did not get agitated. It was not the article that mattered to us. Along with that article, there was another letter which had accusations on a more personal basis – merelyto tarnish our name. It wasn't ethical for a national paper to publish such a low grade article. The main article against us was not true. But these things happen when you are in politics. But more than that, it was the other letter which had too many personal level accusations that worried us.They shouldn't have carried it in a national level paper. Any person would realise that the letter was against the ethics of journalism.


Q: Is there displeasure inside the partyover the party leadership?

A:There is no such thing. There has never been an issue before. Honestly the fondness and respect we have for our Leader grows by the day. All our members are of the view that our leader is the best a political party could have. Even after the newspaper article, the bond and the unity among our party members grew significantly because we prepared to face these allegations as one family. That helped us to be more united.


Q: You claim the country is heading towards crisis and bankruptcy,but as a party what you have done to put Sri Lanka back on track? Do you think daily news briefings and distributing leaflets will do any good?

A:Don't forget we are in the Opposition. What we can do is very limited. All we can do is educate the people and bring them together.Distributing leaflets and arranging pocket meetings and seminars are useful in order to take our message across to the people.

What we are trying to tell the people is that these two parties have ruled the country separately and now they are doing it together. But it is evident that they have failed in all their attempts. The time has come for the people to realise they need to give us an opportunity. We can run this country better. We have better polices. We have a clear vision. Our politicians have discipline. We can put this country back on the correct path.