"We have money; we will pay each and every person affected by floods and landslides," assured Minister of Disaster Management Anura Priyadarshana Yapa, in an interview with the Daily FT.

Yapa pointed out that people need not worry about compensation because all those who were affected are covered by insurance. Once they complete ascertaining the damages, the Government will immediately start paying the victims, the Minister said.

Following are excerpts: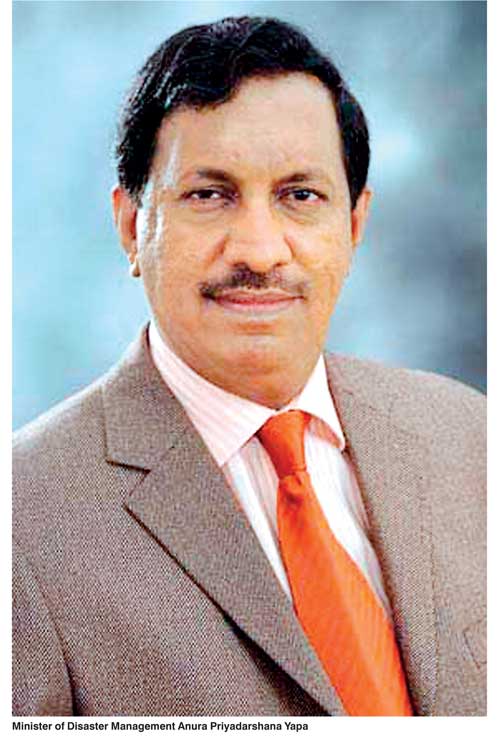 Q: What is the latest with regard to the flood situation?

A: People are slowly returning to their houses. At the moment our main focus is helping the people to clean their houses. Sri Lanka Red Cross with the help of the Army will assist the people with the cleaning. But some people have said they don't need help from us; they will do the cleaning by themselves. In such cases if they request we can provide them cleaning detergent and other things required.

Meanwhile, people need to ascertain the damage caused to their houses. The Ministry notification is now being prepared. It will be sent to all Grama Seva divisions and Pradeshiya Lekam divisions. They will start ascertaining and collecting facts about the damages. Then there will be a paper notification explaining the compensation package.

At the moment compensation paid for death is about Rs. 100,000 and for damages we will pay between Rs. 100,000 to Rs. 2.5 million. People need not worry about compensation. All those who were affected will be covered by the insurance. The Government has an insurance coverage for the country and it is a very good move. I am grateful especially to the Ministry of Finance for taking this decision.


Q: How hopeful are you that the Government will be able to compensate each and every person affected?

A: The funds are already available. On Monday, the National Insurance Trust Fund officials assured me they have money and they are prepared to pay once the correct method is adopted. The only problem is we have to ascertain the damage. Once we get all the particulars we will immediately start paying the victims.

The National Trust Fund will be paying the money. This was approved by this Government. This particular fund the Government has allocated Rs. 300 million in part payments.



Q: Some victims claim they didn't receive any relief, not even food packs. Don't you think the Government needs to adopt a proper mechanism in order to assist the victims effectively?

A: That is rubbish. During this calamity some people refused to come out of their houses. In certain places there could have been some issues. It was a case by case issue. But once we received the information we corrected that as well. If someone accuses we failed to give food parcels to all the people, I call it absolute rubbish.

Every place was inundated and we did our best. I saw Navy officers going to all the affected areas in boats and distributing food. Even the Air Force did their best in providing relief to those people by way of food parcels and other facilities. Nobody can claim they didn't receive food or other relief facilities.

We have a mechanism and that is effective. Nobody can point a finger at us and say the Government failed during this disaster. Within days the situation was under control.


Q: What is the total damage caused by this disaster?

A: We have not worked out the total damage. Once the officials collect the information I will be able to give an exact figure. I think it's too early to say anything about the damage.


Q: Don't you think more than the Government it was social media that coordinated the entire relief effort?

A: How can social media handle such a large-scale operation? Who provided the helicopters and the boats? And without helicopters and boats how can they reach the people affected?

It was a combined operation. The Army, Navy and disaster officers were all involved. I agree social media played a major role during this disaster. I give credit to social media for all the support. But if one group is trying to take all the credit, it is very wrong.

The country has not faced a flood of this magnitude for over two decades. It was not an easy task. Whether it was rescue operations, distributing food and other relief facilities, we had to do it amidst great difficulties. The urban areas were flooded. Sometimes we couldn't reach some destinations even in boats. In such situations we used Air Force helicopters to reach the people. We had the mechanism. Without a proper mechanism, how can social media do it? Nobody should get credit for what they have not done.


Q: What have you learned from this unfortunate incident and what measures will be taken to avoid such disasters in future?

A: A massive amount of land in the city has been reclaimed. This is a longstanding issue. Many houses and business establishments are built on reclaimed land. There is a great risk due to this. We need to have a proper plan.

At present two JICA experts are here in Sri Lanka. On Sunday they visited many places. They will study the area and give us a plan. We will be able to speak to the Government and other agencies and we must get together and implement that plan. It's a long process. We will not see the results immediately. But we have to do it. The entire country is affected. When the main city is affected, the entire country suffers. Our investments are affected.

In order to prevent this in future, we might have to take some tough decisions. Without proper planning you cannot build a city. Without guidelines you cannot build houses. One cannot build houses haphazardly. That era is gone. If we want to go to the next stage, we will have to do it in a very professional manner according to a plan.

We might have to divert the Kelani River from the upper stream and use it for agriculture. All the canals have to be periodically checked and cleaned. The people who are living in mud plains need to be given separate places to live. We may have to build pumping stations to pump excess water to rivers and to the sea.


Q: Some feel the previous regime's city beautification program may have worsened the flooding in Colombo. Your comments?

A: There is no truth in that. One Government cannot get blamed for everything. But there are issues where during the previous regime many people have forcibly taken mud lands or detention lands and started living in those lands. Those who were there at local authorities are answerable for such situations.

Meanwhile, there were projects by previous governments such as the Weras Ganga project and the Jayewardenepura canal. But nothing has been done in the lower part of the Kelani River or the Kolonnawa and Mattakuliya area. We have to have some projects in those areas too.


Q: Don't you think the death toll would have been low if not for the Government's failure to come up with an effective mechanism to evacuate people living in landslide-prone areas?

A: We need to educate people. Sometimes people in these areas leave during heavy rain and once the rain ceases they move back to their houses. On the other hand, we have identified places in one district only. That is Badulla. Now we are doing it in other districts too. Once we identify the places, we have to educate them, create awareness and move them to safer places.

We always urge people not to clear forests, especially in hilly areas. Human activity has to be curtailed. New building codes have to be adopted. A new licensing procedure has to be in place. People are suffering because of their own faults.