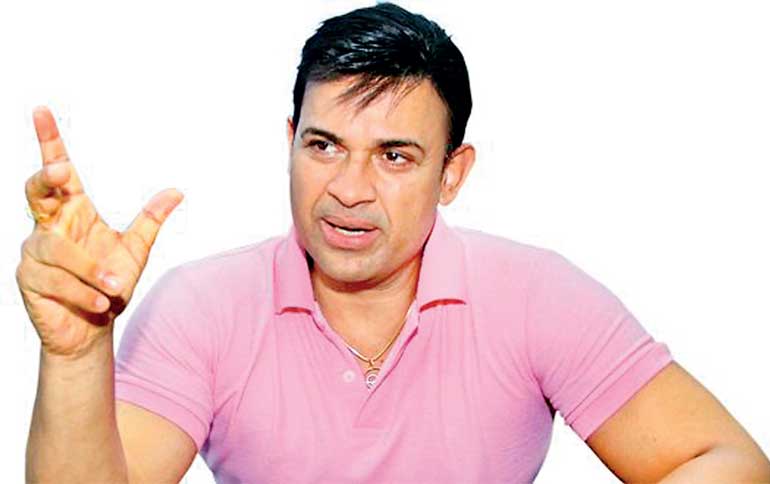 Deputy Minister of Social Empowerment and Welfare Ranjan Ramanayake
"This Government was elected for a reason; people don't expect us to repeat the same mistakes made by the previous regime," said Deputy Minister of Social Empowerment and Welfare Ranjan Ramanayake.

The Deputy Minister stressed that if immediate action was not taken to get back on the right track and deliver what is expected by the people, the Government should prepare to 'go back home'.

The actor-turned-politician pointed out: "If people were bold enough to send home the President who won a three-decade war, they will show us no mercy. We need to work, we need to fulfil the promises we made to the people. If we are not going to do that, we should be ready to face the

consequences."

Following are excerpts:
---
Asserts people who sent home President who won the war will show Govt. no mercy
Emphasises Govt. must fulfil promises made to people or be ready to face consequences
Q: You were one of the few politicians actively involved in the 'Seya Sadewmi' case. Are you satisfied with how the case was handled by the Police?

A: This was a very pathetic incident. No child should face such a tragic and unfortunate death. When this incident happened I was in Divulapitiya and I visited her parents. At that moment everyone thought the child had been kidnapped. I made a statement saying we were willing to pay the ransom and requeste

d that the child be released without any harm. The following day we got to know that the child had been murdered. Not only the villagers but the whole country wanted to know who the murderer was. There was lot of pressure from everywhere.

People may blame the Police but I saw how dedicated the Police was. From day one every possible action was taken by the Police to conduct a proper investigation and bring the culprits before the law. I personally know it was the villagers who suspected the 17-year-old student. But now there are many accusations against the Police. Rather than pointing fingers at them, as a country we should commend and appreciate the hard work of the Police. Even during a war there are victims. There may have been few mistakes then and there but overall I strongly believe the Police have done a commendable job.


Q: There is much discussion talk about your decision to propose the reintroduction of capital punishment to Parliament. But President Sirisena and Justice Minister Wijeyadasa Rajapaksha have promised the United Nations and international community that no measures will be taken to bring in death penalty. Why two different opinions within the same Government?

A: This is what good governance is all about. Just because we are a Government, that does not mean everyone should have the same view point. My personal belief is that we should not show any mercy to child molesters and murderers. The most effective solution is reintroduction of capital punishment. I am not the only one who feels this way; the majority of people in Sri Lanka feels the same. You must have seen in the media how people urged me to bring in the death penalty, especially villagers in Divulapitiya.

During the last couple of weeks I visited Indonesia, Jakarta and Singapore. We talk about making Sri Lanka the next Singapore. In Singapore the death sentence is the punishment for drug dealers. Within a month the court will hear the case and if found guilty he will be punished accordingly. China, Japan and 25 states in the United States use similar punishments. If capital punishment is not effective, why does a developed and powerful country like the United States practice such methods?


Q: Do you believe that the reintroduction of capital punishment will bring down the crime rate in Sri Lanka?

A: In China, when a person is sentenced to death, that person has to work for nearly a month to earn the money to pay for his bullet. The Government will not bear the cost of the bullet; that too needs to be earned by the convict. When a country has such laws and rules, there will be fewer criminals. I know some people and various organisations are now up in arms saying capital punishment should not be brought back. Now there is much talk about paedophiles and what action needs to be taken when dealing with them. But my argument is in order to save two or three paedophiles, can we risk the lives of hundreds of villagers? In order to safeguard a single paedophile, can an entire district live in terror?


Q: During Sri Lankan maid Rizana Nafeek's case, you stood against the death sentence and openly voiced your dismay against her execution. Just after two years you say capital punishment should be brought in to minimise the crime rate. Why two different stances?

A: I know some people are making this accusation to sling mud at me. But let me tell you one thing, this is the most illogical argument I have ever heard of. Rizana Nafeek was a 17-year-old child. Rizana had only been a maid for couple of weeks when her female employer accused her of choking their four-month-old baby to death. Seya's case is a different story altogether. If someone is trying to compare these two incidents, that is the most idiotic thing I have ever heard. If you study the two cases carefully, you will see that no medical report has confirmed Rizana Nafeek murdered the baby. But Seya's murderer has confessed that he was eyeing Seya's mother for months. And that night he went to their house to rape the mother. A DNA report clearly said it was he who raped and murdered that innocent child. Any sane person would realise comparing these two incidents is the most illogical thing to do.


Q: Your Government came into power assuring it would strengthen democracy and ensure good governance. Are you satisfied with what you have done?

A: I am more than satisfied with what we have achieved. Director General of the Bribery Commission Dilrukshi Wickremesinghe recently arrested three Customs officers for taking a bribe of Rs. 125 million. Initially people like Balapatabadi and Wickremeratne did not let Wickremesinghe carry out her work. However, now that they have been removed from the positions, she is carrying out her duties without any trouble. Meanwhile, more and more individuals now come forward to give evidence about billions of rupees played out by the Rajapaksa family. They are no longer reluctant to provide information or fear for their lives because they know there is law and order in the country. Independent commissions, the FCID and the Bribery Commission – all these bodies are carrying out their duties and taking every possible move to bring culprits before the law. So to answer your question, yes I am satisfied with what we have done.


Q: But some of the investigations and court cases have been taking a different twist lately. Some were even dismissed due to lack of proof. Why?

A: Yes I agree that some of the cases took a different twist. I am someone who personally pledged to bring culprits and wrongdoers of the previous Government to book. Recently there were incidents where some culprits were cleared of certain accusations and charges. This was initiated by several officials appointed by Mahinda Rajapaksa while he was in power. Now these are the instances where we too become helpless. But let me assure that we will not disappoint the people. They gave us a mandate to fight against corruption and it is our duty to fulfil that.


Q: The cost of living has gone up in an unbearable manner. Vehicle prices have increased. This is not what people expected from this Government. Your views?

A: Our biggest relief was bringing down fuel prices and people to date are enjoying the benefits of that move. I agree that prices of certain good have increased. Although I am a Minister in this Government, I do not approve of increasing prices of those goods. That is one mistake made by our Government and we should not let that happen in the future. People elected us for a reason. They don't expect us to repeat the same mistakes made by the previous Government. If we don't realise that and take immediate actions to get onto the right track and deliver what is expected from us, the people in this country will not hesitate to send us home. If they were bold enough to send home the President who won a three-decade war, they will show us no mercy. We need to work, we need to fulfil the promises we made to the people.

There shouldn't be too much compassion towards wrongdoers. What is wrong with this Government is that there is too much 'maithree' towards certain people. I am personally against the decision of questioning former First Lady Shiranthi Rajapaksa at the Speaker's house. We don't need to go to the residence of the former President to question him. If they have done something wrong, they too should be questioned, investigated and brought before the law. There shouldn't be a separate law for them.

However, we should not forget the fact that internationally we have achieved some significant victories. Some of the nations that were against Sri Lanka have now befriended us. We have received many economic benefits such as the GSP plus and lifting of the European fishing ban.


Q: You are the Deputy Minister of Social Empowerment and Welfare. Are you satisfied with what you have done in the past two months?

A: Our Ministry is responsible for pensioners. We provide a Rs. 2,000 allowance for elders over 70 years. We also distribute spectacles, wheelchairs, walkers, hearing aids and other medical equipment. Other than the work at the Ministry, I am also involved in helping migrant workers. This is something I have been doing for a long period of time.


Q: How is it to work with Minister S.B. Dissanayake? Is there good coordination between the Minister and you when carrying out duties?

A: Minister Dissanayake and I are very good friends. In 2008, when I contested from Ratnapura, our Leader Ranil Wickremesinghe asked National Organiser S.B. Dissanayake to assist me. I may not agree with the type of politics he is engaged in, but he is a friendly and hardworking person. I believe we will be able to carry out our work together.