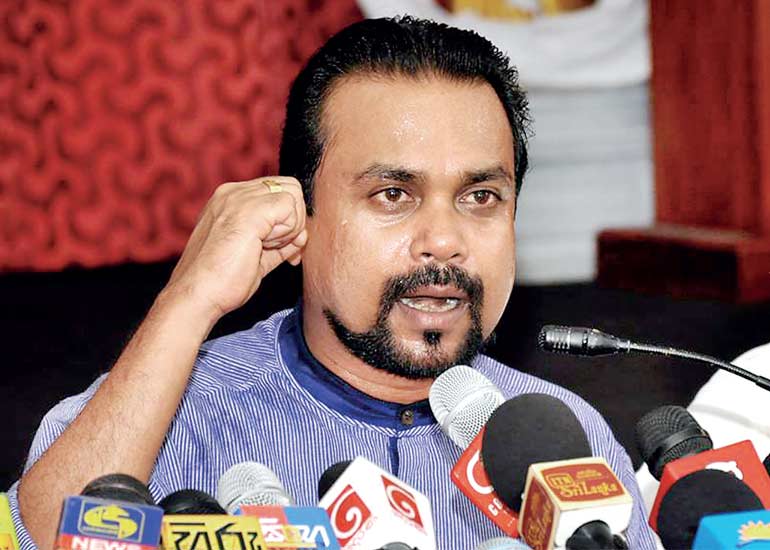 National Freedom Front Leader Wimal Weerawansa - Pic by Lasantha Kumara
Leader of the National Freedom Front Wimal Weerawansa stresses the Government that came to power to end autocracy is practicing the worst dictatorship ever experienced in the country. According to Weerawansa, the present Government will not hesitate to act against anybody who poses a threat to it. "The country's economy has collapsed. We need to make a force to stand against the injustice that is taking place in this country," he said.

Following are excerpts of the interview:
---
Q: What are your plans for the upcoming local government election?

A: On 5 November we commenced a countrywide restructuring program. We are inviting individuals to contest the upcoming local government election from our party. We are also giving the opportunity for individuals to work as organisers. We are conducting 10,000 rallies themed 'Hitler giya – Chaplin awa'. This is to educate people at the village level about the current political situation in the country.

Meanwhile, initiatives are being taken to form an alliance with the support of nearly 10 parties. This is to give leadership to people who do not accept the leadership of Maithripala Sirisena. We are hoping to contest the election from this alliance.



Q: Is Mahinda Rajapaksa in this alliance? Is he the leader?

A: At this point we are unable to say whether he will lead the alliance or not, but we certainly know that we have his blessings.


Q: Rajapaksa has openly said the SLFP cannot win an election if it contests alone. Is that an indication of his willingness to give leadership to an alternative force?

A: From the inception the SLFP has gained State power by allying with left and democratic forces. That was one of the reasons SLFP-led alliances were able achieve significant victories when they were in power.

Unfortunately today SLFP Leader Maithripala Sirisena lacks recognition of his own party members. SLFPers don't accept his leadership. They don't respect him. At the village level SLFPers openly say that as long as Maithripala Sirisena heads the party, they will not vote for the SLFP. Mahinda Rajapaksa is a leader loved and respected by people around the country. But people say that they will not vote for Rajapaksa if he is representing the SLFP headed by Maithripala Sirisena.

This is not something new. This is the bitter truth. Sadly some people don't like to accept this truth. As long as Maithripala Sirisena heads the SLFP, the party will not win a single election. It is not because the people don't have faith in the SLFP; it's because they don't consider Maithripala as the leader of the party.

Therefore, the wisest thing is to deliver what people want – form a new alliance, give a new leadership and contest the local election.



Q: What are the other parties in this alliance?

A: Everything is still at the discussion level. A number of parties that work with the UPFA have pledged their support. As you may be already aware, we are discussing with former Leader JVP Somawansa Amarasinghe to get the support of his newly-formed party. Everything is positive. We have good feedback from all the parties. The People's United Front is in the forefront doing a significant amount of work in order to form this alliance.

A few parties in the SLFP too are supporting us. Unfortunately, due to various legal constraints, they are unable to help us openly. But we are happy that we have the blessing and support of many political parties. One should never think this alliance is there to create a rift in the UPFA or further weaken the SLFP. This alliance is our answer to endless pleading by people at the grass root and village level.


Q: Do you think this alliance can challenge the present Government?

A: Yes, there is no question about it. Once we form this alliance, toppling this Government will be an easy task. But for the moment we are concentrating on winning the local government election. There are places where we can secure more votes than the UNP. In other places where the UNP will win, our alliance will come second. I can guarantee that. We will definitely have more votes than the SLFP led by Maithripala Sirisena.


Q: Why are you so keen on having Somawansa Amarasinghe in this alliance? His is a newly-formed party without much of a vote base or people power.

A: How can you say Amarasinghe's party does not a vote base? We cannot make such assumptions because his party is yet to contest an election. We cannot make any statements about his party and the size of his vote base. We have to accept the fact that Somawansa Amarasinghe is a political icon in this country. He has contributed immensely to the country's political history.


Q: Are you using Somawansa Amarasinghe to perplex JVP voters and steal their votes?

A: After the defeat in 1989, there was an issue of who has the right to continue using the name JVP. If Somawansa Amarasinghe wasn't in the party, Kelly Senanayake would have got the rights to use the JVP as their party name, because they had requested the Election Commissioner.

Amarasinghe as the Leader of the party did tremendous work to strengthen the JVP. Strategically and theoretically his input significantly helped the JVP gain the recognition that it enjoys today. In the latter stages, due to numerous issues and immense pressure from the party, Amarasinghe had to leave the party. But as a leader he has done a lot for the JVP. It is due to these leadership qualities of Amarasinghe that we want his support. We are not trying to use him to gain any cheap publicity; nor do we want to have him in our alliance to steal JVP votes.


Q: You say Amarasinghe is a significant leader and commend his political strategies. But it was during his leadership that you left the JVP claiming conflict of ideas. Your views?

A: This is what politics is all about. Haven't you heard the phrase that there are no permanent allies or enemies in politics?


Q: But how can you work with someone you criticised and condemned at a certain point in your life?

A: Yes, I agree. At one point Amarasinghe and I did not agree on certain policies and principles. Therefore, I had to take a decision. But inside the party Amarasinghe believed in the same views and ideas I had. Fortunately he didn't have to face the attacks or the pressure I received from the party. I believed in my principles and policies and as a result I left the party. However, later Amarasinghe faced the same unfortunate incidents. He was forced to give up his leadership and leave the party too.

Let's forget what has happened in the past. In order to face the challenges in today's political scene, it is essential that we work with everyone. We must have the blessings and support of everyone in the country. The country's security is in danger; separatism is raising its ugly head. The economy has collapsed. We need to make a force to stand against the injustice that is taking place in this country.


Q: What are your remarks about the recent Police attack on HNDE students?

A: Student movements comprise youth who are full of energy. They are ready to face any danger and fight to the best of the ability to obtain what they demand. This is not something new. The HNDE students were taking part in a protest. They were marching peacefully without creating any disorder. However the Police acted in an unacceptable manner. Police attacked the students with high pressure water cannons and tear gas. Without stopping there, the Police brutally attacked the students who were running away to escape. They were chasing students who were dispersing. Is that acceptable? Is this good governance?

The Government must have thought if they attack the first student protest, such things will not happen in the future. But they have done some serious damage. If the Government condemns what has happened, it could have at least interdicted the Police officers who assaulted these students. There are more than enough video clips and photographs as evidence. Have they done that? No, because they feel that what the Police did is correct.

This incident speaks volumes about good governance and democracy. They came into power claiming they will end dictatorship. Isn't this dictatorship? Today the Parliament has become a theatre for their 'Hansa Nadagama'. They are so busy concentrating on this 'Hansa Nadagama,' that they have very little time to run the Government.

Everyone who supported the 8 January victory has been given main positions such as the post of Opposition Leader and Speaker. The Speaker is dancing to the tune of Ranil Wickremesinghe. It is a very sad situation.

Why did the Government instruct that Premakumara Gunarathnam should be arrested? The JVP is no longer powerful in the student movements. The Inter University Student Movement is a mere ailing organisation today. It was Gunarathnam who gave leadership to most student movement activities in the recent past. This is why he was arrested. Terrorists are offered dual citizenship. Once banned organisations, such as the Global Tamil Forum, are welcomed in the country. But they arrest Kumar Gunarathnam. This proves that Government will not hesitate to take action against anybody who is a threat to them. If they don't pose a threat to the Government, they will allow any illegal activity. That is the policy of this Government.


Q: How can you condemn the attack on HNDE students when much worse attacks including killings have taken place when controlling protests during your Government?

A: Who is making that accusation? The one who has Batalanda bloodstains on his hands accuses us of Rathupaswala and Katunayake killings. In fact when these incidents happened although we were in the Government we openly condemned them and took immediate action against the Police officers who were involved. The IGP resigned from his position. We have always stood against such suppression against student movements. Therefore we have the right even today to criticise similar attacks by the present Government. Nobody can point a finger at us. But the person who has Batalanda bloodstains cannot question us about the Rathupaswala incident.


Q: What are your thoughts about the present situation in the country?

A: Usually it takes at least four years for a government to lose popularity, but this Government has become unpopular within just 10 months. They came into power saying people were taxed in order for the Rajapaksa family to live a luxurious life. Now the Rajapaksas are not in power. Why are they taxing the people now? The Finance Minister says from the next Budget they will earn Rs. 2,000 billion from taxes, which means a massive amount of taxes will be imposed on the people via the upcoming Budget.

We are experiencing the lowest fuel prices in the world market, but people don't have any benefit from that. There is a significant difference from the fairy-tales this Government promised to the people and what is actually happening in this country today. People who voted for this Government hoping they can have all three meals a day are now cursing them because they cannot afford even one meal. They have no experience in running a government. They don't have sound economic policies.

This Government is behaving like a little kid. They think running a government is like an action-packed movie. What are their main concerns? Taking us to the FCID, President's Commission and Bribery Commission. Every day there is a new case.

Soon after they came to power, they launched a war against China. The Chinese President visited Britain; even the Queen was there to meet him. China granted a loan amounting to billions of dollars to Britain to build nuclear plants. These Western countries welcome China with both hands but tell countries like us to stay away from China.

What did Ranil Wickremesinghe do? To upset China he first visited India and then went to Japan. Their issue is not only with Mahinda Rajapaksa and his Government. Ranil and his Government are against China too. According to IMF statistics, based on GDP China is the wealthiest nation in the world. The so-called superpowers such as US and UK are no longer among the rich nations.

People believed if Ranil comes to power, the country's economy would experience a boom. I am warning you, by the first quarter of 2016, our economy will be in a crisis. They agreed to the proposals of the United Nations and showcased that as the biggest victory of this Government. When we agree to UN conditions, how can that be our victory? It is their triumph, not ours.

They harp on about GSP plus, but our garment industry never collapsed in the European market. Our garment industry does not solely depend on GSP plus. We were doing the groundwork to get into the Chinese market. It would have been a massive opportunity for our garment manufacturers.

Unfortunately this Government still relies on nations that are no longer wealthy. In the modern world, it is China that has all the money. We should work with such countries if we want to boost our economy.

They harp on about lifting the fishing ban. What they have forgotten is that it was under Rajitha Senaratne's time that this happened. We as Cabinet Ministers warned him and he is responsible for what happened. It was during our Government that initiatives were taken to lift the ban.


Q: You are a responsible citizen in the country. When you lose an important document such a passport, you set a bad example. Do you agree?

A: Nothing illegal has happened. I was to take part in a tour which included visits to Dubai, Italy, France, Norway and Great Britain. More than 11 meetings and discussions were organised in these countries. However, on the day I was scheduled to fly, the Immigration Department informed me that my visa was stamped in a lost passport. That was true. I had lost my passport. I had moved out of my official residence. One day I take all the documents to the FCID. The next day I take everything to the Bribery Commission. Somehow I have misplaced my valid passport. I had already made a complaint. But later I found the passport and my visa was stamped in that.

When I inquired, the Immigration Department said I cannot travel using a lost passport but they will allow me to leave the country if I bring a valid passport. The next morning I went to Passport Department and obtained a new passport. My flight was at 10 a.m. I was at the airport by 9 a.m. Then there were CID officers to question me. According to what I heard it was the Defence Secretary who instructed the CID to question and detain me. The only purpose was to prevent me from leaving the country. I am reiterating this was a lost passport. It was not a forged passport or a stolen passport. I had acted as instructed by the Immigration Department.

The only wrong I have done is not informing the relevant department when I found my passport. If I knew I had to take a new valid passport to travel, I should have done that. I was unaware of the procedures. As politicians we live a very busy life. I may not have paid much attention this matter due to time constraints. What I am trying to say is the Government has blown up what happened merely to sling mud at me. The next Court hearing is scheduled for May 2016. If they wanted to take action against me they would have had an early date. This proves they don't have a case here.