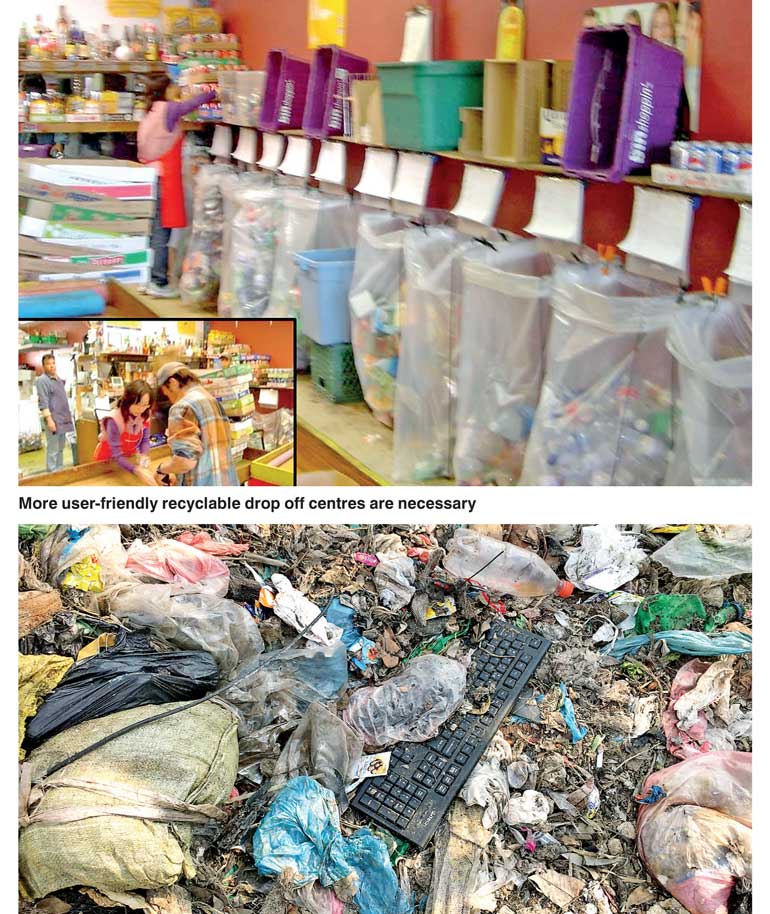 Colombo woke up to a rude reality when on Aluth Avurudu day at around 2.45 p.m. the accumulated heap of garbage at Meethotamulla gave way, resulting in the death of 33 with more than eight missing.

The number of households affected totalled more than 150.

Astrologers may have scampered to check whether a new planet has appeared in their particular planetary system as none had succeeded in prediction! This heap of garbage, a creation of ours, from the discards of the process of urbanised living became the death knell for some of our fellow citizens and further created a significant number of environmental refugees.

Many have surely kept bags full of garbage outside their homes to be taken away to this place. The city's centre and other parts of it were dutifully cleaned and at some stage even received global recognition for advancement with the collections finding its way to Meethotamulla. What was happening was not a process of solid waste management but a well-supported process of removal and piling it up at one location.

The issue had received attention over the decades, starting with the landfill study at Walisara and then the more infamous Salawa. If the Salawa study materialised we really should be in a different position today but that was not to be – Sri Lanka never lacks opposition and scientific assessment is never the refuge for anyone.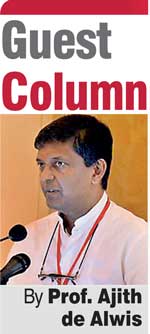 Thereafter in the period around 2006, Colombo also managed to have a 300 MT/d composting facility in operation. It even managed to win a global accolade. That too is no more. I am convinced that if we pile up all the studies, project reports and case reports the net height surely will rival the heaps of solid waste and my usual choice for height, the Bloemendhal site.

Unfortunately, the Meethotamulla dump kept increasing in height which incidentally was the preferred site post-Bloemendhal. The court order simply led to the closure of one dump and pressurised another site to follow suit. Our decision-making and planning simply demonstrated that when it comes to solid waste even if we are in the 21st Century and we appear to extol knowledge-based innovation to lead the economy, 'kunu' does not receive any such considerations other than putting it out of sight and out of mind!

The tragedy, which snuffed out many a life, again brought to light the ever-festering issue of Colombo's solid waste and earned the resulting attention of the first citizen and the Prime Minister, while forever changing the New Year.

If someone was to think this is the first time that this type of situation has occurred then he is wrong. The Meethotamulla incident unfortunately will now enter into history as the fifth-worst disaster of its kind behind the recent Ethiopian waste slide.

It is quite sad to hear and witness fellow citizens both young and the old succumbing to the collective fury of a waste pile contributed to by all citizens who inhabit Colombo plus those who commute daily to work. Can we distribute the guilt across the masses and feel lighter subsequently as obviously the individual contribution is then surely quite small. There is no way the collective ignorance and apathy in realising a solution and in providing support with good practices will weigh heavily on all.

Scientific solution

Piled up against the recommendation of scientists, it was the bottom that slipped and heaved, moving houses like pieces on a monopoly board. As with the game, money had been exchanged but no solutions were seen. Who in our system ever work hand-in-hand with scientific establishments, being mindful of scientific views and recommendations? Let this at least be an eye-opener.

The primary reason for this failure is due to the fact that we as planners have never factored in solid waste management as a service which needs to be considered and supported in a city. We are ready to give space to the transport board, water board, electricity board, telecom, sports ground, etc. but the residue of our stay in town gets shoddy treatment.

The people who had to handle waste sadly have to occupy very low strata in society. While society boasts of three-phase electricity, clean water, etc. the only waste that is incapable of flowing or moving finds itself neglected in planning. It was in ancient Athens that one decreed that waste should be more than a mile away from the city wall. We have encouraged plans to send Colombo's waste more than 170 km away to be managed.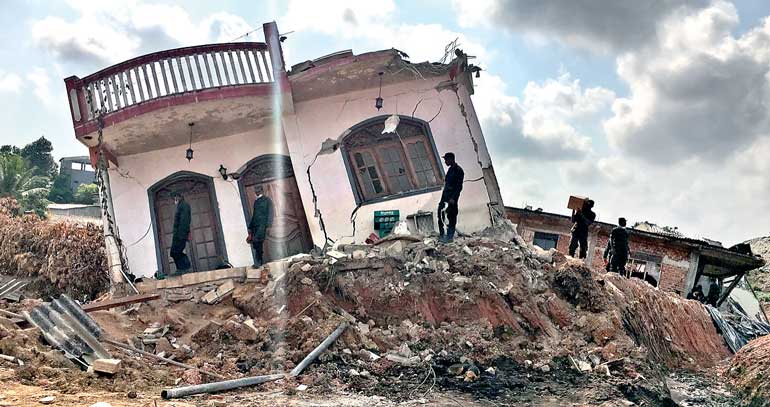 The Athens concept not being valid today, there is no excuse for even thinking of movements of this magnitude in an attempt to keep the city clean. You can keep the city clean and allow the city to benefit too if we make use of the knowledge that we have today. To those Greeks then their idea was state-of-the-art! Unfortunately for Sri Lanka our idea is light years behind in today's terms. While we can discuss in detail a luxury car with all nuances, even the basics of the science of solid waste management appear to be unknown.

There is so much to be done. So little has happened and am I to think that the stench of corruption is stronger than the resultant smell of death? I think in snuffing out corruption – there is so much said but so little evidence provided – citizens can kill two birds with one stone.

Understand that Colombo is throwing out 700-800 MT of waste per day. This quantity when analysed indicates that the water content is around 60- 70% usually. The solid waste also indicates 70% of waste to be organic and mainly biodegradable. It is this fraction that contains most of the moisture. The balance portion is non-biodegradable and usually quite suitable to be recycled.

Therein emerges a citizen's opportunity. If one takes care of the organic fraction within one's premises, the tonnage can be reduced drastically. Separating recyclables again will mean no waste to dispose. Then when the disposal drops down to maybe even less than 100 MT/day the projects are not as exciting as 800 MT/day.

Hence instead of pointing fingers and shouting about corruption, individual steps will solve many an issue. The Government will be richer too as all this unnecessary solid waste is transported and even if the final operation is dumping, the costs incurred are saved.

At this juncture the best a citizen of Colombo can do, and I rather say should do, is to take a very close look at one's own waste. A little investment in a compost bin or better still, provided that one has some space, a biogas unit, can revolutionise Colombo city.

Unchanged approach

Yes there will be some waste that an individual may not be able to handle comfortably and it is for this minimised quantity along with household hazardous wastes (medicines, batteries, etc.) that the CMC will be called into service as well as the State in ensuring the availability of processing space.

We have spent too much time and energy always asking for or either looking forward to finding the next plot to dump waste. After the Meethotamulla incident, the approach has not been much different. Having ignored that dumps are relics of outdated mindsets, it is simply not possible to do the right thing the day after. If nobody is willing to reduce their waste, the usual generation needs to be placed somewhere and we witnessed someone's desperate desire to part with their waste and the strident opposition of the recipients. This is where enlightened decision-making is vital to ensure that all win.

Colombo city needs to improve its recycling network and related infrastructure. Processes for reverse logistics need to come in. One should have access to recyclable collecting centres.

The current system needs a definite upgrade and hopefully some of the existing shops and centres will rise up to the challenge of becoming better. Recycling has spun billionaires and in China there are many examples. This must be true for Sri Lanka as well though many of these details are not available and national census may not have the ability to elicit such data. A Sri Lankan Green Pages is much awaited for the benefit of all citizens.

In the months before the tragedy, some excellent steps were taken by the UDA and Ministry of Megapolis and projects too had been awarded. These projects should have catered to almost all the stated waste quantities of Colombo. All these projects however will take a minimum of around two to three years to complete.

With the disaster and the site becoming unavailable for traditional disposal, a crisis was inevitable. However, the responsibility of the State is now to change the mindsets, explain the situation, be amenable to listen and to realise the steps which result in a disciplined urban community.

The crisis can only deepen if the emphasis is only in finding places to dump and adopting weak practices. Can one rise up to the challenge and once and for all transform the place, giving that substantive makeover to Colombo? We have discussed these opportunities for Colombo with direct suggestions in earlier columns.

In an era where sustainable cities, liveable cities, smart cities and green cities are talked about, assessed and awarded, the templates for action and ideas are plenty. We should have the learning mind and the courage to source solutions from within. There is also the need to be aware of 'solutions' that flow in unabated and in substantial volumes under current conditions with perhaps only one motif.