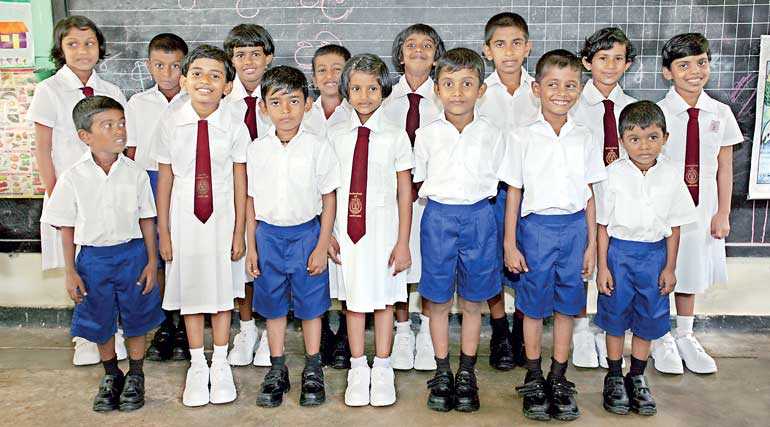 Family, religion and schools are typically seen as three main institutions through which values are passed on to the next generation. Schools always come to the forefront in public discourses about values since they are perhaps relatively more policy amenable than the other two types of institutions
The recent spate of crimes has caught the attention of the public at all levels. Though the overall crime rates in Sri Lanka are said to be on the decrease, the crimes committed may increasingly have become more cruel and horrific, or seemingly so.



As we hear reports of children being killed as revenge against parents or molested and killed by strangers or routinely molested by family members, one begins to wonder whether two violent insurgences and a brutal ethnic war that lasted several decades has left our society bruised and brutalised. In fact we frequently hear our President and the clergy calling out for resetting of values in society, but where does one begin?

Family, religion and schools are typically seen as three main instutions through which values are passed on to the next generation. Schools always come to the forefront in public discourses about values since they are perhaps relatively more policy amenable than the other two types of institutions.


Teaching values

Values are essentially the moral aspects in character education, a topic which has received much attention of both academics and practitioners in education lately. Paul Tough in his book 'How Children Succeed: Grit, Curiosity and the Hidden Power of Character' has summarised in a highly-readable format an extensive body of research by Martin Seligman and Angel Duckworth of University Pennsylvania, James Heckman, an economics Nobel Laureate turned educationist and other academics.

Although this literature emphasises attributes such as grit and curiosity above more moralistic attributes such as empathy and kindness, the character attributes addressed in this literature covers all three dimensions of character, namely, personal, social and intellectual dimensions. The contention by Angela Duckworth and others is that character and values can indeed be taught and Duckworth does an excellent exposition of these three dimensions of character in her Ted Talk.


Stated national objectives of education in Sri Lanka Vs. the reality

As far back as 1992, well before some of the academic writing on character education became prominent, the National Education Commission (NEC) of Sri Lanka produced a report which advocated a set of learning outcomes which are just as valid today.

The report identified nine national objectives of education and five competency categories that translated those objectives into learning outcomes. Later these five competency categories were expanded into seven competencies related to (1) communication (2) personality development (3) biological, physical and social environment (4) religion and ethics (5) leisure and sports, (6) learning to learn and (7) readiness for the world of work.

These common competencies were expected to be the final outcomes of education no matter what subjects were being taught in school.

Sadly, these general objectives of education never took root in Sri Lanka. Although every teacher guide book starts with the national objectives of education and the seven set of competencies and emphasises the importance of an activity-centred and competency-based teaching-learning process, the syllabi and the assessments that follow very quickly degenerate into rote-learning mode.

At primary levels, use of the pass-rate of students at the Grade-five scholarship examination as a performance measure has essentially buried any chance of teachers paying attention to the seven basic competencies even in primary grades.


Personal and citizenship competencies for a balanced education

During the 2003-2004 period, I had the opportunity to work with a team of people commissioned by then Minister of Education in the Eastern Province to identify ways of making primary education in the province more holistic. One of the recommendations which I championed was to make NEC competency categories more in line with the reality of schools organised around subjects with examinations designed to test subject knowledge.

We organised the 50 or so common competencies identified by the NEC into two broad categories –personal and citizen competencies and added a third set called the subject competencies, in line with the three dimensions of personal, social and intellectual dimensions that we found in the literature.

We had the opportunity to briefly test ways assessing students on subject competencies while appreciating and rewarding them on personal and citizen competencies. We also found it easy to explain to parents why all three dimensions were important in education. Applying our findings to the education system as a whole was problematic because the education system was not structurally prepared for a holistic approach to education.


Exam fervour overshadows personal and citizen aspects of education

There are four major stages of school education in Sri Lanka and examinations drive the teaching and learning process in all but one.

Grade 1-5 education is the primary stage and we already talked about the pressures of the grade five scholarship examinations on children in these grades. In fact, the main obstacle to our work on transforming primary education in the Eastern Province was the societal pressure on teachers to produce good results at the Grade 5 scholarship examination. Although personal and citizen competencies are integrated well into the curriculum in the primary grades, teachers focused only on subject knowledge which was relevant to the examination.

The Grade 6-9 stage is known as the junior secondary stage and students get some reprieve from national examinations at this stage, but, provincial level tests are administered at end of year by most if not all provincial departments of education.

The upper secondary stage comprising of Grades 10-13 is marked by two public examinations, the GCE O/L and A/L, making any innovations in character education in this period impossible without an overhaul of the curriculum and examination system.


Innovations possible in junior secondary stage?

In the Junior Secondary stage personal and citizen competencies are singled out into a separate subject called 'Life competencies and citizenship skills'. Unfortunately this subject has become another test paper in a set of 10 or so test papers that students have to face at the end of each term.

The Western Provincial education department, for example, seem to make an effort to make the subject more practice-oriented by asking the children about their experience in engaging in one or more of the prescribed citizenship activities such as a shramdana or interviewing a social service organisation in the neighbourhood.

From what I have gathered, in some or even most school, students don't get the opportunity to do any of those activities for real. The teacher would describe a hypothetical situation and students would regurgitate the information at the examination, as if they actually participated in such. Some of the more creative students may even add their own embellishments. Truly dishonest activity is the grading of these answers by teachers as being correct.

Even with all shortcomings in implementation, the life competencies and citizenship curriculum has much promise as a means of giving our students the holistic education they deserve.


Less popular public schools could be better venues for innovation

Although we have several official typologies of schools in Sri Lanka, the one which is more relevant to parents is an ad hoc typology based on the demand for public schools by top scorers in the Grade V scholarship examination. In fact, the ministry of education annually publishes a list of a little over 100 schools which are ranked by the cut-off marks for admission to Grade 6 in each. These schools are known as the 'popular schools and other schools by default are the less popular schools.

When it comes to the least popular schools among the less popular ones they will typically have 300 students or fewer or in contrast to popular school which may exceed 3,000-6,000 students in number.

One good fallout from this 'market system' in public education is the fact the children who go to these less popular school have less pressure to perform at public examinations and are able to learn in less crowded classes. Junior secondary grades in these schools perhaps are situated better than most for innovations in holistic education.


Corporate sponsors should focus on personal and social competencies

After the results of public examinations, the grade five scholarship examination in particular, are released every year, we find banks and other private sector institutions coming forward to recognise those students who exceled in these exams.

Many of these children who succeed in these examinations come from difficult family circumstances indeed and they deserve the adulations they receive. However, it is important that these institutions also note that by focusing on these accomplishments in examinations they are reaffirming an education system that puts value on book learning at the expense of other activity-based learning that give children a more rounded education.

Good practices in building character and imparting good values through education by public or private institutions too should be sought out and rewarded.