Courtesy: WIPO/Sébastien Couture
Our economy is in interesting times but I wonder for those who are at the centre of the process whether it is a time for enjoying. Waking up to find As having become Bs is tantamount to loss of international confidence and the public release of a global report card on your performance.

Then you also find that today one can get many a rupee for one dollar in one direction but quite a problem in the reverse direction. Being in the land of the rupee we have much more things to purchase from outside than outsiders have to from us and that is the problem of our economy, as money and printing presses are not nicely correlated either and there is no salvation from that direction.

It appears that something invisible in our wealth matrix. It is seen that the toolbox of the econo-mechanic lacks an interesting item that is usually the main tool of the developed nations in the new economy. Today it is the era of the intangibles!

Knowledge-based economy aspirations

Assuming we aspire to be a knowledge-based economy – all talks and talk shows are quite clear on this aspirational goal – then we must understand the basics of such an economy and then proceed to walk the talk.

The asset class of importance in such a system is intangible assets. Intangible assets relates to Intellectual Property (IP) which some say as the most valuable asset class on the planet today. However, a local inventor holding on to a patent – hopefully properly realised – will find very much harder to get the attention of a local banker to consider such as collateral.

Sri Lanka Institute of Nanotechnology, holding multiple international patents, is not exactly causing the planners to think on capitalising on such assets. Nor are we calculating such asset values in our net worth. Thus there are significant gaps of knowledge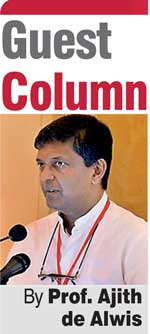 as well as performance methods that we must understand, change and formalise. Similar to giving up cupboards and embracing clouds! The task is challenging but is a necessity.

Still believing in an agrarian economy and working feverishly on land, labour and traditional capital will not deliver us anywhere organic or otherwise! However, the recent speech that is doing the rounds globally by the Bhutanese Prime Minister demonstrates the value of the responsible yet traditional model but still there is a feeling that one has to tread the path in a non-traditional way to succeed. Time will tell about the fight for supremacy between Gross Domestic Product and the Gross Happiness Index though the latter is definitely much less stress.

Innovation and visioning the pathway

Yet one has to admit that the stress is not coming from the innovation journey itself but mainly from the checks and circulars that line up when one strives to proceed differently. It is clear when one listens to Satya Nadella: "Our industry does not respect tradition. It only respects innovation. This is a critical time for the industry and Microsoft. We are headed for greater places – as technology evolves and we evolve with and ahead of it."

Visioning the pathway rather than tapping to consumer feel too is the favoured approach of great innovators. As Steve Jobs used to say: "We do no market research. We just want to make great products."

When Satya became the Head of Microsoft in USA, Narayana Murthy of Infosys fame stated: "India raises a toast as Satya Nadella is named Microsoft top boss. This is how India's brand will be enhanced."

'India Brand' is an intangible asset. It is certainly not clear whether those who speak of Brand Sri Lanka in nation branding strategies toast to the achievements of the umpteen number of Sri Lankans abroad. We too have some star performers outside from an island of our size. Yet I am not sure getting cirrhosis is way forward in brand building by watching Sri Lankans in action elsewhere.

Do not forget that the success is theirs as well as of the system in which they find themselves or locked themselves to. The difference between Sri Lankans in Sri Lanka and the Sri Lankans in overseas is the system attributes overseas and nothing else!

The system here is archaic and so corroded in terms of efficiency – just imagine the fate of a letter generated during the course of a day expecting something to happen – that strokes are more likely and definitely not suitable for a toast! We must seriously understand where to change.

Intellectual Property

Research from USPTO (United States Patent and Trademark Office) in 2012 has indicated that "the entire US economy relies on some form of IP, because virtually every industry either produces or uses it".

An interesting fact and one worthy of giving some serious thought is that in 2010, IP-intensive industries in United States had accounted for $ 5.06 trillion in value added, representing 34.6% of US GDP. This also meant directly supporting 27.1 million jobs. Similar results had been found in the UK too. As per the UK IP Office, in 2011 the UK market sector had invested around GBP 137.5

billion in intangible assets and IP rights. Only GPB 89.8 had been invested in tangibles. This gap in investments is continuing to widen between the tangibles and the intangibles.

The value of intangible assets is unarguable. This asset class will have intellectual property, copyright, trademarks and designs and refers to those which are not physical in nature. In addition to the above good will and brand value too are intangibles.

In developed economies up to the 1980s, the tangible assets had accounted for 80% of company value. Still there were 20% of intangibles which included IP. Today within a span of 30 years, the picture is radically different. Today around 80% of the company values is made up of intangibles. Consider our own situation and we may hear the brand value which of course is an intangible.

The usual and relevant intellectual property, protected trademarks, industrial designs are still conspicuous by their absence. Thus it is apparent that we have a long, long way to go in achieving a knowledge based economy. Of the lot intellectual property perhaps are the most unheard of! A situation that defies the intellect.

Usually the rights and determinations are carried out by the country's Patent office and USPTO is the custodian of that responsibility in United States. In Sri Lanka the mandate falls on the National Intellectual Property Office (NIPO). It may be of interest to do a sample survey of the knowledge about the Sri Lankan Intellectual Property Law (not the details but merely the existence perhaps) and the whereabouts of NIPO (National Intellectual Property Office) from the business community to gauge the situation as compared to the UK and USA. Thus it is obvious that we as a nation have paid much less attention to the development of this asset class.

Branding is heard of and much discussed but perhaps with an island mentality. Yet without the rest of the intangible assets in a corporate portfolio, it is really doubtful that there could be much generation of brand value. If we are not showing much intellectual prowess as a nation but depend on hand-to-mouth existence, subsidies and perpetually exist through asking for help from others, it again should be obvious that there cannot be much brand value to the nation or its constituents. Reality is painful but need to understand if we are to move forward.

Think of a startup which starts off with a couple of patents to their credit. This could be a scenario that one is trying to promote in our universities – to be entrepreneurs. Startups need capital and that infusion is required for growth. A period of incubation within a university would also has the proviso of moving out after a fixed time period.

The most important asset that this startup is having is its patents yet they are not collateral to mainstream banks. Thus when seeking developments of this nature in the country, additional support schemes where the Government again has to play a role has to be introduced. That is definitely easier than getting the bankers to accept IP as collateral!

Food for thought

What can we learn from those companies which are making headlines with their value mostly coming from intangibles combined with digital trading? When Uber came to Sri Lanka they will use someone else's assets though it is over Uber's arrival that we will have a big bash!

Alibaba, the world's largest retailer, owns no stores as Uber owns no taxis. The famous iTunes which Jobs introduced only supplies digital recordings. From asset-less to dominant market positions through a unique disruptive business model and that is intellectual property!

This should be some food for thought. If we are to think creatively and use the potential of intellectual property, the usual building blocks of the old economy are just not needed. If we can work on getting some of the market concepts, regulations and investment rituals to cater to intangible, technology-based assets, then that may be what the doctor orders to get our back-to-the-wall economy onto a new pathway.

As transformation is required and speed is of the essence, we may not be able to tolerate or condone the 'let us do that tomorrow' or 'after the holiday season' responses.


[The writer is Professor of Chemical and Process Engineering at the University of Moratuwa, Sri Lanka. With an initial BSc Chemical engineering Honours degree from Moratuwa, he proceeded to the University of Cambridge for his PhD. He is the Project Director of COSTI (Coordinating Secretariat for Science, Technology and Innovation), which is a newly established State entity with the mandate of coordinating and monitoring scientific affairs. He can be reached via email on [email protected].]