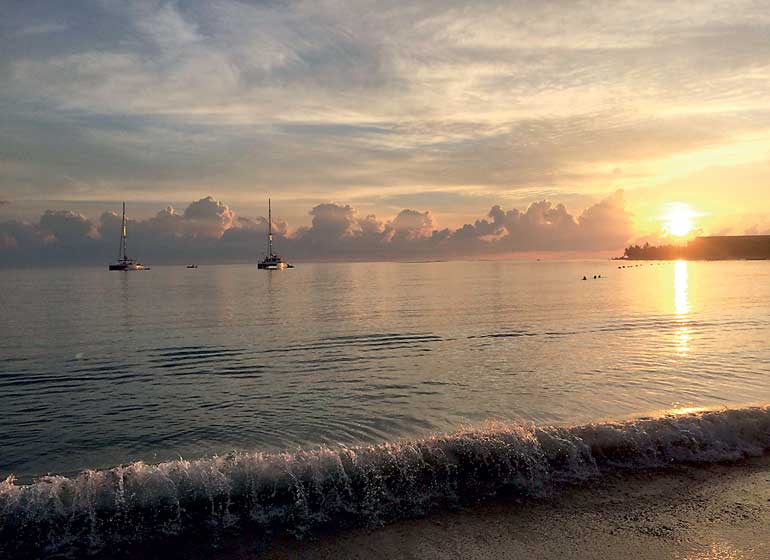 GO EAST, YOUNG MAN/ WOMAN/ AND CHILD! As the sun rises over the shallow waters of Passikudah Bay in Sri Lanka's once war-torn north-east, the mind's eye begins to envision what a new nation-state consolidated by its new social contract being slowly but surely shaped will look like soon – Pic courtesy: Aruna Samarajewa
There is a season for everything under the sun. A time to work, a time to take a break or go on holiday. In the week past, Sri Lanka en bloc – or very nearly all of us, en masse – took flight on vacation or furlough from one vocation or another. Some on trips away from home with friends and/or fellow-travellers; others on journeys back to where heart and family are or were.

It was – as it is – and as it will ever be thus – a time for relaxation and recreation. It was also a welcome respite from the unhappy business of getting and begetting and spending that God/the gods have given their sons and daughters to be busy with or at. It would also be a suitable season for reflection – if the seed of Adam and the fruit of Eve in Paradise Isle should desire a time to recharge energy levels and realign their spiritual focus on their return to the fields of politics, business, society, in the *aluth avurudda*.

The route to, and sojourn in, the north-east of Sri Lanka raised many questions in my mind... as, perhaps, in the consciousness of not so many other traditional new-year travellers: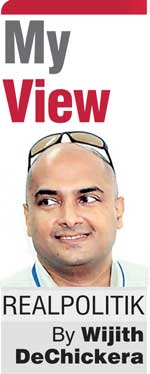 Is peace and freedom >with >the pursuit of happiness a dividend that only the rich or powerful can enjoy today? Is peace >with >justice and security >with >prosperity a fruit that can be enjoyed by everyone, everywhere?
Are there still insecure, attention- or pleasure-seeking abusers of power remnant/leftover from previous political regimes, for whom the law is a dead letter? And for whom order is only a way in which the peasants must please them (they, the servants of the public!) – as they still thunder by in the Chariots of the Gods <formerly known as convoys> while we suffer in traffic jams caused by the likes of them and their sycophants and uncritical followers?
What steps are big businesses like hotels, resorts, and tour and travel companies, taking to protect the environment – over and above protecting their own profit margins? Are they training and motivating and recompensing staff adequately for their tasks and labour? Or is simply providing employment to a once war-torn province just cause for empty praise and pats on the back which Corporate Society gives itself anyway in its hollow CSR reports and padded up triple bottom line reporting?
Whose right is it to own, or square off access to, the beach – a public property? Whose responsibility is it to keep pristine those precious thousand miles and more of a poorly treasured national natural resource?
Which departments of state need to be streamlined and strengthened so that they can better serve the citizenry they are paid to safeguard? Rather than pay lip-service to politicos or provide security details to power-brats or stand around being less that pleasing eye candy while city-returnees grind to a halt along unattended roadworks?
Should commerce and industry seek to partner more with the state in upgrading and maintaining or improving public services or even hard infrastructure, in the national interest?
Where have all the beggars gone? Have we noticed? Do we care enough to ask? Can it be that some kind hand of charity has secreted them away to physical and spiritual rehabilitation? Or are they still chattel in sordid ghettos where soulless entrepreneurs AKA mudalalis sell them for a song and dance (or worse) – having performed excruciating amputation-surgery on them so that (Hopeless, Eyeless, Limbless, Lifeless) they fetch more than their requisite silver for the Judases who have crucified humanity for a handful of shekels?
What concern is nature of, in all her glory – or the ongoing rape of sea, sand, or earth by ruthless exploiters of our land's dwindling or plundered resources – to holidaymakers and happy-campers?
Who speaks for the animals, those dumb brutes our brothers and sisters, as they are wracked and wrung on merciless machines for meat and movement?
How good am I at solving the petty problems that we all assume are the prerogative of our elected representatives alone to solve? (Corrupt cops, brutally daredevil bus drivers, et al.)
Am I (or you) responsible for the warming up of my/our biosphere, and do I/we turn a blind eye to myself and our fellows as we contribute to the building up of a carbon footprint we do not have as yet?
Is Sri Lanka tourism still 'Sun, Sea, Sky, and Sand', or 'Beyond the Beaches', or 'Nature, Culture, and Adventure', or all of the above, or none of the above? Is there synthesis among and synergy between THASL, SLAITO, Sri Lankan Airlines, and the sundry tourism promotion bureaux that are meant to position our island-nation strategically as more than merely the prettiest girl on the beach?
If Paradise lost is to be Paradise regained, is it only business and banking and balance of payments I must lend my body and mind to, or is there still the soul of Sri Lanka to be renewed through a true and more widespread spirit of national reconciliation?
[The April weather "compelled my imagination many days ... and many nights", and "sometimes these cogitations still amaze the troubled midnight and the noon's repose".]

Also how diverse stakeholders (polity, policy-makers, press, pundits, persons in the street) in the new social contract we seem to be forging will each respond to the ramifications of and resolutions to these topics, themes, and issues might well be subject to an interrogative lens...
Who is co-responsible for appropriating and applying the renewed social contract?
How committed and competent are the respective stakeholders in each of the rough-hewn spheres held up for inspection above?
Would civil society invest in the paradigms and process of change as never before, or revert to typical societal cynicism and apathy in the face of current trends and what seem to be conceptual and actual reversals of what seemed to be a socio-political revolution (or at least a putative return to democratic-republican norms)?
Should the media as the potential fourth estate of government refrain from critically engaging with its sister branches of the state, or engage all the more critically (but with a common vision and cheerfully neutral valence) at this crucial juncture along the road to rapider growth, sustainable development, and equitable and inclusive progress?
Could the general populace partner more meaningfully with its governors (perhaps an outdated terminology) to catalyse the desired change, or is that a role best arrogated by experts in their respective fields?
Sri Lanka is on the cusp of something potentially transformative. We have never had such an opportunity for real change and surging ahead to our rightful place in the sun in all of our almost 70 years of postcolonial independence as a nation-state. That the ground under our freedom to emancipate ourselves further and self-actualise as a modern democracy with all the amenities is shifting alarmingly as a result of liberties taken with the people's goodwill is showcased in the most recent report by Social Indicator. (While the survey research unit of the Centre for Policy Alternatives culled their findings from questions in four broad areas – Perceptions of Politics, Economy and Development, Trust in Institutions, and Transitional Justice – this writer is grouping it under arguably corresponding headings, to reflect some of the realities raised in this article.)
Around 41% think that the Government is not committed to eradicating corruption. Over 34% feel it is committed. In October 2015 more than 49% opined that the Government was committed to eradicating corruption.
Nearly half of all Sri Lankans surveyed state that the Constitution must determine the number of ministers – and there can be no increase in their number in Parliament.
Just under 49% agree that the national anthem should be sung in both Sinhala and Tamil, with over 41% disagreeing.
Nearly 30% say that they are satisfied with the Government's measures to make the cost of living manageable, while over 50% feel dissatisfied.
CULTURE OF RELIGIO-POLITICAL PATRONAGE
A majority (almost 75%) of citizens surveyed agree that the clergy – if found guilty of unethical/illegal behaviour or misconduct – must be taken into custody and dealt with under the rule of law.
CONSOLIDATING TRANSITIONAL JUSTICE
Around 42% think there should be a mechanism to investigate what the final stages of Sri Lanka's war, while around 44% feel there shouldn't be one. Of the former 42%, about 47% say the mechanism must be exclusively domestic, with just 9% favouring an exclusively international one.

A trend that may have not entered the net of Social Indicator's survey is the precept and practice of now-19A-driven constitutional democracy. Confronted by the thorny dilemma of which Senior DIG of Police to appoint as IGP, the President – unlike so many (too many) of his predecessors – took the democratic route by referring it to the newly functional Police Commission. A salutary move... But Sri Lanka has been so saturated in recent decades by such Gaullist executives as have been ousted that its people remain suspicious of even the least suspect actions of their most republican elected leaders.
NAIVE: Leaders are committed to constitutional safeguards.
PRAGMATIC: Let commissions take the brunt of appointing one from among three tough choices.
CYNICAL: The new appointee will serve vested interests anyway.
SUBVERSIVE: Conciliar-constitutionalism undergirds the favouritism it is intended to undermine.
Time will tell what lens was right. Meanwhile, post the holidays, it's time for Sri Lankans serious about seizing the day to put their shoulder to the wheel again. And it is only a steady application of incremental initiatives undertaken and underwritten such as the endorsement of hard-won constitutional mechanisms in place that will move us – inch by yard by mile – along the road to a post-conflict state that is still struggling to exorcise the demons of its post-war past.