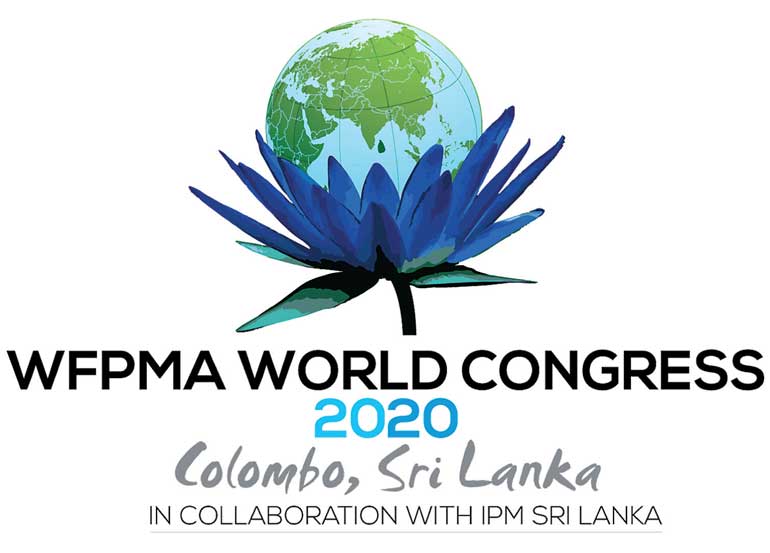 It was a rigorous yet rewarding process that we went through in competitive bidding towards hosting the most prestigious global event in the field of human resource management (HRM) in 2020. Today's column conveys thoughts on the relevance of it to Sri Lanka with multiple implications to diverse spheres such as tourism, education, management and leadership.

Overview

There is a World HR Congress initiated by the World Federation of People Management Associations (WFPMA).

Reflecting on its international origins and concerns, the meeting location moves among its member countries. The World Congress has been held since 1986 in 12 different countries. The next one is scheduled to be held in Chicago, US in 2018 and they will hand over the organising reins to Sri Lanka thereafter to host it in 2020.

The World HR Congress aptly enables HR professionals to build a global community of peers to discuss new developments in HRM and to network with colleagues from around the world who face similar complex challenges in HRM. It is a glamorous event which brings in HR professionals for a refreshing reflection collectively done through a mega event rich in both the intellectual and interactive dimensions.
WFPMA in a nutshell

It is noteworthy to discuss the details of the WFPMA. WFPMA is an organisation representing more than 700,000 people management professionals in over 950 national personnel associations around the world. It was founded in 1976 to aid development and improve the effectiveness of professional people management all over the world.

The founding members of WFPMA were the European Association for People Management (EAPM), Inter-American Federation of Personnel Administration (FIDAP), Inter-American Federation of Human Resource People Management Associations (FIDAGH] and American Society for Personnel Administration (now SHRM – the US Society for Human Resource Management).

Subsequently the Asia Pacific Federation of Human Resource Management (APFHRM) joined as a full member in June 1980.

Further, the North American Human Resource Management Association (NAHRMA) was established and admitted as a full member in April 1997. Also, the African Human Resources Confederation - AHRC (formerly African Federation of Human Resources Management Associations – AFHRMA) was established and admitted as a full member in March 2004. The AHRC members are AFHRMA and the Federation Africaine des Formateurs et Directeurs du Personnel (AFDIP).

The six main objectives of the WFPMA have been stated as:
To facilitate improvement in the quality and effectiveness of professional people management to foster a positive impact on business results.
To promote the importance of the HR role in all organisations, by sharing experiences and disseminating selected member best practices amongst member countries and federations.
To stimulate and assist in the establishment and development of regional and national people management associations in those parts of the world where a continental or regional association does not exist.
To create and maintain contacts and networks with all WFPMA member associations as well as with other organisations which have some activity in the same or similar field.
To build relationships with international organisations to provide expert opinion and advice on people management practices.
To commission or undertake research which will further broaden understanding of people issues.
Against a background of significant global disruption, change and the quest for competitive advantage, there is a growing awareness of the value of professional human resource management in helping to deliver that vital edge through people.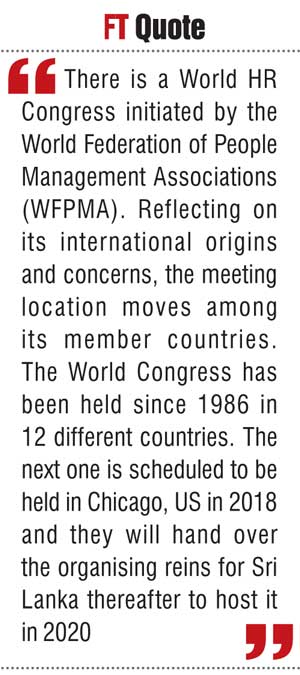 The WFPMA advances its objectives through several frontiers. The premier among all is the World Congress held once in two years. Research on critical and emerging HR issues that have a positive impact on business is another front. Recognising outstanding world HR leaders through the WFPMA Petitpas Award is another initiative.

Convening twice-yearly board meetings and specialist working groups, facilitating networks among member countries, federations and external bodies, promoting the use of a website for the dissemination of relevant information are also significant aspects of WFPMA. They have a WorldLink newsletter published five times a year.
WFPMA and APFHRM

The Asia Pacific Federation of Human Resource Management (APFHRM) is the network of human resources and people management associations' representative countries in the Asia Pacific region. It is duly affiliated to WFPMA. The Institute ofPersonnel Management (IPM), Sri Lanka is a vibrant member of APFHRM.

APFHRM collectively intends to advance the standing of the HR and people management profession within the region. It does this through its member representatives regularly meeting to exchange knowledge and research on best practice in HR. From the member associations' geographical proximity to one another, the federation's major focus is on matters relating specifically to HR in the Asia Pacific region.

The countries that form the federation are Australia, Bangladesh, Fiji, Hong Kong, India,Japan, Malaysia, New Zealand, Pakistan, Papua New Guinea, Philippines, Singapore, Sri Lanka, Taiwan, Thailand and Vietnam. With the active participation of these country HR organisations, APFHRM aims to serve as the umbrella organisation of all human resources institutes within the Asia Pacific region. It also aims at improving the quality and effectiveness of professional human resource management in the region. Further, it encourages and supports human resource professionals in creating and developing their own associations in Asia Pacific countries where they do not yet exist. Also, APFHRM provides guidance and assistance to all member countries especially with regards to their programs that will uplift the human resource management profession.

APFHRM strives to create a network of communities of practices in the region. It encourages national HR associations to identify research and report on invaluable lessons and stories of human capital management practices that will impact personnel, organisational and business effectiveness through the creation of values by different groups of human capitals.

IPM Sri Lanka has been the President of APFHRM in the past and currently occupies a Vice-President role.
APFHRM and World HR Congress

Based on the rotational nature of hosting, APFHRM will get the opportunity to host the World HR Congress in 2020. This is after the WFPMA World Congress 2018, to be held in conjunction with the Society for Human Resource Management (SHRM) Annual Conference and Exposition in Chicago, Illinois, US on 17-20 June 2018.

Reflecting its international origins and concerns, the event 'moves' around the world. The World Congress has been held since 1986 in the following cities: 2016 Istanbul, Turkey, 2014 Santiago, Chile, 2012 Melbourne, Australia, 2010 Montreal, Canada, 2008 London, UK, 2006 Singapore, 2004 Rio de Janeiro, Brazil, 2002 Mexico City, Mexico, 2000 Paris, France, 1998 Caracas, Venezuela, 1996 Hong Kong, 1994 San Francisco, US, 1992 Madrid, Spain, 1990 Buenos Aires, Argentina, 1988 Sydney, Australia, 1986 Washington DC, US.

We can clearly see that it has been held twice in Australia that covers the Pacific region. It was also held in Hong Kong and Singapore that covers the East Asian region. What has not yet covered in the Asia Pacific region is South Asia, which houses one-fifth of the world's population. That was our competitive advantage.
The bidding in Hong Kong

One key agenda item of the biannual meeting of the APFHRM held in Hong King last week was the selection of the host country for the World HR Congress 2020. Australia, the Philippines, Thailand and Sri Lanka were in the foray.

The bid from Australia was very impressive with the strong message of inviting to "come back" after the successful completion of two such events in the past. It could have been a logical choice of preferring a tested and known brand. The Philippines harped on the popularity of Manila as an established venue for global conferences citing many recent ones. Thailand's bid for me was the most "appealing" with a strong endorsement from the Government and also featuring infrastructure, nature and culture. We had a huge challenge.

I, together with Mr. Rohitha Amarapala and Mr. Dhammika Fernando, represented IPM Sri Lanka and we knew the tough reality. The current WPFMA President Peter Wilson, representing Australia, added a bit of biasness to the bidding process, with it tilting slightly towards them. The crux of the matter was a secret ballot afterthe presentations by all four bidding countries.

Each country in the APFHRM had a vote. Our logic and drive in rallying South Asian countries together really worked. Sri Lanka got the highest votes in a democratic manner which was acceptable to all. It was clearly a case of stress into success.
Benefits for Sri Lanka

Now the ball is in our court. We need to do justice for the Asia Pacific region by not only showing the organisational capabilities of IPM Sri Lanka but also showcasing Sri Lanka as the "Wonder of Asia". It will be a collaborative effort of IPM and other professional bodies representing multiple fronts.

The Postgraduate Institute of Management (PIM), being the nation's "management mentor", will be a partner to this endeavor. The Sri Lanka Tourism Development Authority (SLTDA) and Sri Lanka Institute of Tourism and Hospitality Management (SLITHM) also have already expressed their willingness to collaborate. The World HR Congress will show the world the potential of post-war Sri Lanka with its multiple investment offerings. Also, being the knowledge hub of South Asia with a very high literacy rate and other Human Development Indicators (HDIs), Sri Lanka can make an impactful impression among the global and regional participants of the event. Opportunities for knowledge-sharing, research collaboration and professional networking will be in abundance.
Way forward

Walt Disney said: "If you can dream it, you can do it." This is what keeps us going. As the logo of the event depicts, the national flower holds the globe, significantly depicting the island nation of Sri Lanka. Despite the bumpy rides we often see in political circles, our motherland has many things to be proud of. Surely, we will make the World HR Congress 2020 such a meaningful and memorable event.
(Prof. Ajanta Dharmasiri can be reached through [email protected], [email protected] or www.ajanthadharmasiri.info.)