Globally the world has moved from agrarian economies to an industrial economy (which still required people to be involved in strong physical effort) and now it's the information economy and perhaps the future will have the knowledge economy. Yet the word used to describe our contribution in these new economies is 'work' – a word that conjures images of toil and extraordinary effort – Pic by Shehan Gunasekara
---
On a typical Monday, when one drives to office and switches on the local FM radio, it's quite common to hear the RJs bemoan the advent of Monday: "Hang in there, the weekend is just five days away." The timeline on social media would also be full of the feeling of 'Monday blues' – a certain not-so-good feeling that's at its worst at the onset of the work week.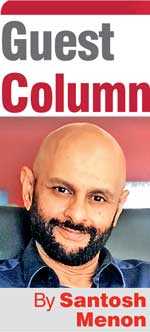 Then on Wednesdays the same RJs would remind everyone that the weekend is only two days away and that respite was just round the corner. Of course, every Friday the peppy RJ himself would be upbeat and excited! And seek to know from listeners what exciting things were planned for the weekend – the days away from daily stress of going to 'work'.

Then there is a concept of 'work-life balance' as if 'life' is somehow separate from 'work'. 'Life' as a concept in this case encompasses family time, leisure time, me-time and enjoyment time. As against 'work' which is not any of the things 'life' is.

I Googled the meaning of the word work itself and it reads "activity involving mental or physical effort to achieve a purpose or result". And the explanatory ensuing line states "he was tired after a long day working in the fields". And then it struck me – we are still using terminology bequeathed to us by our agricultural heritage.

Tilling the fields physically is huge effort. And our farmers especially in Asia who continue to do this, are our food providers and do yeoman service to provide daily food to our plates. Yet it's also true that the word work does create an image of hard effort and tough conditions.

Globally the world has moved from agrarian economies to an industrial economy (which still required people to be involved in strong physical effort) and now it's the information economy and perhaps the future will have the knowledge economy. Yet the word used to describe our contribution in these new economies is 'work' – a word that conjures images of toil and extraordinary effort.

In a sense the use of the word work has by itself become a self-fulfilling prophecy because we have ended up creating experiences in work places that confirm to people that indeed work is a four-letter word. An unpleasant experience that we need respite from every few days. One that is a necessary evil needed to be done for the sake of earning a means of living and surviving, in a world where lack of money is perceived to be worse than the lack of fresh air.

But would just changing the word 'work' be enough? Maybe not. There are many other things we need to do to make the lives of a vast number of people who go out daily to earn their livelihood in the corporate world better.

A cursory glance at some of the sales conference themes we have been briefed on and have delivered over the years are as follows 'impossible is nothing', 'reach for the stars', 'the winner takes it all'. And some of the jargon we encounter in many boardrooms such as a 'stretch target' – something we should be able to achieve by stretching ourselves beyond what we are capable of attaining.

Contained in these concepts are built-in huge stress. The stress that comes from trying to control the uncontrollable. The tyranny of quarterly performance combined with accountability to the stock market that are ruthless about growth and numbers. And declining economies in many countries means it's a zero-sum game and a volatile cocktail that create deadly stress in the lives of people who are employed in the corporate world. Unreasonable targets, late nights, long hours and unpleasant working environments make it very stressful for body and mind.

So, what are the other factors that make work a four-letter word?

1. A bad boss – A number one reason why people quit organisations. A boss who is unable to support his colleague. Bullies or demoralises his team member or subjects him or her to perceived unfair treatment.

2. Office politics – Systemic favouritism or a culture of creating and propagating fear as a means of getting best performance whereby employees turn on each other to secure their own positions and create a toxic environment.

3. No clear system of rewards – Good consistent work is either unappreciated or is perceived to not yield commiserate monetary rewards.

4. Effort of travel to and back from work – The distance to the place of work and the hardship of public transport makes the effort to come to work not worthwhile. Many people who travel from outskirts of city to main cities choose alternate careers that give them relative comfort of being closer to home or take away the agonising prospect of spending long hours in public transport.

5. Lack of purpose – Enough cannot be said about this as a reason. Do your employees wake up in the morning and want to come to place of employment day after day. Everyday. Very often employers are not able to imbibe a sense of purpose beyond the narrow reason of 'earning one's' livelihood'. Such a narrow reason though critical to their survival will not guarantee a sustained involvement of employees in any organisation. The young millennials especially are seeking a purpose to come to work every day.

The recent lockdowns have forced companies to get into the concept of Work From Home (WFH). Those products and services that don't require physical presence of staff to deliver outputs have continued to function – some feel in a far more productive way.

As an advertising company, we have experienced highly motivated responses from our teams. We not only continued delivering high quality outputs from our homes but have celebrated Vesak together as a team and even did an online fancy dress competition and put out a defiant song that says 'the virus came but we didn't stop'.

Use of virtual platforms such Zoom and MS teams and creation of WhatsApp groups involving the full team has made it easy to communicate priorities and take stock of the operational flows. The WhatsApp group thus created became a great HR tool for managing uncertainties and sending out reassuring messages and inspiring sentiments. Fact is now that life is returning to a new normal, we are seriously considering and evaluating merits of never returning to a common physical place to get projects done.

So, as we have this opportunity to take stock of what's the 'new normal'; let's start by asking some basic questions:

1. Why have a common physical space to travel to everyday? Why can't work happen from homes with project teams meeting in cafes or smaller organised work spaces or even at team member homes to discuss/brainstorm and create content as teams?

2. Isn't it time to do away with hierarchies that cause burdensome and inefficient processes that don't always add value to final product?

3. An organisational culture and language can easily be created by cohabiting common virtual spaces like WhatsApp groups. Is it time to recognise this and adapt?

4. To be motivated is to be able to feel that you can do it. You can achieve your goals. To be your best. To do what it takes. Whereas to be inspired is to be taken over by something unseen, something that devours you and makes you do inconceivable things that create something amazing. So, what would you rather be – motivated or inspired? As organisations, it's time to move beyond motivating personnel to achieve impossible goals and targets. These lead to an unnatural stress. Let's move to inspiring team members to do the impossible by their own volition and imagination.

5. Should we stop using the four-letter word – work? Shall we say 'pursuit' or 'creation' instead? Maybe this way we will start respecting the people who spend a large part of their day hoping to fulfil their potentials as professionals and not treat them as people who have no other option to earn their livelihood.
(Santosh Menon is a marketing communications expert with 20 years of experience in multi-national locations. He can be reached at [email protected])