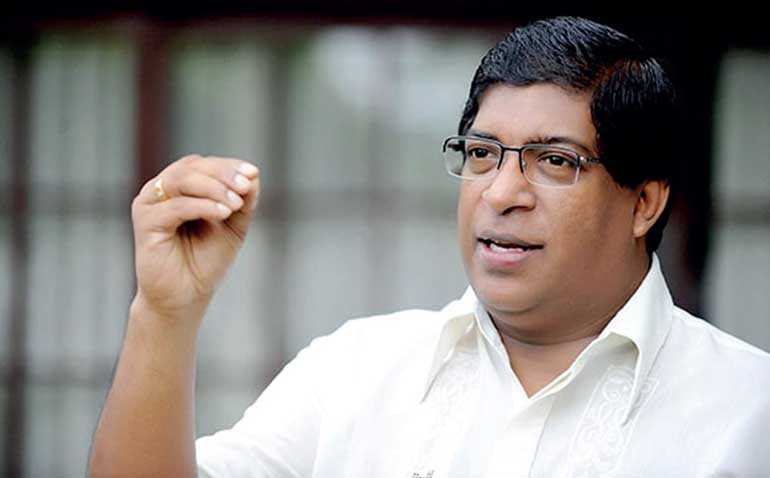 Power and Energy Minister Ravi Karunanayake
---
The sudden power-cuts during hot March made the public suffer and brought the power sector into public attention. Power was restored by Sinhala New Year, supported by factories closed for festive season and emergency power obtained.
However, the power situation remains critical and will remain so for a few more years. After the Easter Sunday attacks, most hotels run under capacity, reducing power load. The much-expected rains arrived late, lower than normal, resulting depleted water volumes in hydro-reservoirs.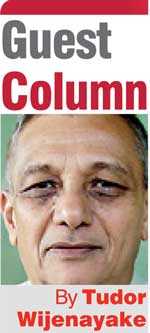 Power supply restoration was possible by re-commissioning 170MW capacity power plants from Private Power Producers (PPPs) who were disconnected on completion of agreements.
Ravi K's Cabinet proposals

The Prime Minister has instructed Ravi Karunanayake, who became the Minister for Power and Energy in January 2019, that he would be held responsible for ensuring a stable power supply in the country. The Minister submitted a number of proposals to the Cabinet for approval, but some sent shockwaves among the power sector and society is questioning whether his proposals really serve the country's interest.

The proposals include:



a. Purchase of 200MW of barge-mounted emergency power.

b. Establishment of four coal power plants, supposed to be according to CEB proposals for 2018-2037.

c. Reduce authority given to PUCSL.

d. Re-installation of CEB engineers' salaries suspended by Courts.

e. Changes to solar power purchase procedure
Barge-mounted power

In addition to recommencing existing power plants, the Minister proposed to purchase power from Turkish company Karatdeniz (presently operating a power-barge in Colombo Harbour) as an immediate solution with two barge-mounted power ships for two years, in Kerawalapitiya and Galle Harbours, each capable of supplying 200MW. After few hiccups Cabinet approved the procurement of 200MW of power at Rs. 24.98 a unit from the Kerawalapitiya barge plant for six months. But a second Cabinet paper increased the price to Rs. 26.20, a price still less than most power purchases from private producers.
Proposed four coal power plants

The Cabinet sanctioned a proposal submitted by the Minister for four new coal power plants, each of 300MW capacity, a total of 1,200MW, two plants in Norochcholai and others in Trincomalee. Three will run on "high efficient coal" while the fourth has been termed a "contingency power" or "buffer power plant".

The Minister claimed the coal power plants were based on CEB submitted Power Generation Plan 2018-2037, but not implemented due to conflict with PUCSL. The Cabinet also accepted another proposal to amend the Sri Lanka Electricity Act to weaken the industry regulator, PUCSL (more later).
Re-installation of CEB engineers' salaries

In the country CEB engineers are paid the highest salaries, including allowances exclusive for them. This payment was challenged in Court by the Lanka Viduli Podu Sevaka Sangamaya and the Court of Appeal issued a Writ of Certiorari quashing the 2014 circular creating the 'Unified Engineering Service' with a special salary scale 'E Salary Scale' for the engineers and engineering assistants being illegal. So far the CEB management has failed to implement the Court ruling.

Minister Ravi K submitted a Cabinet Paper seeking approval to authorise the Ministry and CEB to continue payment based on the salary scales paid in March 2019, supposed to maintain the status quo. The Cabinet paper claims 85% of salaries are allowances and seeks to maintain same until next collective agreement in 2021. The Cabinet is seeking advice of the Attorney General for a way out. The question remains, what is the Minister up to and what does the Minister expect from the CEB engineers in return?
Changes to solar power purchase procedure

PPPs are paid Rs. 25 to Rs. 40 by CEB for purchased power. Meanwhile the Solar Industries Association (SIA) claims the CEB is attempting to curtail solar power, the cheapest and cleanest power. The CEB has sent a Circular changing methodologies in accepting solar power from households. The SIA has appealed to the President, Prime Minister and Cabinet members to pressurise the CEB to withdraw the Circular issued.

The CEB circular proposes to terminate the sale of excess power produced by households. The CEB wishes to purchase total power produced at purchase price (Rs. 18/unit) and sell power at their selling price, reaching Rs. 45/unit, when consumption exceeds 185 units a month.

The Government implemented the 'Surya Bala Sangramaya' and during the past five years, solar power has added 250MW to the system at less than Rs. 18/kWh. Domestic solar is the fastest way with potential to add 200MW per year to the national grid.

The CEB wants to curtail new solar power projects over 50kW in size, produced by owners of large roof areas as factories. The decision is incomprehensible, as large solar panels would yield larger quantum of cleaner power and for CEB maintenance staff, a large factory would be more convenient than several households.

SIA claims 19,700 solar systems are in existence and over 10,000 are employed in the solar industry and the CEB's decision will kill the industry.
Creating power shortage

Since the completion of the final 300MW of the Norochcholai Power Plant in 2014, the CEB failed to commission or award contract for even a single major power generating plant, despite the demand growth by 150-200MW per annum.

CEB's failure goes decades back, when the first coal-fired plant proposed in the 1980s by the Mawella natural harbour was abandoned by President Premadasa when locals protested. Norochcholai was selected on recommendation of Japanese consultants, when the Church protested, CEB was happy to obtain power from Private Power Producers (PPPs) and no action was taken until Rajapaksa accepted Norochcholai in 2006. From 1990 onwards CEB purchases power from PPPs and is increasing.

The MOU for the Sampur Coal-Fired Plant was signed with India in 2013, and the final agreement was expected to be signed in September 2016; the issue was challenged in Court, the Secretary on President Sirisena's instructions informed Court that the Ministry was not going ahead with the Sampur Coal Power Project, ending the project.

During the Yahapalanaya regime CEB continued to blame the PUCSL for not accepting its proposed Power Generation Plan, who amended the plan to include LNG. Now, Minister has obtained Cabinet concurrence for CEB proposals.
PUCSL

The PUCSL was set up under the Public Utilities Commission of Sri Lanka Act 35 of 2002. But technical, economic and safety regulatory powers over the electricity industry were entrusted only on 8 April 2009, after amending the Sri Lanka Electricity Act. Now, the CEB which functions under the Power Ministry is a licence-holder of the PUCSL.

The CEB prepares a 20 year power plan every two years with proposals to commission new power generating plants to meet the country's demand. The PUCSL studies these proposals, amends some prior to approval. But the difference between the two organisations delays implementation. While the CEB prefers coal plants, the PUCSL backs renewable energy instead.
Power generation plan

The CEB's Generation Expansion Planning Studies 2018-2037 submitted to PUSCL has been analysed under eight different cases.

1. Reference case

2. Future coal power development limited to 1,800MW

3. No future coal power development

4. High demand case

5. Low demand case

6. High discount rate (15%) case

7. Low discount rate (3%) case

8. Energy mix with nuclear power development

As the Minister intends to accept "future coal power development limited to 1,800MW," the case is detailed below.
Differences between CEB and PUCSL

The Minister informed the Parliament: "There is a cold war between the PUCSL and the Electricity Board. Due to this cold war, our engineers have not participated in certain tender committees for four years. The PUCSL wants renewable energy and our engineers like coal power."

The CEB prefers coal power which they claim to be the cheapest, claiming energy cost for Norochcholai power is only Rs. 8.87 per kWh. This figure refers only to basic energy cost, without fixed and variable overheads. In the PUCSL published actual generation costs for October-December 2017 Lakvijaya power cost Rs. 14.53 to Rs. 14.74 per kWh excluding debt-servicing, since the loan for the plant is the Treasury responsibility. Thus Norochcholai power could reach Rs.18 per kWh.

Meanwhile, LNG generation cost based on the tender rate for proposed Kerawalapitiya LNG-powered electricity generation plant amounts to only Rs. 14.80 per unit. The figure includes fuel, operational and finance costs and also power plant owner's profit. Thus coal-based power being cheap is a poor lie manufactured by CEB, also environmental costs are not included.
Environmental aspects of coal

Coal is accused of being the most polluting fuel in the world. Main environmental concerns are:

Pollution, caused by emissions as sulphur dioxide, nitrogen oxides and mercury.

Greenhouse gases and emissions leading to smog and acid rain contributing to global warming.

Burning coal results fly-ash released into atmosphere (some captured in the chimney) and bottom ash (removed from the bottom of coal furnace). Experience in Norochcholai is only a small part of fly-ash is captured in the chimney and balance is released to the atmosphere. Bottom-ash is stockpiled at the site (for how long?). Villagers around Norochcholai complain of coal dust in their houses and gardens from the bottom-ash mountain blown by the wind. Cabinet in January 2018 approved the construction of a 15m high wind barrier around the coal yard and ash yard costing Rs. 723.7 million.

India possess large coal reserves and a coal based industry employing large numbers. But faced with acute environmental challenges, India has retired around four gigawatts of coal power plants during the past two years and is marching toward LNG.
Best ever power offer to the country

The proposal made by Hong Kong-based Energy World International Ltd. was the best private investment proposal ever made for a LNG-based power generation plant of 1,200MW capacity in Hambantota Port. The submission was in response to a request for proposal, made in July 2012, inviting investments at Hambantota Port.

The company offered to construct a LNG hub terminal comprising of loading/unloading facility with 80,000 cubic metre storage tank and a combined cycle LNG power station of 1,200MW capacity with a total investment of $ 1,350 million.

The plant on a 30-hectare land leased for 25 years from SLPA in four stages of 300MW each at two-year intervals over a period of eight years to produce 1,200MW. First 300MW plant to be operational within two years of award, by end of 2016.

The electricity from the plant was offered at $ 0.07 or Rs. 12.60 per kWh at current prices ($ 1 = Rs. 180). Today Norochcholai power cost Rs. 18 and diesel power costs between Rs. 25-40 per unit.

Introduction of a single 300MW of LNG plant from the investor would have saved Rs. 40 billion annually, eliminating diesel generation.

The best offer the country ever received failed to materialise at discussions as the Secretaries entrusted with negotiations continued to make unreasonable demands from the investor or did the investor fail to offer the proper bribe? The company was able to make an attractive offer as it owned LNG production fields off New Zealand and Australia and was intending to market LNG to other countries operating from Hambantota.
Ravi Karunanayake's proposals

The Minister is in a dilemma, entrusted with the responsibility of ensuring uninterrupted power to the country, not an easy task after decades of negligence. If the President advices him to switch over to LNG, moving would not be easy as absolutely no preparatory work had been done. The existing 300MW Kerawalapitiya power plant established in 2006 has the capability of running on diesel or gas, but possibility of running on gas resulting in savings was not explored.
Moving over to LNG would require an unloading and storage facilities away from the existing harbour, needing a new harbour close to users of LNG. The CEB's Power Generation Plan now accepted by the Cabinet also requires LNG plants of 300MW each in operation by 2019, 2021, 2026 and 2027. The first new coal power plant would commence operations only in 2023. Thus most urgent would be establishing LNG unloading and storage facility, preferably near Kerawalapitiya.
Establishing coal power plants

The Minister has received Cabinet acceptance for coal-based power plants, but the basis of award is unknown. There are MOUs signed with India, China and Japan for such plants and two plants are expected in Norochcholai (superefficient coal). Establishing a coal power would take minimum four years, even without a tender process. The project requires environmental acceptance and getting same would be near impossible with the experience in Norochcholai.

Even if fly ash is controlled with superefficient coal, getting rid of bottom ash remains a problem. Up to date not even a single kilo of bottom ash has been used for any purpose or disposed. Thus the country will be inundated with mountains of bottom ash.

Alternatively LNG gives cleaner energy and especially with the possibility of utilising our own gas from Mannar, getting acceptance for a coal-based power plant would become impossible task.
The Minister and the CEB

It is common knowledge that CEB high-ups make money from coal purchases and purchasing power from PPPs. In addition, delays in implementation of projects require additional power purchases from private sector. CEB's engineers are kept quiet by offering high salaries which were rejected by the courts. The Minister is under pressure to award contracts for power plants and got Cabinet acceptance. The Minister by offering CEB engineers their former salaries and trimming PUCSL expects cooperation from CEB staff, but for what?
Wavering Government policy

In 2015, former Minister for Power and Energy, Patali Champika Ranawaka presented 'Sri Lanka Energy Sector Development Plan for a Knowledge-based Economy, 2015-2025'. The plan proposes to increase generation capacity to 6,400MW by 2020, by generating 1,000MW of electricity using gas discovered in Mannar and to convert existing thermal plants to natural gas; also to generate 1,114MW with renewable power as bio-mass, mini-hydro, solar and wind-power.

However, next Minister Ranjith Siyambalapitiya took no action to implement predecessor's proposals. The tender for Kerawalapitiya 300MW LNG plant closed in April 2017, was subjected to a tug-of-war between the lower priced (Rs. 14.98 per unit) local company Lakdhanavi, while China's Golden Concord Holdings offered (Rs. 15.97 per unit). Secretary Batagoda intervened on behalf of the President and the tender still awaits finalising. If the tender was awarded within six months (October 2017) to the lowest tenderer, the plant would become operational by October 2020.

When conflicts arose between CEB and PUCSL, Ranjith Siyambalapitiya and the Prime Minister did nothing to address the impending crisis. The President was against coal power at the beginning, but later changed to "not against hi-tech (Japanese), environment friendly coal power". It is the wavering attitude of the Government that created the current situation.

Establishment of new power plants coal or LNG will take minimum three years, meanwhile electricity consumption would increase by 150-200MW per year, requiring more private power plants and retiring existing high cost plants would not be a reality.

If the Minister manages to get acceptance for the three coal power plants, the country would be subjected to worst possible environmental problems. The heat and dust will reduce rainfall, temperatures would increase and respiratory problems to populace. When the world is moving towards clean energy by 2050, three coal power plants with 25-year life would be condemned by the entire world and the country could become subjected to various restrictions.
The way forward

The entire world is moving away from coal towards LNG, hydro power, solar and wind-power. As solar and wind could vary with climate, the country needs a firm power base, hydro-power resources are fully utilised, thus the only viable alternative is LNG, the clean power.

But time is critical. The fastest way is to call worldwide proposals for power supply as done for Hambantota Port, responded by Energy World International. The world has a surplus of LNG, especially in the Far East, with a number of companies holding extraction licences valid for a specific period, meaning need to extract maximum possible early. Hambantota and Trincomalee offer ideal bases for unloading, storage, reloading and distribution around South Asia and East Africa, also establishing power plants. But negotiating such contracts would require honest, knowledgeable staff as well as politicians.

A mid-way proposal would be a Japanese high-tech coal-power plant, more expensive than others, but of much higher quality and funding would be at very low interest around 1%. But bottom-ash would still be a problem. In addition China could be invited to expand the proposed 300MW power plant to a LNG storage complex, also to accept Mannar gas when becoming available.