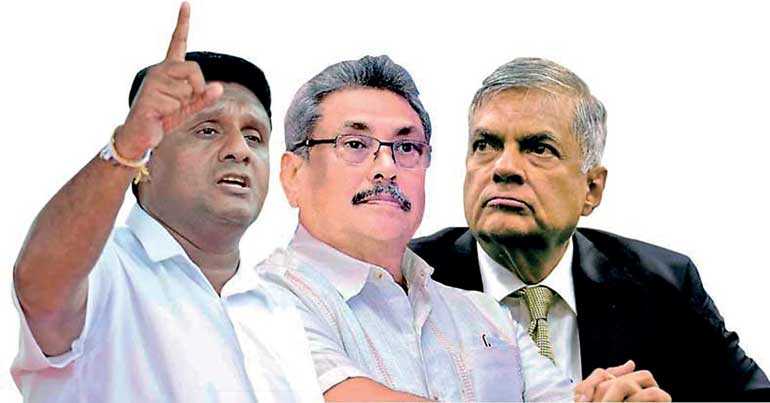 Sri Lanka will see totally new brands fighting at the Presidential Election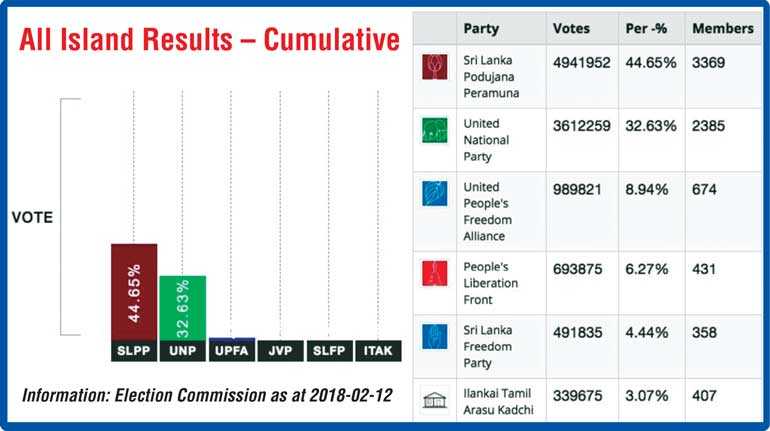 Whilst Sri Lanka is in election mode, the thought crossing every Sri Lankans mind is, 'Will the 10 February 2018 elections behaviour be repeated?' given the head-start that 'Brand Gota' has got.

Whilst many are speculating who will be the fighter brand for 'Brand Gota,' strictly from a marketing point of view to me, the most important behavioural change seen in the country in the last four years was the courage and decisiveness of the Sri Lankan voter.

Even though a Sri Lankan voter may look very submissive, quiet and gentle, on 8 January 2015 we saw how the Sri Lankan voter became the agent of change on the theme 'Yahapalanaya'. Just three years after that on 10 February 2018 the same voter came out and selected the SLPP, which secured a commanding 44.6% beating the UNP at 42.6%. In my view I have no hesitation to say the Sri Lanka will once witness history being recreated at the Presidential Election 2020.

The radical Sri Lankan consumer

This kind of radical Sri Lankan household behaviour seen in the last three to four years has been not only in politics but also but also in consumer brand marketing.

For instance when Unilever launched Walls Ice Cream in Sri Lanka, statistics revealed that almost Rs. 2 billion was invested by the company on promotional work and brand marketing, but sadly it failed to get consumer traction where ultimately Unilever decided to divest the brand.

Incidentally, the production plant of Walls Ice Cream was bought by a Sri Lankan company – the brand Cargills has today over a 30% market share with just a fractional marketing spend that was invested by Walls Ice Cream's brand marketing team.

This is a classic example of the power of the Sri Lankan consumer. We saw a similar behaviour around three months back post the Easter attack where certain company brands were boycotted in retaliation to the attack.
Why the change?

If we do a reality check of Sri Lankan consumer purchasing as per Nielsen data, the overall household volume consumption has dropped in the whole of 2017 and in 2018 up to Q3 (for almost two years in a row).

The first quarter 2017 by -3.3%, the second quarter by -3.1%, the third by 3.7% and in the final quarter by -8.2%. Then in 2018 the volumes dropped by -11.7%, a staggering -14.5% in Q2,2018 and then reversed to -8.3% in Q3 but now things are beginning to improve with many tax breaks given by the Government than household income increasing. However, in the last three to four months things have once again become very challenging to the Sri Lankan household with even consumption of milk powder getting affected.
Elections 2020?

In my view, after examining the household purchasing data on the last quarter and the disastrous financial results seen in the corporate world where almost every company is making losses as per media reports, we are sure going to see drastic voter behaviour at the next election.
Tourism – Disaster by Government

Even after repeated information of the Easter attacks, the Government not taking any action resulted in almost 250 killed and 500 injured very badly. Even as we speak after four months there has been no response from the Government on accountability.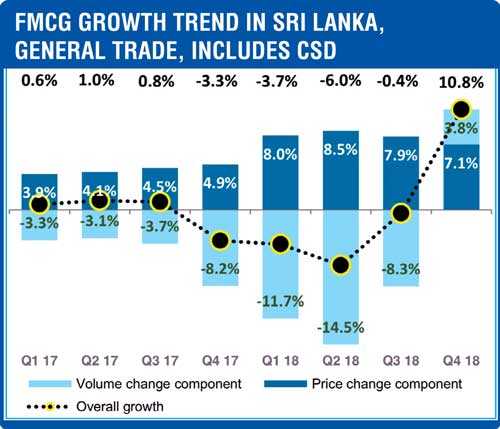 This has resulted in tourism arrivals declining by 70.8% in the month of May from 129,466 to 37,802 as per data shared by the relevant Government authority, whilst in the month of June the decline was 57% (from 146,828 to 63,072 visitors). The July numbers further improved statistically to a decline of 47% to 115,000 whilst the revenue per available room (which we call Revpar technically) has dropped by almost 50% as most travellers coming into Sri Lanka today are budget travellers. Almost all large tourism and leisure companies have made dents in their profitability between 150-450 million in the June quarter 2019. The much-wanted global advertising campaign has not broken out even after four years since this Government came to power, whilst there is over Rs. 5 billion sitting in bank accounts for the last four to five years, which adds to the fact that the current Government is inefficient and needs to be changed.

Last week's media reported that the AG's Department had questioned the process of the award of the tender of the global advertising campaign, halting the process for the second time, which adds fuel to the fire.

Latest industry feedback reveals that the soft loan extended to the industry post the Easter attacks has hit a snag, hence implementation has become an issue, resulting in the SME sector being taken to the wire, which will lead to further irrational behaviour by the voter in the elections to come is my belief.
Buying brands that deliver

If we move to the 10 February election result, some key points emerge from a consumer behaviour point of view. One of them is how much a new brand can be stretched. The logic being that in just three years, brands selected at the Presidential Election, brands selected on 8 January 2015 and General Elections in August 2015 have lost their flavour and competitor brands (disposed of on 8 January 2015) have been once again been selected by consumers. It will be interesting to find out if the brand power of Mahinda Rajapaksa moved consumers or whether it was the product attributes like cost of living, corruption, etc. that moved voter behaviour.

Some are speculating the behaviour demonstrated on 10 February was a protest vote against the current Government. This can be researched by a brand equity study typically in marketing. It will be interesting to find out what impact the sluggish economy will have on the 2020 Presidential Election campaign.
What does Colombo want?

Another interesting behaviour pattern seen on 10 February was that the brand that faltered across the country (UNP) has picked up in Colombo. It is very clear that the consumers of Colombo make purchase decisions on a different parameter to the rest of the country. Democracy, freedom of media, equality in front of the law can be strong triggers that induce brand selection in Colombo whilst out of Colombo will be more basic criteria like cost of living, roads built, etc. I guess. Hence, making decisions on the market sentiments of Colombo will be inaccurate.

We see that a typical rural consumer, who is almost 80% of Sri Lanka, has a mindset that is totally different in nature, hence the product offering to this consumer group has to be very different to Colombo, which the brands fighting for the Presidential Election 2020 must be aware of – especially brand Gota, given the media reports appearing in the weekend media.
Intelligent voter

A key point to note is that the theory SOV (share of voice) = SOM (share of mind) = SOMkt (Share of market) does not hold ground when it comes to a Sri Lankan voter. I guess now people want delivery of promises on the ground than just 'noise,' which means the Sri Lankan voter is maturing.

The people who were vociferous on the media on pre-2018 elections via talk shows and on stage lost their seats. A classic example is Attanagalle (Chandrika Kumaratunga), Kalawewa (Duminda Dissanayake), Tangalle (Mahinda Amaraweera), Beruwala (Rajitha Herath), Kotte (Harsha Perera), Moratuwa (Eran Wickramaratne), Panadura (Mahinda Samaraweera), Hali-Ela (Dilan Perera), Kaduwela (Sujeewa Senasinghe), just to name a few.

All these geographical areas were campaigned by the heavyweights on media in 2018 but could not garner voter support. What it means is that the Sri Lankan consumer is not just media driven but they think and analyse before making a purchase decision (in this case giving a vote). A point to add is that a typical Sri Lankan may not be very vocal or vociferous in their external behaviour but they are prepared to take serious decisions and instil change.
What next?

In terms of what next, from a political front, I guess within the next few week the dynamics will unfold post the UNP declaring the presidential candidate 2020. But one thing is clear – the Sri Lankan voter will take drastic decisions at the 2020 elections given the behaviour we have seen of the Sri Lankan voter in the last four to five years.

(The writer is an award-winning marketer, twice selected as the 'Marketing Achiever of Sri Lanka' by the Chartered Institute of Marketing and recently he was selected as the 'A.P.J. Abdul Kalam – Pride of Nation' award winner. The thoughts are strictly his personal views.)