The two minority communities, Tamils and Muslims, and their ethnic political parties are once again caught up in a dilemma in choosing one or the other of the two leading presidential candidates, Sajith and Gota.
The Tamil parties drew a set of 13 demands, submitted to both candidates and promised to support the one who accepted them. However, the ideological framework within which those demands were drawn obviously meant outright rejection by both candidates.

It would have been political suicide for any of them to have accepted the Tamil charter. Without any other option, the largest of the Tamil groups, TNA, and TELO have decided to support Sajith come what may. It appears that majority of Tamil votes including those from the highlands will go to Sajith.


The two Muslim parties, SLMC and ACMC, have already surrendered their support to Sajith unconditionally, while a few politically prominent Muslim personalities are openly and tactfully campaigning on behalf of Gota.

It is disheartening to observe from recent experience that, unlike the Tamil leaders, many of whom put the interest of their community before private aspirations, their Muslim counterparts, almost without exception, are primarily motivated by promoting their own personal interests at the expense of the community.

It is disappointing to note, that a community that once produced such dedicated and visionary leaders like Razik Fareed and Badiuddin Mahmud is now left with a leadership bereft of any vision and policies to lead the Muslim community especially in a challenging political, economic and social environment, both locally as well as globally.

Within Sri Lanka, the political, economic and social problems of Muslims have metamorphosed and turned into an existential crisis since the end of the civil war in 2009. The symptoms of this crisis were already observable decades before 2009, and emergence of Bodu Bala Sena in 2012, but they failed to draw the attention of Muslim leadership.

Political Buddhism, with its 19th century antecedents, has been transformed into a Buddhist supremacist movement by BBS and its similarly militant Buddhist cohorts like Ravana Balaya. This movement has assumed an uncompromising anti-Muslim stance and is bent on crippling the political influence and economic competition of Muslims in the nation's polity and economy.

The Aluthgama riots inn 2014 set the pattern of its destructive march against Muslims. The Easter Sunday massacre in April this year, carried out by a bunch of Muslim lunatics against Christians provided a much needed justification to BBS violence against Muslims.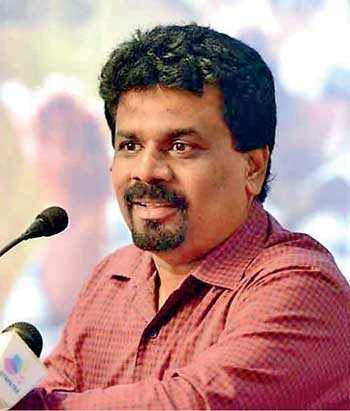 On minority issues, AKD was the first and only leader who, without rejecting outright the 13 demands from the Tamils, expressed his willingness to accept the more reasonable ones and readiness to find a solution


What is startling about this anti-Muslim phase of Buddhist supremacy is the tacit blessing it carries from the Government, Opposition and security forces. There was total inaction by both the Rajapaksa Government before 2015, and Wickremesinghe Government after it in the face of raging anti-Muslim violence.

In all theatres of violence such as Aluthgama, Ampara, Gintota, Digana, Negombo, Minuwangoda and so on the security forces had remained just onlookers. Very recently, and this time against Hindus, when BBS secretary disregarded a court order and staged his cremation drama in the precincts of a Hindu temple in Mullaitivu security forces did nothing to prevent him and his colleagues.

There is a culture of impunity in the country that has given uncontrolled freedom to the supremacists to do whatever they want against minorities.

After studying the Aluthgama riots, Emeritus Professor of Sociology Tudor Silva candidly states: "Apparently through its highly publicised interactions with the President of Sri Lanka at the time, and with his brother, the Secretary of the Ministry of Defense, the BBS gained a degree of immunity from possible interference from the police and other security forces, even when it engaged in the promotion of ethnic and religious hatred and acts of violence such as throwing stones at a foreign mission or violent anti-Muslim demonstrations in front of a Muslim business." (John Clifford Holt (ed), Buddhist Extremists and Muslim Minorities, New York: Oxford University Press, 2016, p. 123). That immunity continues even today.

What is even more disturbing is the warning issued to Muslims by some political leaders and their mouth pieces that if Muslims fail to vote their candidate there would be a terrible backlash against the community.

And one of the leaders of BBS has admitted that his organisation has temporarily paused its anti-Muslim demonstrations and violence to allow its preferred presidential candidate to gather Muslim votes. One shudders to contemplate the consequences for Muslims if that candidate fails to win.

Now, after experiencing successive episodes of bloodshed, destruction, losses, and even death at the hands of supremacists and their hirelings, which were silently approved by past and present regimes, each of those regimes are shamelessly asking minority voters to support their respective presidential candidates.

By voting to any of them, minorities are not going to get amelioration to any of their difficulties, because both candidates have not declared their position clear in relation to Buddhist supremacy, and those supremacists are not willing to compromise on their ultimate goal of enslaving the minorities to attain their Buddhist Valhalla.

To them plural democracy is anathema, and would even prefer a military dictatorship to realise their aspirations. Against such a threatening scenario what is the most sensible way out for the minorities?

Fighting violence with violence is suicidal to Tamils and Muslims. Tamils must have learnt this through the hard way, and Muslims cannot even dream about that option. Both are compelled to search for an alternative political force with its roots buried within the majority Buddhist community but cherishes democratic pluralism.

So far, NPP has kept away from all religious and ethnic prejudices and considers everyone a Sri Lankan first bestowed with equal rights and obligations. NPP is the rising New Left, which is different from the pre-Cold War traditional left.

While guaranteeing democratic freedom, NPP's economic policies are primarily people focused and not market focused as they are now. This does not mean that it is anti-market and pro-state. With a non-aligned foreign policy and a policy of affordable and participatory economic development, NPP appears to be on the right track. It is the only party that gives priority to issues on income and wealth distribution.

On minority issues, AKD was the first and only leader who, without rejecting outright the 13 demands from the Tamils, expressed his willingness to accept the more reasonable ones and readiness to find a solution. NPP, unlike the two major parties, has a genuine commitment to reach national consensus on the ethnic issue.

With all this, NPP is certainly not going to win the presidential race, but its hands need be strengthen to grow as a strong and alternative force in the next Parliament. Given the current communal and religious turbulence, NPP is the only hope for the minorities to live and thrive in this country with dignity and honour. They should therefore cast at least their preference votes to AKD. Those votes are certainly not a waste.

(The writer is attached to the School of Business and Governance, Murdoch University, Western Australia.)