A plea for national priorities, principles, policies and procedures
On Easter Sunday, 21 April 2019, suicide bombers from an extremist group caused carnage in six separate locations in Sri Lanka. Over 250 lives were lost and as many injured. The magnitude and co-ordination of their operation indicate several months of preparation by many people. Since then, Government has brought some semblance of control to a dangerous situation. However, the authorities' lack of foresight and preparedness that allowed organised mob attacks three weeks afterwards, points to a situation far from safe and stable.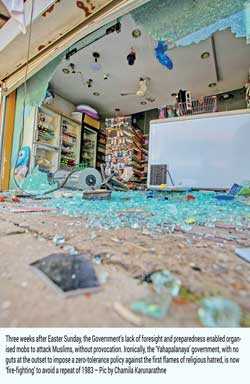 Many helped with the immediate needs of the bereaved, injured and rebuilding. Such immediate humanitarian response to the carnage was necessary. Sri Lanka is good at fire-fighting. But, we must look to prevent these fires.

This tragedy confirmed that systems are in complete disarray, from the pathetic political climate to state services such as administration, security, defence and education. The underlying weaknesses have exacerbated over years, ruled by party politics of each period. Today, we live in a country without national priorities, principles, policies or procedures, and no national identity. We have lost faith in the national leadership of all hues that is currently on offer.

This article will focus on the fundamental weaknesses in our systems of governance and their interconnections, as exposed by the Easter Sunday carnage, which we must address before they collapse completely.
Well-defined framework

To move Sri Lanka forward, we need a well-defined framework of priorities, principles, policies and procedures that hold our political leaders and decision-makers accountable.

The framework needs to first identify correct national priorities.

Priorities – Sri Lanka's priorities should be the people and planet within a Sri Lankan identity that embraces its multicultural diversity. People's representatives in Parliament, Provincial Councils and Local Authorities are elected to serve the people and planet, not to be served by them.

Instead, national priorities have become politicians and the powerful, consolidating their power through divisive politics based on ethnic, religious and other differences, along with degradation of the environment through ill-thought, unviable projects with high kickbacks. We have allowed them undeserved privileges they now take for granted. Every citizen who uses political connections for personal benefit encourages a system that prioritises politicians' power and not the people as a whole.

Available information points to several politicians having prior knowledge of the planned attacks. Those who knew failed to prioritise the people's safety and issue warnings to potential targets. In the initial aftermath of the attacks, political leaders' safety was prioritised over vulnerable sub-populations, which enabled the organised mob attacks three weeks later. This tragedy emphasises their self-seeking priorities.

In order to address priorities, the principles by which we should abide must also be specified.

Principles – we no longer abide by principles such as integrity, accountability, unity, impartiality and sustainability. Instead, corruption, irresponsibility, divisiveness, favouritism and environmental degradation have become the norm.

For example, in recent years, extremist thugs have attacked several places of religious worship, churches, mosques and temples, around the country. However, governments without a principle of unity, did not take firm action against perpetrators. With no principle of accountability, will security personnel who did not avert the organised mob attacks in Minuwangoda, Hettipola and elsewhere be held accountable? With no principle of impartiality, politicians get their favourites in police custody released on bail or pardoned, while the less connected languish in remand or jail.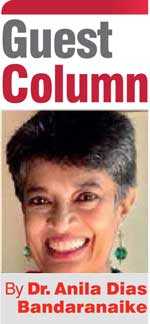 Lack of principles has led to a lack of trust in any government's ability and willingness to protect minorities. Neither ministers nor officials appear to be held accountable for inaction or not discharging their responsibilities. Such lack of principles created an enabling environment for this carnage to happen.

All Government policies must conform to our chosen principles to address priorities.

Policies – This tragedy is a fallout of a lack of policy direction in many sectors, for example, co-existence, education and security.

Sri Lanka had several ministries for national co-existence under many names for years, but never established a zero-tolerance policy against religious/racial hatred. Consequently, there has been no security policy in place for such situations. This is essential for harmonious co-existence in a multi-racial, multi-religious country like Sri Lanka. Already, we faced backlash from this tragedy. Three weeks after Easter Sunday, the Government's lack of foresight and preparedness enabled organised mobs to attack Muslims, without provocation. Ironically, the 'Yahapalanaya' government, with no guts at the outset to impose a zero-tolerance policy against the first flames of religious hatred, is now 'fire-fighting' to avoid a repeat of 1983.

In the past, the Education Department regulated all schools. Today, with no articulated education policy on private educational institutions, several 'international schools' function unregulated, as businesses. Did the perpetrators imbibe their destructive ideology in unregulated, local educational institutions where curricula and syllabuses went unmonitored? It is ironic that, after long neglect, there is a sudden move to regulate madrassas, but not other private educational institutions. Is this policy or fire-fighting?

The lack of a higher education policy on private degree awarding institutions was already felt with the SAITM fiasco, but never addressed. It has hit again, with questions now being raised about the Islamic university in the Eastern Province which has been constructed unquestioned for many months.

These examples emphasise that, without clearly articulated policy in each sector, decisions are ad hoc and inconsistent, at best, and highly detrimental to Sri Lanka, at worst.

Identified policies need adequate procedures for their implementation. Procedures must be put in place to provide for delegation of responsibility at every level, from the policy-maker to the implementer, together with stable, modern systems that ensure supervision, monitoring and follow-up at each level.

Procedures – Systems and procedures for delegated authority from centre to periphery no longer seem to function.

Successive governments since independence have slowly, but surely, politicised the public service. Senior bureaucrats are no longer expected to provide independent advice, but rather, to kowtow to their political masters. Government institutions have been destabilised by lack of institutional memory, continuity and clear lines of command, when bureaucrats are transferred at whim, if purported to be too independent or partial to their previous political masters. Consequently, those at the top are so busy watching their backs or fighting each other for position that they function in a vacuum, far removed from ground reality. In this vacuum, procedures for delegation of authority, supervision, monitoring and follow-up appear forgotten at every level. Lack of procedures and clear guidelines to fill senior posts saw such positions changing hands like musical chairs. Within Defence alone, since January 2015, Sri Lanka has had five Secretaries of Defence, four Chiefs of Defence Staff, three Army Commanders, three Air Force Commanders and five Navy Commanders! So many changes have now ended in criminal charges against the IGP and former Secretary of Defence.

Bombs detonated by family members in the vicinity of suicide bombers' homes points to their knowing of the planned destruction. Sri Lanka's administration system comprises 14,022 Grama Niladhari (GN) divisions at the periphery within 331 Divisional Secretariats (DSs), within 25 Administrative Districts. GNs report to their DSs, who, in turn report to their District Secretaries (Government Agents), who report to the Secretary, Home Affairs, as well as the President, himself. Each GN is delegated authority for all households in his Division. When on survey during my tenure in the Central Bank, the GNs I worked with knew every family under their purview. 15 years later, has the entire administration and communication from the periphery to the centre so deteriorated, that no one at the administrative centre was capable of taking informed action against these nefarious activities?
New thinking and leadership

Examples taken to illustrate points are entirely from the recent tragedy. Many other examples exist. It is time to take stock of the unmitigated disaster we have created for ourselves. We must move out of 'fire-fighting' mode, to one of monitoring and follow-up that prevents fires. It is also time for all political parties that have been around for over 60 years, to retire en masse, unless they can demonstrate new thinking and leadership to move beyond their now clearly demonstrated 'used-by' dates.

It is not too late. We can learn from this tragedy. Let us stop the blame game and hold 'all' political, bureaucratic, community and religious leaders accountable. First, let us commit to zero tolerance of corruption, irresponsibility, favouritism, divisiveness and environmental degradation in our leaders and decision-makers. Next, let us work in unity and support them, to rethink, rejuvenate and rebuild modern, efficient systems, underpinned by a framework of specific priorities, upright principles, clear policies and effective procedures, to serve and protect us citizens and our environment. Let us try to find the right leadership to put these systems in place soon.
(The writer retired as Assistant Governor of the Central Bank of Sri Lanka in 2007.)