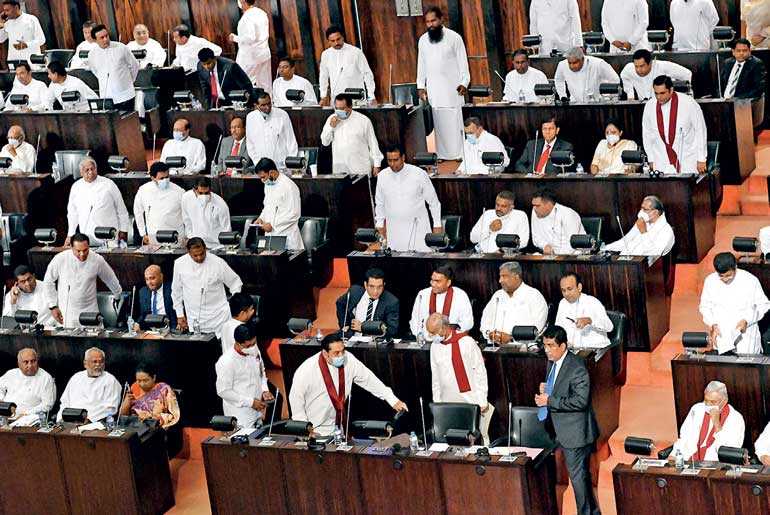 It is still early days for the Government. If it could reassess, rectify and improve, Sri Lanka could still be optimistic of better times in the future – Pic by Shehan Gunasekara
---
A month has passed since the Parliamentary Elections. In terms of its life, over 1% has already been consumed. While it's still in early days, it could still be evaluated based on the initial signs of direction.
First and foremost, the handling of the COVID-19 outbreak should be commended although the measures were implemented from March onwards, well before the current Government was formed.


The correct fiscal policy
Secondly, it is heartening to note that the Government has well understood that of the two deficits faced by Sri Lanka, it is the trade deficit (or external current account deficit) that needs immediate attention and not the fiscal deficit.



While on one hand the Government is keen to develop local industries with an eye on import substitution, certain imports have been restricted. On the other hand, fiscal policy is expansionary in nature, by maintaining the tax concessions announced late last year.

While some are concerned about the increase in fiscal deficit, I agree with the Government's rationale that, at this point in time the economy needs to be revived. The economic slowdown from fiscal tightening over the last few years have been aggravated by the COVID-19 related repercussions. Therefore, it is imperative that concessions are provided and an economic recovery is facilitated.


Import substitution and export strategy may have limited success
As for the export promotion and import substitution intentions, there are both positives and negatives. The focus on agricultural items and other traditional items such as batiks is positive in the short term but would only succeed in an incremental growth in the exports and is unlikely to trigger a transformational improvement.

In other words, these measures could push the per capita income from the current $ 4,000 to around $ 5,000 or 6,000 over the next 10 years but probably not more. It could push Sri Lanka's middle-income ceiling a bit higher, but it wouldn't break the ceiling to move towards the upper income category.

The import restriction measures would also help to address the issue of the external current account deficit in the near term. However, the abrupt nature in which it is implemented have created stress on multiple segments. This was expected as the Sri Lankan economy is heavily import dependent.

While the current political stability may be able to resist the pressure to an extent, it is unlikely to maintain for too long. Therefore, I expect the restrictions to ease once foreign earnings (especially tourism) starts to recover. Thereafter, the restrictions should be reintroduced more gradually with a view to sustainably improve the external current account deficit over the next five years.


Pitfall of Constitution tinkering
There is no doubt that if there are impediments to smooth governance from the Constitution, such obstacles need to be rectified. However, getting dragged into a long-drawn, contentious Constitution debate could only distract the Government from pursuing a decisive economic development agenda.

History shows that Sri Lanka has been meddling with the Constitution 19 times over the last four decades, while more stable nations which achieved better economic prosperity during the same time would have hardly got distracted by their respective constitutions. Therefore, one hopes that the Government would not waste much time or resources on this matter and just quickly amend the major obstacles hindering the development agenda.


A single world class university is better than many mediocre ones
It is heartening to note the emphasis given on education by the Government policy. However, in terms of higher education, the measures suggested do not seem to be the best. Having multiple regional universities or private universities could facilitate a higher percentage of students entering universities, but it is unlikely to discourage brain drain – the brightest students leaving for top global universities.

Instead, a single large university that meets global standards could be more desirable in terms of avoiding brain drain and even to trigger a 'reverse brain drain'. Such an initiative would boost Sri Lanka's image and would play a key role in attracting investments and talent.

In view of the fiscal constraints, a public-private partnership model could be pursued but as seen in the best global universities, the significant ownership/stake of the Government in the university would be paramount.


Absence of a clear foreign policy is the major drawback
As I have emphasised in my articles over the last two years, the 'game changer' for Sri Lanka could be triggered by its foreign policy. The Government has announced that it would pursue a 'non-aligned' foreign policy. That's fine.

But what Sri Lanka should realise is, whichever country is willing to purchase products and/or services from Sri Lanka (preferably more advanced/value added new items) should deserve well thought out, and carefully assessed special concessions from Sri Lanka.

It is through such a pragmatic strategy that Sri Lanka could ensure a captive market for advanced products/services from Sri Lanka and thereby attract right investments (other than the real estate related investments which we have attracted over the last 10 years) and reverse the brain drain to a brain gain. The 'captive buyer' would significantly ease the risk taken by the investors. The US-China trade war has converted this opportunity to a real possibility, only if Sri Lanka could play its cards well.

In the absence of such a foreign policy, advancing in exporting new products/services in large scale would be almost impossible. With stiff competition in global markets, Sri Lanka may only succeed in overtaking established players in a handful of cases and that would not be sufficient to make a significant impact on the overall economy. Hence, Sri Lanka is unlikely to break the middle-income ceiling and advanced towards $ 10,000-15,000 per capita level even in 20 years in the absence of such a foreign policy.

It is still early days for the Government. If it could reassess, rectify and improve, Sri Lanka could still be optimistic of better times in the future. All eyes would be on the budget due in November. I hope that some of these concerns could be addressed by then.
---
(The writer can be contacted on [email protected])
---