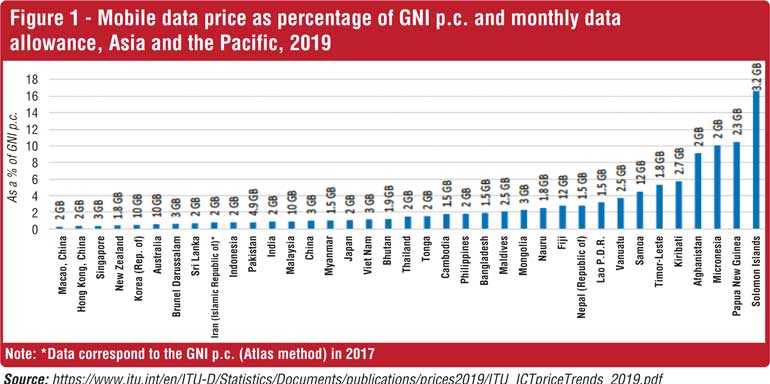 ---
A great majority of users in Sri Lanka access the internet through mobile networks. Therefore, it is important to examine data on the pricing of mobile broadband plans. The UN body responsible for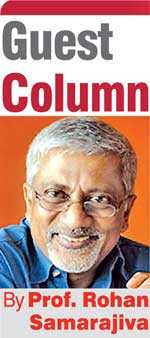 telecommunication, the International Telecommunication Union, collects, analyses, and reports comparative data on prices and affordability.

Its latest report has just been published, showing that Sri Lanka's prices are lowest for Asian middle-income countries, and the world. Yet, internet use is low (below 40% of households) as was painfully evident during the COVID-19 curfew.
Sri Lankan mobile data use is affordable
Because most of the inputs for the provision of mobile data services are manufactured by a few global suppliers and because the local labour content is low, the differences between the costs of providing mobile data service in developing markets is not dramatically different from that of supplying those services in developed markets. Yet, prices are significantly lower in countries such as Sri Lanka and Indonesia. This has been explained in terms of a Budget Telecom Network Business Model, somewhat analogous to the budget airline model whereby airlines such as Air Asia offer significantly lower prices even when the costs of inputs (except labour) are not radically different.

Sri Lanka offers 2GB of mobile data at 0.6% of GNI per capita, lower than any other lower-middle income country. In the same range are South Korea, Iran, and Indonesia. The actual cost of 10 GB in Korea (the lowest package) is $ 15, more than seven times the $ 2.1 package for 2GB in Sri Lanka. Because the GNI per capita is seven times that of Sri Lanka's $ 4,060, the affordability is considered the same.

The report provides comparative analyses of high and low use packages, fixed data packages, bundled voice and data packages, etc. In most if not all, Sri Lanka performs well.
If prices are affordable, why is use still low?
One cannot use data without 3G and 4G coverage. This is not available in all localities. Coverage is the necessary condition for data use. Content is the sufficient condition.

The key driver of internet use is content. In research LIRNEasia did in India on beyond-voice services around a decade ago, we found the drivers to be ABC: Astrology, Bollywood, and Cricket. It appears that politics, especially through social media, has joined the list. The need to minimise large and small face-to-face gatherings because of the COVID-19 pandemic will accelerate data demand.
What is the harm in compelling operators to lower prices further?
Increasing coverage and ensuring service quality will require significant investment. The required investment is unlikely if the firms making the investment are uncertain of how they will be treated by government and their profits are negligible.

In 2017, the net combined loss of all mobile operators was Rs. 1.96 million. The highest combined profit during the past five years was Rs. 2.95 million in 2014 (http://www.trc.gov.lk/images/pdf/SectorAnalysis_18042018.pdf). These numbers are ridiculously small for a high-investment industry. For comparison, just the 2017-18 profit of JKH transportation companies was Rs. 3.08 billion. It can easily be documented that our governments have frequently behaved in ways that discourage investment in the telecom infrastructure.

Combined with the sub-optimal state of the Telecom Regulatory Commission, retained under questionable Constitutional grounds by the President, and the obsolete 1991 Sri Lanka Telecom Act, the overall environment for investment in telecom infrastructure is poor in Sri Lanka. We do not need to add to its problems by imposing de facto taxes in the form of compelled free or subsidised services. If we do, we may have to say goodbye to Sri Lanka maintaining its customary technology leadership in South Asia.
But Reliance Jio is making profits after giving away free data?
There is no doubt that Mukesh Ambani is transforming the telecom landscape in India through Reliance Jio. Not only has Jio pushed all its competitors into losses, it is the only company reporting profits. Why can our operators not emulate Jio?

Jio launched services in 2015 based on a pure 4G or LTE network. This is optimised for data, with voice as an application. In contrast, every other operator in India has to maintain legacy networks optimised for voice while investing to keep up with Jio in data.

As is customary in today's start-ups, Reliance Jio started by 'buying' market share. For the first six months Jio services were free, until they were advised to stop by the regulator. It was able to absorb these losses partly because of the deep pockets of the Reliance Group and partly because its costs were low, and partly because it capitalised and continues to capitalise some expenses.

None of these conditions exist in Sri Lanka at the present time. In any case, Indian telecom sector is in the throes of crisis, with major global players such as Vodafone contemplating exit and many others already gone, leaving the market as a duopoly at best.
What can be done to increase internet use?
If affordability is still seen as a concern, the simple solution is to reduce the data-specific taxes to zero, while not touching the VAT which is a general tax. Research suggests that use will increase when all aspects of the internet eco system are addressed, not just affordability.

3G and 4G connectivity is still not available across the country. This must be promptly addressed, by releasing needed frequencies and by providing investment certainty. Quality issues must be addressed. For this international and domestic backhaul issues must be addressed, including non-discriminatory access to CEB infrastructure.