Darkness at noon... happy "AF's Day!" to you also
---
Thank you to the academy – er, academics... and professionals and business leaders: you certainly know how to pick a winner. You Chris Rock, you really do. Where there's a Will, there›s a busy Smith or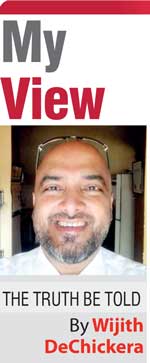 four... forging their, ugh, our fortunes.

Please note, in the words of that moving song: "This is getting serious!"

Tourist arrivals are up, led by Indian statesmen visiting refuelling stations. Sunshine abounds; so our solar supply is safeguarded and power cuts can be staved off starting today – 1 April. Love for our leaders expresses itself in no uncertain terms on the street as much as social media.

Fuel shortages are a conspiracy. Drink is cheap for those voluntarily abstaining from their daily bread. Printing money has meant that cash at least is not in short supply.

Government remains ultra-popular.
The Acid Tests
A. Essay.

'You can fuel all the people some of the time, and some of the people all the time, but you can't fuel all the people every time.'

Explore. Or, if in a violent mood, explode. Don't faint while standing in queue to essay an appropriate response. If you die while doing so, marks will be awarded on a merit basis. NOTE... There is NO merit in demanding preferential treatment for yourself while expecting meritocracy for everyone else!

B. Short answers:

1. A simple majority means major simplicity in the nationalism stakes. T/F?

2. If 15% of GDP goes down the drain to corruption, would refusing to be a giver for every taker have staved off our present economic crisis?

C. MCQ...

i. Why are we where we are? (Politics / Religion)

ii. Whom would you like to send home? (Gota / Ranil / Sajith / Mahinda / Anura Kumara / all of the above)

iii. Which of the following best describes the state of the nation? (A failed state / A surfeit of 'sir fails' / Paradise lost / Sri Lebanon / all of the above)

nInstructions to examination candidates

- Do not offer a bribe to pass or receive special treatment

- If you don't understand the Q, remember that it is better to have Qs that cannot be answered rather than As that cannot be questioned

- Don't answer on both sides
Coda to end it
But seriously! Some of us have never had it so good... And it's so good that the best and brightest of us have come up with some brilliant ideas.

Right on time for the Aluth Avurudu season.

For e.g.:

A violent politically weaponised rally by politicians culpable of passing the buck and the blame is way better than a silent apolitical protest by suffering citizens passing on the flame. It makes those big egos light up – they do take the candle.

It is better to light a candle than curse the darkness. Of course, it feels better to burn in effigy those dirty rotten scoundrels who looted our beloved nation and brought the country to its knees. The creative ways in which wax can be used defies anatomical sense. Long and short of it is that the whole kit and caboodle – from war heroes and national saviours to everyone else with a messiah complex but sadly short of practicable ideas – can shove it where the sun doesn't shine. There.

The best use for the little electricity we can spare these days is for a future – not long now – electric chair. Guess who will then be in a queue for the hot seat? You Goat it!

Stay the frig away from sad AF politicos of every ilk. This is a special warning to big biz – from supposedly influential chambers to so-called powerful commercial enterprises who have lobbied and lionised our elected representatives for far too long now. That day on which the Krupps and Thyssens were hanged with the Hitlers is not far off.

Think out of the box as far as dynastic politics goes... in fact, the farther it goes, the better.

Family business and friends of politicians must no longer be allowed to monopolise the franchise. People who are fooled again deserve the same gallows reserved for political parasites who have brought us to our present predicament.

Business needs a wholesale discount on a collective conscience.

The writer is the Editor-at-large – LMD and AF – like you |