It is a tough challenge to be a successful president or prime minister.
To craft a socio economic policy that will bring prosperity and to implement it, is a very, very tough ask. Can any of the candidates for president be able to create such a plan and implement it? That's the question we have to ponder.
The world outside politics

In the world of business a person must have management skills, many years of experience, and a track record of delivering good results before he becomes a chief executive.

A ballerina has to climb slowly up the ladder of acquiring, the technical skills, diverse experience and great dancing skills before she can be a prima ballerina.

A lawyer has to acquire many years of experience and a comprehensive knowledge of relevant law before he is appointed a President's Counsel.

That is the story in every sphere.

In politics

What is the knowledge of general management and other management skills like finance, marketing, supply chain, etc., that a person requires to be the president/prime minister of our country? The answer as we all know is "none".

To become president/prime minister a person does not need to have any of these skills, although running a country is like managing a mega business.

If we look back in history, none of the presidents and prime ministers had ever run a business. They did not bring any commercial or management experience to the job.

Those who reach the top of a political ladder come from a completely different sphere. They come from the 'University of Politics'. Formal education qualifications are neither required nor relevant to enter and graduate from the 'University of Politics'. According to information on the internet 94 members of Parliament do not have GCE O/Levels! They are all graduates of the 'University of Politics'.

They have gone step by step until they mastered the art of politics to become members of Parliament. What they learn in this school is the need to be good orators, extroverts and people friendly and to acquire a distinction in emotional intelligence.

Emotional intelligence is a key requirement. It is the ability to understand the emotions of others and to modulate one's emotions and actions in relation to the emotions of others. A politician must identify what will strike the biggest ring of discontent and pitch into it with gusto when in opposition. Equally they must identify what people will see as a great benefit and again with great gusto promise to deliver it.
Who goes into politics?

The fascinating and intriguing question is who selects politics as their way of life and abandons all ideas of going down the traditional route of securing a good formal education. They have to be people with a nagging knowledge that they are nobodies within their own society and therefore have a burning desire to become somebody of some status.

The only route available to do so is politics. So the first step is to get elected to some local village organisation and make enough noise to gain some credentials to creep into a mainstream political party and be selected as candidate for a Pradeshiya Sabha election. If they win, they are on the road. One can also follow an alternate path and creep up the local party organiser ladder in an electorate
Our future depends on the advisors used by the next president. I will vote for the candidate who has the best team of advisors
The next important step is to get selected to be a party candidate in a general election and to win. If they win they have finally graduated from the 'University of Politics' and with that as the sole qualification they enter Parliament. They may know nothing about history or geography or chemistry or mathematics or management, but they are a member of Parliament.
We have thousands of people who are graduates and hundreds with proven management skills, in diverse areas of business. But they are not candidates for prime minister or president as they have not emerged from the world of politics.

The dilemma for the country is how a person with great political skills but no management skills can create a prosperous country. What is the solution?
The solution

The solution is to emulate the career of Ronald Reagan who was President of the USA. It provides the answer to the dilemma.

Ronald Reagan was often referred to as a B grade actor. Not in the same league as Marlon Brand or Elizabeth Taylor. Reagan entered politics in California. Regan did not have any business experience of managing anything large and complex. But he had wisdom.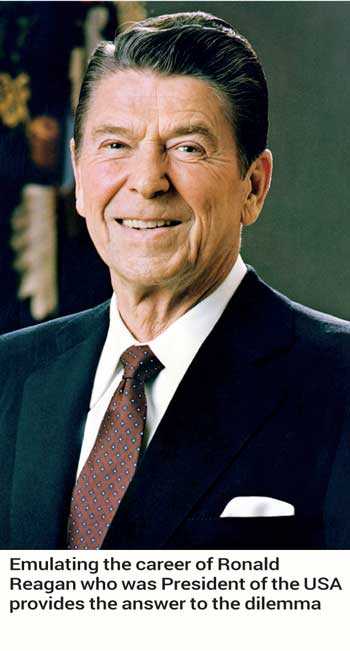 He knew he did not have the skills to deliver excellent socio economic results. But nevertheless he aspired to become Governor and had a dream that as a successful Governor it would get him on the road to eventually run for president of the United States of America.

Reagan assessed his skills.He was good looking, had a presence and as an actor he could memorise a speech and deliver it with dash and flair. The problem was with the words. What should he say? He knew he was not smart enough to develop winning strategies and policies or to be able to implement them if he won. So he did the most sensible thing. He hired a string of advisors. He got the best people who could create good plans that would fly in the real world of politics and good people who could implement the plans if he won.

Don Regan's book provides a fascinating insight of Regan and his use of advisors. He used them as a way of life. But Reagan did not blindly follow the advice. He always spent time discussing it, understanding what was proposed and then made the final call on what advice to pursue. Importantly, he probably put on them the gloss that would gain political support.

The approach he followed required high emotional intelligence. He had to keep his advisors motivated even when he had to modulate their recommendations to make them politically acceptable and he needed to lean on his emotional intelligence to understand the feelings in the political arena which ultimately determined his political future.

Reagan's approach worked well for him. He became a successful Governor, which then took him along the path to become the president of the United States of America.
Who will I vote for in the Presidential Election?

Our future depends on the advisors used by the next president. I will vote for the candidate who has the best team of advisors.