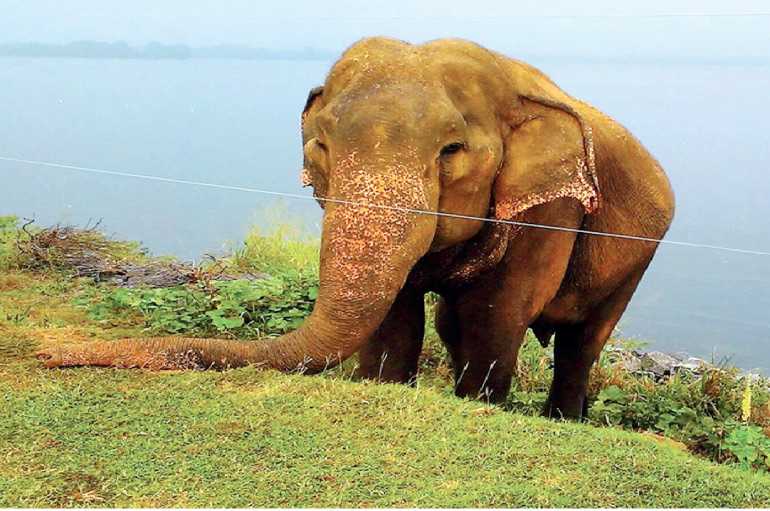 There is reliable information coming through that the iconic elephant of Uda Walawe, Rambo, may be captured and translocated to a holding ground (which is effectively an elephant prison) by the Department of Wildlife Conservation (DWC). This will in effect be signing a death warrant for this famous elephant.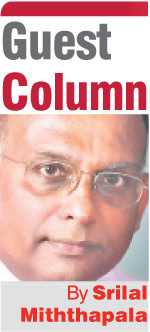 Many wildlife enthusiasts and tourists who travel around the country are familiar with Rambo at Uda Walawe National Park who has developed a close interaction with people over the years. Rambo stands on the bund of the Uda Walawe reservoir, behind the electric fence, and solicits food from passers-by. As such stopping for a 'selfie' with Rambo has become a major event for travellers both Sri Lankans and tourists. This has made Rambo somewhat of a celebrity, and he could be one of the most photographed elephants in Sri Lanka.

He has become an icon for the Uda Walawe National Park, and also for wildlife tourism in Sri Lanka. Rambo has created so much interest and publicity for Sri Lanka and tourism, much more than what we could have expected from any advertising campaign. (A Google search for 'Rambo Elephant' returned the first 12 listings of the results mentioning him, in 0.42 seconds.)

Therefore, it is only morally and ethically correct that everything possible must be done to save this elephant from his impending fate of being translocated.

It is a well-known fact that translocation is not a solution for the Human-Elephant Conflict (HEC) and management. Many researchers are of this view, and in a recent peer reviewed scientific paper entitled 'Problem-Elephant Translocation: Translocating the Problem and the Elephant?' authored by eminent scientists and elephant experts Prithiviraj Fernando, Peter Leimgruber, Tharaka Prasad and Jennifer Pastorini, it is stated: "Translocation caused wider propagation and intensification of HEC, and increased elephant mortality. We conclude that translocation defeats both HEC mitigation and elephant conservation goals." (Interestingly Dr. Tharaka Prasad is currently the Director of Wildlife Health at the DWC.) It is an accepted fact that of late, the usually docile Rambo, who always stayed within the boundaries of the park, has started breaking out and wandering around into adjacent village hamlets. This is causing some concern among the villagers. So there is definitely a problem that has arisen now.

However the DWC must not just resort to its stock and easy answer of translocation for resolving every problem with a wild elephant. Some effort must be made to try and induce Rambo to refrain from breaking out of the fence. I know this is easier said than done, but elephants are very intelligent animals and with some patient, innovative and sustained effort some success could be expected.

Dr. Vijitha Perera, the Senior Veterinary surgeon at the Elephant Transit Home (ETH) at Uda Walawe, has had a long and close association with Rambo, having twice saved him from serious life-threatening injuries. He has known this elephant and closely interacted with him for more than 25 years now.

When I discussed this problem with him yesterday, he admitted that Rambo was now constantly breaking out of the park and was becoming a problem. However his observations indicated that Rambo is minding his business and going about his way, even when outside the park, and does not usually harm anyone. It is only when he is confronted by villagers that he is retorting.

So maybe there could be some effort initiated to make the villagers aware and educate them to give Rambo the space and time to tide over this period. Then the DWC could assess whether this sudden behavioural change would abate after some time.

It has been documented in various studies abroad that wild elephants, especially in wildlife parks, could show sudden spurts of erratic behaviour, due to changing environmental circumstances. (https://www.researchgate.net/publication/331889865_Behavioural_changes_in_African_elephants)

Rambo has been known to show sudden behavioural changes. Some years ago he suddenly went missing from his favourite spot on the bund and was missing for several months. He was seen deep inside the Uda Walawe Park, and many of us postulated that it could have been brought about by him being in musth. Whatever the reason for this current behaviour may be, this iconic elephant has to be first given a chance.

It is indeed sad that we do not pay enough attention to such iconic individuals and make special efforts to safeguard them. They are the ones who create the human interest stories with their charismatic personalities. This in turn fuels public interest and opinion, and helps publicise and drawn attention to the plight that is befalling these gentle giants, who roam this island of ours.