This is a hurriedly-composed rebuttal to Dr.Dayan Jayatilleka's critique of the Budget that he has described as a social war budget. The contrived indignation he summons in denouncing the Budget that a more learned economist Dr. W.A Wijewardena has described in these columns as promising and committed deserves an urgent response.

Novelist and Philosopher C.S Lewis in his 'The Great Divorce' creates a fictional allegory of a man's experience travelling to another-world place which he takes to be heaven. The man then discovers that it is not at all consistent with his opinion of heaven. That in a nutshell is the predicament of Dr. DayanJayatileke.

As C.S. Lewis observes our opinions are not honestly arrived at. We simply found ourselves in contact with a certain current of ideas and plunged into it because it seemed modern and successful.

Mangala is talking about linking with global progress. Dr. Jayatlilake is propounding tribalism. He describes his tribalism as Sri Lankan exceptionalism. He is right. It is exceptionalism that keeps a tribe together. He talks of property rights. He is guided by Basil Rajapakse who owns property and disowns property in Malwana and Browns Hill, Matara. We don't have to buy it.

Touchscreensare today integrated into our lives at a speed and pace that is light years away from the speed and pacethat integrated the steam-driven train into our lives, when the British introduced it in the 19th century and globalised Ceylon, now Sri Lanka.

Dr.Dayan Jayatillekais not an economist. He is not even an independent political commentator. He is a backer of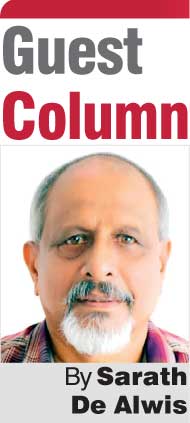 Gotabaya Rajapaksa for the 2020 presidential stakes. Now, we cannot underrate Gotabaya's determination to modernise Sri Lanka. The man has class. See what he has done to the lunatic asylum that the British built down former Buller'sRoad now Bauddhaloka Mawatha. It is today the Arcade and home toKaema Sutra,the restaurant of global star Jacqueline and global chef Dharshan, where you can eat hoppers and wash it down with chilled thambili water with lime and pay by credit card.

Gotabaya Rajapaksa was the first to introduce 'robotics' and 'Artificial Intelligence' into law enforcement. That is why Wijeyadasa Rajapakshe and Ranil Wickremesinghe did not act on the Nambuwasam report on the Welikada prison massacre.

Surely, we should understand that 'Artificial Intelligence' is not defined in the penal code. 'Robots' cannot be prosecuted even if they have exotic names as 'Betel Leaf Estate'. Keith Noyahr now in Australia will vouch for that.Don't be surprised if SatyaNadella of Microsoft comes here looking for the father of 'Artificial Intelligence'. Perhaps,that explains why the candidate is not anxious to surrender his passport with the Great seal of the Eagle.

Now let us return to Mangala's 'Social War Budget' and how it has laid 'siege on our social contract'.

The claim that R.Premadasa moved an amendment to the Land Reform Act to bring the ceiling down to five acres and that it was not a theatrical gesture is absolute hogwash. Premadasa owned some 40 acres in some remote corner in Mahawa which he tended with meticulous care.

In Steinbeck's 'Mice and Men,' George and Lennie dream of a self-sufficient homestead where they can plant vegetables and raise animals. Born in to a lower middleclass family city councillor Premadasa shared their dream and obtained an allotment of land from the government in the Mahawa dryzone. If in fact as President, he claimed that 'land is the patrimony of the whole people' this writer will dare not dispute it. He would have meant it.

When this writer knew Premadasa he was driving an Austin Cambridge and most times relied on Sirisena Cooray's Morris Minor to get about.Much water has flowed down the Mahaweli River and in to reservoirs created by its diversion telescoped into six years. Under JRJ's executive presidency politics became a business that made millionaires.

President Premadasa also minded the Treasury as a patrimony.Paskeralingam was his trusted and absolute caretaker.That is the problem that haunts us today. Paskeralingam is Ranil's Rasputin today.

Dr. Dayan Jayatileke has discovered a developmental paradigm that Sri Lanka has adhered to since independence and a Sri Lankan exceptionalism.

His problem is that he has served two Presidents – R.Premadasa andMahinda Rajapaksa, who more or less shared mental paradigmsand perhaps even developmental.

Premadasaleft us clock towers that don't tell you the time, and model villages which are model aberrations of imposed pseudo urban facades that created a dependency syndrome undermining the innovative genius of our rural folk. He disoriented our rural landscape and distorted our urban environment.

Mahinda has left us an airport that is not functional, a sea port that is idle and a stadium that now keeps cattle.Indeed Dr.Jayatillekais somewhat correct when hetalks of a Sri Lankan exceptionalism. It is the exceptionalism of two Presidents R.Premadasa and Mahinda Rajapaksa promoted by sycophants beyond their limited intellects and credited with successes they do not deserve.

Dr.Jayatilleka'sexpressed anguish is either imagined or fictitious. He cries, "What will befall local industry when foreign industries enter the local market unimpeded?"He should instead ask,"What has befallen our local industry?"

In any event what local industries is he talking about?Is he talking about the steel fabricating outfit that the Rajapaksa brothers set up with a Sri Lanka expatriate who owns a Marriott Hotel in Dubai?Do we have a manufacturing sector that we can talk about?

He demands to know, "What happenswhen having decimated our local manufacturing base, they – theforeign industries– moveaway as they have done in manycountries?" Should we not bring in the foreign industries before we speculate on the likelihood of their leaving? Trumping up Trumpian logic trumps no body.

Dr.Jayatillekaextols the virtues of the Premadasa doctrine ofcreating a pastoral paradise with the Little Bo Peep slogan of 'five acres and a cow'.

Continuing this patently misleading theme, he complains that Mangala Samaraweera has not explained what's 'improper' about the ownership of land and property in the country. He then links the statement in the Budget speech "we will remove restrictions that limit the land ownership rights of listed companieswith foreign ownership" with a plan to disembowel the Paddy Lands Act (1958) and the twoLand Reform Acts of 1972 and 1975.

We havetraversed considerable terrain since the paddy lands act which we greeted as the great deed of the father of Marxism Philip Gunawardene whose stupidity in setting up a plywoodfactory in the back garden of his BoralugodaWalawwe at Kosgama initiated the rape of the Sinharaja Rain forest with Rumanian aid and opened the processes of denuding our pristine forest cover.

This writer confesses to some preferences, not fastidious but sensible. CIC Gourmet Rice is a little expensive but offers a tasty meal with one vegetable curry and parippu.

The company has titled its annual report as 'Progress with Purpose'. Progress with purpose is not what Premadasa tried. Go to Maradana Junction. It not progresses with purpose that Mahinda pursued with greater determination. Go to Hambantota. It is this purpose less progress that Mangala attempts to arrest by universal interconnectivity. Global access is not global hegemony.

Dr. Dayan Jayatilake possesses an intellect that is undoubtedly exceptional. As Tolstoy observes in Anna Karenina in addition to pride in intellect, there is also an aspect of stupidity in intellect. "And, above all, the dishonesty, yes, the dishonesty of intellect. Yes, indeed, the dishonesty and trickery of intellect." Oh! The sublime wisdom of the Russian novel!