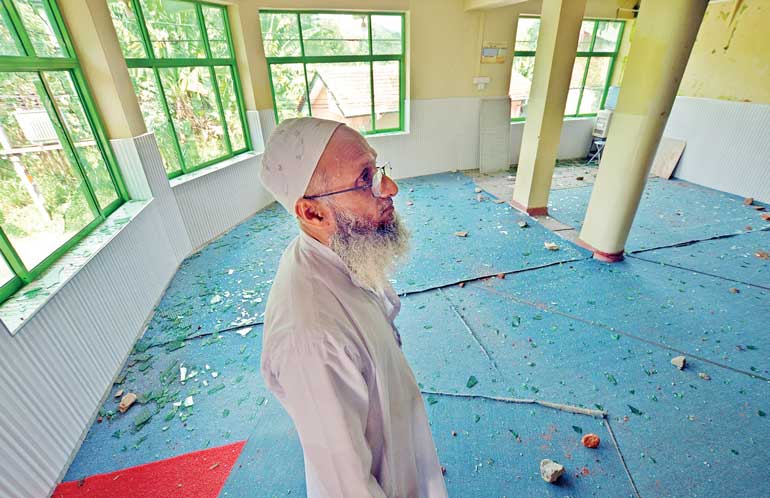 Let's work together to bury extremism and racism, the curse which has destroyed our nation for decades – Pic by Shehan Gunasekara
No matter what we believe, no matter whom we follow, no matter where we come from, no matter for how long we have inhabited this land, no matter what we do, no matter how rich our history is, we must live in harmony and ensure the safety of every living being on this land. We must practice zero tolerance for extremism and violence.

The most important issue is how strong we are in living together while respecting each other's diversity. Rhetoric will not play any substantive role in nation-building if we do not do the groundwork to enhance harmony among all communities and ensure the safety of every citizen living on this land.

It is sad at this period of social transition we as a nation-state are at the crossroad where the beast of extremism and racism have yet again become active, to fulfil the thirst to take the lives of the innocent while tarnishing the dignity of the nation.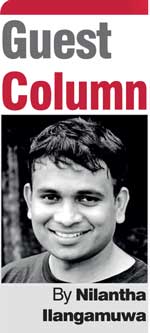 There is no doubt extremism and racism will destroy the soul of the nation in no time. It will achieve nothing except producing nightmares. It will spread the fear as the tool of social control. Those are parasites, which will occupy the arbour of the nation to deteriorate the duramen of unity and coexistence of our society.

Our duramen is multi-cultural and multi-ethnic nation state which has shown us how to conquer the common enemy together. As one of our features in this newsletter mentioned, this ambition and precedent were proven during the freedom struggle and appreciated by many parties. Unity within diversity was our most important weapon to conquer the common enemy.

However, no nation can completely eliminate the germs of the extremism and racism, as they will disguise themselves in different shapes in order to prevail in societies. This is what common history has proven.

But, when the majority of the people get together regardless of any communities they belong, then the germs of extremism and racism can be controlled. This is how most societies achieved their desired goal of development by protecting the liberty and freedom every individual.

Sri Lanka as a nation has undergone a different type of armed conflict over many years is today challenged yet again by the germs of extremism and racism. The recent mob attacks in Digana and elsewhere indicated the danger yet to come. Thanks to those many understanding people who rushed to solve one of most deadly conflicts on time.

Sri Lanka, a wounded nation due to the internal conflict, has suffered enough. Like many other countries Sri Lanka has been controlled by social fear and violence used as the tool by many parties, to suppress and oppress though all of religions practiced in the country taught how to win life's challenges non-violently. This itself is giving us opportunity to work out the missing links in achieving lasting peace and contributing to building a strong nation.

So, why are we tending to repeat the past mistakes over and over again, despite majority of people at individual level are rejecting extremism and racism? How has it been possible for a small group of people to light the fire and burn the social unity with the flame of extremism and racism resulting in the elimination of the good reputation of the country?

In her speech made when she was the President and now playing a pivotal role as the Chairperson of the Office for National Unity and Reconciliation (ONUR), to heal the deep-rooted wounds of the nation due to the conflict, former President Chandrika Bandaranaike Kumaratunga observed the core notions of this problem 20 years ago:

"We must, with all humility examine our failures. We have failed in the essential task of nation-building. We have meandered and faltered along the path, whilst our neighbours in Asia and many other countries have forged, united and strong nations in which peoples of various communities of race, religion and languages, live in harmony. The search for the causes and the apportioning of blame for this situation may be assigned to the historians," she has identified in her speech delivered at the 50th Independence Day celebration in 1998.

"Let us, those of us who have taken on the responsibility to guide and govern the nation, whatever our political party or affiliations may be, march towards the future in unison, putting behind us mean desires for petty, personal and political gain. The nation's need today is so great and urgent that it permits space only for the largesse of heart and mind, which will in the national interest supersede all that is irrelevant and small," she urged.

This is what we believe. Development without reconciliation is nothing but an illusion. Reconciliation without truth will lead us nowhere. Continued dialogue, making space for all to interact with each other will strengthen the foundation of unity and social co-existence, where reconciliation will blossom. Such strong foundation will build a strong nation.

Let's work together to bury extremism and racism, the curse which has destroyed our nation for decades. Our past history taught us the cost of the extremism and racism. It has taught us how a small group of people can pull a nation into a dark hole. That was the reason why one of the most attractive and dignified nations at one time, has now sunk into an abyss. It's time for all to speak out and get together to act wisely rather than keeping silent lips and murmuring hearts.

As Rumi penned, "Where the lips are silent the heart has a thousand tongues." When a small group of racial or sectarian extremists were ripping the nation, many were systematically silenced but their hearts screamed.

This is what happened in our history. This is why we deviated from our pathway to build a strong nation. The bottom line is, nothing will prevent us from the danger, but the bitter lesson we learn about the past and our capacity to teach them from generation to generation. Then the feelings of insecurity will disperse; all of us will feel secure.

Despite everything, let's take responsibility as individuals to strengthen the collective action to build a nation of dignity where every citizen can live in harmony.