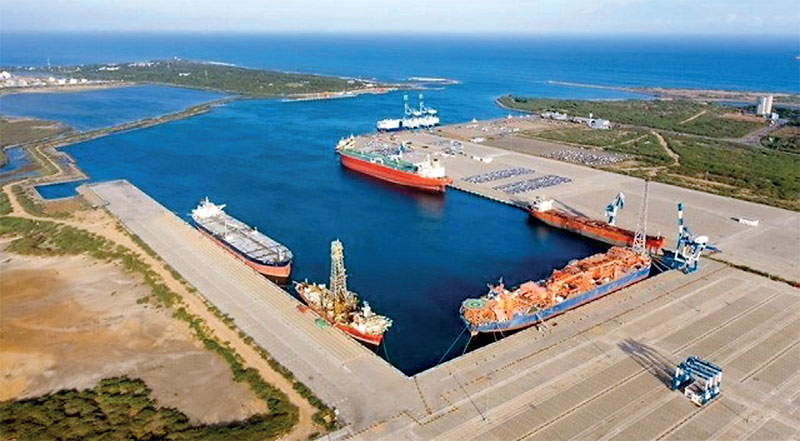 ---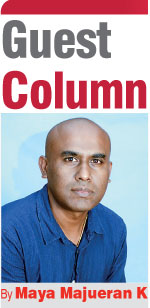 The Hambantota International Port (HIP)

The Hambantota International Port (HIP) is a deep-water port being developed in phases in Hambantota, southern Sri Lanka. This port is located 10 nautical miles to the major international east-west shipping route - the Suez Canal and the Strait of Malacca and well positioned at a strategic location on the maritime gateway to India. Generally, per day about 300 ships pass this route and creates good business opportunities for providing services such as refuelling, crew change, maintenance, logistics and buying provisions and medical supplies

The Hambantota port is constructed by the Sri Lankan Port Authority and mostly funded by the Export-Import Bank of China. China has lent $361 million for the first phase of the Hambantota port and another $810 million has been given for the second phase of the construction. Construction works primarily carried out by China Harbour Engineering Company (CHEC) and another Chinese state-owned firm, Sinohydro Corporation. Phase 1 of the Hambantota Port was completed in December 2011 and has commenced operation since June 2012. Construction works for Phase 2 was completed in April 2015.

Hambantota Port is a comprehensive deep-water port, the Hambantota Port project is a project to develop a major industrial and service port with an attached industrial zone in the Port of Hambantota and it is currently expected that the project will comprise three phases. With 10 berths in Phase 1 and 2, and quay length of up to 3,487 meters; the berths are specialized to handle containers, bulk cargos, general cargos, RO-RO cargos and liquid bulk. Water depth alongside the quay and navigation channel is -17 meters, which makes Hambantota Port a deep-water port capable of handling super-mega vessels. Hambantota Port has great potential for future expansion, with its hinterland covering the South Asian region, and as a maritime hub in the region.

The Hambantota port is being built to relieve pressure on the Colombo port, which alone handles 6,000 vessels a year, including several cruise liners. The port was never meant to replace or directly compete with Colombo.

Sri Lanka Ports Authority (SLPA) operated the Hambantota port from 2012 to the end of 2016, but it failed to meet profitability due to inadequate governance, lack of commercial and industrial activities, and its inability to attract passing vessels to dock at the port. Likewise, the bunkering business failed to take off due to SLPA not having a strategic international partner. Hambantota port was unable to generate sufficient revenue to meet its loan obligations taken to construct the port.


China Merchants Port Holdings Company Limited (CMPort)

As a result, in July 2017, Sri Lanka's cabinet of ministers took a decision to sign a concession agreement with China Merchants Port Holdings Company Limited (CMPort) to operate the Hambantota Port along with 1,235 acres of land as a Private Public Partnership (PPP) project on a 99-year lease. On 9 December 2017, two Sri Lankan companies established under the concession agreement, namely, Hambantota International Port Group (HIPG) and Hambantota International Port Services Co. Ltd. (HIPS) officially took over the Hambantota Port, with a payment of US$1.12 billion, for the acquisition of 85 percent stake of HIPG and 58 percent stake of HIPS. The remaining percent of the stake of HIPG and HIPS are owned by the SLPA. At the time of entering into the lease agreement, Hambantota Port was valued at $1.4 billion. The PPP is not a debt-equity swap but fresh investment by China Merchants Port Holdings Co. After undertaking the Hambantota port, CMPort ffurther invested in restructuring, and transformed it to be a commercially viable national asset in collaboration with the SLPA.

CMPort's parent company, China Merchants Group Limited, is a Hong Kong based conglomerate established in 1872 whose three core businesses include Transportation, Finance and Property. China Merchants Group Limited, has rich experience and resources in implementing the "Port + Park + City" Model (e.g. Shekou, Zhangzhou). The significant landmass of the project in Hambantota Port (approximately 11.5km2 port area) gives leeway for the Company to implement and capitalize on the said model to add substantial value to the port operations and development. Furthermore, the Company has also entered into a cooperation framework agreement with China Harbour to explore possible future cooperation and joint development and operation in relation to the Hambantota Port and the industrial park adjacent to the Hambantota Port. As the terms and conditions for such cooperation are yet to be finalised, the Company will further disclose when such cooperation materialises.

CMPort is the largest and a globally competitive public port developer, investor and operator in China with investments in Mainland China, Hong Kong and overseas. Its nationwide port network includes coastal hub ports in Hong Kong, Taiwan, Shenzhen, Ningbo, Shanghai, Qingdao, Tianjin, Dalian, Zhangzhou, Zhanjiang and Shantou. It also has a growing presence in South Asia, Africa, Mediterranean and South America. Since 2020, CMPort has broadened its focus from China to the global market and now has a port network portfolio spanning 50 ports in 26 countries and regions. Benefited from the China's Belt and Road Initiative (BRI), CMPort has further strengthened its position in relevant markets in recent years.

The Hambantota port›s failure is mainly because Sri Lanka is lacking in areas of market power, marketing skills, technological expertise and an international cooperation network. Since CM Port started to operate Hambantota Port from 2017, it has witnessed remarkable growth and cargo volumes at the port have been steadily on the rise, reaching an all-time high during the months of December 2020 and January 2021. A total of 388,031 units of Roll-on/roll-off (RORO) were achieved in 2020, the highest recorded since the port's inception. The ports of loading of RORO cargo arriving for transshipment at HIP are Chennai, Mundra, Ennore in India and Gunsan and Pyeongtaek in South Korea while the main ports of discharge are Durban (SA), Veracruz (Mexico), San Antonio (US), Rotterdam (Netherlands) and Le Havere (France). Some of the main shipping lines operating to and from HIP include NYK, MOL, Hyundai Glovis, Kline, ZIM, Hoegh, SEALS Japan, Eastern Car Carrier lines. The port has improved volumes of LPG and dry bulk cargo handling as well.

Since CMPort started to operate Hambantota Port, the Company has successively introduced oil and gas business, cement loading and unloading and maritime service as well to the port. Likewise listed below are some of the remarkable achievements of HIP as well as its contribution to make Sri Lanka as a maritime logistics hub in the Indian Ocean.


Developments in 2018

LAUGFS Terminals Limited, a unit of the Sri Lankan LAUGFS Gas Plc spent $65 million to build state of the art transshipment terminal complex and commenced the commercial operations of this facility in December 2018.

The Hambantota International Port Group (HIPG) has entered into their very first Terminal Service Agreement (TSA) with K-Line PTE Limited (KLPL) in September 2018, one of the world's largest Ro Ro operators and a member of the global giant in transportation, Kawasaki Kisen Kaisha Ltd of Japan.

HIPG made an investment of over USD 600,000 to purchase 40-foot Ro-Ro trailers with goosenecks (to allow efficient manoeuvrability), break-bulk lifting gear, detachable goosenecks, and a turbo safe-neck system to further develop the operations of the HIP. Some of the new apparatus was officially commissioned on the 2nd of October 2018, for operations on the vessel Glovis Century. This new equipment is in addition to the four low bed trailers that have already been successfully commissioned by the Hambantota International Port earlier this month. This new equipment is in addition to the four low bed trailers that have already been successfully commissioned by the Hambantota International Port earlier.

Pelican design class II drillship Aban Abraham berthed at the Hambantota International Port in December 2018, for a period of six months, for a warm Lay-up with full crew & equipment.


Developments in 2019

In January 2019, the Ithaca Patience docked in HIP to discharge 27,150MT of slag cargo — an additive used in the manufacture of cement. In the past, slag cargo was usually discharged at the Galle Harbour off smaller vessels. Due to Galle port having much less draught clearance this type of larger bulk vessel is unable to call at Galle and therefore the discharging operation was carried out successfully at Hambantota.

Terminal Service Agreements (TSAs) between Glovis and HIP were signed in January 2019. Another TSA with Norwegian Shipping Company, Hoegh Line, soon followed, with the agreement signed in February 2019.

In March 2019, the Board of Investment of Sri Lanka (BOI) has established a one stop service centre at the HIP, to provide investors in the port and related services, with easy access to avail themselves of concessions open to them.

In April 2019, HIP awarded a tender to Sinopec Fuel Oil Sales Co. Limited for oil trading works and the operation and maintenance of their oil tank terminal along with associated facilities.
Developments in 2020
HIP won recognition at the Global Ports Forum Awards 2020 held in Dubai. The port was conferred the nominee award for "Multi-Purpose Port/Terminal of The Year 2020" at a prestigious Awards Dinner held at the Shangri-La Hotel, Dubai in February 2020.

With the objective of broadening the scope and attracting academic interest in the maritime sector, the HIP has facilitated a series of interactions with universities and educational institutes.

In April 2020, with the first shipment of Very Low Sulphur Fuel Oil (VLSFO) 380 CST discharged in newly refurbished tanks, HIP began bunkering for ships that call at the port.

In May 2020, Litro Gas leased tanks at the HIP to support their supply chain. In October 2018, the port partnered with LAUGFS Gas, to service their storage and transshipment requirements of LPG. HIP's Jetties 1 and 2 are dedicated to the discharge and transshipment of oil and gas, providing superior operational services to Litro Gas, Laugfs Gas and bunkering partner Sinopec. Transshipment of LPG is a part of the Hambantota International Port's energy hub mix.

In June 2020, CMPort introduced a strategic partnership with Fujian Transportation Maritime Silk Road Investment and Management Co. Limited (Fujian TMSR) to acquire 23.5 percent shareholding interests of a wholly owned subsidiary of the CMPort (CMPort holds 85 percent interest) at a total consideration of US$268 million, with Fujian Provincial Communication Transportation Group Co., Ltd. (FJCT) as guarantor to promote the sustainable development of Hambantota Port. FJCT is a leading enterprise of the port and shipping industry with large contiguous container terminals, dry bulk cargo terminals, chemical product terminals and inland river terminals.

In July 2020, Crude oil tanker 'Marine Hope' called at the HIP for repairs. With a gross tonnage of 159,962 and 332 meters in length, the tanker is the largest vessel to call at the port to date. Its repairs were expertly carried out by Colombo Dockyard PLC (CDL) with whom HIP has a collaborative partnership for floating repairs. The collaboration is expected to bring more vessels of this size to HIP in the future, presenting a win-win for the port and CDL. Similarly ships dock at the port for repairs in collaboration with a local team of service engineers from the Colombo Dockyard.

The Hambantota International Port is open for layups and is offering its services to vessels plying the main sea route adjacent to the port. The port's close proximity to the Mattala airport creating opportunities for air and sea connectivity is a significant advantage in providing these services.

HIP facilitated bulk crew sign-on and sign-off changes during the COVIND-19 Pandemic lockdown. HIP's proximity to the Mattala airport helped in easing the process since the air, sea connectivity has made the transitions smooth and almost seamless.

The Board of Investment of Sri Lanka has signed the agreement with Pearl Energy Ltd in August 2020, to launch 'Hambantota LNG Hub' – a floating storage LNG trading facility at the HIP, bringing LNG to the doorstep of Sri Lanka, with a primary aim of trading LNG in the region utilising the strategic location of Hambantota.

In November 2020, HIPG signed an agreement with China's premier tire manufacturing conglomerate, Shandong Haohua Tire Co. Ltd., with their exports spread over 200 countries, to set up its South Asian tyre manufacturing plant in the industrial park within the Hambantota International Port. This is a US $300 million foreign direct investment project and targets an annual production of 9 million tires during its first phase, to be containerised to 45,000 containers.


Developments in 2021

In January 2021, two drillships, West Carina and West Polaris sailing are berthed at the HIP for long team layups and repair services, which would take over one year and six months respectively. Ships staying long term opens up opportunities for local service providers such as supply of provisions and other services like waste removal, maintenance, crew change support, conducting surveys etc., which are continual requirements during their stay.

In February 2021, HIP achieved another milestone in their multi services portfolio when they launched the wholesale supply of Marine Bunker fuels, together with their strategic partner Sinopec Fuel Oil Lanka Limited (SFOL). This is a great opportunity for all Sri Lankan licensed Bunker Suppliers who are involved in supplying bunkers for vessels calling at any Port in Sri Lanka or plying the busy East-West Shipping route. With Sinopec, one of the largest global players trading Very Low Sulphur fuel oil (VLSFO), entering the local market as a wholesaler, will give competitive prices to attract vessels.

Local company Lanka Marine Services (LMS), market leader in the Sri Lankan bunker supply industry, was SOFL's first buyer, carrying out an offshore bunkering operation with the support of HIP. LMS supplied IMO 2020 compliant Very Low Sulphur fuel oil (VLSFO) to their client, crude oil tanker m.v. Suez Hans, which was on route to the Suez from Chennai. The tanker refueled at the Hambantota Port anchorage via oil barge m.v. Kumana, chartered to LMS by HIP, to handle the bunker supply.

In May 2021, HIP partnered with Intertek Lanka (Pvt) Ltd to establish a state-of-the-art petroleum testing laboratory which will be unique to Sri Lanka. Petroleum testing is an important activity in port related services such as testing marine products, bunkering and bunker related inspections. Through this facility, Intertek will provide innovative and bespoke assurance, testing, inspection and certification services.

In June 2021, the Ceylon Petroleum Corporation (CPC) signed a Memorandum of Understanding with the HIPG to construct a separate storage terminal with associated facilities for both domestic and export purposes connected to the Port via a pipeline, about 15 Kilometers away from the Port. The new facility is expected to expand storage and bulk distribution facilities of CPC and make Hambantota Port as a strategic energy center in Sri Lanka.

HIPG partnered with Shenzhen Xinji Group to set up a plug and play 'Park in park' manufacturing facility within the port's industrial zone in June 2021. The concept is a fully fledged standalone industrial facility with some very unique features, set to operate within the Hambantota International Port's Industrial zone.


Sri Lanka as Maritime Logistics Hub

Sri Lanka›s geographic location gives a comparative advantage to the country to be the gateway to Indian Subcontinent and to serve South and East Asia, Middle East and Africa on the main East West shipping route and brings numerous opportunities in the international maritime market. More importantly, the ability of Sri Lankan ports serving as container mega hubs such as Colombo and Hambantota will develop Sri Lanka as a maritime logistics hub for the Indian Ocean, fully leveraging its conducive geographic location. However, Sri Lanka's shipping industry remains primarily a trans-shipment driven industry. For the Sri Lankan industry to evolve beyond this it is necessary to see the development of broader services in shipping and logistics to truly become a maritime logistics hub.

Fortunately, Sri Lanka is seen as one of the vital nodes along China›s Belt and Road Initiative (BRI), due to that fact China is keen on investing in Sri Lanka, especially in the maritime logistics sector. Chinese technology, talents, rich experience, know-how also may have a great chance to benefit if Sri Lanka works together for a shared vision.



The writer is a Ph.D. candidate at the University of Kelaniya, researching the BRI, and holds MBA at the Open University of Sri Lanka and BSc at the Wayamba University of Sri Lanka. Maya currently serves as a Director to BRISL.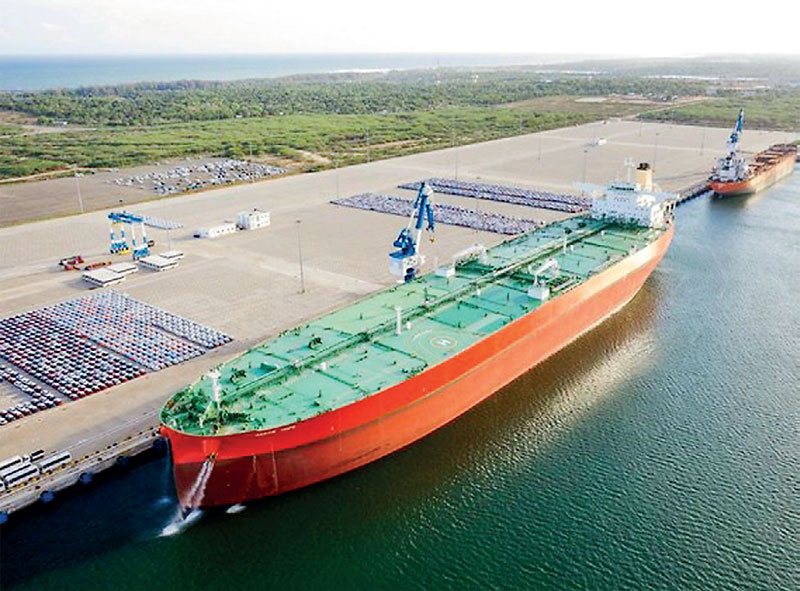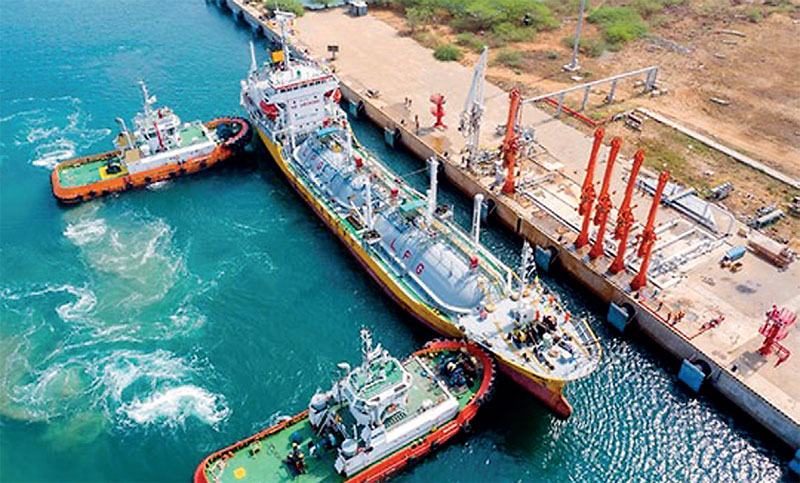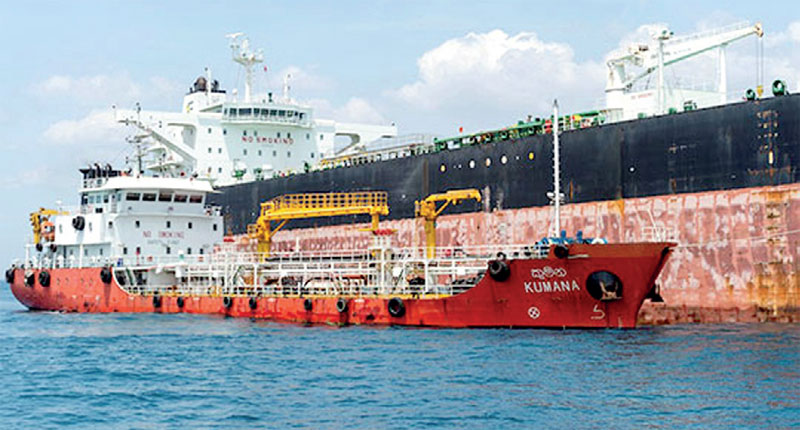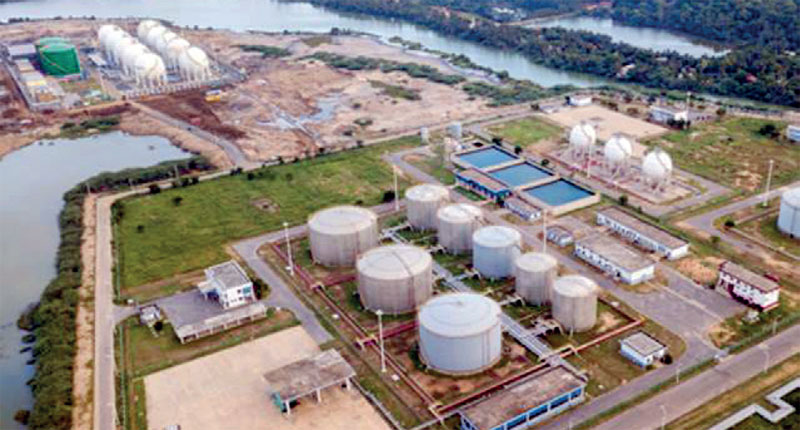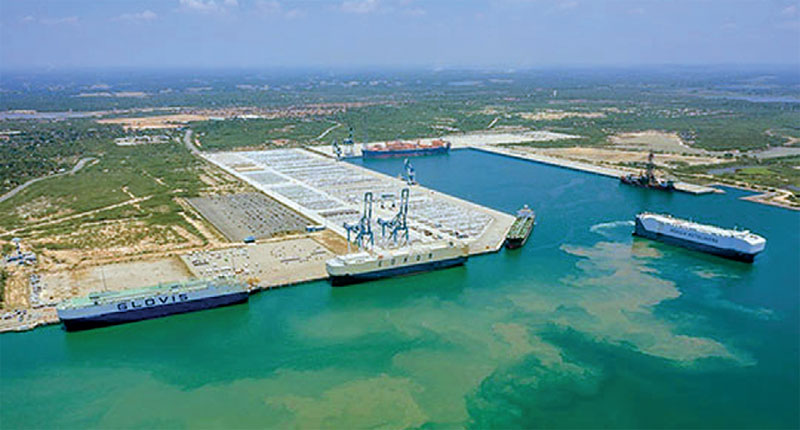 ---
The writer is a Ph.D. candidate at the University of Kelaniya, researching the BRI, and holds MBA at the Open University of Sri Lanka and BSc at the Wayamba University of Sri Lanka. Maya currently serves as a Director to BRISL.
---