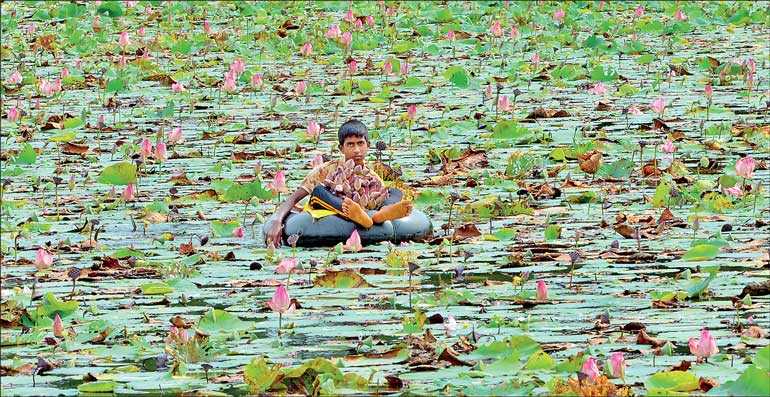 NEW: hope – Pic by Shehan Gunasekara
---
I write for many of us. But not as many as one would hope. Since we're badly divided on community, polity, unity. However, it's false hope at best or flagrant hypocrisy at worst to think anyone has all the answers – and is actually right about what ails our blessed isle. Therefore, I labour not in vain but am at pains to be as clear as I can about my own stance even if no one will understand let alone act.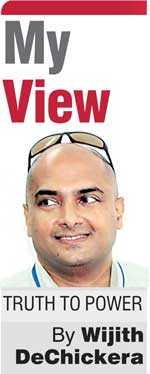 As we look forward to the dawn of another new year, the clichéd hope springs up clear and sharp as a cold December-January morn. We feel, as we customarily do, that goodwill alone will do to right the wrongs of the coming weeks and months. But then the heat of the day in which our island race goes to war with itself! Then again the cold clutch of the calculated gamble with governance that is realpolitik! So as the sun sets on a year in which Sri Lanka went down to a sunless sea as far as civics goes, it would be appropriate to pause a moment before we leap into a still shaky future.


Community

First, two observations.

We – a majority – never seem to learn. It is always they, someone else, the Other – a minority – who have to like it or lump it. When Dambulla, Aluthgama, Gintota, Digana and Kandy District were burning, the meta-narrative was the need for the alien to integrate with the indigenous. To date, despite death and destruction and dire setbacks to the integrity of the reconciliation project, Not. A. Single. Arrest. has been made under the ICCPR Act. But no sooner a member of a minority expresses verbal dissent, we throw the book at him?

Then there are those 278 skeletal remains. Who were those children, women and men? Would the agency of the OMP Act be instrumental in identifying them – and their alleged abductors, possibly torturers, certainly killers? Or will they go the way of all flesh slaughtered in senseless wars against our body politic? Or – hope springs – will mercy and justice trump a dishonourable false peace, to let the living finally bury their dead to live? Not only in this case. But all mass graves and major murders of the past three decades and more. A big ask – but an important one.


Polity

Then, some queries. These are entirely personal reflections – so skip ahead if you dislike pragmatic rhetoric. My intention is not simply to seek easy answers. But also provoke some tough resolve among civil society's few remaining institutions. So that by citizen-governance where political will appears lacking or lamentable, we can close some doors and heal some hurts to the fabric of our riven society.

Is Ranil a democrat or tyrant? Or a hybrid of both? Is he a charming statesman who's capable of cracking a smile while he distributes flood relief today? Or a senile charlatan who – like more open or obvious others before him – harbours a dark side of the force, driven by the all-embracing ambition to sit in the hot seat of power tomorrow? Has a deal been done with the apparently reluctant but ostensibly suitable Sajith Premadasa such that there is a smooth transfer of power? Will the Old Guard in the GOP's oligarchy actually bow out? Or will the palace coup that didn't happen be reverse-engineered, as on so many occasions before, so as to make the political force at the helm of national reforms most in need of transformation itself?

Are Gota, Basil and the rest of the Rajapaksa regime culpable of graft, murder, or worse, alleged genocide? Or was it convenient propaganda with a generous dollop of a believable truth about our once lionised 'war heroes'? Why are their respective cases painfully slow… despite the agency of Good Governance and the instrumentality of special courts set up to investigate and prosecute what the then opposition called egregious crime? When relatively powerless bureaucrats have been punished for their erstwhile masters' misdemeanours, why are former senior strongmen and despots showing no signs of retiring still at large and acting like the Hun at the Gate… with impunity, at that?

Will we the media ever know who killed Lasantha, assaulted Keith, murdered Taraki? Was it Gota? Or Sarath Fonseka? Or both? I think these cases will test the credentials of any government serious about media freedom. Don't watch this space! For we know successive governments have brutally used all the state agency available to them since 1983 to control and even terrorise their own citizens. So how far back could or should accountability go? JR's cabinet, some of whom are still creaking around croaking about democracy? CBK's prosecution of her war on the media? As for the alleged modus operandi of the previous incumbents – did MR know? Is the Rajapaksa machine guilty of war crimes en bloc and only realpolitik has saved it from a fate worse than electoral defeat? Is Ranil culpable of a despicable cover-up?
Is Maithri culpable of a plethora of equally despicable cover-ups? Is he simply a silly git swanning about because his swansong hangs over his head – and ours – like a sword of Damocles? Or will his native wit get us into more trouble down the rocky road of democratic-republicanism in its present tortured avatar? Is the threat of a possible suspended impeachment sufficient to get our coup-generating chief executive to behave? Or can or must he be the first president to have the book thrown at him – once he is out of office? And soon, at that?
Would civil society benefit by much if we were to lock up blatant chauvinists like Wimal Weerawansa and throw away the key? In fact, is the voter base on every side of the artificially created and sustained political divide able, ready, willing, to enter a new pact by, between and among themselves – to eschew every form of exclusion, ethnic particularity, racism, chauvinism, disingenuous dissembling about transitional justice being a Western conspiracy?

Where will it end – if we don't grow up, get real and garner some gravitas in the eyes of a world going to hell in a hand-basket with wars and rumours of wars of its own?


Unity

Last but by no means least, some resolutions.

Would it be too much to ask readers of this newspaper to proactively practise building and sustaining a national – rather than narrow partisan or parochial – interest? For example, should we encourage our political parties to eschew their cynical manipulation of communal tensions through mixed messages and chauvinistic signalling? Could we send out the strongest possible semiotics ourselves – well ahead of any polls – that we want cleaner, leaner, greener (not a party but a flowering of fresh ideas and youthful sustainable energy) politicians?

For there is little if anything we the people can really and truly change short of a. actively engaging our elected representatives on national unity government's born-again second-chance stab at good governance; b. bringing accountability to political leadership through independent commissions as well as intergovernmental checks and balances; and c. championing the overarching national interest in our business, professional, academic, enterprises – at a cost to our clubs, cabals, cliques and claques. So that we can build or rebuild our country ahead of a coming regional cataclysm.

There is, however, a lot we can or must impact at ground level. And outside the still rotten ambit of pragmatic politics, at that. A start can be made in terms of citizen initiatives to practise hospitality towards all islanders first (no more Republic of Mirissa or Principality of Mount Lavinia for foreigners only) and as much as we do tourists. Be fellow travellers with our neighbours across a hybrid spectrum of cultural markers in their time of grief – floods, landslides, other natural disasters waiting to happen. Join hands in a true island spirit across the littoral of our land to beautify our beaches…

Dolling up the silly walks ministry with geriatric and concupiscent ministers alone is no way for our beautiful island to become again – and remain – the prettiest girl on the beach in 2019. Sorry for us that the corrupt lucre driven realpolitik of petty, partisan and geopolitical politics got in the way of our once and future trade, travel, tourism, prospects. Let's not sit on our fundaments but erect a better framework for repositioning and responsibly promoting the Pearl of the Sri Lankan Seas. Come, let us build!



(Journalist | Editor-at-large of LMD | Writer #SpeakingTruthToPower)