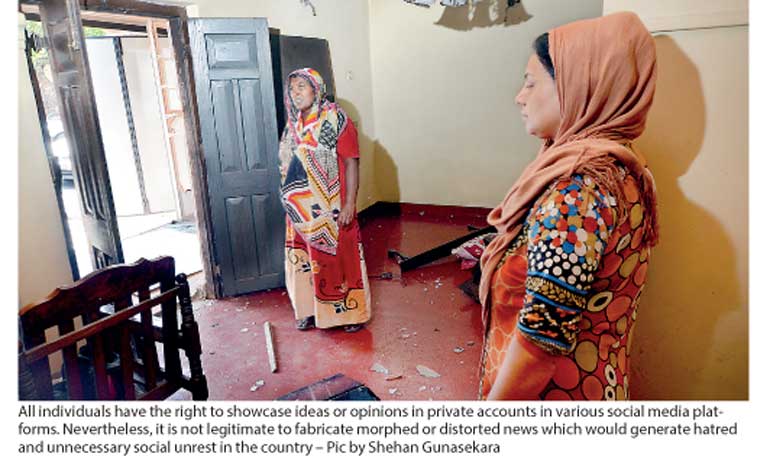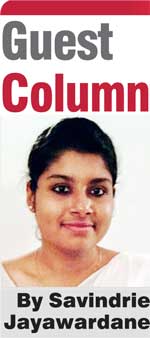 Decades ago, the main sources of information were mass media including newspapers, radio and television. However, the digital age and easy access to information via social media: Facebook, Twitter, YouTube, WhatsApp, Instagram, etc. threaten the mainstream mass media; where these novel sources of information leave us opinionated, often rendering a platform where opinions, be it positive or negative, go viral.

All individuals have the right to showcase ideas or opinions in private accounts in various social media platforms. Nevertheless, it is not legitimate to fabricate morphed or distorted news which would generate hatred and unnecessary social unrest in the country. In hindsight, the unprecedented spread of hate speech and distorted news in social media relating to the recent communal unrest, led the Telecom Regulatory Commission (TRC) to monitor all social media platforms including Facebook, Twitter, WhatsApp, etc., for the first time in Sri Lanka.

Following the repercussions, not only was the Kandy Administrative District under curfew, but the masses were also subjected to the digital surveillance. It goes without saying that, in social media anything and everything can go viral, without any control. Various groups would prefer to take the benefit from this uncontrollable flow of information, in order to spread morphed news with a pinch of sensationalism while, at times, intruding the personal space of individuals.

Subsequently, one could argue whether these security measures are effective. One could also question whether the Government was thus controlling one's right to free speech. But, this measure was initiated to control the proliferation of misinformation and unhealthy tension via social media. The Government as the sovereign power is responsible to protect the security of the commonwealth and grant absolute authority to guarantee the common defence. This digital surveillance is adopted as a temporary solution for the recent racial unrest, even though it is not the best solution.
Hype about the sterilisation pills
The video which made rounds in social media, on the uproar of the so-called sterilisation pills, which were claimed to be found in an Ampara restaurant, was fraudulent. The issue came to the forefront as a customer had found a piece of dough in food thinking that it was sterilisation pill. Consequently, a few mosques and other property were damaged and the issue escalated after seeing the so-called video.

At this juncture, there are several pressing issues that need to be tackled. Firstly, the mass media has the ability to tackle these rumours which are doing rounds and to educate the masses. Such communal clashes emphasise the unawareness and the sheer trust on fake and morphed information in social media. Such rumours or news of the so-called "sterilisation pills" wouldn't have been one of the reasons for such ethnic clashes, had the relevant authorities nipped the issues at the bud before it gets contagious.
Video on the

throat-cutting gesture
Similarly, the recent video of the throat-cutting gesture by Brigadier Priyankara Fernando, Minister Counsellor (Defence) in the Sri Lanka mission in London, went viral in social media either for positive or negative reasons. Nevertheless, the burgeoning issue is that the video that went viral could have been taken out of proportion, the part where he had initially negotiating with diaspora was not visible in many of the videos that the masses initially came across.

Social media makes the mass aware of some hideous topics that the mainstream mass media fails to do. But, the concern is that, sometimes social media makes unnecessary pressure on the state affairs, even before the affairs are acknowledged under an inquiry. Even Military Spokesman Brigadier Sumith Atapattu said Brigadier Fernando cannot be punished based on a video clip alone. Thus, there is high tendency for all the wrong reasons or incomplete information to get rooted, even before the right reasons or information get spread. Sometimes, State affairs tend to be disturbed by unscrupulous social media interaction.
Not only confined to Sri Lanka
The New York Times article 'How fake news goes viral: A case study' brings about a case study in USA. It explains how the falsity of the news was rooted when it was being shared and when it was backed by the leaders of a country too. Eric Tucker who is a co-founder of a marketing company, had tweeted about a news of paid protesters being bussed to demonstrations against President-elect Donald J. Trump. This tweet was shared at least 16,000 times on Twitter and more than 350,000 times on Facebook. Trump too used this news in his political campaigns. Yet, it was later found out that this news was false. Thus, we see that different people or agents sell morphed information without proper inquiry, for the purpose of money.

The issue gets aggravated when information devoid of proper proof spreads across boarders without any control. The BBC article 'The rise and rise of fake news' (on 6 November 2016) notes that "the arrival of social media has meant real and fictional stories are now presented in such a similar way that it can sometimes be difficult to tell the two apart". We can apply this opinion as one of the pivotal root-causes to the recent racial unrest transpired in Ampara and Digana. When many fraudulent videos and misinformation are shared in social media without any intervention or a proper discourse, the society tends to believe it.
Interests of political and

social groups
Moreover, different interests of political and social groups give momentum for the overflow of such news. Sometimes different groups which have prejudices on other groups give consent for such petty ethnic rivals. The situation in Ampara and the clash in Digana should not be solely intertwined with so- called religious or racist misinterpretations. It is the arrogance and prejudice towards the other group.

In social psychology there is a theory called "ingroup and outgroup mentality". "Ingroup" is a social identity which an individual imbibes thinking he or she belongs to it. Such social groups can be based on race, ethnicity, gender, etc. "Outgroup" is the social group where individuals do not feel belong to. Susan Krauss Whitbournein's article 'In-groups, out-groups, and the psychology of crowds. Does the ingroup-outgroup bias form the basis of extremism?' (7 December 2010) elaborates that we tend to treat our ingroup with favouritism and empathy when we tend to do outdoor stereotyping. We look at the other group as different and intimidating.

Relating this theory to the recent racial violence, one could point out that this indifferent or "othering" attitude between Muslims and Sinhalese became more public, since it was depicted in an unpalatable way in social media through various hate speeches and narrow prejudices. It is not righteous to homogenise the heterogeneity or make sweeping generalisations. Neither all Muslims nor all Sinhalese are wrong or aggressive.

On the other hand, this situation insinuates the "divide and rule" British policy which was executed to govern the colonies during the colonisation enterprise. British administration during the heights of the colonisation, transplanted the division in order to rule or destabilise large colonies like India. Sashi Tharoor, the Indian political and former diplomat, states that the British colonial power made sure that "they do not leave a united India". In Sri Lanka are we in the phase of another version of divide and rule? Do political leaders give subtle applause for these communal violence, with the ulterior motive of gaining power or protecting voter bases? It is for us to decide.

Anne Pluta in her article 'Trump supporters appear to be misinformed, not uninformed, and that may explain why his support has proved to be so durable' (7 January 2016), unravels that Trump's voters were misinformed. Pluta emphasises that Trump deliberately wanted to spread the misinformation: especially his statements about immigrants or Muslim Americans. Pluta adds information from the research undertaken by Jennifer Hochschild and Katherine Einstein. These studies notify that most politicians don't attempt to detach people from their false positions, especially if that misinformation backs the political goals of the politicians. Likewise, we see that some political rulers aspire the division in the society for their personal gains.
Are we to blame social media?
Hence, are we to blame social media? Every coin has two sides. One should not let go of its positive consequences. The controversial laptop dance which was scheduled to be performed at the Independence Parade 2018 was removed by the relevant authorities, after it was ridiculed in social media. The launch of the Yahapalana Government mainly came into being with the fuel of the social media. On the global stage, Arab Spring would not have sprung if not for the social media force. Thus, one should know how to use social media with conscience.

Repercussions of the irrational use of social media cause communal divisions and make people confused and shell-shocked as to whom and what to believe. Let us take this issue as a clarion call to make a better and palatable social media environment. To execute this, it demands a well-informed community unshackled by morphed and distorted information. One should be wise enough to filter information from opinions, because information in social media can be loaded with opinions and sensationalism, since it aims to get the highest number of views.

Let us not forget that we have a sound literacy rate in Sri Lanka which is above 90%, and it is high time to question the true meaning of our literacy and intelligence. Education would be wholesome if individuals can think rationally and feed the humanity with sympathy and empathy. Susan Whitbourne further mentions that we can eliminate the ingroup or outdoor group psychological condition if we:

1. Recognise the arbitrary nature of many ingroup/outgroup distinctions.

2. Put yourself in the place of the outgroup member.

3. Look for commonalities between opposing groups.

4. Work on building your inner sense of security.

5. Pass along the lesson.

These reconciliation tips can be passed via social media, the same tool which tends to divide people, if we put its rightful purpose at the right place – "connection".

[The writer is a graduate of International Relations from the University of London. She is currently reading for her Bachelor of Arts (Honours) Degree in English from the University of Peradeniya.]