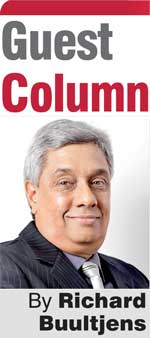 Recent unwarranted comments in the press attributed to a certain high Government official, fuelled by questionable industry figures released by a foreign bank operating in Sri Lanka, has sparked concerns within the real estate industry of the possibility of a bubble waiting to burst, especially in the luxury apartment sector.

This has led to a high level of uncertainty among investors in the sector, causing the market, which until then was clearly one of the best performing sectors of industry in Sri Lanka, to slow down considerably.

This article is written with the intention of allaying the fears of such confused investors, of such a situation arising. The writer has had first-hand experience, marketing and selling chiefly, high end condominium properties for the past 15 years with one of Sri Lanka's premier property developers having sold apartments in Crescat Residencies, Monarch, Emperor, 7th Sense Gregory's Road, OnThree20, Waterfront and more recently, the Colombo City Centre.

He, in fact, could be considered as one of the pioneers in the condominium industry in Sri Lanka and he and his team R B Realtors and Consultants Ltd. could be considered as one of the most experienced outfits in the condominium industry in Sri Lanka.
What are some of the factors that would cause a property bubble?
1.Free availability of large amounts of cheap credit is one such factor

This however, is not the case in Sri Lanka where commercial banks have right throughout the years been extremely prudent in lending, with loans not easy to come by without stringent screening procedures. Further, interest rates have never been low as in some of the other countries which have seen property crashes in recent times.

2.Purchases in the luxury segment, financed chiefly through a large proportion of financing

Investors in Sri Lanka make their purchases chiefly utilising their own funds with hardly or no dependence on borrowings. In the 15 years of experience in the industry, the author has personally seen only approximately 5-10% of the luxury market in Colombo financed through loans where the balance 90-95% is funded through investor's disposable incomes. Therefore, there is hardly an instance of delayed or defaulted payments. The situation in most foreign countries is exactly the opposite with most properties purchased through close to 90% mortgage funding.

3.Speculative purchasing with the intention of a quick resale

Unlike in markets such as Dubai and the USA which experienced property crashes, buyers in the Sri Lankan market are more mature, in almost all cases, taking calculated, well-informed decisions to invest. Further, they are prepared to wait rather than flip the apartments quickly as one would sometimes do in the stock market. This again, was something that was seen in the Dubai property market where investors bought at rock bottom prices at launch and flipped at a profit within a very short period.

4.Over dependence on foreign buyers

Thus far, the local luxury segment has comprised of buyers chiefly Sri Lankan. Approximately 50-60% of buyers are domiciled Sri Lankan and 30% expatriate, being from the Sri Lankan diaspora in countries such as the UK, USA, Australia, Canada and the Middle East. The balance approximately 10% or less, is the foreign component of buyers.

Having looked at the factors that could cause a property bubble and examined these in relation to the Sri Lankan market, the chances of this occurring is most unlikely and least likely within the market segment where it is purported to occur – the luxury segment.

Let us now examine some of the measures that could be taken to reawaken the real estate market in the face of the challenges it is now facing.

1.Expression of positive comments

The authorities require to immediately allay the unnecessary fears caused recently by now coming out with some positive comments on the state of the market in the light of what we have just examined above.

2.Regulate the industry

It is important that the Government introduces a law, making it mandatory for developers to establish an Escrow or trust account whereby it becomes necessary that moneys paid by buyers are deposited into such accounts and could only be used expressly for the purpose of construction of the property for which the funds have been deposited. This would prevent unscrupulous developers from siphoning out deposits paid by buyers into other projects. (This measure was taken by the Dubai Government immediately after the property market crashed due to the financial meltdown in the USA in 2008-2009, when many developers started diverting construction funds from one development project to multiple projects)

At present, there are also a prolific number of small developments entering the market around Colombo on small 20- to 30-perch blocks of land, contributing towards turning it into a concrete jungle. It is vitally important that the authorities introduce a system where prospective developers of such lands, are themselves and their projects, carefully evaluated prior to development permits being issued for construction of buildings on these lands.

It must be mentioned here that there have been several instances of certain corrupt Government officials seizing the opportunity to make a quick buck by granting approvals for additional floors in narrow lanes/small lands causing illegal structures, resulting in COC not being granted on completion of the project, thereby making it impossible for title to be transferred to buyers.

What must be carefully checked is the financial strength and marketing and sales capabilities of these developers since the majority of these developments are dependent on successful pre-sales for construction progress to be made. Most often inexperienced investors with inadequate funds venture out into the real estate market without professional advice hoping to make large profits based on their own assumptions and observations. If due to a lack of selling capability, pre-sales do not materialise and if the developer does not have the necessary financial resources to counter this, then the chances of failure is very high. (Developers are advised to obtain professional advice from well experienced consultants in the industry.)

The word "luxury" is also now being very frivolously used to even describe smaller sub- standard developments and better quality developments would do well to avoid the use of this word to differentiate themselves from the rest.

There is also a need for some form of regulation to be brought in whereby sale of apartments and projects is carried out by the developers' own sales personnel or a registered reputed sales agency/agent. There needs to be a system put in place whereby agents require to be licensed to sell, based on some criteria such as selling experience or a qualification, which could be requested for by prospective buyers. At present, three-wheel drivers, housewives and the like have all joined the merry band wagon of real estate sales agents.

1.Promote more foreign investment into the industry

As mentioned above, foreign buyer participation in the real estate industry is less than 10%, which affords a huge opportunity for Sri Lanka to be promoted as a real estate destination. The Government has made genuine efforts to promote Sri Lanka as a tourist destination with ambitious arrival figures targeted for. With hardly the surface of possible overseas interest in the industry being scratched, there is much work that could be done on this front by perhaps working hand in hand with the tourism industry for joint promotions to be undertaken by the Government.

2.Introduction of favourable policy measures.

The last Budget did in fact have a few proposals in this direction, which unfortunately are still to be implemented. For instance, granting of resident visas was one such proposal. Other well-known real estate destinations such as the Middle East, Malaysia and a few European destinations already grant resident visa status for reasonable real estate investment.

Another proposal was to allow foreign borrowing from local banks of up to 40%. Though this is a good proposal, the chances of our funds being affordable is very much reduced due to the high cost of borrowing.

There is also a good case for reducing interest rates for housing loans to Sri Lankans, encouraging millennials to buy houses/apartments rather than renting.

The real estate industry in Sri Lanka has been extremely resilient over time, hardly losing ground, even through so many troubled times in the past. All steps need to be taken on an immediate basis in order to help maintain it as so and to drive it forward into the future.


(The writer is the Managing Director/CEO of R B realtors and Consultants Ltd., a premier real estate consultancy company in Sri Lanka.)