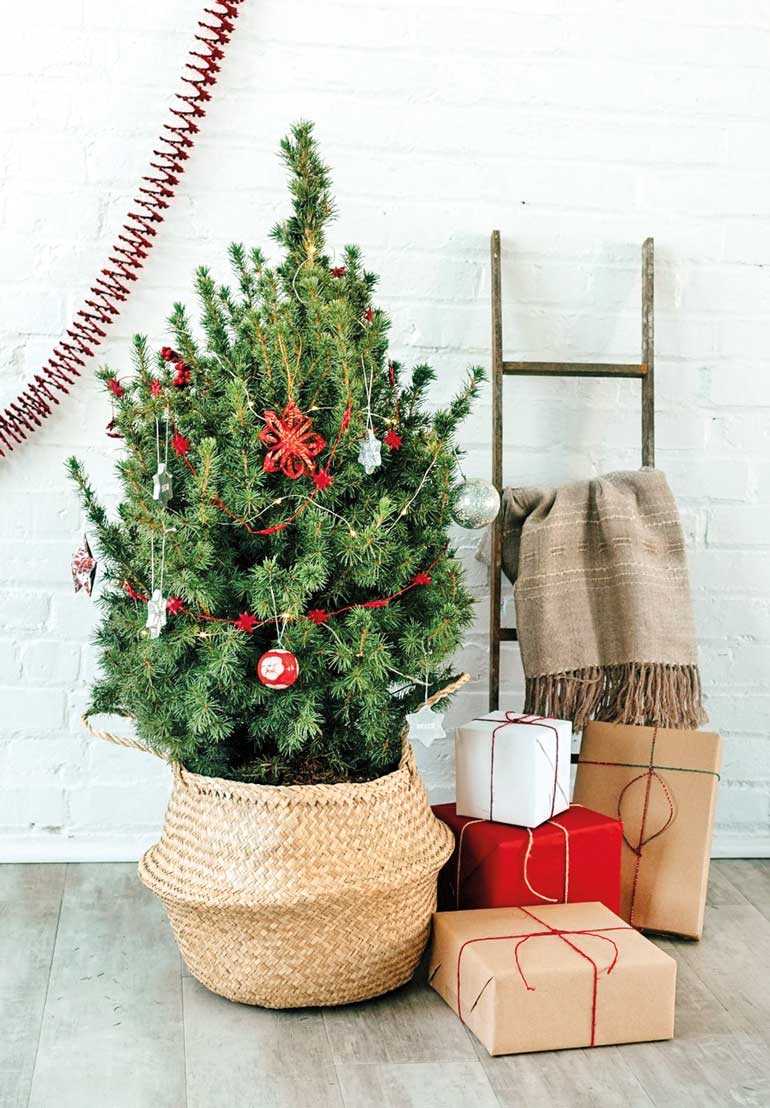 After Christmas, make a New Year resolution on applying some small changes to lead a more sustainable life
---
Since a few weeks the Christmas mood is on with many among us; one can see and hear it all around town with music, special sales and decorations. Like all over the world, Sri Lanka also indulges in Christmas-related activities independent of religious believes or traditions. Mostly festivities like that are celebrated commercially with families going out of their way, be it financially or in terms of effort.



Where on the one hand side to see the city in lights and beautiful decor, listen to Christmas carols and enjoy seasonal foods is very much enjoyable, the downside of any festive seasons such as Christmas is the increasing unsustainable behaviour people show, especially during this time. From wrapping paper to holiday cards, one million extra tons of waste are reported for each week from Thanksgiving to New Year;s Day in America. This means a 25% increase in waste.

It might be an increased sense of "I deserve it" and "I want to enjoy myself" or "these are the traditions" which leads to a great amount of unsustainable products being bought, just looking at the plastic decorations itself, food being wasted, unwanted presents being given including pet gifts where those animals often end up on the road or in animal homes soon after the festive season. Too often families only recognise then that a pet is a living being which should be cared about and not only a nice surprise under the Christmas tree.

Talking about Christmas trees, there is an ongoing debate about which one is "greener": real trees or artificial trees. Where in many countries nowadays Christmas trees are farmed and during their lifetime vastly benefit the environment, plastic trees can be reused for several years. Natural Christmas trees once cut are replaced by new seedlings, no native forest is cut down for those commercial trees. On the other hand side, the first is obviously biodegradable where the latter is not. In addition artificial trees are mostly made in China out of PVC which produces carcinogens during production and trees are shipped across the globe which again increases the carbon footprint.

While many think that buying a reusable tree is doing the planet a favour, a study done by the Canadian consultancy firm Ellipsos concluded that a fake tree would need to be used for more than 20 years to be more sustainable than a natural one (looking at resource expended, greenhouse gas emissions and human health ramifications). Obviously in many countries native Christmas trees are neither grown nor sold, hence the plastic tree seems the only available option. Recently however in some countries potted Christmas trees are offered. Sometimes consumers rent them or replant them after Christmas. Maybe this is an idea which can be adopted for Sri Lanka as well.

Many of the Christmas trees sold at the stores are no higher than a few feet. A suitable variety for Sri Lanka can be grown in pots and used as Christmas tree for the season, where they can be kept in the pot at home, replanted or gifted after the season as well.

Besides the tree, there are a number of ideas on how to have a more sustainable Christmas.

Above all, buy fewer items. What is the most important aspect in a gift? To bring some joy into the other person's life I suppose. This can be done with material or non-material presents. Why not gift experiences instead of physical products? The amount of unwanted Christmas gifts is sheer incredible looking alone at the after Christmas second hand sales where all that unwanted clutter is being resold. Think twice and buy smart!

If you have to buy wrapping paper, buy recycled paper and why not drawing something onto the paper yourself? It is much more personal and thoughtful than getting your present wrapped by a clerk in a shop. Even better, hand over your present in a paper or any other reusable bag.

When choosing your presents support local initiatives, locally produced items and if possible organisations which support the needful as well. There are plenty of related initiatives available in Sri Lanka where you can buy jewellery household items or any alike which supports a cause at the same time instead of gifting imported mass-scale items – no matter the branding. This actually refers to gifts, decorations, party accessories as well as party outfits.

Do not gift animals for Christmas. Even if it might be a nice surprise for an animal lover, the person might not be prepared to own a pet and at the end of the day might not have time for it. In the UK there are pet shops which refuse to sell pets if they get to know they are Christmas gifts.

And finally, keep your festive lunches and dinners waste free as much as possible. No single use plastics (during shopping and event) and instead, get reusable straws and plates. In such way guests are educated as well on how to reduce their own waste impact.

After Christmas, why not make a New Year resolution on applying some small changes to lead a more sustainable life?